Be risqué this Valentine's by breaking the boring boxed chocolate habit. Give your sweetheart a scrumptious treat from one of the East Bay's newest bakeries. Whether it's a heart-shaped banana cake, a raspberry-cream macaron, or a whoopie pie, you can be sure your partner will melt—like chocolate.
---
French Macaron  | Tal's Patisserie
Inspired by her home country of Israel, Tal Sendrovitz creates amazing exotic treats, such as maamouls made with semolina flour and date filling, and tahini butter cookies, her Middle Eastern twist on peanut butter. Sendrovitz also makes traditional rugalach and a host of savory breads.
Valentine's Day special: French macarons with raspberry cream cheese filling.
On another day, try: Bourekas—mini pies made with house-made puff pastry and a variety of fillings. Go for the spinach and feta cheese version.
Contact: 304 Sycamore Valley Rd., Danville, (925) 820-8100, talspatisserie.com.
Whoopie Pies  | SusieCakes
All-American bakery SusieCakes specializes in Valentine's Day classics: double-crust cherry pie, Southern velvet cake (heart-shaped and for two), mini sugar cookie hearts, and of course, whoopie pies.
Valentine's Day special: A cream-filled whoopie pie is like foodie foreplay. You'll also love Susie's peanut cookie sandwich with peanut butter cream.
On another day, try: The sweet and salty pecan coconut butterscotch graham cracker seven-layer bar, enriched with condensed milk, butter—whew!—and chocolate (but just a touch).
Contact: 3598 Mt. Diablo Blvd., Lafayette, (925) 299-0210, susiecakes.com.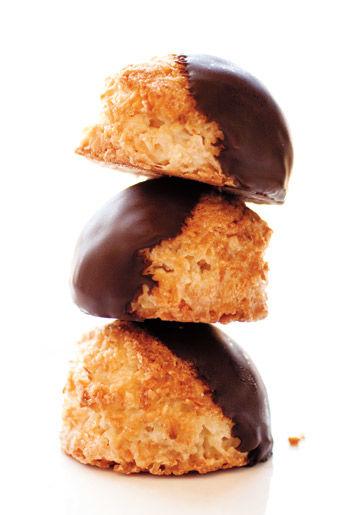 Coconut Macaroons  | Cake
Ready to take that relationship to the next step? Andrea Quinn makes dreamy Mexican wedding cookies with pecans and pistachios. She loves all things tropical, especially passion fruit (called lilikoi in Hawaiian, where she once owned a bakery) and coconut. Don't miss her creamy coconut haupia cake.
Valentine's Day special: All-organic coconut macaroons. They're about as wholesome as your sweetie can be. (Also available at Diablo Foods next door.)
On another day, try: Turkey empanadas with a cup of drip-brewed Sightglass coffee. Cake is the Eastern-most shop where you can find this lauded S.F.–based roaster.
Contact: 35 Lafayette Cir., Lafayette, (925) 385-0202, cakelafayette.com.
Banana Cake  | Sweet Bar Bakery
Owner Mani Niall, who was Michael Jackson's personal chef for a couple of years, opened a salubrious bakery in L.A., before moving to the Bay Area. Now, his most popular offering is the oatmeal sour cherry chocolate-chip cookies. Choose from a range of heart-shaped boxes, and fill them with chewy ginger molasses cookies, pumpkin and sour cranberry muffins, or bacon and Gorgonzola scones. Or buy one of Niall's heart-shaped pastries, from bite-size on up.
Valentine's Day special: Heart-shaped banana cake with cream cheese frosting.
On another day, try: Spelt flatbread topped with hummus, tossed greens, and feta.
Contact: 2355 Broadway, Oakland, (510) 788-4997, sweetbarbakery.com.