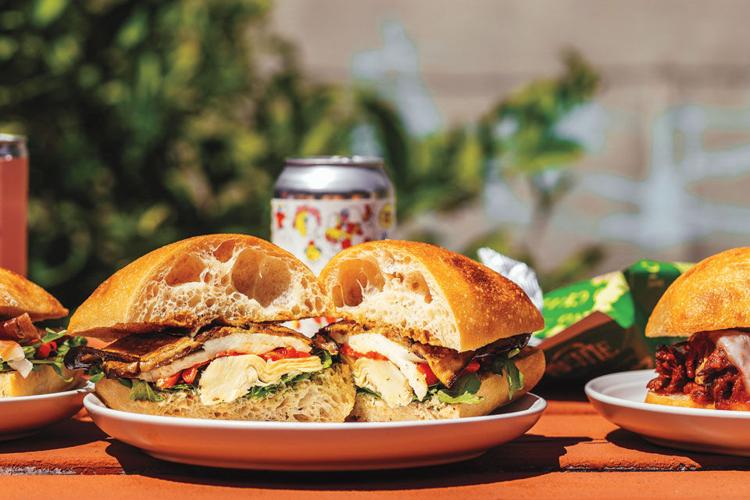 Note: Mama Oakland has closed indefinitely, with the hope of opening again once indoor dining returns.  
While East Bay restaurants continue 
to struggle during the COVID-19 pandemic, Mama Oakland—an Italian eatery owned by husband-and-wife duo Josiah Baldivino and Stevie Stacionis—has found a new, inventive way to keep 
business going.
Previously offering a three-course 
experience inspired by dinner at 
Stacionis's Italian grandmother's house, 
Mama had to rethink the prix fixe concept 
once shelter-in-place was announced.
"When you take the hospitality out of the hospitality industry, it just didn't jive with our business model and overall goals," explains Stacionis.
The solution? Sandwiches. "[Mama is] intended to mimic that convivial feeling of safety, nourishment, community, 
and family," she says. "And of course 
we experience that in dinner, but we also experience that in lunch."
Stacionis recalls how her family would gather in the kitchen during lunchtime and make sandwiches with the meats her grandfather brought home. "It became clear that this would be a great way for 
us to move forward and still honor our 
intentions while [using] a model that is 
a lot safer for our team and the public," she says.
Now, hungry customers can choose from four cold-cut sandwiches—Italian combo, prosciutto mozzarella, turkey and fig, and vegetarian—and a meatball sub with Mama's signature sugo tomato sauce, which was the basis of the original menu.
The couple hope to eventually bring back that first concept—but until there is a vaccine, explains Stacionis, the new model is here to stay.
Preorder online for pickup from 12 to 3 p.m. Wednesday through Saturday. mama-oakland.com.