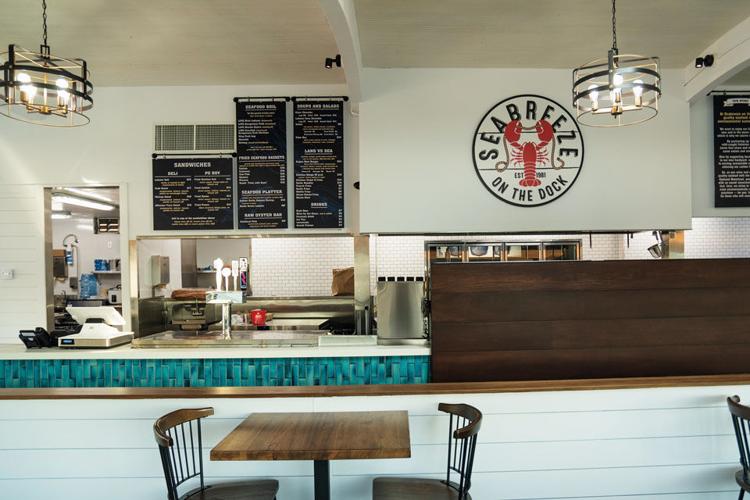 The first time she came across Seabreeze Market, Jennifer Le was smitten. The ramshackle seafood shack and deli by the Berkeley marina seemed to come 
from a different era—certainly one before city building codes were rigorously enforced. The original owners, Bob and Dottie Pickens, started the business as 
a fruit and produce stand, added a deli, and then brought in fresh seafood, much of which was caught by Bob himself.
When the couple retired in 2004, Le—who had worked on and off in her family's restaurants since she was 13—bought the business and has run it mostly unchanged ever since, faithfully churning out its signature garlic crab, po'boy sandwiches, and seafood plates.
"To this day, I just love to see the place," she says. "There is nothing like it anywhere; I fell in love with the whole story behind it."
Part of the appeal is the building itself, which has expanded in a charmingly 
organic fashion via repurposed shipping containers since opening in 1981. (Le says 
that UC Berkeley architecture students used to make an annual pilgrimage to study the unique design: "It's so funny," she says with a laugh. "These kids are just fascinated by it.") Another part of the appeal used to be the location, perched above the Berkeley waterfront and immediately accessible off I-80's University Avenue exit. In recent years, however, that spot has proved problematic. A dramatic expansion of an adjacent homeless encampment—combined with COVID-related restrictions—has impacted business to the point that Le is unsure how long the market will remain open.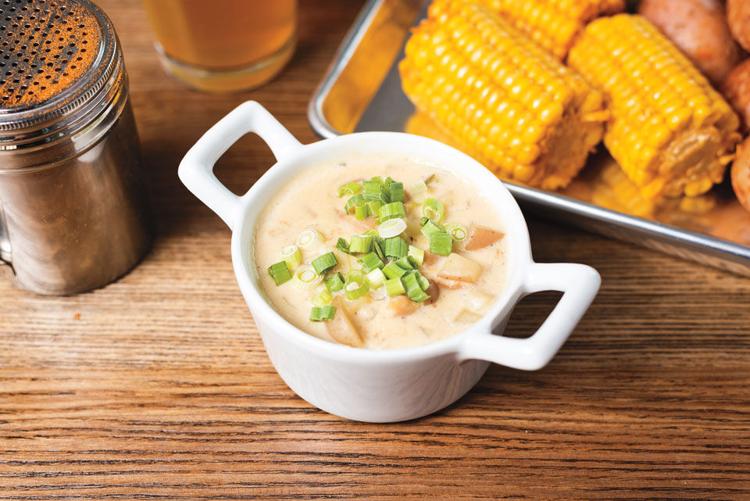 Fortunately for East Bay seafood lovers, she took matters into her own hands. With the help of a couple of investors, Le decided to take over an Oakland location with an even more unusual setting: the former Il Pescatore restaurant, stretching out over the Jack London Square Marina like a permanently docked dining barge. She and her partners spent the better part of a year renovating, lightening and opening up 
the space to take advantage of the striking waterfront views, and adding lovely details such as vibrant sea creature murals and a divider made from boat paddles. Seabreeze on the Dock debuted in October.
Similar to the architecture, the food at Seabreeze is "cleaned up" a bit to suit the moment—primarily by embracing sustainable sourcing of its seafood—without losing the old-school comfort factor. A great example are the seafood baskets. We got the cod, which came with three large fillets. The flaky white fish was tender and moist on the inside, while the breaded exterior was fried extra crispy and seasoned generously with flakes of sea salt and a red, paprika-spiked Old Bay–style seasoning. It's the kind of simple, tasty preparation that appeals to parents and kids alike–our little guys actually ate the fish before starting on the accompanying fries, a first in our household. (The chicken tenders, often 
a dry afterthought, were similarly well 
prepared—this is a place that makes a solid effort to cater to families.)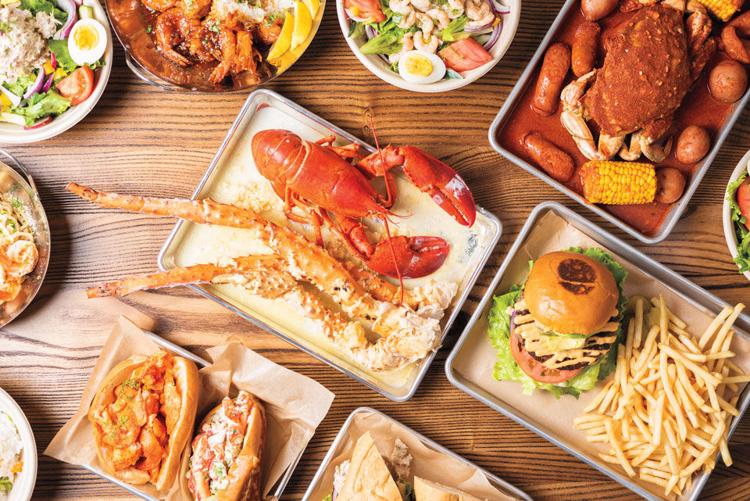 Which isn't to say that the new Seabreeze is some kind of glorified fish and chips spot. The menu isn't huge, but it exhibits wonderful
 breadth, incorporating aspects of New 
England (clam chowder and lobster rolls), Louisiana (seafood boils and po'boys), 
and even Asia (the live seafood tank, 
poke bowls, and not-to-be-missed garlic noodles). The market's signature garlic 
crab, and stuffed-to-the-brim crab salad sandwiches are also represented.
As a native New Englander, I'm contractually obligated to sample and weigh in on any rendition of the region's signature seafood items. I'm happy to report that Seabreeze passed with flying colors. The clam chowder was creamy, but not goopy as is so often the case, and packed with chopped waxy potatoes and real clams—it's perfect for a cold day. 
But the real standout was the lobster roll. 
The toasted, well-buttered roll contrasted perfectly with the more-than-generous helping of chilled lobster, mixed with just enough mayo to moisten and crisp diced celery for added crunch. The fresh Maine lobster, sourced from Burlingame's New England Lobster Market, was as flavorful as any I've had on the West Coast, as was the entire lobster roll. In fact, it was better than most that I've had in New England. Order one immediately.
The Asian touches sprinkled into the menu are just as successful. My kids were delighted by the live seafood tank, while my wife and I were delighted by the Hawaiian shrimp with garlic noodles. The bouncy, juicy butterflied shrimp are smothered in a lip-smacking sweet, tangy, extra-garlicky sauce. It would work great with white rice—to absorb all that delicious sauce—but we doubled down by choosing a base of garlic noodles. Super 
flavorful without being overly oily or 
buttery, the noodles are worth ordering 
on their own.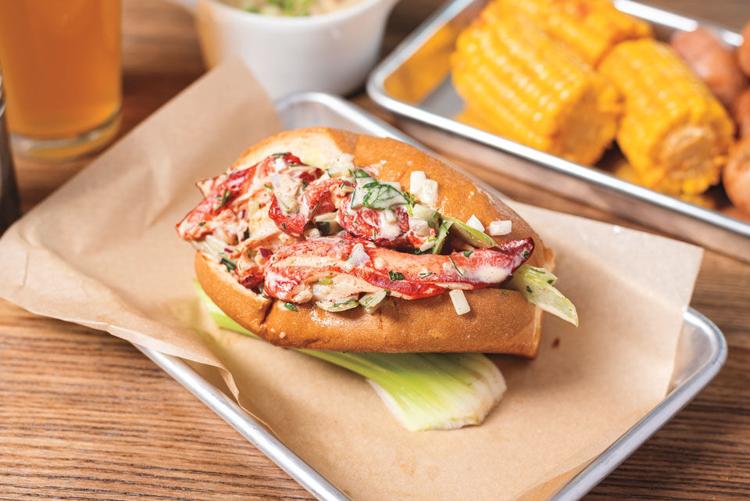 While I didn't venture down the seafood boil path—my kids are messy enough—I did sample Seabreeze's version of that great New Orleans food invention, the fried oyster po'boy. It's a classic that seemingly every higher-end restaurant in the Bay Area has offered in gussied-up form over the last decade. This one was refreshingly straightforward and true to the po'boy's humble roots: a crusty toasted baguette harbors several massive, ocean-fresh fried oysters topped with chilled slices of tomato and crisp iceberg lettuce, all of which is smothered in tangy tartar sauce. It's a hearty, messy, completely satisfying brick of a sandwich.
Enjoy it on the front or side patios. Or take it to go and eat picnic-style on the 
adjacent grassy area or one of the numerous
benches lining the waterfront. The casual, order-at-the-counter concept and location are perfect for outdoor, pandemic-era dining. And Jack London Square, blessed with ample car-free space for outdoor eating and roaming, has quietly become one of the East Bay's liveliest gathering spots. Surprisingly, Seabreeze is one of only a handful of takeaway-friendly 
spots in an area dominated by sit-down 
establishments. That has helped fuel what 
Le says has been a mostly successful fall launch, despite being delayed a half year due to construction and permitting issues.
"We found all sorts of problems with the building when we got inside," she says. "But since we opened, we're getting great feedback—
so many people have been coming out to 
support us. We've been blessed, because it was a struggle to get to this point."
Le found out the hard way that building codes have changed quite a bit since the original Seabreeze debuted in Berkeley nearly 
40 years ago. Thankfully, the seafood shack's guiding philosophy—casual, friendly service combined with approachable, fresh fare—is timeless. seabreezeonthedock.com.