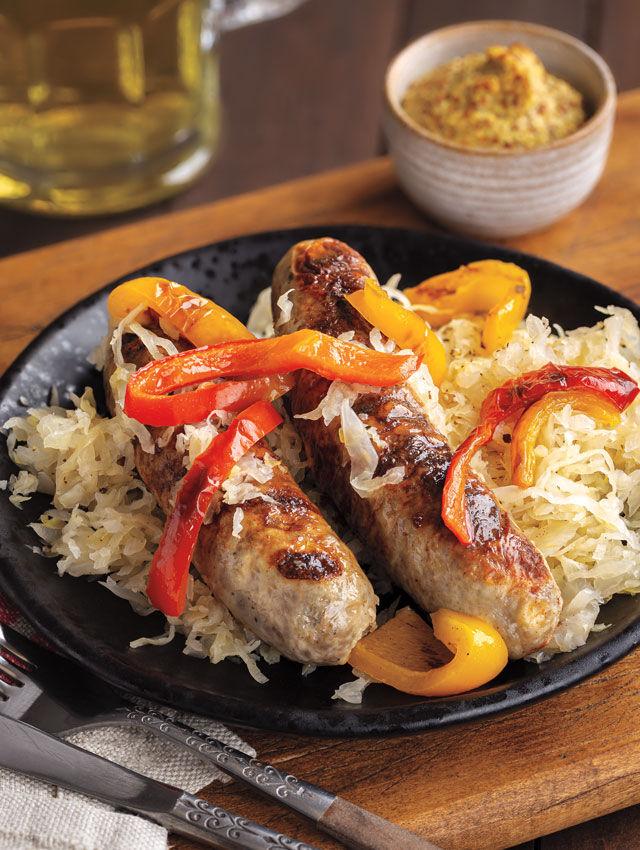 As with most social gatherings this year, the official Oktoberfest 
in Germany—and the majority of its spin-offs around the world—has been canceled. But that doesn't mean you can't throw your own celebration of all things pork and beer. We spoke with East Bay butchers, bar owners, and restaurateurs to get the scoop on German-style food and drink. The lederhosen and polka music are on you.
Pork, Three Ways
Sausages by The Local Butcher Shop
Sustainable meat consumption includes sourcing pasture-raised animals and "nose-to-tail" cooking, and sausages are one way this North Berkeley shop uses most parts of an animal. The house-made and smoked bratwurst is a best seller, using 
a blend of beef, pork, eggs, cream, and warm spices such as 
nutmeg.
The key to grilling? "Low and slow is by far the best," says co-owner Aaron Rocchino, cautioning that natural casing will rupture with too-high heat, leaving ground meat on your grill. Also, treat sausage as you would any other cut of meat: Bring 
to room temperature before cooking and let rest afterward. Serve your brats with the shop's homemade beer mustard—
or eat it plain, as Rocchino would. Berkeley, (510) 845-6328, thelocalbutchershop.com. —L.J.
Smoked Pork Loin by Livermore Butcher Shop
On one of the walls of this downtown newcomer is a cuckoo clock that owner Andrew Cusimano's father brought back from Germany. On it, two figures grip beer steins while meat off the grill awaits. For your German-inspired grilling, Cusimano recommends smoked pork loin. Have the shop slice a chop to your desired thickness, then grab a bottle of Primo's Pepper-Cot sauce, made locally from apricots and spicy red peppers.
Grill the meat over low heat, flipping and brushing with 
the sauce until a nice brown glaze has developed. "Don't walk 
away," Cusimano implores, as there is a fine line between 
caramelized and, well, burned. Serve with sauerkraut or 
potatoes, and beer, of course. Livermore, (925) 583-5066, 
livermorebutchershop.com. —L.J.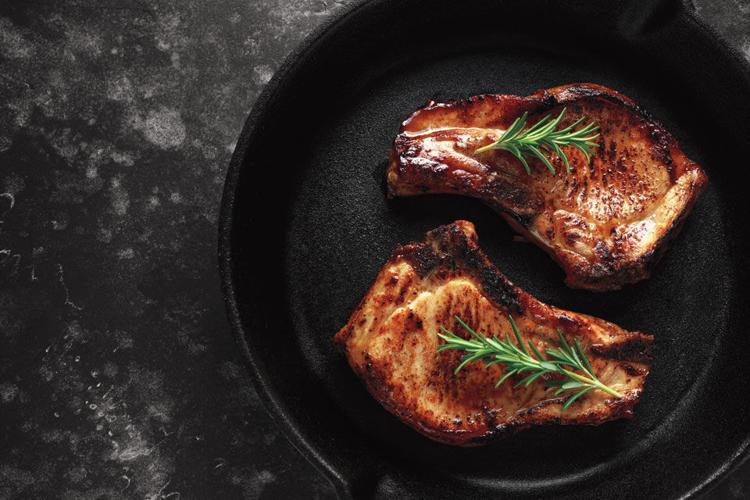 Pork Schnitzel by Gaumenkitzel
While it's typically associated with breaded pork in the U.S., schnitzel actually refers to any thin cut of protein or vegetable, says Anja Voth, the owner and chef of Berkeley's organic German restaurant Gaumenkitzel. In fact, 
the term "Wiener schnitzel" is defined in Europe as strictly using veal (restaurants can actually be fined if they mislabel it as such using pork). Berkeley, (510) 
647-5016, gaumenkitzel.net. —E.F.
Serves 5–6
6 pieces pork top sirloin or pork loin (6–7 ounces each)
6 eggs, scrambled 

(more may be needed if pork pieces are larger)

 

6 tablespoons butter
6 tablespoons flour
6 tablespoons breadcrumbs, 

preferably panko

 
For a pork schnitzel, you may use pork loin or pork top sirloin; both cuts are nice. For pork loin, trim the fat and silver skin or leave untrimmed for a juicier and more luscious taste profile.
If you choose loin, cut off half-inch-thick slices at a slight angle. The angle is important so your schnitzel gets larger and the meat fiber is shorter, which makes it much more tender.
If your choice is pork top sirloin, the larger your pieces the better. But make sure you can still fit them in your frying pan. Calculate about 6 to 7 ounces per serving.
The next step is to flatten your slices, then position them flat on a cutting board.
Gently pound the meat with a meat pounder, starting from the center with motions towards the edges. Use the flat side of the pounder; the embossed side will tear your meat. If you don't have one, you can use a bottle or something similar to a meat pounder. Flatten until you have reached about ¼" or thinner. (For later frying: the thinner the cut the faster the finishing.)
Now to the breading: Have one plate with flour, one plate with breadcrumbs, and one plate with a beaten egg. Calculate one egg per one or two servings, depending on how large your slices are.
Arrange them in an assembly line: first flour, then egg, and last breadcrumbs.
Very lightly flour your schnitzel by putting them on the flour once on each side (patting off excess flour), shortly dip into the egg and hold over egg plate to let drip off excess egg), then place onto the breadcrumbs and sprinkle crumbs on top. Remove and gently shake off loose crumbs. Avoid pushing down the crumbs onto the schnitzel—your breading will become too thick.
To finish, use a frying pan with a bottom that's not too thick. Heat your pan with a tablespoon of butter. (You may add more once your schnitzel is frying if you think it doesn't have enough to get nicely brown and crispy.) Leave enough room in your pan so your schnitzel covers the bottom and is surrounded by butter.
Make sure your heat is not too high; you don't want to burn the butter. For easier frying, clarified butter is a good alternative since its smoking point is higher than butter. Oil can be used too, but will never make it as tasty as butter.
While the schnitzel is frying, look out for the edges. Once they start getting brown (that indicates the frying side will have a light golden-brown color) flip your schnitzel and reduce the heat. This will take 2 to 3 minutes, depending how thick it is.
Resist the urge to constantly lift up the schnitzel to check if it is getting brown. You only will interrupt the frying process, and your schnitzel might get overcooked. 
When done, while the heat is still on, season the schnitzel with either just kosher salt (or flaked salt) or a sweet paprika-salt mix. The sweet paprika adds a nice twist. Turn off the heat. 
Overall, the frying will take about 2 to 3 minutes and about 30 seconds to finish once flipped.
Serve directly on a plate or family style on a platter.
 Make sure to pour any butter left over your starches like a sauce. Delicious! Guten Appetit!
Side Dishes
Want the full German experience? We've collected recipes for some of the most popular German side dishes to serve with your pork, courtesy of East Bay experts. 
Apple Compote, Speisekammer, Alameda
Ingredients:
4 Granny Smith apples
1 oz. butter
½ cup brown sugar
1 teaspoon salt
½ lemon, juiced
Wash apples well, and cut into quarters. Take out the cores and cut up apples in small pieces.
Add all ingredients into a properly sized pot and bring to a boil. Put a lid on it and simmer for 10 minutes and then cool down the apple mix.
Put the apples into a Cuisinart and blend until smooth. You can also use a potato masher or hand mixer.
Serve with potato pancakes at room temperature or cool in refrigerator.
Potato Pancakes, Speisekammer, Alameda
Makes 16 pancakes
Ingredients:
2 large Yukon gold potatoes (about 2 lbs.)
1 bundle chives
2 teaspoons salt
1 teaspoon black pepper
½ teaspoon nutmeg
¼ cup canola oil
Wash potatoes well; do not peel. Cut chives into small rings. Shred potatoes by hand or with a food processor. Put in a strainer for 30 seconds and press lightly to get rid of some of the liquid. (Do not get rid of all the liquid because we do not want them to dry out.) Transfer the potatoes to a bowl.
Mix in the chives and the seasoning with your hands until all ingredients are well incorporated.
Get a large, nonstick pan and heat it on high. Add the oil and wait until hot. Mix the potato mass again and form 2-inch balls. Put in the pan and press them down with a spoon until they look like a pancake (about 3 inches in diameter) Make 8 pancakes at once.
Wait until they turn golden brown on the bottom, then turn and brown on the other side.
Scoop the pancakes out of the pan and put them on a plate with baking paper or paper towel to soak up some of the oil. After making the first 8 pancakes, make 8 more. While you make the next batch, keep the first ones warm in your oven (150°F). Serve with applesauce and/or sour cream.
Potato Salad, Bierhaus, Walnut Creek
Dressing:
2 tablespoons salt
9 tablespoons sugar
8 tablespoons Dijon mustard
8 tablespoons white wine vinegar
10 tablespoons extra virgin olive oil
10 tablespoons grapeseed oil 
Add all ingredients together in container. Whisk very well. Use stick blender to emulsify the oils.
Salad:
4 quarts cooked waxy potatoes, diced
2½ cups dressing (see above)
2 cups red onions, minced
1 cup parsley, chopped
1 cup chives, sliced
Cook the diced potatoes in salted water. Drain the potatoes and cool on sheet trays lined with parchment paper. Taste the potatoes and season with salt, ensuring the potatoes are laid out on a single layer. Dress the potatoes on the tray with ½ cup of the dressing. The temperature difference will make the potatoes absorb the cool dressing. Once the potatoes are fully cooled down, mix them with the rest of the ingredients.
Braised Red Cabbage, Gaumenkitzel, Berkeley
Serves 5–6
Ingredients:
3 oz. yellow onion
4½ cups red cabbage
4½ teaspoons unfiltered apple vinegar
3½ cups apple
3 teaspoons butter
1.3 teaspoons salt
.2 teaspoon whole clove
1.8 teaspoons light brown sugar
Dash ground black pepper
For slurry:
½ teaspoon potato starch 

mixed with 3.5 teaspoons cold or room temperature water  

6 teaspoons unsalted cold butter cubes
Julienne fine by hand, or with a kitchen machine, the yellow onion and red cabbage. As soon as the red cabbage is finished, drizzle with apple vinegar.
Wash and core your apples, and grate them finely by hand or with a kitchen machine. (It's preferable to use a sour apple like Braeburn. Don't use apples with a tough skin like Granny Smith; if you don't have one with soft skin, peel the apples.) You want to break them down so you have almost a puree.
In a pot with a thick bottom (don't use a lid yet), melt but don't brown the butter over medium-high heat. Add the onion, mix thoroughly, and start softening them for 10 minutes. You don't want any browning. Lower temperature if needed. Add salt and stir with a cooking spoon. Keep softening for 5 more minutes.
First, add ½ cup of water (filtered preferred), and then add the cabbage.
Make a little hole in the center and place a sachet (cloth bag) with whole cloves (make a knot at the top of the sachet, but not too tight or it will burst open while cooking). Cover sachet with red cabbage. Sprinkle light brown sugar, salt, and ground black pepper evenly over the cabbage. Add the grated apple evenly on top of the cabbage.
Place a lid on your pot and bring to a boil over medium-high (don't go too fast or your cabbage might burn at the bottom of your pot). Once boiling, reduce the heat to low-medium, and mix roughly by bringing the hot bottom (onion and cabbage) to the top. Braise for 20 minutes.
Stir again—more this time—and braise for 20 more minutes. Be careful not to break the sachet.
Check some cabbage with a fork on a plate for doneness (soft to a little al dente is what you are looking for). If needed, braise for 10 more minutes. Check again for doneness. If you like it more al dente, braise for less time. If you prefer softer, braise longer.
Once your cabbage has the desired consistency, finish it with a slurry and butter. To make slurry, mix potato starch into cold or room temperature water (1 to 10 ratio). Add the slurry and butter until the butter has all melted and been incorporated. 
Spaetzle, Brotzeit Lokal, Oakland
2 cups all-purpose non-self-rising flour
1 tablespoons minced parsley
½ teaspoon nutmeg
6 large eggs
½ cup milk
¼ cup butter
In a large mixing bowl, mix together flour, parsley, and nutmeg with a whisk. In a separate bowl, lightly beat eggs.
Alternate between stirring in beaten eggs and milk to the flour mixture until you have a smooth batter. Let the batter rest for 30 minutes at room temperature. Meanwhile, bring a pot of salted water to a boil.
Pour spaetzle dough through a spaetzle maker or colander directly into the boiling water so that small, elongated drops fall in. Boil until spaetzle rises to the top. Use a slotted spoon to remove spaetzle from water.
Melt butter in a skillet over medium heat. Place drained spaetzle directly into butter and fry for 2 to 3 minutes. Serve hot and garnish with more minced parsley.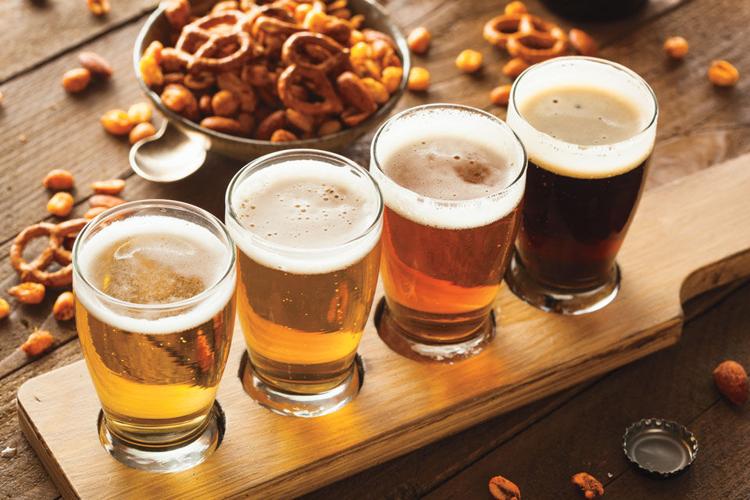 Know Your Biers
Tony Granieri, owner of Brotzeit Lokal Restaurant and Biergarten on the Oakland waterfront, breaks down the most popular styles of German beer to pair with your pork. The good news: "As a general rule, German beer is very drinkable and tends to pair well with most foods."
Altbier
Origin: Düsseldorf
"These are copper to dark brown ales with no chill haze. Alt means old."
Hefeweizen or Weissbier
Origin: Bavaria
"Pours a straw-yellow color with a foamy head. The aroma boasts banana, clove, pale malts, and grainy wheat. The taste is smooth, with plenty of bready yeast, spicy malts, pepper, clove, and sweet honey."
Kölsch
Origin: Cologne
"Light in color with a malt character. This style's fermentation process yields a light, vinous character accompanied by a slightly dry, crisp finish. Ale yeast is used for fermentation."
Märzen or Märzenbier (March beer)
Origin: Bavaria
"A pale or amber-colored lager, this beer 
was traditionally brewed in March (hence 
its name) and stored in caves before the 
summer weather made brewing lagers nearly
impossible. It is also a style that is widely used by many breweries for their Oktoberfest offering."
Pilsner
Origin: Czech Republic
"Light in color and may range from light straw to golden, depending on the pilsner you are drinking. The spicy and strong hop flavors have made it a very popular beer style all around the world, including Germany."