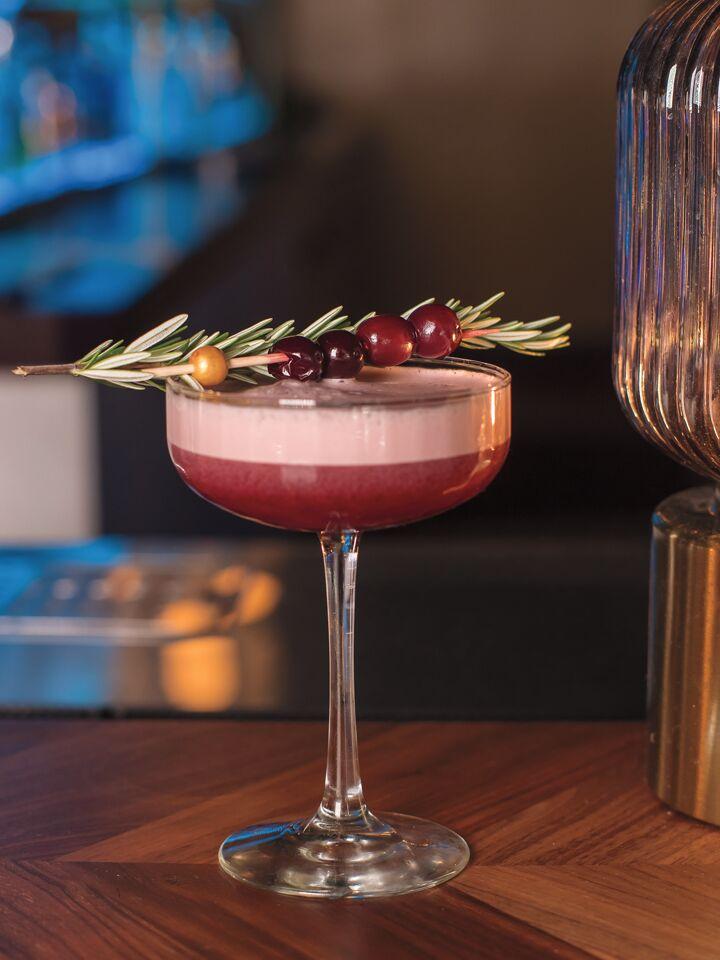 This December, top off a roller-coaster year with a step back in time at Middle 8 in Pleasanton.
The new '70s-themed bar is fully embracing 
the craziness of the season—and 2021 in general—with 
its Feeling Santa-Mental cocktail. The drink features a tequila base complemented by a festive splash of pomegranate juice and dash of orange bitters, topped with frothy egg white and garnished with a cocktail cranberry for extra flair.
For inspiration, owner Rick Dobbs decided to lean into 
the fact that, given the transition from last year's lockdowns and shipping constraints imposed by the pandemic-strained supply chain, "this Christmas season is going to be weird. People won't be getting everything [they want], so we're 
going to be crazy and wish Santa would do the work. Hence, Santa-Mental."
Dobbs, who also founded the Last Word in Livermore, has made it a point at Middle 8 to shake up Pleasanton's 
sometimes staid suburban nightlife scene with a focus 
on craft drinks and weekly live music. Expect a full list 
of Christmas cocktails to drop December 6. There will 
also be retro holiday decorations to go with an existing decor designed as a modern throwback to the 1970s, mixing muted lighting, velvet couches, and disco balls. All of which should make it an especially groovy place to sip a Santa-Mental and forget about this year's holiday craziness. middle8bar.com.
RECIPE: Feeling Santa-Mental

2 ounces blanco tequila
1 ounce Pom pomegranate juice
¼ ounce lime juice
1 ounce egg white
2 dashes Regan's orange bitters
Combine all ingredients and shake without ice. Add ice and shake again. Double strain into a cocktail coupe. Garnish with Lounge Attire cocktail cranberries and a sprig of rosemary.