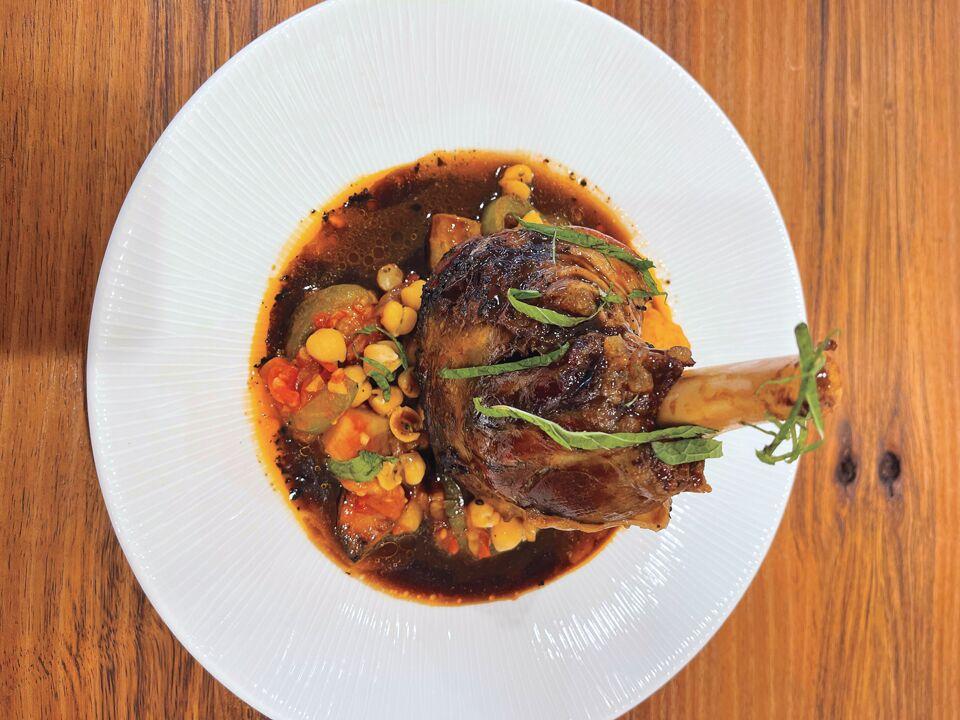 I wasn't quite sure what to expect upon entering Elia, the new Mediterranean restaurant that's landed in the heart of downtown Pleasanton. Something dark, rustic, and Italian was likely in the back of my mind, considering that the city's Main Street has historically been dominated by traditional eateries catering to the pasta-and-pizza crowd—numbering upward of 10 at last count.
What we encountered instead felt like a refreshing breeze blown straight off the Aegean Sea.
Along one wall were air plants hanging in glass containers 
interspersed by mati, the blue-and-white teardrop evil eye charms ubiquitous in Greece. Across the open dining room, one whole white-washed wall was filled with tchotchke- and plant-lined niches that felt airlifted straight from the Greek isle of Santorini. Natural light flowed throughout the refreshingly airy interior, as servers in khakis and polo shirts bustled back and forth from the kitchen to the interior tables separated by sun-bleached manzanita branches and an expansive wraparound patio. It's a striking spot, one that relaxes and soothes and sets the tone for the lovely meal 
to follow.
"This was my passion, my dream," says co-owner Fatih Ulas, who also runs Sultan's Kebab, a casual Turkish concept with 
locations in Danville, Pleasanton, and Walnut Creek. "I live in Pleasanton and wanted to bring something that was missing. The idea was to break from the traditional restaurant look. So, from 
the super bright, all-white walls and the table setup to the uniforms of the employees, I want it to feel like you're on vacation from the moment you walk in."
Mission accomplished. And the good news is that the food is as light and thoughtful as the decor. Co-owner and executive chef Mehmet Duygu's menu represents a step up from standard Greek fare while spilling over with appealingly healthy Mediterranean ingredients like feta, olives, eggplant, garlic, and yogurt, all of which make repeat cameos. It's an expansive menu that includes about 20 mezethe (appetizers), soups, and salads—which can be mixed and matched to share or build a light dinner—along with 10 entrées. We sopped up a dip of olive oil dotted with chopped olives with our complementary house-baked rolls as we waited for our starters, which ranged from slightly disappointing to wowing.
Let's start with the bad: the Greek salad. On a pre-kids trip through Greece with my wife (that seems like a hundred years ago), we practically lived off these wonderful creations, which combine sweet, juicy tomatoes with briny, moist feta cheese, often draped with olive oil and oregano and spiked with kalamata olives and sliced red onion. Given the Bay Area's world-class produce and cheesemakers, this should have been a home run, but unfortunately, Elia's version didn't rise to the occasion. The feta was dry and flaky, and the various elements—tomato, bell pepper, cucumbers, red onion, and olives—were chopped too rough to let the dish coalesce into a satisfying whole.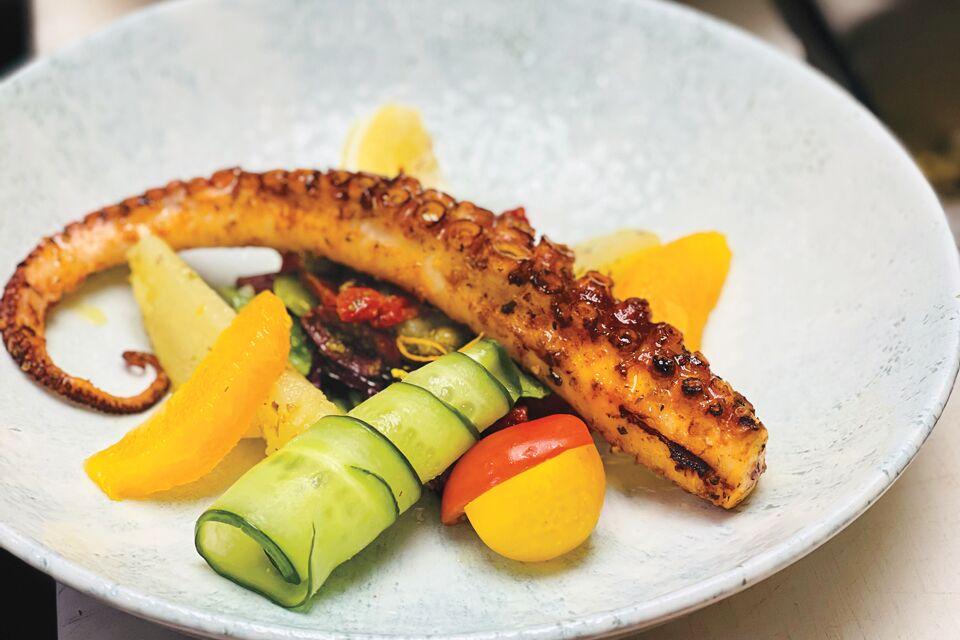 Better executed was the grilled octopus. There's no mistaking this dish, which comes out as a single fire-charred tentacle curled atop baby arugula. We sliced the impressively tender meat into 
flavorful bite-size coins that we enjoyed with the accompanying sliced orange, chilled purple potatoes, and kalamata olives. Our favorite, however, was the saganaki, which consists of a brick of salty, feta-like kefalograviera Greek cheese that's drizzled with brandy and lit afire tableside before being extinguished with a healthy squeeze of lemon juice—resulting in a mini cast-iron skillet of gooey, salty, citrusy deliciousness. It's an absolute crowd-pleaser, and one that drew delighted reactions all evening from a packed house of diners, who ranged from families to young dates to older couples to ladies' nights out.
Another early favorite on the menu, Ulas confirmed, is the lavraki. The grilled Mediterranean sea bass is meticulously deboned by the kitchen and served whole on a bed of bouncy Israeli couscous alongside fragrant roasted tomato, eggplant, and olives. I squeezed the charred lemon on top and proceeded to work on the crispy, oily skin, while my wife and kids devoured the moist, white interior flesh—only head and tail remained by the end. The more pedestrian-
sounding chicken souvlaki was just as successful. The skewered, 
yogurt-marinated thighs, served atop traditional couscous with 
a side of zesty, creamy tzatziki, was exceptionally succulent and flavorful, leaving the table fighting for scraps.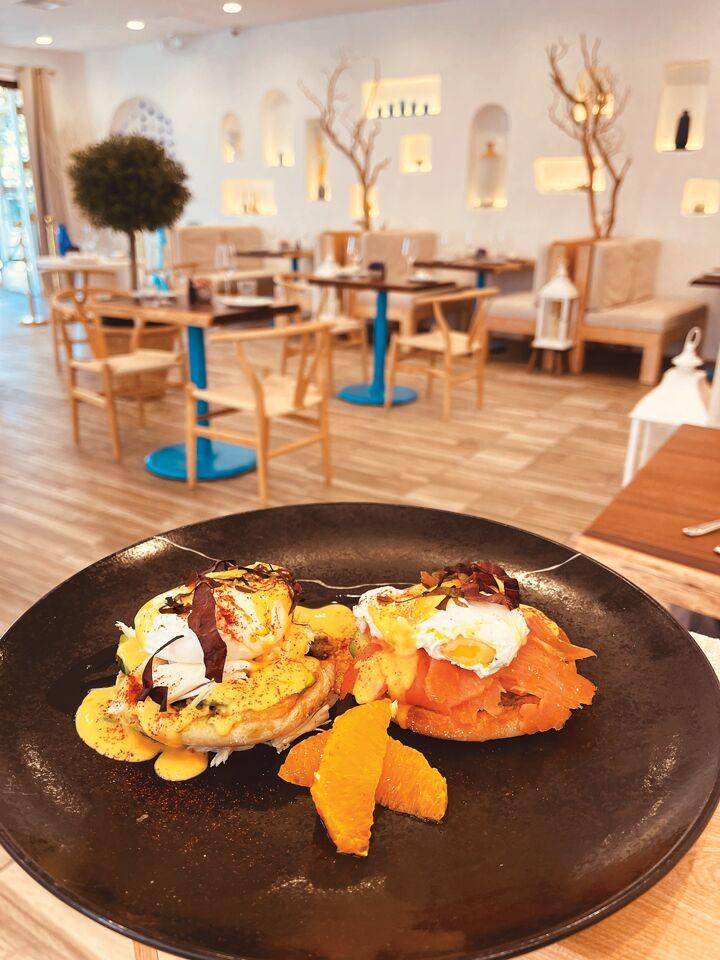 To accompany the dishes, our expert waiter recommended a 
couple of lovely, food-friendly glasses of Greek white wine—the list is split roughly between Greek and California offerings. Ulas says he should secure a full liquor license by December. He's also acquired a DJ station for events and brunch on the weekends, taking a cue from places he's eaten in Santorini and Mykonos, all of which should add another lively layer to what's already a fun atmosphere. There is an unmistakable buzz here that just feels different from anything else happening in downtown Pleasanton—which is exactly what Ulas was aiming for when he dreamed up Elia.
"If you've been out in Greece, it's so much fun: People start going out at 9 p.m.," he says. "I wanted to bring some of that late-night lifestyle, because that's my lifestyle—I like to get dressed up and eat well and drink and have a good time. I wanted to create something special. And as much as Pleasanton can be conservative and old-school, there are a lot of people here who want to have a good time." eliapleasanton.com.