As a chef on Kauai, I would spend mornings filleting whole fish, including yellowfin tunas that outweighed me by 100 pounds. I always seemed to be racing to finish dinner prep, so more often than not, I had lunch on the fly: scraping chunks of ruby red fish from the skeleton, tossing them with Hawaiian salt and sesame oil, and eating it all straight out of the bowl. This is poke at its most bare-bones.
Traditional Hawaiian poke is slightly more involved, with the addition of minced green onions, shaved sweet onions, a little limu (seaweed), and soy sauce. This is what Roy Yamaguchi enjoyed during his childhood summer vacations on Maui. After Yamaguchi moved to the islands, he developed a chain of island restaurants (the first Roy's opened in 1988), where he gave poke a refined twist.
A popular recipe called for Maui onions, chives, rayu (spicy sesame oil), soy sauce, seaweed, yuzu, and roasted inamona (kukui nuts). This was tossed with uniformly diced ahi and extra virgin olive oil, garnished with frisée and limu, and sprinkled with crispy garlic and shallots.
Upscale-style poke such as this arrived in the Bay Area in 2003, when the first Pacific Catch in San Francisco offered poke as both an appetizer and in a bowl over ​sushi rice—and became its top seller. The concept has been so successful that the seventh Pacific Catch opened in Dublin in 2016, and an eighth is slated to launch in Walnut Creek this spring. The Walnut Creek location will feature the most intriguing poke options yet, including a "taco" of fresh jicama shells filled with cubed kampachi (yellowtail), orange, pomegranate, yuzu, ginger, mint, micro greens, and crispy quinoa.
Happily, you needn't go to a full-service restaurant—or Hawaii—to get great poke; the East Bay has seen an explosion of fast-casual poke spots recently. We sampled several and listed our three favorites below, all of which serve lunch and dinner daily.
Pokeatery​
Of all the assembly-line-style poke spots we tried, Pokeatery was the freshest and most authentic. Served in a box rather than a bowl, the ingredients stay separate so you can truly taste the fish. Innovative bases include kelp noodles, citrus kale, and uala (purple sweet potato) chips. The mix-ins are classic—cucumber, limu, and onions—and the sauces are delicate. Try the poke­cado toast (avocado toast with poke toppings) and the pineapple Dole whip for dessert. 1345 Newell Ave., Walnut Creek, (925) 287-1888, pokeatery.com.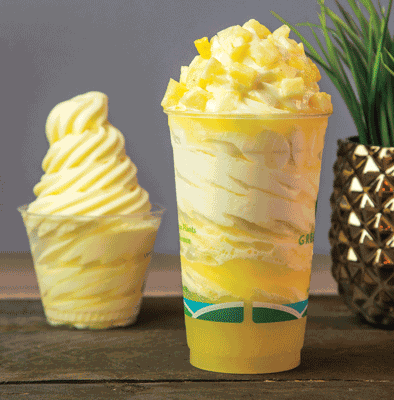 North Shore Poke Co.
There are three poke restaurants in Pleasanton alone, but North Shore was by far our favorite in terms of both atmosphere and quality. For freshness, the fish choices are wisely kept to two (ahi and salmon), and for $1 more, you can get soba noodles as your base. The extras are minimal but include crispy onions and garlic; the creamy Waimea sauce is one of the best we tried. Ripe mango, avocado, and macadamia nuts comprise some of the premium add-ons (for $1 each). 6786 Bernal Ave., Pleasanton, (925) 523-3848, northshorepokeco.com.
Fish Face Poke Bar
Hands down our top choice, Fish Face might seem pricey—until you see the portions. The fish is sushi grade, includes sturgeon and sustainable Scottish salmon, and is served in a cold steel bowl. Charred scallions, rice crisps, and togarashi are among the creative mix-ins (all extra). But the creamy cilantro pesto (use sparingly) is out of this world. Try the "Spicy 41" bowl, featuring cilantro, seaweed, and spicy kimchee ponzu with sushi rice. 5959 Shellmound St., Emeryville, (510) 907-3947, fishfacepokebar.com.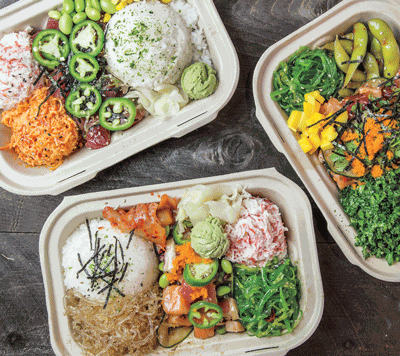 Build a Bowl
While many poke places offer endless combinations, it's best to start out simple. You typically pick a base (if you choose hot rice, ask for it on the side); fish (stick with salmon and ahi at first); a simple sauce (most offer a soy-sesame blend); add-ins (cucumber and onions will do); and toppings (get something crunchy). For added kick, look for ponzu or yuzu (citrusy condiments) and furikake or togarashi (flavorful spice mixes).
Click here to learn where to shop for the freshest ingredients and how to make a poke bowl at home.