Prior to mid‑October, a meal from the kitchen at Commis required a commitment to eating eight courses and spending $165 (plus $85 for wine pairings). At CDP, Commis' new bar and lounge, phenomenal appetizers, signature cocktails, and select wines by the glass can be had for $10-$15 each. These prices are industry standard, but the quality here is anything but: Commis carries two Michelin stars; no other East Bay restaurant has so much as one.
So it almost felt like shoplifting when I slipped into CDP (short for "chef de partie") on a recent evening. The 26-seat bar and lounge feeds into the 24-seat dining room but has its own entrance. The intimate space, imagined by chef-owner James Syhabout, opens to a clean-lined, white marble bar and telegraphs the good life with its soft tones, textured far wall, and lights both pragmatic (overhead spot lighting) and whimsical (dandelion "chandeliers").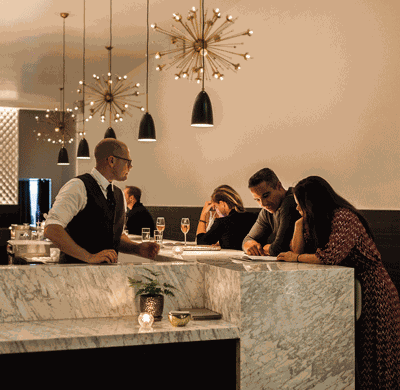 While no ordering strategy is required, sommelier and beverage director Mark Guillaudeu recommends settling in with some almonds or olives, and a cocktail—or something bubbly—"before you get serious."
Wanting to try as many plates as possible, I dove right in. A mousseline of hen liver arrived coyly in pâte à choux: mini cream puffs that appeared dainty but exploded with silky sweetness. A slightly effervescent Pinot Noir rosé made for a combo both stimulating and luxurious.
Syhabout's beef tartare—full-flavored diced rib eye spiked with capers, chervil, and a creamy tarragon emulsion—was
simply extraordinary when scooped up with crisp shards of lavash (the dough bound with beef fat) and paired well with a lush floral blend of Pinot Noir and Gamay from Châteaumeillant, France.
The staff here is as disarming as it is professional—both invisible and always at hand. The bartender, who automatically offers tastes before pouring a glass, helped steer my choices. Each dish was delivered by a lightly stubbled sous chef who, without actually saying, "I cooked this just for you," conveyed uncommon hospitality by describing the creations in as much detail as I craved.
That's how I anonymously discovered my generous slab of country-style pâté was made from pork shoulder and liver, enhanced with warm spice, cooked until just set, and firmly pressed. Served with several toasty slices of fine-crumbed pain de mie with violet mustard, the $13 dish was a revelation. I've invested several times in the prix fixe menu at Commis, ​and found each course to be masterly but ​often esoteric and sometimes confused. The pâté at CDP, served with a $14 glass of New York Cabernet Franc (a wine Guillaudeu calls an unsung hero: "Cabernet Sauvignon without the ponderousness"), was wholly satisfying.
With caviar service and Commis' world-class list of sparkling wines and brandies, CDP can be as expensive as you like (although ordering a $60 glass of champagne is a thrifty alternative to a $300 bottle). But for just $13, you can also experience Syhabout's signature dish: Served in an earthen bowl, it consists of three warm, custardy elements—Medjool date puree, creamy onion soup pooled to mimic an egg white, and a precisely poached, farm-fresh yolk—with puffed wild rice to provide some chew.
Enjoyed with a glass of true Chablis, and perhaps an order of house-made levain, this meal at CDP epitomizes what's offered by the next generation of gourmet wine bars: a transcendent experience—snappy or sustained—made to order.
3859 Piedmont Ave., Oakland, (510) 653-3902, commisrestaurant.com. Dinner Wed.-Sun.​
Pick a Glass
Mark Guillaudeu took over as beverage director of Commis and CDP when the lounge opened in October. When not working, he's usually taking classes or studying wine. Here are a few of his tips for selecting a vintage.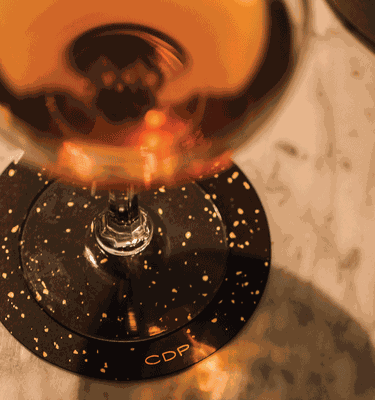 "Put yourself in the hands of the bartender."
Ordering at a modern wine bar should be a treasure hunt. Consider your appetite, scan the list and menu, and ask for tastes. You'll have the most luck, Guillaudeu says, ordering something the bartender is excited about.
"What do you like to drink at home?"
You don't need a deep wine vocabulary to convey what you do and don't like. Are you in the mood for red, white, rosé, or sparkling? Name a bottle or style that made an impression, and let the conversation roll.
"Aim for harmonic rather than sym-phonic."
When pairing with food, imagine what grape attribute might best cleanse your palate of the dominant component of the dish. For instance, a fruit-forward wine works for a meaty pâté; seek out something crisp and citrusy to go with a rich dish.