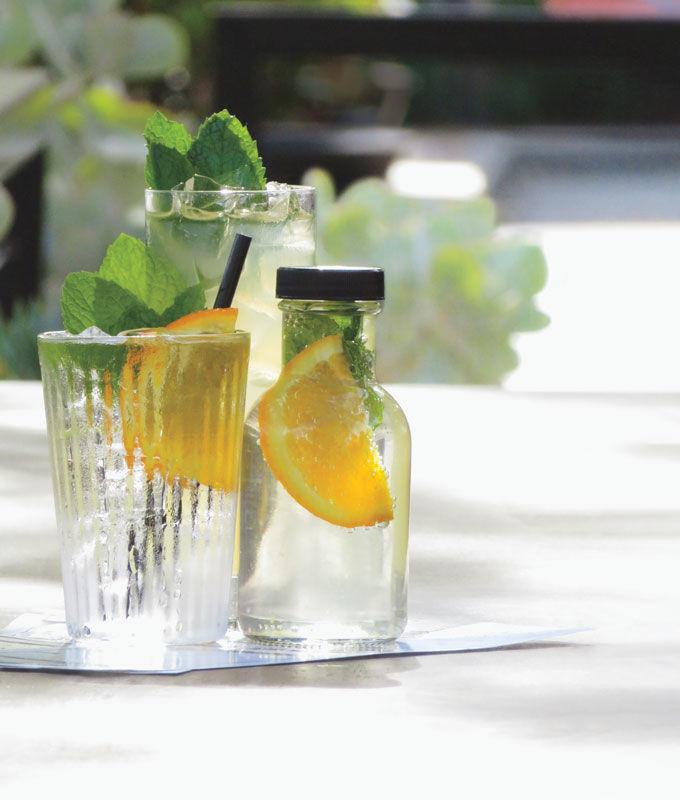 Gin and tonic. Rum and Coke. Bourbon and soda. Repeat. 
If your repertoire of mixed drinks is getting a little stale, Casey Carr has you covered. The bar manager at Lafayette's Batch and Brine joined a host of other East Bay mixologists during the shutdown to create portable craft cocktails for 
a thirsty, stir-crazy over-21 crowd.
"What I find is that people are ordering to-go drinks because they want more than something they can make on their own," says Carr. "It acts as the experience of going to their favorite place."
Below, Carr offers tips for those in desperate need of a decent drink. Here's a toast (fingers crossed) to being able to sip it with friends up close and personal soon.
1. Buy cocktails in reasonable quantities.
If you decide you want to stock up on your favorite 
libation, be aware of its shelf life. "Ordering many 
spirit-forward cocktails that are sealed is great because they will last if you chill them," explains Carr. But, be careful about getting large amounts of citrus cocktails—such as margaritas, lemon drops, or any beverage with juice—if you don't plan on drinking them right away.
2. Don't get the premade stuff.
Make sure your drinks are made fresh by a bartender before taking them to go. Carr says: "Avoid pre-batched bottles. [A drink] may have been made with citrus two days ago, and if you bought it today, it will really only last until tomorrow at the latest."
3. Order from the menu.
By ordering directly off an establishment's menu, "you are guaranteed [the drinks] are made with freshness and quality in mind." says Carr. "[The drinks] were picked for a reason."
Make this summery, easy-drinking cocktail from Batch and Brine at home:
Smoke Spice and Everything Nice
.75 oz Mezcal
.75 oz Oakland Spirits Company Trade Winds brandy
.5 oz Mandarino liqueur
1 oz fresh lemon juice
.5 oz simple syrup
Garnish with an orange slice and Spicy Spice blend (made with chipotle and paprika)
Stay-at-Home Summer Sippin'
Find out what kinds of East Bay drinks you can take to go.
Hibiscus Margarita, The Libertine
Start summer right with this bright and refreshing tequila creation from the Libertine. Including lime, hibiscus cordial, and agave, this simple margarita has the perfect balance of sweet and sour. Oakland, libertine-oakland-ca.hub.biz.
Southpaw, Danville Harvest
Either order a single serving or a 32-ounce Mason jar of this revitalizing citrus libation, which incorporates bourbon, kumquat, lemon, and angostura bitters. The restaurant has a high-quality selection of favorite fusions. Danville, danvilleharvest.com.
The Kon-Tiki Zombie, The Kon-Tiki
While the Oakland restaurant's take-out menu is packed with exotic bottled cocktails, this two-serving offering is the ultimate tropical paradise. The recipe is a secret, but it is filled with different kinds of rums, fruit juices, and spices. Make sure to pour over ice. Oakland, thekon-tikioakland.com.
Spicy Sangria, Telefèric Barcelona
This Spanish punch is perfect for the hot weather—and it should make staying at home a bit more fun. Containing white wine, serrano pepper vodka, triple sec, lime, and elderflower, the sangria serves three. Walnut Creek, telefericbarcelona.com.
Passion From 6 Feet Away, Viridian
A new standout summery cocktail is fresh, bold, and infused with Swedish vodka, aquavit, passion fruit, yuzu kosho, and cacao. All the craft drinks from this bar are made with love and come in two different sizes: Me and U (serves two) and Big Baller (serves 12). Oakland, viridianbar.com.