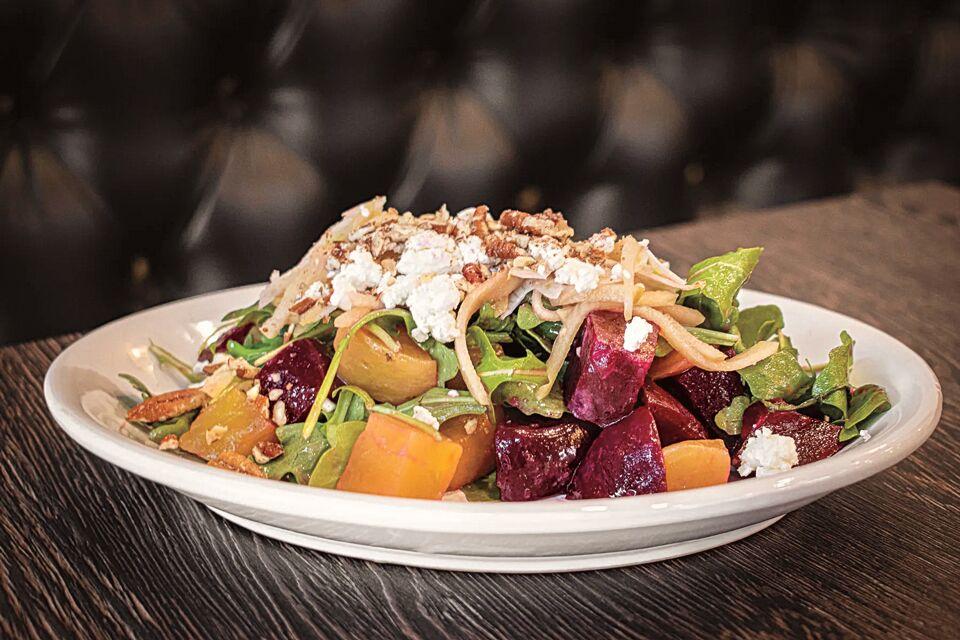 A bite of a simple side salad is the first clue that chef Brad Zeller takes the ingredients he uses very seriously.
Garden-fresh greens, wisps of watermelon radish, and outrageously flavorful olive oil cut with just the right flash of bright vinegar acidity. It's a long, delicious moment before you come back to the gorgeous, juicy burger the salad accompanies.
New to Pleasant Hill's downtown, Crescent Bistro, Zeller's first venture as a chef-owner, offers a whole encyclopedia of high-end food and drink. What Zeller serves is of the freshest, best quality, often with artisanal or house-made touches.
The dinner menu is deceptively simple—a single page of "snacks," small plates, "greens," and entrées. While the lineup of dishes sounds standard—there was a steak, salmon, chicken, risotto, and a burger among the entrées in December—interesting twists in the preparation add an element of adventure.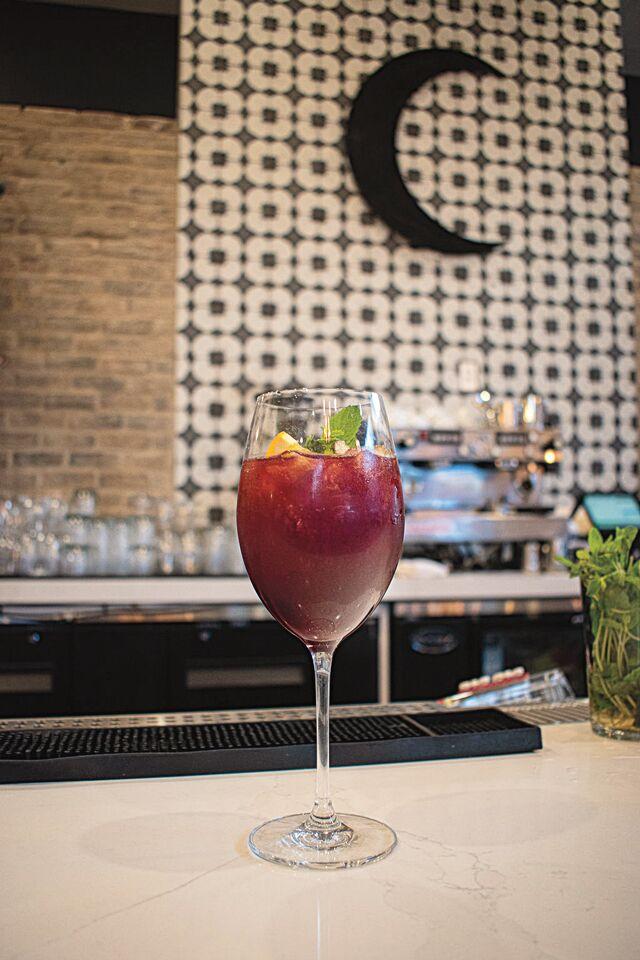 The succulent Bistro steak frites is served with plump watercress 
and balsamic onions—reminiscent of, but a delicious upgrade on, the Italian mode of serving steak with arugula and chopped fresh tomatoes. The soft pickledness of the onions and the slightly peppery cress were just the right counterpoint to the umami, or savoriness, of the meat. Although the hangar steak, cooked medium rare as requested, came with a pat of red wine butter (blue cheese butter 
is also available), the meat itself and crisp Kennebec fries were 
lusciously rich on their own.
Oven-blistered fresh shishito peppers made a beautiful dish 
to share, and the carrot harissa they were served with was 
surprisingly good with the peppers. Also great for sharing, the small-plate grilled shrimp were plump and tender. In another twist, the shrimp came with a chorizo and potato hash. While both the shrimp and hash were great—nicely seasoned and cooked to perfection—the two seemed to engage in parallel play rather than working together.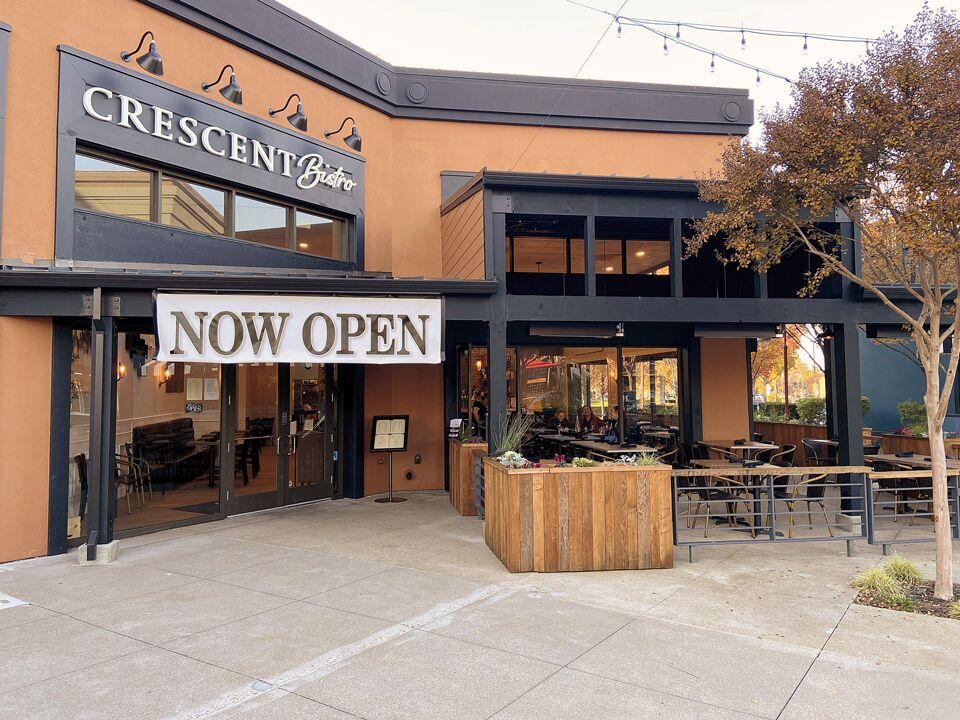 And getting back to that burger, Crescent Bistro pulls off the grand feat of searing the outside of the Angus beef with a deep grilled flavor while preserving a juicy pink interior—so juicy, in fact, that the meat, served on a brioche bun, drips juice. Cheddar cheese, butter lettuce, a dijonnaise sauce, and a house-made pickle round out the experience, with a choice of the crisp Kennebec fries or the heavenly salad on the side.
The wine list has been carefully curated, with descriptions that are simple and evocative, which is just one of the reminders of Zeller's past experience as executive chef at Walnut Creek's wine-oriented restaurant Va de Vi. The list was created by bar manager Daniel Clayton and general manager Katie Gray and, like the food, is an inspired mix of California wines and earthier influences from abroad, including a Tempranillo offered by the glass whose fruit was all the lovelier because of the wine's overall balance.
Clayton's cocktail and nonalcoholic drink recipes involve all kinds of in-house alchemy with fruit and even vegetable infusions, fresh herbs and spices, dehydrated citrus slices to serve as turbo-flavored garnishes, house-made pickles, and other exotic touches. Sparkling nonalcoholic drinks include a cranberry shrub made from fresh cranberries, star anise, ginger, and cardamom; and a celery sparkler, which includes not only fresh celery but also a bit of green apple and lemon juice. Top-shelf and rare spirits power the cocktails. Having spent time at Oakland's Hawking Bird, a fast-casual creation by Michelin-double-starred chef James Syhabout, Clayton knows his mad bar science. Even the after-dinner drinks list introduces a small world of possibilities, with dessert wines, sherry, port, and eight different kinds of amaro, including ones infused with rhubarb 
or thistle.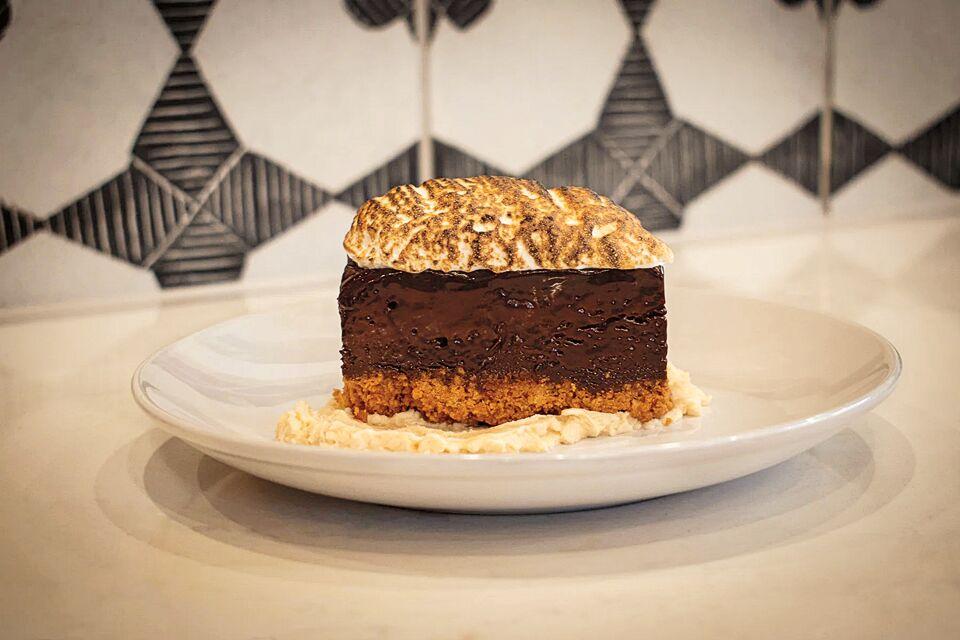 Speaking of after dinner, Crescent Bistro serves a few house-made desserts, including a seasonal fruit crisp (apple in December), its 
fruit, walnuts, and sweet oat crisp baked in a mini cast-iron pan and served with vanilla bean–specked gelato. Even the coffee, which is oak wood–roasted Mr. Espresso from Oakland, is distinctively flavorful.
This restaurant, although small, is mighty and represents an 
exciting addition to Pleasant Hill. About 10 tables are outside, some with very effective overhead heaters. Fifteen tables fill the indoor space. The bright dining room is softened by wall hangings, adding subtle colors to white walls, a warm backdrop of cream and black patterned tile and tan brick. Clearly, though, Zeller's emphasis is on the food and drinks, their creativity and pristine ingredients, and the care that goes into everything served. crescentbistro.com.