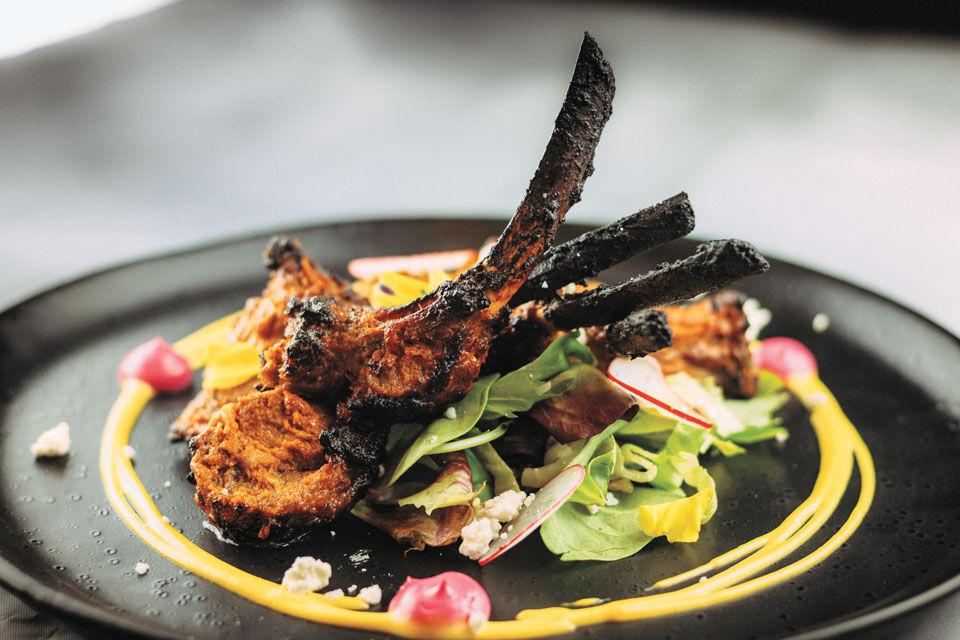 "So, who is that guy?" I asked our busy waitress as she set down appetizers, pointing to an oversize mural of a chef dominating one wall at the Yellow Chilli.
"Oh, that's Sanjeev Kapoor," she replied. "We grew up watching him on TV. He's kind of like the Gordon Ramsay of India."
While I didn't grow up watching Kapoor cook, it seemed as if many of the other diners here had. Which should be no surprise, considering he was a fixture on Indian television for nearly two decades. And judging by the unmistakable buzz permeating Danville's Rose Garden shopping center on a Thursday summer evening, his name clearly carries weight. Indeed, the restaurant's expansive dining room quickly filled up around us with customers, including a bustling cross section of the suburban East Bay's growing Indian population—from young first-daters, to busy parents wrangling squirmy kids (under the disapproving watch of grandparents), to tables of women dressed to the nines in colorful, shimmering saris.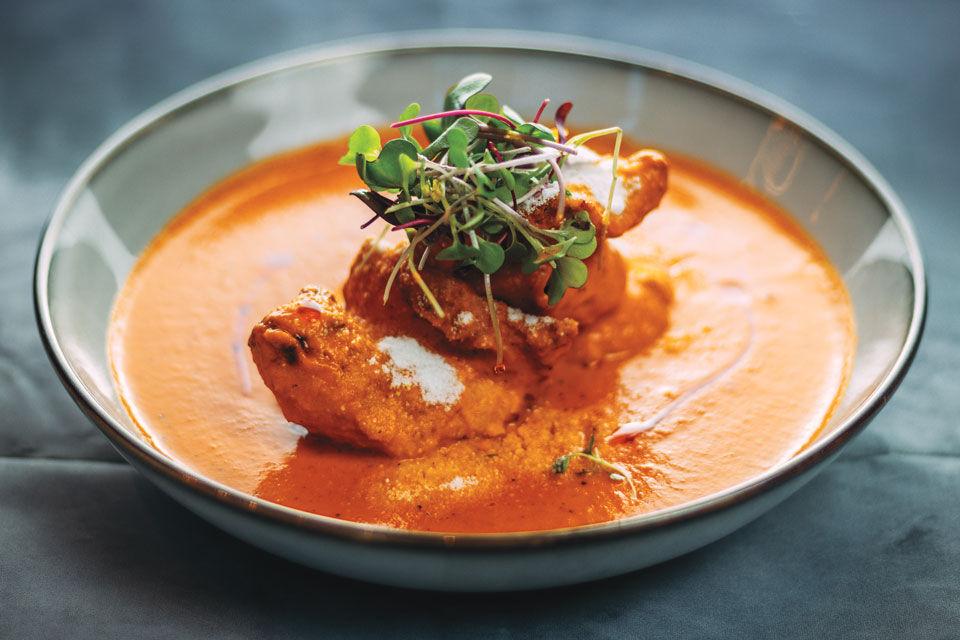 Kapoor has leveraged his name recognition into upward of 80 concepts across the globe under his SK Restaurants umbrella. But the Yellow Chilli, offering a kind of greatest-hits gastronomic tour of India inspired by his travels across the country, is his most popular and recognizable brand. A half dozen or so franchises operate in the United States, including one in Santa Clara, but the Danville location is unique. According to co-owner Shivraj Sidhu, the celebrity chef has been personally involved in launching the restaurant, which debuted earlier this year. Not only that, Kapoor wants to use the restaurant as a staging ground of sorts for his U.S. presence and even has plans to hold live cooking demos and events on-site.
You can see why. The former Maria Maria space boasts a banquet room and two patios to take advantage of the balmy Danville weather. The lofty, open interior has been smartly revamped with thoughtful design accents: a warm chili-yellow banquette, upper windows shaded with arabesque ornamental grating, and an accent wall sporting beautiful dusty-orange wallpaper commissioned from a famed Indian designer.
The restaurant, while remaining approachable for families, exudes an elegant, upscale atmosphere with the kind of fine-dining perks that set it apart in the area, notes Sidhu.
"The big outdoor patio, a private banquet room, the full bar with wine display—you don't see any other Indian restaurants around here with all those things," he says.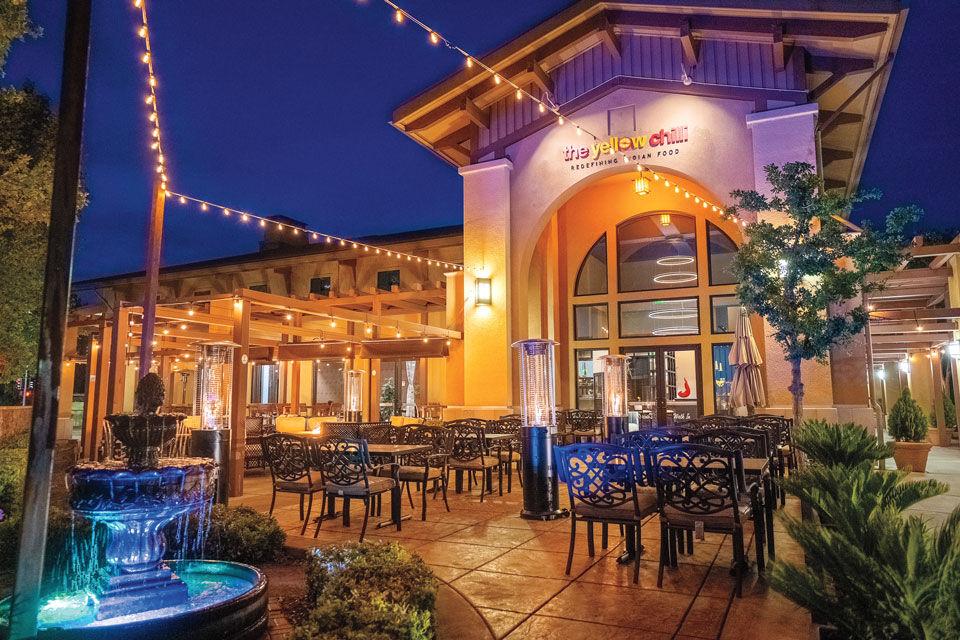 The food, meanwhile, measures up to the setting and exhibits a contemporary visual appeal. The amritsari machchi—a delicious Punjabi spin on British fried fish, in which the moist white filets' batter is enhanced by Indian spices—arrives on a dark slate platter decorated with flowers and colorful swirls of sauce. The murgh angara bedgi—earthy, tandoori-roasted boneless tikka chicken enlivened with bedgi chilies—rests atop an avant-garde splash of cool raita yogurt.
For the most part, however, the restaurant doesn't fall into the haute trap of attempting to "reinterpret" or "deconstruct" its food. Yes, there are unusual items on the menu, but that's more a function of the restaurant's concept, which purposefully encompasses a broader swath of the Indian culinary landscape than most. The food is fresh, consistent, and well prepared—but the flavors and forms of most dishes are easily recognizable to those familiar with the cuisine.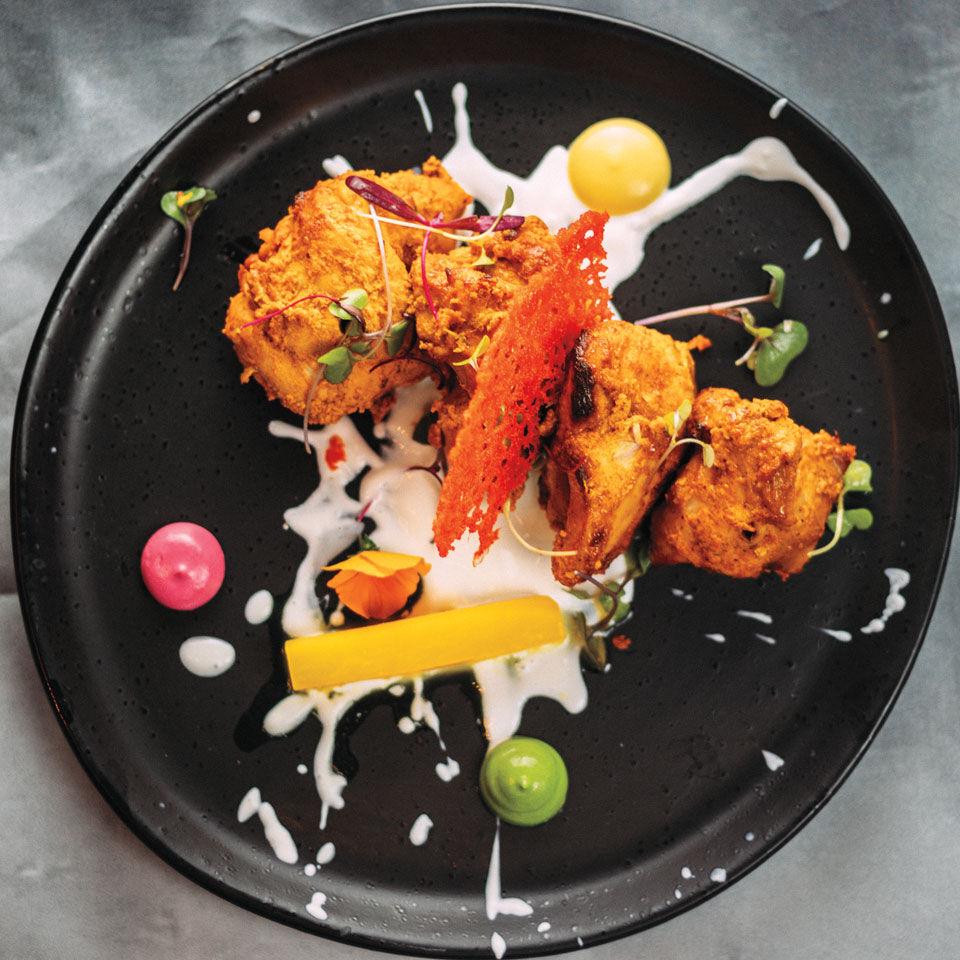 The kitchen, for example, doesn't shy away from standards such as butter chicken. An offshoot of chicken tikka masala enriched by cream and butter, the smoothness that gives this beloved dish its name is fully in evidence at the Yellow Chilli. Enough acid from the tomatoes and a touch of spice help balance the characteristic full-bodied sweetness of the sauce, which envelops tender pieces of marinated dark chicken. Ladle it on a side order of long-grain basmati rice or crispy clay oven garlic naan—or eat it straight up with a spoon, as I did later that evening while raiding my fridge for a midnight snack.
As one of the milder curries, it's a great intro to the menu for kids (or adults), but there are plenty more adventurous options for those seeking them. One of the appealing calling cards of Indian cuisine is its depth of flavor and the way so many ingredients—from chopped onions, tomatoes, and chilies to the myriad dried spices—are seamlessly layered into each dish. A nice example is the ghara dum ke aloo, a vegetarian specialty from India's Kashmir region in which peeled, fried baby potatoes substitute for meat. But the real magic is in the "gravy." A base of yogurt and red chili paste is accented by a kaleidoscope of spices, including ginger, cardamom, clove, masala, cumin, and, most noticeably, fennel and saffron. The complex creamy-spicy-savory result had me pushing the potatoes out of the way to get directly to the sauce.
Even better is the lalla mussa dal. Dals are variations on yellow split pea soup typically served as a side. The Yellow Chilli offers three more substantial versions capable of standing on their own. Split peas sound ho-hum, but in this case the headliner ingredient is only added after cumin powder, chopped tomato, onion, and green chili are cooked down in oil and then boosted with turmeric and coriander powder, garlic paste, ginger, and coriander leaves. Topped by fragrant tadka, a bright-red infused oil spiked with chili powder, the result is both remarkably complex and immensely satisfying.
The same could be said for our entire experience at the Yellow Chilli, which adds a wholly unexpected new dimension to Danville's dining scene. For that we have to thank celebrity megachef Sanjeev Kapoor. Swing by the restaurant, and you just might be able to thank him yourself. theyellow​chillidanville.com.