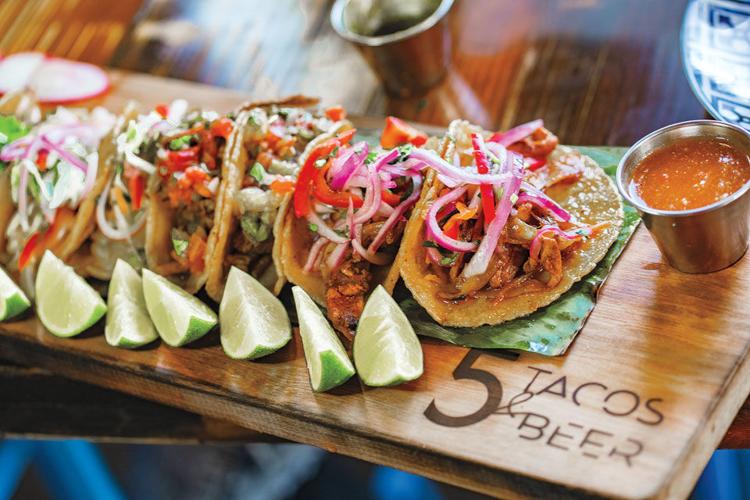 They're easy, yummy, and cheap—so it's no wonder that tacos have been a shelter in the storm as the food industry navigates choppy pandemic waters. Since March, no fewer than five local taco-centric spots have opened. Here's the scoop on each.
5 Tacos and Beers, Albany
Lito Saldaña has built up an impressive empire of Mexican eateries, highlighted by
his popular Los Moles restaurants with locations in El Cerrito, Emeryville, and San Rafael, and another in the works for downtown Walnut Creek. At his newest East Bay venture, Saldaña eschews mole for tacos, with varying results. These days, there's something to be said for simple outdoor dining, and 5 Tacos and Beers delivers that with aplomb, providing a lively alfresco eating experience that spills out onto the sidewalk and street of Solano Avenue. As for the food, the name pretty much sums it up: The kitchen offers a weekly selection of five tacos, available à la carte or all together on a picturesque wooden platter for $20. Also, the restaurant impressively carries more than two dozen local craft beers, offered in flights of five.
As is occasionally the case when chefs "elevate" iconic street foods, something can get lost in translation. The al pastor treatment of portobello mushrooms in the veggie taco didn't work—I would have preferred either al pastor chicken or simple sautéed portobellos—and the thinly sliced steak in the rib-eye taco was bland in comparison to flavorful chopped carne asada versions at taco stands. However, the melt-in-your-mouth short rib, marinated in barbacoa adobo and cooked for five hours, exhibited great flavor and comforting texture, while the mixed pork surtidito de cerdo was just as tasty as it sounds.
Regardless, the first-rate tortilla chips, salsa, 
and guacamole; killer beer selection; and relaxing atmosphere is reason enough to make the trip.
1175 Solano Ave., (510) 898-1829, 5tacos.com. —E.F.
Dia Y Noche, Walnut Creek
This brand-new downtown Walnut Creek locale captures the spirit and palette of Mexico with its colorful chairs and overhead umbrellas, side alley adorned with lights, and live mariachi music on Thursday and Friday evenings (plus Sunday brunch). The upbeat atmosphere is especially conducive to in-person drinking and light dining, which the restaurant 
emphasized on our late August visit with its all-
summer happy hour highlighted by 10 small plates, 
a handful of entrées, and a half dozen or so tacos.
The clear winner of the tacos, which come two 
per order, was the cochinita pibil, featuring a 
generous portion of slow-roasted, citrus-marinated pork, boasting carnitas-like comfort without the greasiness and topped with spicy pickled red onions. The rich and flavorful shredded pork was also a huge hit with our children—important since the restaurant does not serve rice and was out of the one item on 
their kids menu (chicken soup) that the kids deemed acceptable. Also tasty were the Ensenada prawns, grilled to perfection and topped with a smoky rojo sauce, crema, red cabbage, and spicy diced pepper.
There were a couple of missteps. The grilled octopus was oversalted in one taco, and the carne asada steak was dry and overly charred in another. But given the unusual circumstances under which it opened—not to mention the excellent margaritas and the lively Locust Street setting—we're willing to give Dia Y Noche time to hit its stride. For dessert, try the three crisp churros with a scoop of vanilla ice cream.
1411 Locust Ave., (925) 300-3055, dia-y-noche.business.site. —E.F.
El Garage, Richmond
Could you call El Garage a one-trick pony? Maybe, but it's one heck of a trick.
The Montano family emerged as the Instagram darlings of the taco world last year when they became one of the first and most visible purveyors of quesabirria, a uniquely social media–friendly concoction that migrated up California from Tijuana. The taco-quesadilla hybrid combines tender Mexican stewed beef birria with mozzarella cheese that's melted atop a flattop grill to ooey-gooey goodness on a crisped corn tortilla folded in half and served with a side of rust-hued beef consommé for sipping or dipping. Well, the consommé is technically an optional add-on, but just go for it—you're not counting calories at this point and the stuff is liquid gold.
It's also a great story. The effervescent Viviana Montano started the business as a pop-up on a shoestring budget with her sisters and parents, combining the youngers' social media savvy with the elders' cooking chops. However, bureaucratic red tape and the pandemic steered them to open a legit brick-and-mortar taqueria in July next to the Richmond BART station. Currently open for takeout only, online ordering for pickup Friday through Sunday begins Wednesdays at 1 p.m.
For now, the menu consists of quesabirria—with or without cheese—along with consommé, a couple of agua frescas, and the optional side of pickled habanero (highly recommended for its kick of spice and acidity). But they had plans to expand the menu with weekly specials and other Mexican street foods in September.
1428 Macdonald Ave., elgarage.online. —E.F.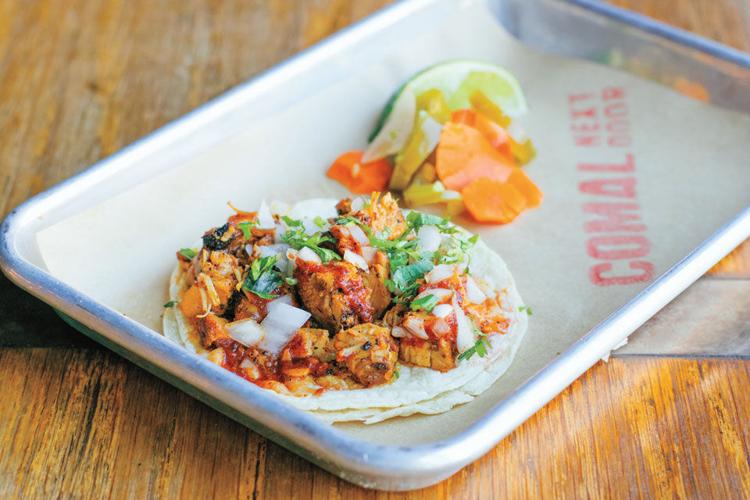 Comal Next Door, Oakland and Berkeley

Executive chef Matt Gandin, whose Comal in downtown Berkeley helped usher
in a golden era of higher-end Mexican restaurants around the Bay Area, takes a cerebral California-cuisine approach to his casual spin-off that's nevertheless rooted in traditional preparations. That means that at Comal Next Door, which just opened a second location in Oakland's Adams Point neighborhood, the carnitas are made from top-quality Berkshire pork—but are just as fatty and pull-apart-tender as you'd get at an east Oakland taco truck. The ample portions in each taco are laid on a scratch-made, masa-to-tortilla base, while topped simply, and traditionally, with raw onion and cilantro plus a side wedge of lime and pickled 
accoutrement. The al pastor pork, redolent with chilies, spices, and achiote marinade, is another meat standout, while sautéed mushrooms and spinach; corn, zucchini, and poblano; and tofu chili verde 
options provide veggie choices for noncarnivores.
Three tacos (all under $4) are more than enough to satisfy, but it's almost a shame to stop there. Most fillings can be subbed into burritos and atop rice and salad bowls; torta sandwiches (including one featuring buttermilk-fried chicken) are a handful of deliciousness; Comal's legendary tequila- and mezcal-
based cocktails are available to go; and an order of chips, deeply flavored salsa, and made-to-order 
guacamole is practically mandatory.
550 Grand Ave., Oakland; 2024 Shattuck Ave., Berkeley; (510) 422-6625; comalnextdoor.com. —E.F.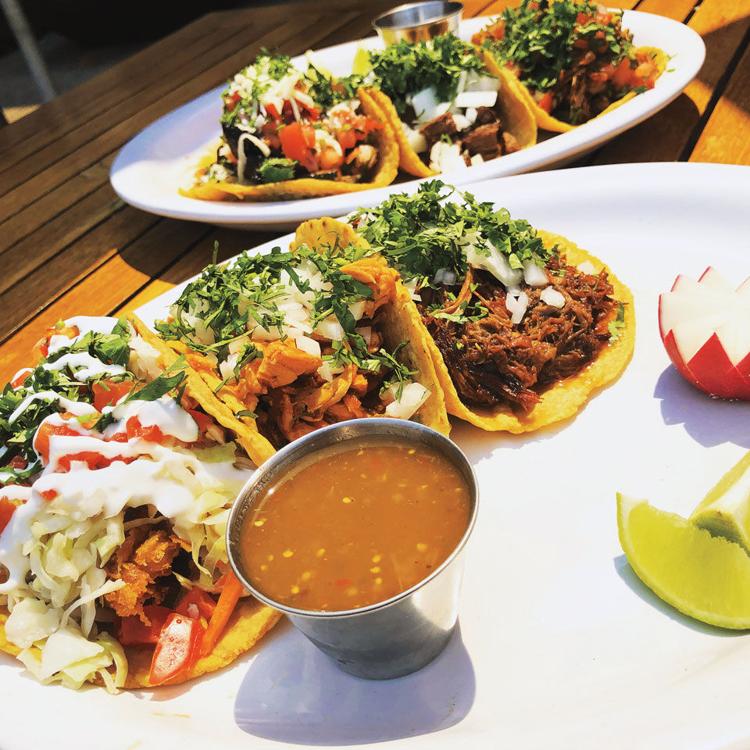 Choza Tacos-Y-Cantina, Danville
With taco stand prices and a luxurious waterside patio on the "shores" of Blackhawk Plaza, Choza is a choice spot for both the well-heeled and diners living hand-to-mouth. You must order two of the nine tacos ($6-$7) on offer or one with rice and beans, and if you choose carefully, you'll have a serious meal for around $8. First off, the handmade tortillas are extra thick, making them formidable (and necessary to eat while warm). We tried all nine, and the veggie, with eggplant and squash, was a winner, as was the chili verde, with its tangy chunks of pork. The spicy, dark shredded beef in the barbacoa rounded out our top three. Avoid the chopped carne asada and carnitas, 
as they were both dry. The al pastor was dry too, but had great flavor—its char went surprisingly well with diced fresh pineapple. Fish (fried or grilled) and shrimp tacos were bland and rather overwhelmed by the masa—though sides of lime and a killer roasted chili salsa lent a lift. The lengthy Mexican American menu includes cheesy chili rellenos, which we loved. The splashy interior, with its front cantina and lots of shiny metal, wasn't open for business on our visit, but the seating by the pond made Choza special enough.
3421 Blackhawk Plaza Cir., (925) 208-1902, chozablackhawk.com. —N.B.