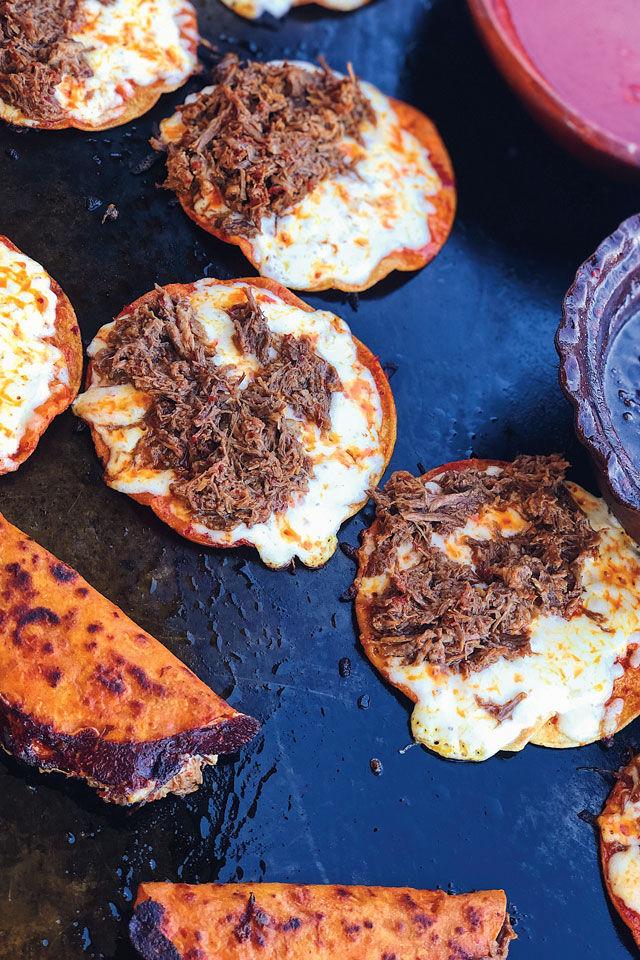 What do you get when you combine 
pull-apart–tender Mexican stewed beef with mozzarella cheese, grilled to ooey-gooey perfection atop a corn tortilla? Quesabirria, the latest star dish in the Bay Area's food-
obsessed social media world. Named for 
its two main components, queso (cheese) 
and birria (stewed beef), this happy taco 
and quesadilla hybrid got its start south of 
the border before migrating up to Southern California.
But it wasn't until last year when the 
Montano family started churning out the savory treats every weekend on a flattop grill set up in 
either the driveway of their Richmond home 
or at another nearby location—dubbed "El Garage"—that quesabirria took off in the Bay Area. The festive, music-filled atmosphere of El Garage is designed to replicate a "Mexican backyard party," explains Viviana Montano, who runs the business with her parents and 
sisters. Driven by delicious, drool-inducing Instagram images, hours-long waits soon 
became the norm. After a while, El Garage was going through upward of 400 pounds of birria—based on Viviana's mother's recipe—
a day.
Earlier this year, the Montanos began to develop a business plan for their first legit brick-and-mortar restaurant, which was set to open in July right in front the Richmond BART station. They will also continue their popular periodic pop-up events around the East Bay, so check their Instagram feed for the latest details.
Be sure to get a side of beef consommé for sipping and dipping. And don't forget to 'gram it. instagram.com/el_gaaarage.