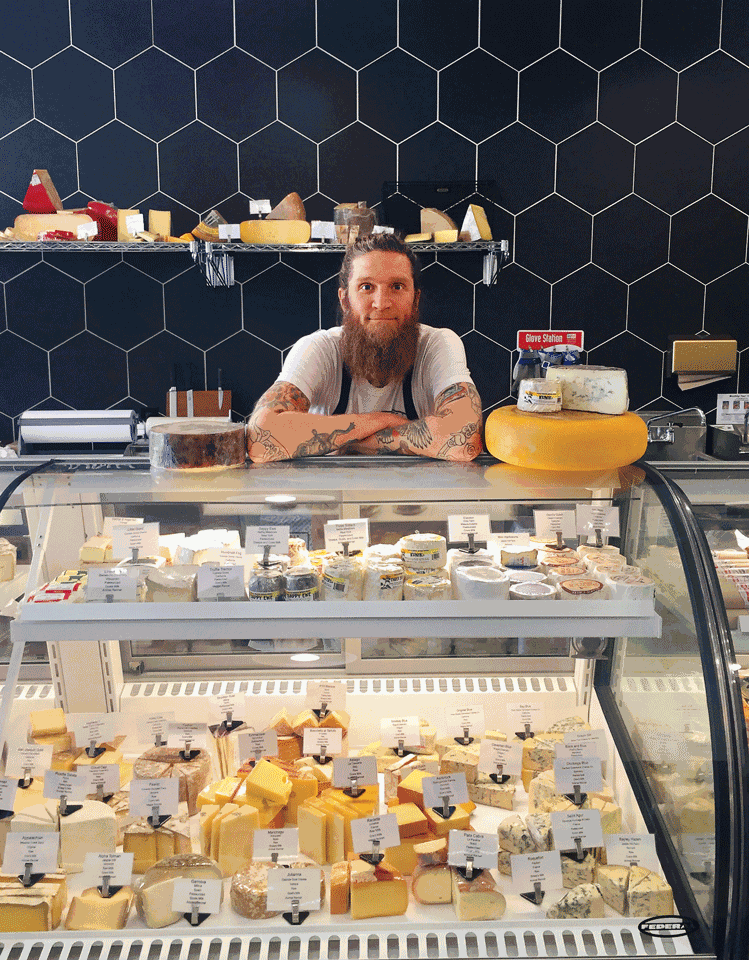 So how did a punk rocker who only ate cheese on pizza (washed down with a PBR) become the premier expert on cheese in Livermore wine country?
For Brandon Wood, owner of the Cheese Parlor in downtown Livermore, it all started a decade ago at Whole Foods in Oakland. Needing an earlier schedule to accommodate his wife's job, he switched to working mornings at the store's cheese counter. His boss took Wood under his wing, opening his eyes to the wider world of cheese—starting with a notoriously pungent washed-rind Italian Taleggio.
---

"I get to slang cheese and meat and wine and beer to people, and bring money back into the community. I couldn't ask for anything more." —Brandon Wood

---
"I hated it. It was awful—I was like, 'Why would you start me with this cheese?'" Wood recalls. "Then I tried it again the next day. And the next day. He taught me about flavor profiles, and I tried it with jam and honey, with this and that. I got interested and decided to look it up on the computer, and when I looked up cheese, I found all this information on creameries and animals and farmers. I thought: This isn't cheese. What is this?"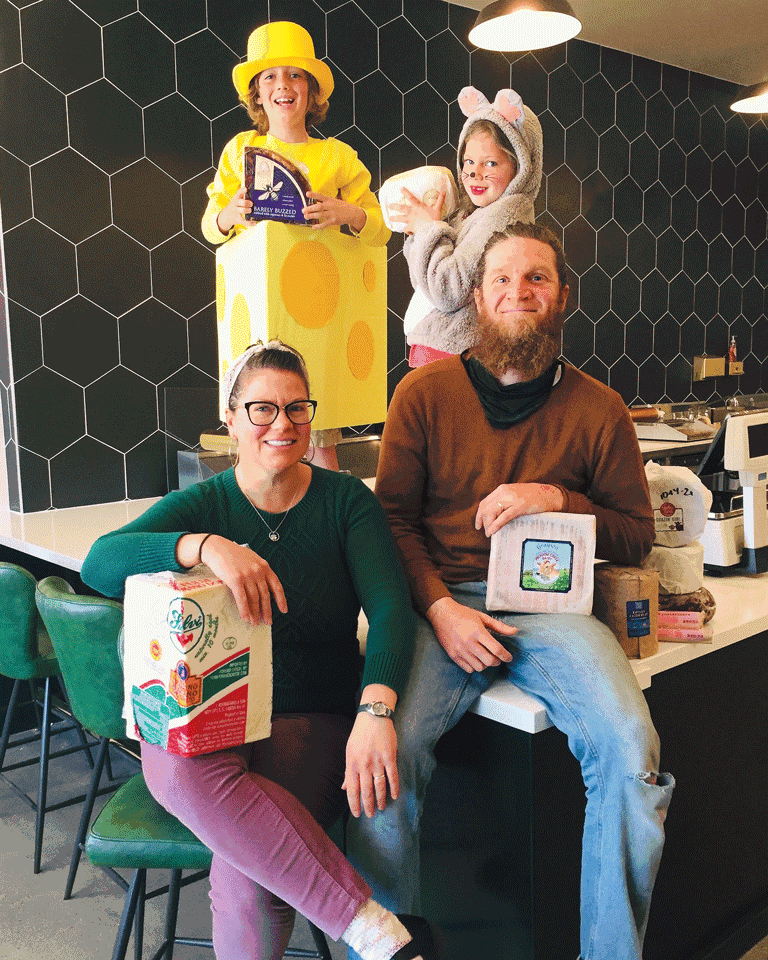 Wood was hooked. Aided by his mentor and Whole Foods's robust work- enrichment policy, he began a yearslong journey from novice to Certified Cheese Professional. (Yes, that's a real title that Wood needed to study and pass a test to acquire—although he prefers the term "professional cheesemonger.") During the process, he transferred to the Dublin Whole Foods, moved with his young family to Livermore, and became familiar with the local wine region.
During the pandemic, as his grocery work became more stressful, he began picking up freelance gigs putting together cheese-and-charcuterie boxes for area wineries and doing cheese educational (and wine and cheese pairing) classes.
"Then it just got better and better; more wineries hit me up, and I started doing more classes," he says. "I realized there wasn't any place to buy cheese around here besides grocery stores, so I looked into the finances, got some help from family and friends, and met with a landlord and signed a lease on June 1 last year."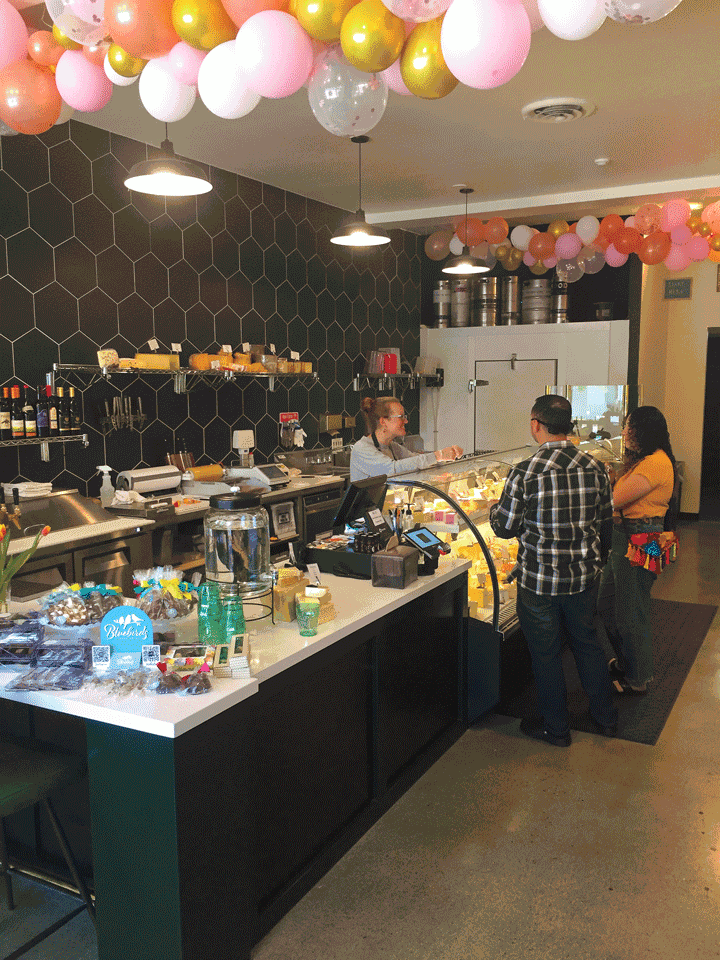 This February, he officially launched the Cheese Parlor, where he offers only Livermore Valley wines, craft beer, locally procured accompaniments (think jams, olive oil, and honey), and, of course, cheese—80 percent of which is made in the U.S., 40 percent here in California.
You can get everything to go, or enjoy a glass of local vino with a custom-made cheese plate on-site. It has been, Wood admits, an absolute whirlwind.
"I feel like I have lived here every day, 14 to 16 hours a day, for the last six months," he says. "But it's worth it. I get to slang cheese and meat and wine and beer to people, and bring money back into the community. I couldn't ask for anything more—I'm loving every second." thecheeseparlor.com.
---
Better Together
Looking for the perfect cheesy pairing for a Livermore wine? Brandon Wood offers recommendations and tasting notes for five vintages from acclaimed local wineries.
---
Wine: Wood Family Vineyards, 2021 Albariño
Cheese: Central Coast Creamery's Seascape, a semihard cheese made with a blend of cow and goat milk
Pairing notes: The Seascape cuts the acid in the wine and adds a soft cream. It also brings out floral notes not present before and adds some salt to the finish.
---
Wine: McGrail Vineyards, 2018 Family Chardonnay
Cheese: William Cofield Cheesemakers's McKinley Cheddar
Pairing notes: The cheese calms the butter and cream down in the wine and brings out the vanilla, while the wine calms down the acidity in the cheese—the opposite of the usual pairing.
---
Wine: Nottingham Cellars, 2021 Rosé
Cheese: Laura Chenel's fresh chèvre with macerated strawberries
Pairing notes: The cream of the cheese still cuts through and brings down the acid on the finish, while the fruit glides all the way across your palate. The finish is bright and tangy.
---
Wine: Cellar 13 Winery, 2017 Cabernet Sauvignon
Cheese: Mitica's Garrotxa, a Spanish goat cheese
Pairing notes: This is fun, because the wine brings a brightness to the cheese, letting the cream come through all the way. The cream traditionally helps the wine as well, but this combination is a sensation that allows for some tang and salt—but doesn't push it.
---
Wine: Las Positas Vineyards, 2017 Estate Coccineous
Cheese: Fiscalini Farmstead's Lionza, a Swiss Alpine–style raw cow's milk cheese
Pairing notes: Notes of cherry pop. The cheese's dryness lingers but doesn't impact the wine, which stays strong and maintains a touch of acid on the finish. Additional notes of cherry and caramel.