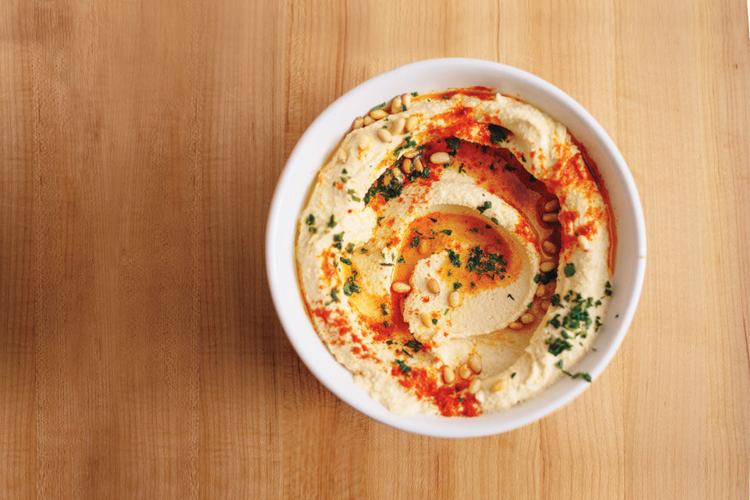 Silky smooth, melt-in-your-mouth, creamy—these words can only begin to describe Mica Talmor's locally famous 
hummus, a Middle Eastern specialty of cooked and blended garbanzo beans mixed with tahini, lemon, garlic, and salt.
Talmor, the former owner of Oakland's 
Ba-Bite, launched Pomella right after the Bay Area shelter-in-place order took effect. And along with her delicious hummus, she's serving a variety of modern California-Israeli food items such as salads, falafel, house-made pita, and desserts. (Do yourself a favor and order the cheesecake with seasonal fruit topping if it's on the menu.)
Of course, opening and running an eatery during a worldwide pandemic comes with challenges. But, amid all the craziness, she's immensely grateful: "It's incredible how much help I've received from my friends, my family, and also from complete strangers who supported my business through the Kickstarter campaign."
Talmor initiated the campaign to raise money for a new hummus-making machine. This powerful mega food processor is a "game changer," she says, as it can make five times the amount of her sought-after hummus with no loss in quality.
The restaurant's opening hasn't been quite as silky smooth—indoor seating, catering, and a marketplace offering various deli items were big parts of her original vision that Talmor has had to scrap for now. But she's rolling with it as best she can.
"This is what happens when your plans get blown," says Talmor. "You make another plan overnight, and you make the most 
of it."
Pomella is open for curbside or to-go window pickup, outdoor seating, and DoorDash and Grubhub delivery. pomellaoakland.com.