Asparagus, artichokes, fava beans, and peas in the spring. 
Granted, they do not have the same cachet as strawberries, 
peaches, tomatoes, and corn in the summer. Still, these early splashes of greenery are a welcome sight on Bay Area produce shelves come March, an edible harbinger of the end of the winter rainy period.
To celebrate the season—and warmer days ahead—Diablo reached out to four top East Bay restaurants to create the perfect early springtime menu.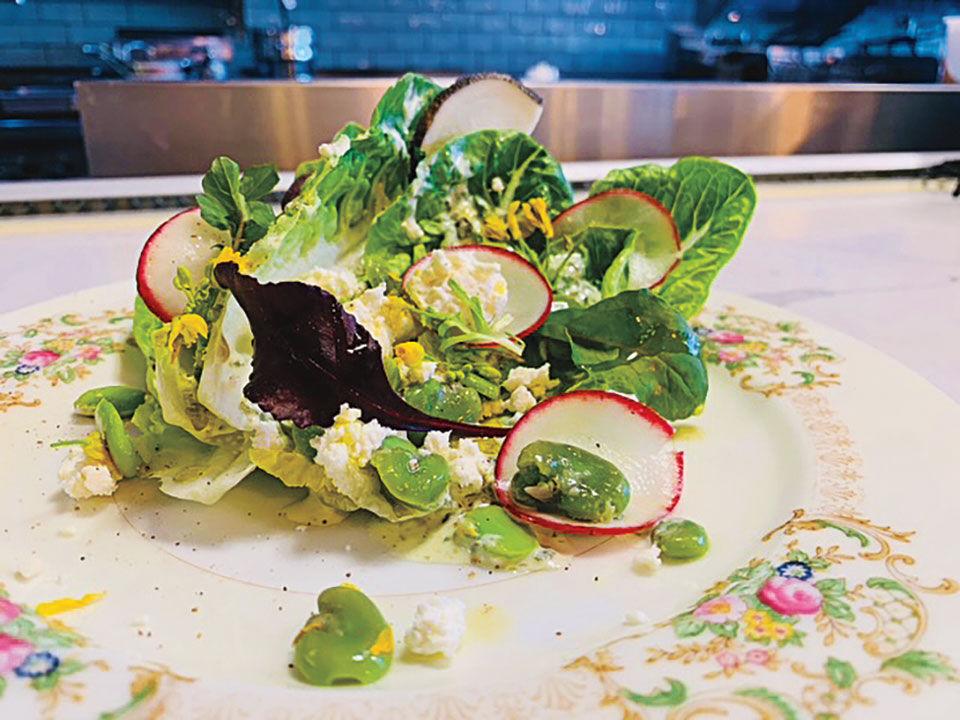 Fava Bean Salad with Little Gems
From Arash Ghasemi, executive chef and co-owner of Main Street Kitchen and Bar in Walnut Creek
This may not look like a dish inspired by Iranian cuisine. But that's the beauty of the Bay Area, a place where chefs are animated by local seasonal ingredients to create vibrant California cuisine informed by upbringings halfway across the globe.
For Arash Ghasemi, the dressing for his fava bean salad—which combines sour cream, yogurt, olive oil, lime juice, and fresh herbs—reminds him of abdoogh khiar, a Persian cold cucumber and yogurt soup that he ate on hot summer days as a child in Iran.
"Every time I make this salad it reminds me how lucky we 
are here in California with all these yummy local products," 
he says.
Fava beans are one of Ghasemi's favorite spring and summer vegetables. "I can't wait until I can buy them from our friend Shirley [Lea] with Cabrillo Farms in Moss Beach, just north of Half Moon Bay. Fava beans have a unique mild sweet taste and so many uses." At Main Street Kitchen, he'll sprinkle them in salads; make a toast spread with pounded baby green garlic, homegrown mint, and local EVOO; and add them to fresh lemon fettuccine pasta with spring onion, garlic, mint, and parsley, plus a dollop of fresh Jersey cow's milk ricotta cheese.
To prepare, take the beans out of their large pods and blanch 
them in salted boiling water, then shock them in ice water and "clean" (take them out of their second shell). Or you can salt the shelled beans, let them sit for a couple of hours, use your nails to remove the second shell, and then blanch when needed.
Recipe
Herb sour cream dressing:
Makes 8 (2 ounce) servings
1 cup organic Straus sour cream 
1 cup organic Straus European-style yogurt 
1/2 cup local extra virgin olive oil
1/2 cup fresh squeezed lime juice 

Herbs:
Clean leaves off stems chop together fine—measurement is in number of stems to be cleaned. 
2 dill
2 tarragon
2 mint
3 basil
3 parsley 
Mix together in large bowl and use an immersion blender for best results. 
Salt and pepper to taste.
Fava bean salad:
1 head little gem lettuce 
1 thinly sliced radish, any type
2 ounces feta cheese
1/3 cup fresh fava beans, cleaned, blanched, and cleaned again
1/4 avocado
Pea Times Three Spring Soup
From Stewart Beatty, executive chef of Postino in Lafayette
Stewart Beatty incorporates peas year-round at Postino. They're a featured ingredient in two of the restaurant's most popular dishes (braised short ribs and spaghettini carbonara, which are both served with English peas), and one of the available sides is 
sautéed onions and sweet peas. But early spring is when "they are at their sweetest and most abundant," he says.
By layering three different types—pea sprouts, split peas, and fresh peas—along with chicken broth and heavy cream, Beatty 
attempts to "capture the essence of early spring" in one hearty soup. To really get into the seasonal spirit, he recommends pairing spring peas with light spring alliums, such as spring garlic, onions, or leeks (as he does in this recipe).
"We love peas at Postino," he says. "For me, this soup is to spring what butternut squash soup is to fall."
Recipe
Yield: Approximately 12 cups
1 yellow onion, diced
1 large leek, washed well and chopped
2 cloves garlic, smashed with the back of a knife
3 cups freshest peas you can find
1 1/2 cups green split peas
12 ounces pea sprouts (available year round at fine grocery stores, but abundant at farmers markets in spring)
2 cups fresh baby spinach
6 cups chicken stock or broth
2 cups water
2 cups heavy cream
5 tablespoons extra virgin olive oil (divided)
1/2 bunch mint
2 tablespoons kosher salt (plus more to taste)
In a thick-bottomed pot add 3 tablespoons extra virgin olive oil. Turn heat to medium-high. Add the onion and leek and sweat until translucent. Add the garlic, green split peas, water, and chicken stock. Bring to a simmer. Add 2 tablespoons kosher salt. Lower heat to medium. Cover the pot, and stir occasionally. Simmer until green split peas are breaking down and close to forming a porridge at the bottom of the pot, approximately 45 minutes. You may need to add a bit of water depending how much evaporation has occurred. A rule of thumb would be that you'd want about double the amount of liquid in the pot as opposed to vegetable and peas.
Add the fresh green peas, turn off the heat, and cover. Leave alone for five to ten minutes.
Add the pea sprouts, baby spinach, and cream. Put the pot back on high heat and bring to a boil, stir frequently, wilting the greens. Once the soup boils, immediately turn off the heat. In batches, puree the mixture in a blender until it is smooth. Pick the mint from the stems, and add the mint to the last blender batch. Once all the soup is pureed, stir together again to assure the soup is homogenous. Season to taste with salt.
Upon serving, drizzle a little of the remaining extra virgin olive oil over the soup.
Note: I like to further garnish this soup with a little extra pea sprouts. Other garnish options include thin sliced sugar snap peas, grated parmesan cheese, lemon zest, or citrus-infused extra virgin olive oil.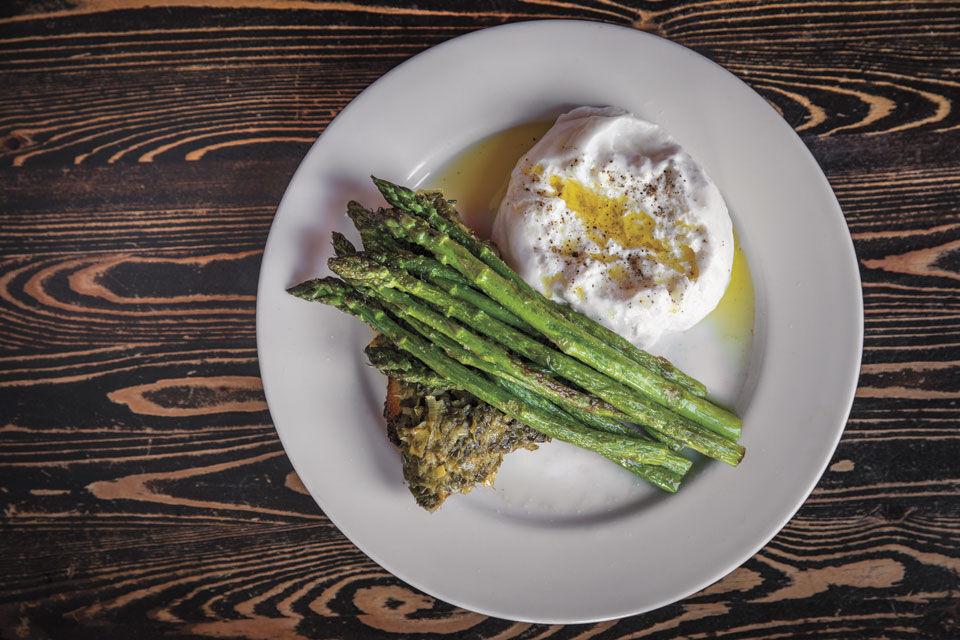 Roasted Asparagus with Burrata and Green Garlic
Peter Swanson, executive chef and co-owner of Benchmark Pizza in Kensington
The arrival of asparagus holds particular significance for Peter Swanson. The son of vegetarian parents, Swanson grew up in 
rural Michigan literally across the street from an asparagus farm. When the vegetable was in season, the family could pick fresh stalks to eat that day, taking peak advantage of its unique character, which he describes as "grassy, a little lemony and citrusy—just completely its own flavor."
When it becomes available, Swanson loads up on crops grown in the Capay Valley, the epicenter of the Bay Area's asparagus farming. Of utmost importance, he says, is to buy it fresh and eat it quickly thereafter.
"It's like corn," Swanson says. "After you pick it, it starts going downhill quick."
One of his favorite ways to use asparagus at Benchmark is in the Italian tradition, roasting it and draping it with fresh burrata and a paste made from olive oil, butter, and another springtime staple, green garlic. Swanson also recommends a quick and easy preparation of roasting the stalks—charring (versus blanching) adds a whole other flavor element—and garnishing simply with olive oil and salt. At the restaurant he also chops up the versatile veggie and uses it "a hundred different ways" in everything from soup to pasta to pizza.
"I really get excited when I see it," Swanson enthuses. "It's one of the first vegetables to come out, so it's something that reminds me of spring."
Recipe
Serves 2
1 bunch asparagus
12 stems green garlic
1 ball mozzarella burrata (mozzarella to which cream is added—available in specialty cheese shops)
1 tablespoon unsalted butter
2 tablespoons extra virgin olive oil
1 slice day-old country round bread (or your favorite), toasted
Salt to taste
Extra virgin olive oil to finish/taste
Sprinkle Marash pepper
Preheat oven to 450˚F. Snap ends off asparagus and rinse. Place on a sheet tray, drizzle with 1 tablespoon of olive oil, and sprinkle with salt. Use your hands to toss together until each spear is coated with the oil and salt. Bake in oven until slightly browned and crispy, around 10 to 15 minutes depending on your oven.
While asparagus is cooking, remove stems from green garlic and tough green tops. Rinse, then chop finely. Add to pan with remaining olive oil and butter and salt to taste. Cook down until soft; adjust seasoning if needed.
Smear the garlic mixture onto your toast. Place burrata next to toast and puncture it with fork and pull apart to allow some of the cream to fall out. Sprinkle with salt and Marash pepper and drizzle with olive oil.
Place asparagus in between toast and burrata. Eat with knife and fork!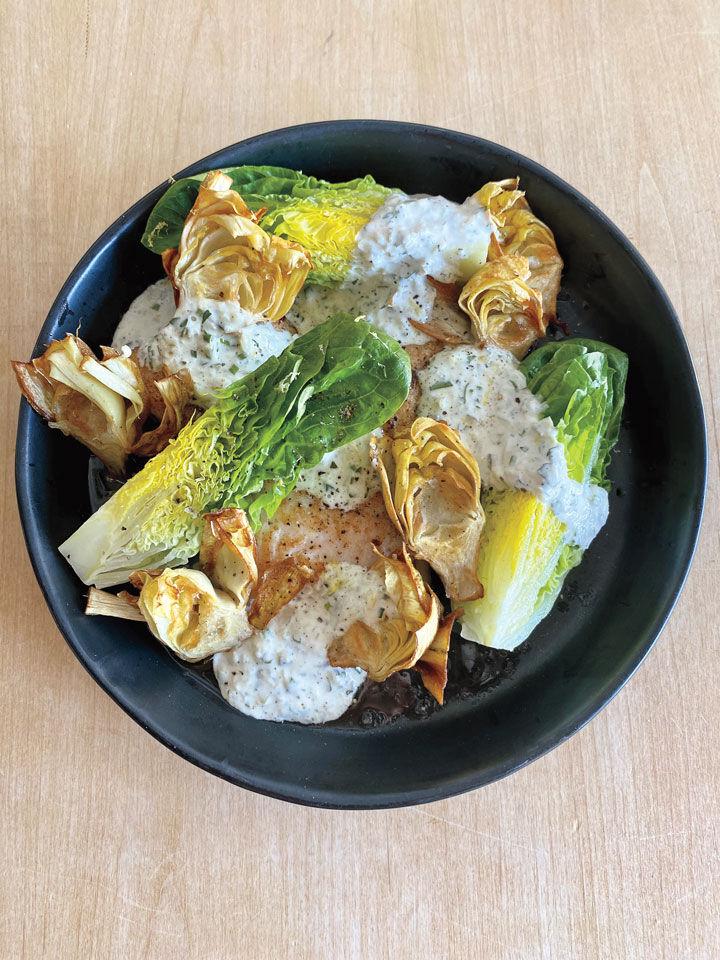 Petrale Sole and Crispy Artichoke with Little Gems and Ravigote Sauce
From Bill Niles, executive chef and co-owner of Range Life in Livermore
There's no getting around it, says chef Bill Niles: "Preparing a dish with in-season artichokes is labor intensive."
For his recipe, you'll need to rip off the outer leaves "until you see a mostly pale yellow leaf," and then methodically peel down the section from the bottom of the leaf to the bottom of the stem. Finally cut off the top where the pale yellow portion of the leaf begins. Next, blanch the chokes in boiling water before 
plunging them in an ice bath. Only then can you sauté them 
in olive oil until they are golden brown. Oh, and during the initial preparation, don't forget to dunk the artichokes in cold water mixed with the juice of two lemons—otherwise they'll quickly brown.
Yes, the prep is a bit high-maintenance, admits Niles, but it's worth the effort.
"The result is unique, particularly to the West Coast, where artichokes are so much a part of the identity of the growing region," he says.
Petrale sole is readily available in the Bay Area, but any Pacific
 rockfish can be substituted. As for the artichokes, those too should be widely accessible, but your best bet will be local 
farmers markets.
Recipe
Serves 4
Petrale sole
3 small or medium-sized artichokes
4 heads little gem lettuce
3 lemons
Sauce ravigote:
1 cup aioli or mayonnaise
1/2 cup creme fraiche or sour cream
1/2 cup dill pickles (any good brine fermented pickle will do), finely chopped
1 shallot, finely chopped
1 bunch tarragon, finely chopped
1 bunch chives, finely chopped
1/2 bunch dill, finely chopped
1/2 bunch parsley, finely chopped
1 lemon, zest and juice
4 anchovy filets
For sauce:
Using a sharp knife with a lot of care to chop finely will produce the best results, but using a food processor is still great. If doing the latter, start all the herbs in the processor at once and pulse a few times. Use a spatula to scrape the sides as you work to get the herbs very fine. Remove and do the same to the shallots and dill pickles. The anchovies will need to be chopped by hand.
From here it's just a matter of mixing all the listed ingredients together in a large bowl with a spatula until combined. A few cracks of black pepper, season with salt to taste, and keep refrigerated until ready to use.
For the artichokes:
Before prepping the artichokes, get a large bowl of cold water and add the juice of 2 lemons. Acidulated water will keep the artichokes from browning, which they will try to do with vigor. Both size artichokes will involve the same few first steps.
Working quickly, rip off the outer leaves until you see a mostly pale yellow leaf. If you are unsure, take another layer off. Give it a quick dunk in the acidulated water. Next, with a vegetable peeler peel from the bottom of the leaf to bottom of the stem until the area where the leaf meats stem is smooth. Don't chip at it; use deliberate strokes as you rotate the artichoke. If you are taking your time, dunk the artichoke in the water again. Once smooth and you've reached a pale green color on the stem, cut the top off where the pale yellow portion of the leaf begins.
The next step depends on the size of your artichoke. If small or baby, cut it in half and leave in the acidulated water until ready to cook. If medium size, cut in half and, using a small spoon, scoop the raw choke out. If unfamiliar, it's the white and purple thistle with a feathery look. It'll come out easily if you target the area where the choke meets the heart. Rinse and leave in the acidulated water until cooked.
Boil 6 quarts of water in a large pot and prepare a similarly large ice bath. Drain from the acidulated water and blanch the artichokes in the boiling water until tender. For small or baby this can take 5 to 6 minutes and medium sized will take 8 to 10. But check often with a paring knife. Once the tip of the knife goes easily into the stem, remove from water and immediately plunge into ice bath. Drain well and leave on towel while working on the next task.
Heat a wide, high-sided pan or pot to medium-high heat. Add enough oil to cover the bottom of the pan by 1/2 inch. Before adding the blanched artichokes to the oil, give them a little shake and coax the leaves apart a bit to both release any excess water and give the oil a bit more room to do its work. It'll splatter a bit when you add them to the oil so use tongs. Turn them often for four to six minutes until golden brown and drain on paper towel. Season with salt and reserve until ready to use.
For the fish:
Heat a sauté or non-stick pan to medium-high heat. Season the fish filets with a little salt and crack of black pepper. Add just enough oil to cover the bottom of the high pan, wait a moment, and add the filets. After a few moments, give the pan a shake to release the filet from sticking and cook until you see a little browning around the outside edge of the filet. Add a tablespoon of butter to the pan. Let the butter get hot and foam before flipping the filet. After a minute, remove the filets from the pan.