Cocktail specialist Scott Beattie is a big fan of St. George Spirit's recently released line of gins. Below are his favorite recipes using each of Alameda distillery's Terroir, Dry Rye, and Botanivore gins.
1) Coastal Collins (served on ice in a 11 - 12 oz. collins glass)
Ingredients:
1 1/2 oz.  St. George Terroir gin
3/4 oz.     fresh lemon juice
1/2 oz.     simple syrup
Seltzer or club soda
For garnish:
4         fresh California bay laurel leaves, picked fresh, washed and patted dry
2 tsp.  pickled Huckleberries (see recipe below)
1         fresh Fennel frond
Combine gin, lemon and simple syrup in a 16 oz. mixing glass.
Fill glass with medium sized ice cubes (we were using the half-moons that come out of Hoshizaki).
Cap glass with a large mixing tin and shake 3 - 4 times.
Remove mixing glass, add approximately 3/4 oz. seltzer or club soda to the mixing tin.
Pour everything into a collins glass---leave a little room at the top.
Spoon the picked huckleberries onto the top of the ice, allowing about half to fall into the drink itself.
Using the blunt end of a cocktail stirring spoon, slide the bay laurel leaves down the sides of the glass with the ice holding them in place.
Arrange leaves around all sides of the glass, oriented up/down.
Top drink with the fennel frond.
Add a black cocktail straw.
NOTES:
Sometimes I add the huckberries after the laurel leaves so more of them remain on the top of the drink. The huckleberries are delicious: eat them!
Pickled Huckleberries
1 cup      unseasoned rice wine vinegar
1/3 cup   mirin
1/3 cup   filtered sake
1/2 cup   sugar
1 pint      fresh huckleberries
In a medium saucepan bring vinegar, mirin, and sake to a simmer.
Add the sugar and stir to dissolve.
Remove mixture from heat.
Add huckleberries and allow to cool.
Berries will be ready to to used in 24 hours and will keep for several weeks.
---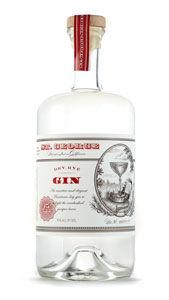 2) Dry Rye Negroni
Ingredients:
1 oz     St George Dry Rye Gin
3/4 oz  Gran Classico Bitter
3/4 oz  Carpano Antica
Add all ingredients to an empty mixing glass, add enough ice to fill the glass 3/4 full.
Stir for 30-45 seconds.
Strain into a chilled martini or coupe glass.
Garnish with a fresh zest of orange.
NOTES:
This recipe is also great as a more classic style Negroni with:
1 oz     Botanivore St George Gin
3/4 oz  Campari
3/4 oz  Carpano Antica
Same instructions for making it as the Dry Rye Negroni
---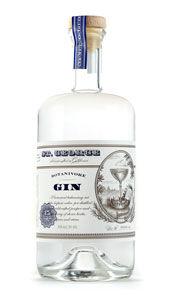 3) Classic Gin and Tonic
Ingredients:
1 1/2 oz   Botanivore
2-3 oz      Fever tree tonic
Squeeze of lime
NOTES:
This is a nice simple recipe, just Botanivore and Fever Tree tonic water with a squeeze of lime. Average or poor quality tonic can ruin any great gin. People are very brand conscious of their gin but rarely consider a better tonic water. Fever Tree is my favorite and it is now available at most better grocery and natural Health food stores. It's an Indian tonic water meaning it is less sweet than regular tonic and is made with real cane sugar, not high fructose corn syrup.
Add all ingredients to an empty mixing glass, add enough ice to fill the glass 3/4 full.
Stir for 30-45 seconds
Pour into a rocks glass