If I were down to my proverbial last meal, I would make a beeline for Swan's Market in Old Oakland, where I can find all my favorite foods: fried chicken, oysters, pizza, tacos, sausage, and sashimi. Sure, it would be a challenge to sample them all on a single night, but if it was my last chance, you bet I could do it.
Swan's Market is a clutch of chic yet casual restaurants that has brought this historic city block back to life. Once the center for shopping in old-town Oakland, Swan's is now one of the East Bay's most exciting dining destinations—complete with a wine bar, specialty food shops, and a modern food court pioneered by talented chefs.
"This is what I envisioned from the get-go," says Dominica Rice, who cooked at Chez Panisse for more than five years and in Mexico City. Rice opened Cosecha in 2011, when the indoor market hall was all but abandoned.
"I had all these hard-core neighbors that just stuck with us that first winter," says Rice, "drinking their hot chocolates and eating their tacos with wool hats on and big scarfs. They wanted to see us survive, and we did."
In just the past year, The Cook and Her Farmer, and B-Dama opened their doors, and now, with the recent debut of Hen House, Swan's Market offers a half-dozen cuisines. Four of the restaurants are headed by female chefs, forming an exciting dining square that breaks the stereotype of male-dominated kitchens.
"You have hipsters, business people, and moms and dads with their little kids," says Rice. "It makes me very happy."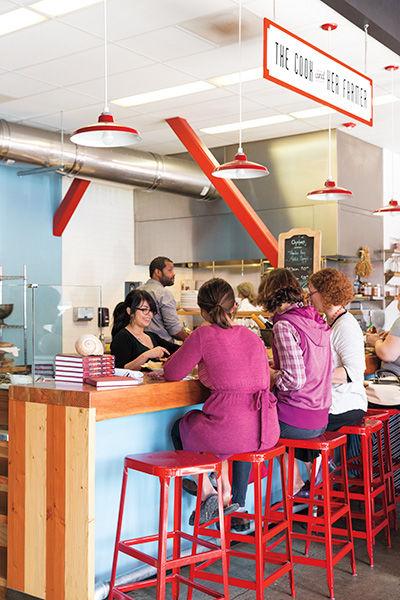 Tour the Market
The first seven stops here share an address of 907 Washington Street, and the four restaurants there will bring the food to your table at their shared food court. Rosamunde Sausage Grill and Miss Ollie's are self-contained restaurants, but you can easily dine with your companions in the food court or at one of the redwood picnic tables in Swan's Market's outdoor courtyard. facebook.com/swansmarket.
The Cook and Her Farmer: Impeccable ice-cold oysters, plump beer-steamed mussels, and a medley of charred market veggies capture The Cook's coastal-style cuisine. You won't find a better oyster po'boy (served hot in an Acme roll), crisp hand-cut garlic fries, or—as the chalkboard says—"best ever" grilled cheese sandwich (made with aged cheeses and Acme levain). (510) 285-6140, thecookandherfarmer.com. Breakfast scones and lunch Mon.–Sat., dinner Tues.–Sat.
B-Dama: The value here is as astonishing as the quality. Vibrant, translucent noodle soups. Glistening thick-cut tataki (flash-seared white tuna). Captivatingly aromatic vegetable and rice curry. Premium sake. And at lunch, a salmon tray graced with delicate tempura, pristine salad, soulful miso soup, rice, and a
radish pickle. (510) 251-1113, asbdama.com. Lunch and dinner Mon.–Sat.
Cosecha: The signature green chile mole (Mondays only) and chicken pozole verde are pure comfort fare, while the colorful tacos are simply mind blowing: beef darkly braised in ancho chiles, rich paprika-hued pork adobada, wild flash-fried shrimp served Baja style with chipotle cream sauce, and crisp and decadent pork belly spiked with pickled red onions. (510) 452-5900, cosechacafe.com. Lunch Mon.–Fri., dinner Mon.–Sat., brunch Sat.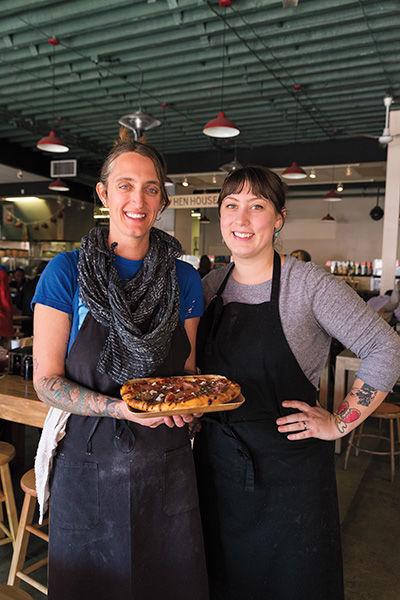 Hen House: Puffy, crunchy, tender pizza crusts are layered with crazy-good toppings; check out the house-cured ham pizza with seasonal additions such as roasted garlic cream, silky Yukon potatoes, and toasted Gruyère. (The aroma alone will slay you.) Get the extra spicy pepperoni and, when in season, the crab pizza splashed with vibrant gremolata. And if the Hen's "devil" eggs are in the house, indulge. (510) 229-4399, eathenhouse.com. Lunch Tues.–Sat., dinner Wed.–Sat., brunch Sat.
Deep Roots: Connected to Hen House, this bar pours wines on tap, primarily blends by Periscope Cellars' Brendan Eliason, who designed and ran the wine program for Va da Vi in Walnut Creek for many years. Eliason also offers beer and specialty cocktails. (510) 655-7827, deeprootsoakland.com. Wed.–Fri. 12–9 p.m., Sat. 10:30 a.m.–9 p.m.
Sincere Seafood: This full-service, reasonably priced fish counter includes a live seafood tank and plenty of seasonings for Cajun dishes. (510) 832-3866. Mon.–Sat. 9 a.m.–6 p.m.
Taylor's Sausage: An Oakland institution, Taylor's Sausage is by far the oldest tenant at Swan's Market. The sausage is stuffed on the premises (using meat from J & M Meat Co. located across the street) and sold fresh at the counter. You can even buy a sausage here (the spicy boudin blanc is amazing) and have it cooked at Rosamunde Sausage Grill next door. (510) 832-6448. Mon.–Sat. 9 a.m.–6 p.m.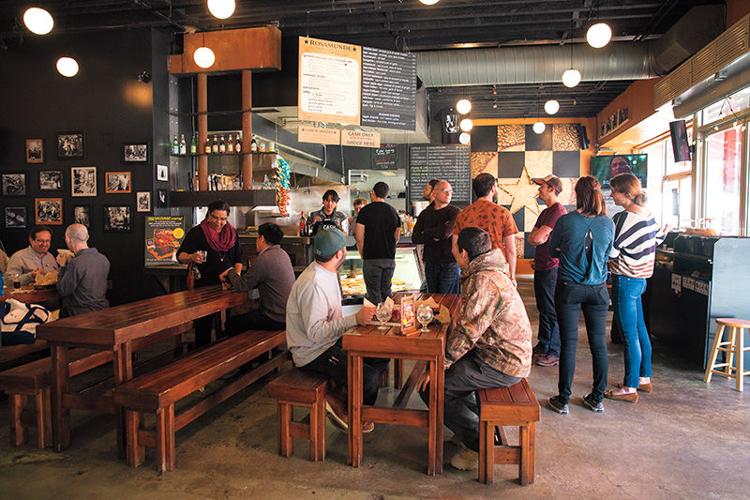 Rosamunde Sausage Grill: The traditional smoky beer sausage with sauerkraut and the Moroccan merguez (spicy lamb) with mango chutney (an off-menu favorite) put Rosamunde in the running for top-dog honors. Sixteen craft beers on tap and a vast collection of condiments (there's curry ketchup for the fries) seal the deal. 911 Washington St., (510) 338-3108, rosamundesausagegrill.com. Lunch and dinner daily.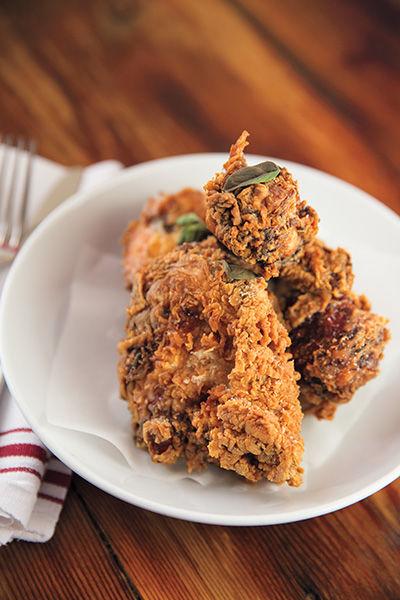 Miss Ollie's: Truly skillet fried, the herb-infused chicken at Miss Ollie's hits the crispy, tender, greaseless trifecta. Piles of market produce on display convey this Afro-Caribbean restaurant's California ethos. Even the potatoes have freshly farmed flavor (but don't let that stop you from getting a side of fried plantains). 901 Washington St., (510) 285-6188, realmissolliesoakland.com. Lunch and dinner Tues.–Sat.
Old Oakland Farmers Market: This farmers market runs along Ninth Street adjacent to Swan's Market, and is perhaps the East Bay's most diverse and affordable market. It's the go-to produce source for Swan's Market chefs. Fri. 8 a.m.–2 p.m.