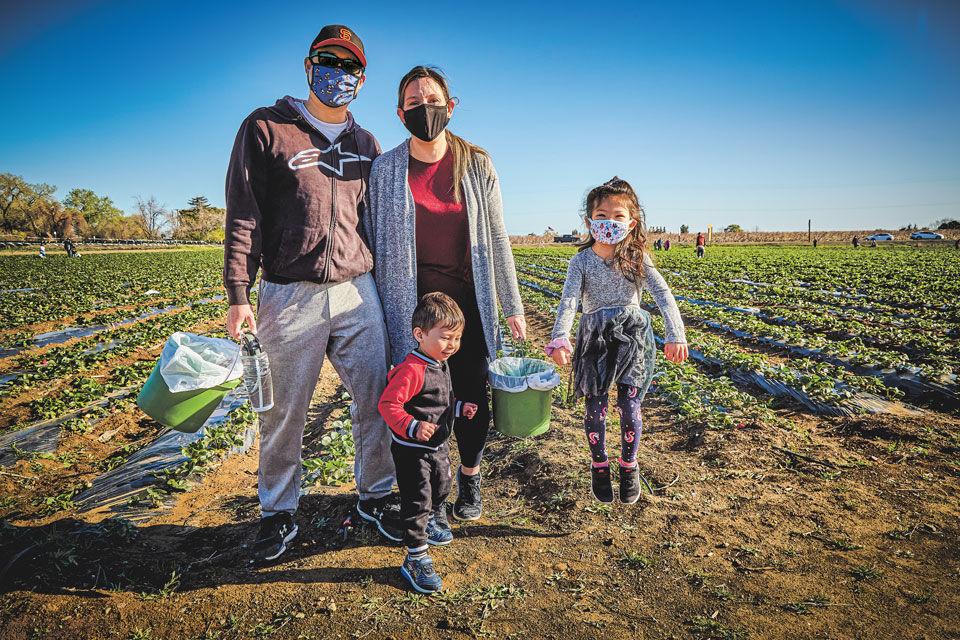 Biting into a deliciously ripe peach picked straight off the tree sounds like something that could only happen in rural Georgia—not a half-hour drive from downtown Walnut Creek.
But savvy locals know that for some fruit-picking fun, you just need to head to the eastern edge of Contra Costa County. Nestled within rolling hills and green pastures lies the town of Brentwood, a bountiful
 agricultural region that feels far from the hustle and bustle of other East Bay cities. And it's during the month of May when agritourists—
a.k.a. hungry foodies and families looking for something to do and eat—flock to local U-Pick farms to harvest their own fresh fruit.
It all started back in the '70s when farms decided to start selling their crops directly to the consumer, as the price to package and ship produce soared. Then, in 1976, both U-Pick and Harvest Time in Brentwood—a nonprofit organization committed to improving agritourism—were born.
"It was all out of necessity," explains Ken Hagan, a director of Harvest Time and the general manager and owner/partner of family-operated Bacchini's Fruit Tree. "The farms needed to sell their products, so they allowed the public to come out and pick them directly."
Forty-five years later—with more than 40 growers now in the area—U-Pick in Brentwood remains a fun family activity and 
pandemic-friendly outing. But before you go, Hagan has a few 
recommendations.
"Be prepared for the weather, the dirt, and the environment," he cautions. "Sometimes it gets really hot, so wear sunscreen and a hat." Also, dress in comfortable clothes and sensible shoes and bring your own container or cooler to store the fruit. Hagan also advises coming in the morning, when it's cooler and less busy (most farms open as early as 9 a.m.), or during the week when some stands offer cheaper rates.
It's a good idea to call a farm before coming (or check its website 
or social media) to confirm produce availability. Some may require 
a reservation in order to limit crowds per COVID regulations. Also, contactless payment is mostly preferred, but there are a few farms that are cash only (most items are sold by the pound).
And when it comes time for harvesting, remember Hagan's golden rule: "If you are looking for sweeter fruit, pick it with a darker color." Here, he offers some tips specific to three fruits now in season.
For more information and details about individual U-Pick farms, visit Harvest Time in Brentwood's website at harvestforyou.com.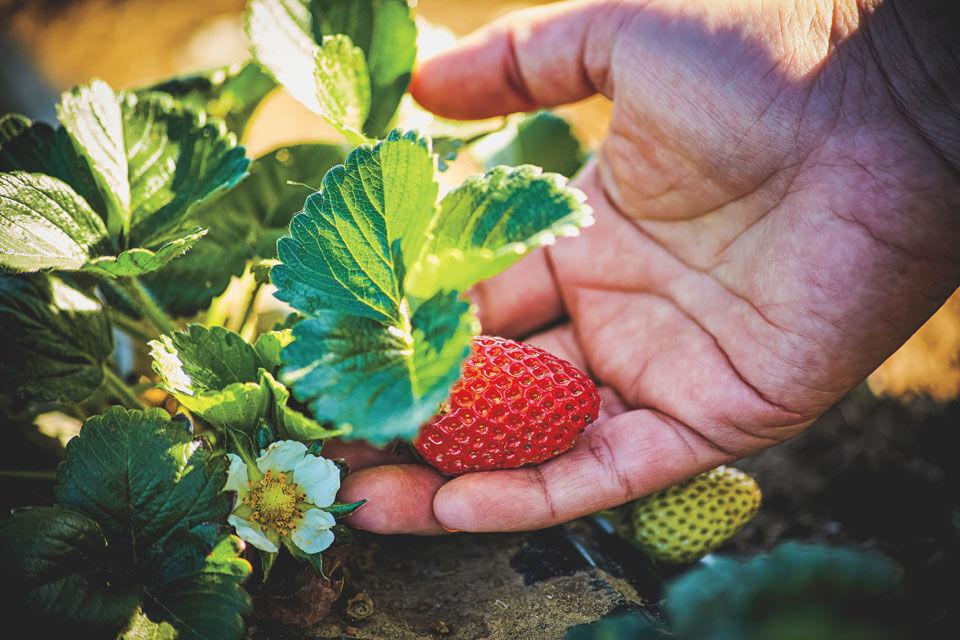 Strawberries
"Strawberries are the easiest to pick," says Hagan. "They are great for children because they grow at ground level."
In season: March through October.
How to pick: Only choose the berries that are completely red, as they won't continue to ripen. Also, since they are more delicate, it's best to gather them in the morning while it's cool; when they get hot from the sun, they will become tender and can easily get bruised.
How to store: Strawberries will last about a week from the day they were picked. It's best to keep them refrigerated—or you can freeze them to use later for desserts, jam, or smoothies.
Recipe: Strawberry Cheesecake Croissant
From One House Bakery in Benicia
Makes 6 croissant halves
Cheesecake base:
350 grams cream cheese
39 grams eggs
64 grams organic sugar
47 grams yolks
1 gram salt
Mix cream cheese and sugar with paddle, scraping down sides, until combined. Add the rest of the ingredients and mix until combined. Put mixture through blender, and then pass through a fine mesh strainer.
Oat crumble:
143 grams organic light brown sugar
143 grams organic butter
71 grams old fashioned rolled oats
71 grams graham cracker crumbs
71 grams bakers craft flour
1 gram kosher salt
Combine the room temperature butter and the sugars, and mix until combined. Add in the graham crumbs and salt and combine. Then add in the oats. Finally, add in the flour and mix to combine. Break apart with hands and then freeze. After it is frozen, shred through a grater on a Robot Coupe. Once its shredded, put it back into the freezer.
To assemble:
Slice already baked croissant in half. Scoop cheesecake batter into the sliced portion of the croissant. Cut strawberries into slices and lay over the cheesecake. Spread the oat crumble over the strawberries evenly. Bake at 375°F for about 12 to 15 minutes, or until the cheesecake is set. Let it slightly cool, and then sprinkle with powdered sugar and strawberry powder.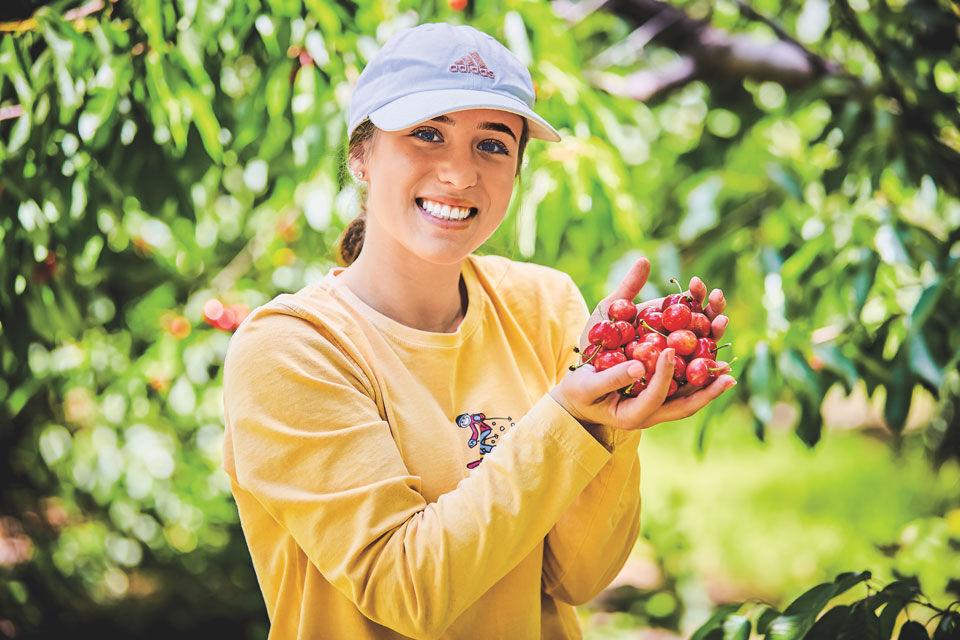 Cherries
"Most farms have a selection of different varieties," Hagan explains. "Some are super sweet, and some are more tart or sour. Those are for making pies or pastries, because typically you add sugar when you make those kinds of things."
In season: Late April/early May through July.
How to pick: Cherries don't ripen after they've been picked, so look for a heavy, firm fruit that is a deep red color. You also want to leave the stem on so the fruit will last longer. If the stem comes off, the cherry's skin will break.
How to store: Refrigeration makes them last longer, and they typically stay fresh for about one week.
Peaches
"Peaches have a long season because there are so many different varieties," Hagan says. Also, he explains picking peaches is all about timing and personal preference. "A peach might be firm and crunchy one week, but that same peach a week later will be bigger, juicier, and slightly sweeter."
In season: May through September.
How to pick: If you like them firmer, try to pick them a little earlier. Peaches don't gain any sugar once picked, but they will continue 
to soften. A ready peach won't be green and will be round and 
smell sweet.
How to store: If you want them to ripen, just leave them out at room temperature and they'll last for a few days. If you put them in the fridge, they will stay the way they are and last a little longer.
Recipe: Peach Cobbler 
From East Bay Bakery
Peach mixture:
5 yellow peaches, skinned, sliced
1 lemon zest
3 tablespoons brown sugar
5 tablespoons white sugar
1/4 teaspoon nutmeg
1/2 teaspoon cinnamon
Batter: 
200 grams all purpose flour 
1 1/2 tablespoons baking powder
3/4 teaspoon salt
200 grams white sugar 
300 grams whole milk
1 stick of butter, soften at room temperature
Preheat oven to 350°F. Cook the peach mixture in a pot for 2 minutes, set aside and let it cool. In a baking pan/oven safe dish, melt 1 stick of butter in the oven, take it out once the butter melts. To make the batter, first mix the dry ingredients in a large bowl (flour, baking powder, salt, and sugar with a whisk) then add the milk. Whisk thoroughly until the batter is smooth. Drop the batter into the oven dish with melted butter. Then add the peach mixture on top. Do not mix them. Bake for 50 to 60 minutes. Serve with whipped cream or vanilla ice cream.
Picks of the Season
Consider visiting throughout the year for more farm-fresh produce.
· Apples, August through October
· Apricots, May through July
· Grapes, August through October
· Nectarines, May through August
· Pears, July through October
· Persimmons, September through November
· Plums, May through September
· Pomegranates, September through January
· Pumpkins, September through November
· Tomatoes, June through October