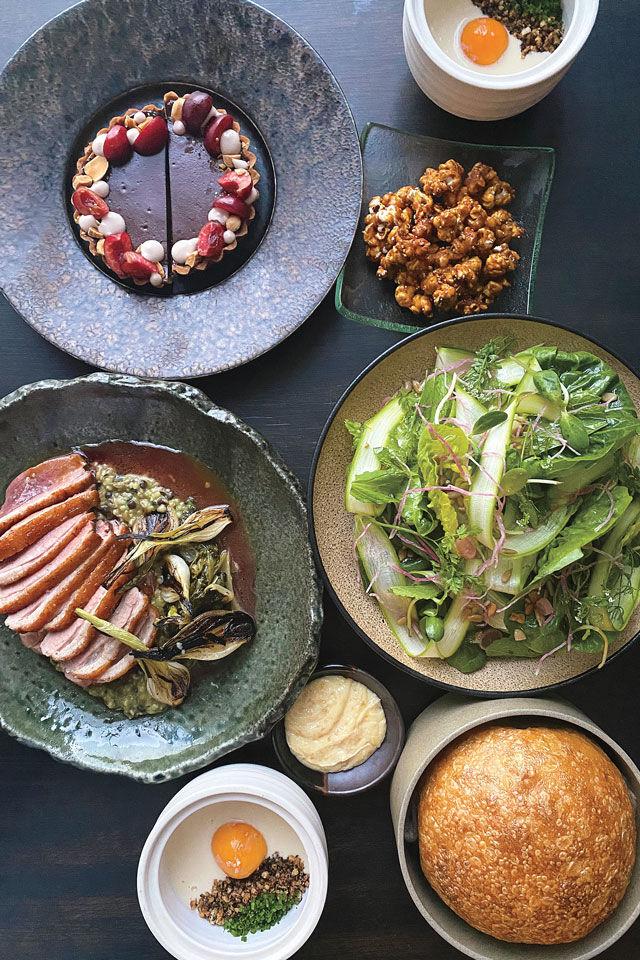 Takeout. It's become an increasingly larger part of our 
dining lives the last few years. But the pandemic-fueled shutdown sealed it: This is a trend that's here to stay. And we're not just talking about the traditional take-out favorites, like pizza or Chinese. Suddenly, in the comfort of our own homes, we can enjoy fine dining, meal kits tailored to the whole family, and take-and-make options from more restaurants than ever before. And with in-person dining still limited, many restaurant owners are keeping takeout on their menus for the foreseeable future.
So why not embrace it? Here are a few of the unique 
to-go trends and offerings born from the pandemic. Check with individual restaurants to make sure selections are still available.
Special Occasion Meal: Commis
"Go to bed," I pleaded with my twin 4-year-olds as 
they made their latest outrageous demands—another
book, another snack, another toy that they haven't touched in six months—in exchange for going down for the night. My wife started to read another story while a vibrant late-spring medley of cucumbers, snap peas, and asparagus dressed with yogurt, lime, and dill oil—the first dish of our three-course meal from Commis—languished on the dining table. I'd picked up the gourmet take-out option from the two-Michelin-starred fine-dining spot at 8 p.m., the latest time slot available. But, as if sensing my urgency, my boys kept stalling as the clock approached 9. The grilled Anderson Ranches lamb loin was rapidly cooling.
Fortunately, Commis owner and executive chef (and father of two) James Syhabout supplied detailed reheating instructions for that lamb, as well as the house-made levain bread (with cultured butter). I preheated the oven to 375°F, arranged the strips of meat in a neat pile atop potatoes and carrots in an All-Clad, transferred the sauce to a sauté pan, and waited for sleepy eyes to prevail. Which they did, at last, 15 minutes later.
My wife stumbled out, irritated. But her mood improved as she took her first sips from a nicer-than-usual bottle of zinfandel I'd bought for the occasion. Before we started the salad, I slipped the lamb in the oven for eight minutes and began to simmer the sauce on low heat. We were just finishing when I popped into the kitchen and emerged with the lamb, plated it, and drizzled sauce on top with a hint of Bobby Flay flair.
It was fantastic. The turmeric-spiked au jus sauce offered an unexpectedly delicious complement to the superb lamb, cooked perfectly medium rare. And I can report that we felt well and truly relaxed once it came time for dessert—a honey mille crepe cake with miso-
glazed peaches.
Was it the full Commis experience? Well, no. This requires more work (I'd ask for a refund if I had to reheat my main course in-restaurant). But it's a lot cheaper and gave us a special, indulgent culinary experience that we could never have made ourselves. Just remember: Start 
putting your kids to bed early. Oakland, commisrestaurant.com. 
—E.F.
Also try: Sabio on Main
The Pleasanton favorite offers a la carte dinners, featuring seasonal ingredients, for parties of up to 10 people. In early June, take-out entrée options included Pasturebird chicken schnitzel, squid-ink linguini with Gulf shrimp, and fried rice with a sunny-side up egg. Cocktails, bottles of wine, and weekend brunch are also available. $35 per person. Pleasanton, sabiopleasanton.com.
Telefèric Barcelona
Craving made-from-scratch paella with crab, lobster, or Gulf shrimp and cuttlefish? This real-deal Spanish spot serves up six different paellas in servings for one, two, or four. That's in addition to tapas (jamón Iberico anyone?), a couple of mains, and dessert. They even sell paella kits to make at home. Walnut Creek, telefericbarcelona.com.
FROM OUR READERS: Postino, Lafayette
"The most amazing pork chop! Couldn't have been better if we had been dining in! It held up to take out … flavorful, juicy, huge portion. Amazing!" —Laurie Dunn, Orinda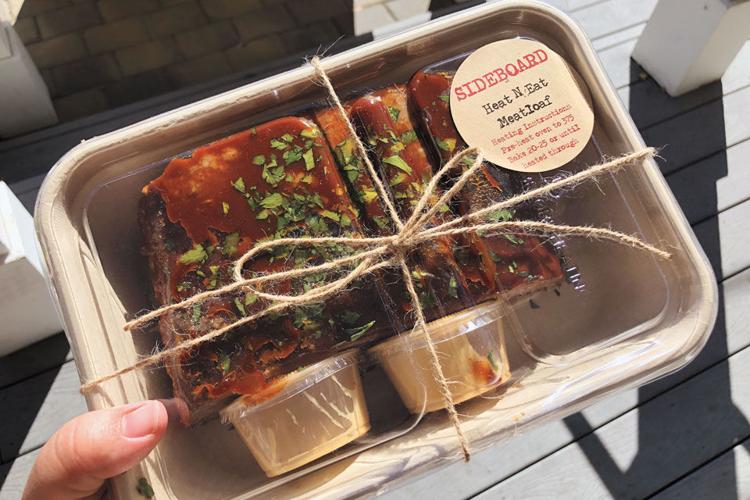 Take-and-Make Meal: Sideboard
During shelter-in-place, I prepared dozens of meal-kit dinners and edited three cookbooks—so the idea of just warming up a premade restaurant dish sounded like true luxury. Sideboard has several Take N' Bake or Heat N' Eat options serving three to six people for $22 to $28. By the time I came one day at 4 p.m., my first choice of pork chili verde was sold out. (Take note: Get there early!) So, I opted for a meatloaf tray, tied adorably with twine, along with a Sideboard salad from the regular menu.
At home, the brief instructions seemed clear enough—bake at 375°F for 20 to 25 minutes until heated through—but I did wonder whether it should be covered. I went with foil-on for 20 minutes and off for the last five 5. That was the wrong call, as it needed another 10 minutes to warm all the way through. But really, to pull a saucy, aromatic, parsley-adorned meatloaf out of the oven without having to mix raw meat with my bare hands? I had no complaints. My husband and I dutifully dipped each soft, juicy bite into the accompanying hoisin aioli (Sideboard "respectfully denies" ketchup) and savored its complex flavor and true comfort. 
If there is one dish that can carry us through a pandemic, Sideboard's meatloaf is a contender. Danville and Lafayette, sideboard.co.
 —L.J.
Also try: Bierhaus
The new meat-heavy, German-themed beer hall and garden offers cook-at-home kits featuring beef brisket, pork shoulder, chicken thighs, and even shrimp-chorizo kebabs, in addition to its signature sausages. Don't forget the side of Austrian potato salad. Walnut Creek, bierha.us.
Pizzaiolo
The "Pizzaiolo Pantry" sells gourmet cooking staples, from bone broth to Cowgirl Creamery cheese, as well as a bake-at-home version of its popular meatballs and fontina
mac and cheese. A pizza kit comes with dough, cheese, and sauce and is perfect for kids. Oakland, pizzaiolooakland.com.
FROM OUR READERS: Los Panchos, 
Danville and Pacheco

"We love buying the chicken from the catering menu—it is so tender and tasty in its sauce. Then we do a build-your-own station because the kids love making their own tacos and burritos themselves. It tastes really good heated up, and the meat is still tender. A 
pint is more than enough for two adults 
and two young kids." —Joanna Fritzsche, 
San Ramon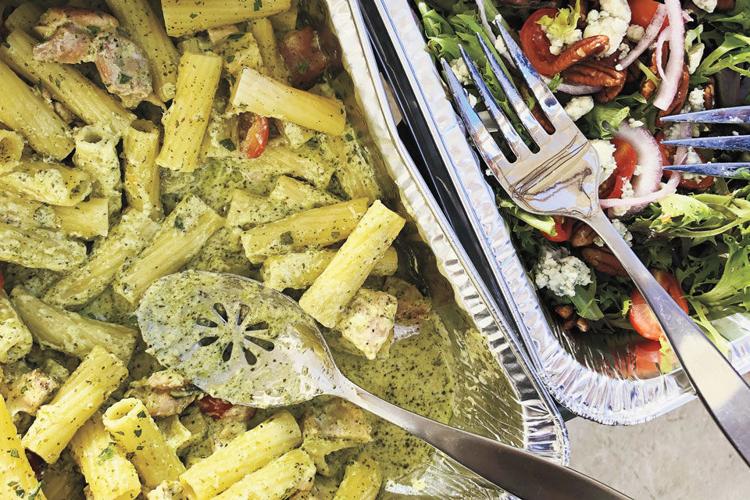 Family Meals: Gianni's Italian Bistro
For a socially distant visit with my parents in their gorgeous backyard, a take-out Italian dinner seemed like the right combination of fancy and easy. Gianni's "Pandemic Relief Package" menu has family-style dinners for $60. Choose between two salads and four pasta entrées, and the staff places them—along with complimentary house-made bread—right into the trunk of your car.
My husband, kids, and I arrived toting aluminum trays of insalata misticanza (spring mix salad with tomatoes, pecans, and shallot vinaigrette) and piping hot mostaccioli alla ligure (tube pasta with free-range chicken tossed in basil pesto)—plus a cup of bocconcini (pork and beef meatballs) off the regular menu, for an appetizer. There were six of us—including two young children—
but we had plenty of food and even took home leftovers. The creamy pasta was filling but still light with tender chicken, and we fought over the last meatball. Sadly, 
our appetizer was missing its accompanying garlic bruschetta, but we soaked up every last bit of its garlic basil sauce with the free bread. Perfetto. San Ramon, giannissanramon.com. —L.J.
Also try: Cielito
Rock the next Taco Tuesday with a take-out platter for four, six, or eight. The family dinner comes with two types of filling—choose from carne asada, carnitas, and fish or chicken al pastor—plus red rice and beans. Danville, cielitodanville.com.
Rêve Bistro
Imagine you're in Paris with Rêve's fancy family meals for four, including beef bourguignon ($98) or eight-piece coq au vin ($79), both with mashed potatoes. Add par-baked baguettes for $4. Lafayette, 
revebistro.com.
FROM OUR READERS: Salt Craft, Pleasanton
"Their Memorial Day Family Pack came with burger meat and brats (ready for the grill), homemade rolls, potato salad, cole slaw, and peach cobbler. Everything was delicious! My mouth is watering for more peach cobbler right now!" —Laurie Hugill, Danville