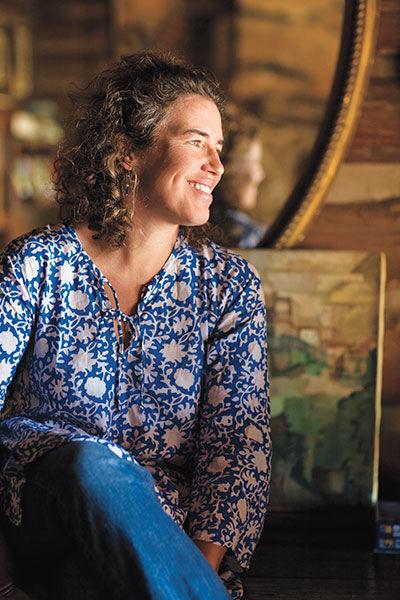 On a warm January afternoon, Romney Steele is preparing lunch in her modest Oakland flat. Wearing worn slippers and a half apron, she shaves fragrant fennel for a Moroccan orange salad, a dish found in her latest cookbook, Plum Gorgeous. But Steele cooks in the moment—guided more by nature's bounty and a lifetime of savory memories, and less by a written recipe.
Plum is a tribute to what Steele refers to as the "sensuous," "ravishing," "enchanted," or even "ecstatic" fruits of the orchard. These particular blood oranges—firm, plump, and heavy for their size—will be stripped with a sharp knife and dressed with "a little cinnamon, a little cumin, a little of this—that's how I cook."
Steele, a striking woman with a warm smile, grew up in Big Sur at Nepenthe, a restaurant overlooking the Pacific Ocean and Santa Lucia Mountains. It was opened in 1949 by her grandparents, Lolly and Bill Fassett. Bill wanted to open a hamburger stand, but Lolly, who spent her formative years on the island of Capri, had different ideas. Run with more heart than sense, Nepenthe attracted painters, movie stars, and hedonists, including the likes of Henry Miller.
Romney Steele in Print
My Nepenthe:
Bohemian Tales of Food, Family, and Big Sur
Steele's cookbook–memoir intertwines 75 recipes with her memories from the famous California restaurant, which was started by her grandparents.
Plum Gorgeous:
Recipes and Memories from the Orchard
Steele's latest book features 60 simple and seductive recipes that celebrate the "romance of fruit," from lemon curd to white chocolate passion fruit truffles.A painter herself, Steele brings "a little bit of abandon" to her cooking, building flavor in layers while staying mindful of texture and color.
A medley of pickled winter vegetables and sliced, smoky chorizo awaits her guests, as does Meyer lemonade, an unfiltered expression of one of her very favorite fruits.
At the stove, she sets two belly-up Dungeness crabs in a shallow pot of barely simmering court bouillon as salty as the Pacific. When just cooked (about seven minutes per pound), the crabs are lightly cracked and piled upon a platter.
Whimsically—"like those last few strokes of the brush," as she describes it—she drizzles the still-warm shells with olive oil and Meyer lemon juice. The platter is brought to a rickety table on her front patio, where she sets a crusty loaf of bread directly on the tablecloth—old-school style.
Steele's other cookbook, My Nepenthe, brings alive the old-fashioned, from-the-heart cooking of Lolly and her friends. This honest approach, along with the playful philosophy found in Plum Gorgeous, is the inspiration for her nascent Oakland restaurant: The Cook and Her Farmer Cafe, Oyster, and Wine Bar. Steele is the cook, and her partner, Steve Day, is the farmer, having spent a year raising oysters in Tomales Bay in Marin County.
The Cook and Her Farmer is opening this spring in historic Swan's Market in Old Oakland, and the process has stretched on for more than two years. The landlord (East Bay Asian Local Development Corporation) may be methodical, but the nonprofit suits Steele's style. "There's nobody in a big office, and that's the way I like to work," she says.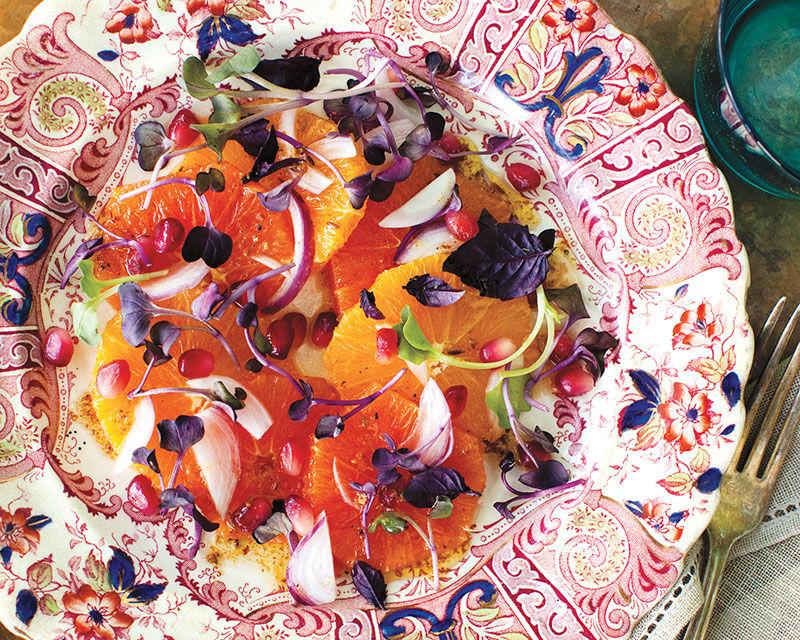 The Cook and Her Farmer, like the single freshwater pearl necklace Steele wears, will be nothing fancy. The bar will be a place for slurping oysters, a simple space devoted to simple food: gumbo, fresh fish, black-eyed peas.
"A painter herself, Steele brings 'a little bit of abandon' to her cooking, building flavor in layers while staying mindful of texture and color."
In that same spirit, the court bouillon she used for the crab is infused with flavors from the pantry: a half lemon, some unpeeled garlic cloves, dried chiles, peppercorns, and a little soul.
"I added some fennel seed and dried fronds for a specific flavor," says Steele. "Thinking of the coast and the bunches of wild fennel I gathered along the road home one day."
For select recipes from My Nepenthe and Plum Gorgeous, scroll down.
---
Moroccan Orange Salad
Serves 4–6
Inspired by the flavors of Morocco, this salad literally came together on the plate—the colors and textures too gorgeous to ignore. Cara Cara oranges are early- to mid-season red navels, with a distinctive sweet flavor and color all their own. Blood oranges or a combination of oranges and tangerines would be similarly ravishing. If you can't find radish greens, use other microgreens or scatter with fresh cilantro leaves.
Ingredients
For Dressing:
⅓ cup extra virgin olive oil
3 tablespoons fresh orange juice
2 teaspoons orange flower water
Splash sherry vinegar
½ teaspoon cumin seed, toasted and ground
Pinch cinnamon
Dash cayenne pepper
Salt and freshly ground black pepper
For Salad:
4 to 6 Cara Cara or blood oranges, peeled and sliced
1 small red onion, thinly sliced
½ cup pomegranate seeds
Small handful opal basil leaves
Radish microgreens
Directions:
To make the dressing, whisk together the olive oil, orange juice, flower water, vinegar, cumin, cinnamon, and cayenne in a small bowl. Season with salt and pepper. To assemble the salad, arrange the orange slices on a platter or individual plates. Scatter with the onion, pomegranate seeds, basil, and radish greens. Drizzle with the dressing and serve.
From Plum Gorgeous: Recipes and Memories From the Orchard by Romney Steele, Andrews McMeel Publishing 2011
Raspberry Rhubarb Rose Petal Jam
Makes about two 8-ounce jars
One of my favorite spring-summer fruit combinations is raspberries and rhubarb, set apart by a whiff of heady rose in the background—an ethereal synthesis of flavors to tease the palate for months to come. Spread this jam on thick slices of brioche toast on Sunday morning, or layer between slices of Lemon Almond Cake (page 38) with softly whipped cream, or simply spoon over vanilla ice cream scattered with more rose petals to garnish.
Ingredients:
2 cups organic raspberries
1 pound rhubarb (about 3 stalks), leaves discarded, sliced 1⁄4 inch thick
Scant 2 cups sugar
Handful (about 12) unsprayed rose petals
2 teaspoons rose water
Directions:
1. Pick through and remove any funky raspberries or remaining stems, but do not wash the berries. Place in a preserving pot with the rhubarb and sprinkle with about 1⁄4 cup water, just enough to very lightly moisten. Cover with the sugar and rose petals and let stand for an hour or so to macerate.
2. Bring to a gentle simmer over medium-low heat and cook, stirring on occasion, until the sugar is dissolved and the rhubarb begins to soften, about 10 minutes. Raise the temperature a smidge and cook rapidly, stirring on occasion and making sure it doesn't burn, until the ingredients meld—the roses will disintegrate—and you reach the desired set, 15 to 20 minutes more. Test the set by placing a small spoonful of warm jam on a chilled plate … it should slightly cling to the plate as you tip it; alternatively, run your finger through it after 1 minute; if it wrinkles, the jam is set.
3. Off the heat, skim any scum that sometimes accumulates around the edge of the pot and discard. Stir in the rose water. Ladle the jam into warm, sterilized jars and seal. Store in a cool, dark place for up to 1 year, or longer in the refrigerator.
From Plum Gorgeous: Recipes and Memories From the Orchard by Romney Steele, Andrews McMeel Publishing 2011
Grilled lime prawns with aioli
Serves 3–4
Use your fingers when eating these lime-dusted prawns, savoring every morsel with gusto. Look for spot prawns or large shrimp, preferably with the heads on. The aioli will keep in the refrigerator for about a week.
Ingredients:
For Aioli:
1 clove garlic, smashed
Pinch salt
2 egg yolks
1 cup olive oil
2 teaspoons finely grated lime zest
Fresh lime juice
For Prawns:
1 1⁄2 to 2 pounds prawns, with heads on
Sea salt and freshly ground black pepper
Juice and finely grated zest of 2 limes, plus lime wedges for serving
Olive oil, for drizzling
Directions:
1. To make the aioli, place the garlic in a ceramic or wooden bowl with a pinch of salt and mash to a smooth paste with a pestle. Beat in the egg yolks. Gradually add the olive oil, continuing to beat with the pestle, until a thick puree forms. Stir in the lime zest, and add juice to taste. Add more salt, diluted with a little warm water, if needed. The aioli can also be made in a food processor.
2. To prepare the prawns, rinse and pat dry, but don't remove the heads. Thread a wooden skewer through the tail end to the head so that each prawn stands straight like a soldier. Place in a shallow dish and season both sides with salt and pepper. Sprinkle with the lime zest and squeeze fresh lime juice over the top. Drizzle with olive oil.
3. Heat a grill pan or outdoor grill to medium heat. If using a grill pan, brush a little oil on its surface as it heats. Grill the prawns until opaque in the center, about 2 minutes per side. Serve with the aioli and fresh limes on the side for squeezing.
From Plum Gorgeous: Recipes and Memories from the Orchard by Romney Steele/Andrews McMeel Publishing