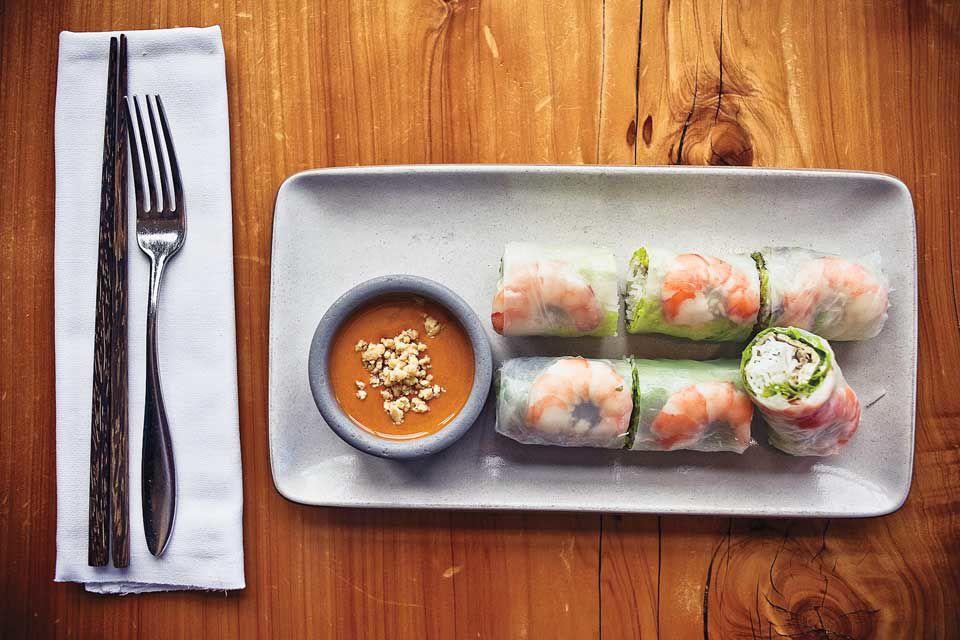 With 2018 marking my 20th straight year as an East Bay food critic, I predict San Ramon's The Slanted Door will be—straight up—our region's most exciting dining destination to open in decades.
As the anchor food-service tenant of the new City Center Bishop Ranch—designed by internationally acclaimed architect Renzo Piano—The Slanted Door boasts 7,500 square feet of modern restaurant space contained by 14-foot glass walls that offer people outside a 360-degree view of everything going on inside.
At the heart of the sophisticated Vietnamese eatery is an exhibition kitchen with a wood-fire oven, grill, and smoker surrounded by 60 counter seats—a configuration not unlike a horseshoe bar. "You really get to see the action," says The Slanted Door's executive chef and owner, Charles Phan. "It's almost like a boxing ring with the kitchen [acting] as center stage."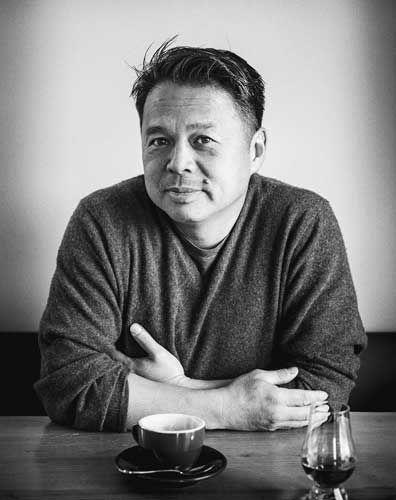 To get a sense of what to expect from the food at the new Slanted Door (the City Center location had yet to open as of press time), I made two trips to San Francisco's Ferry Building Marketplace, a food mecca featuring many of the Bay Area's greatest cafés and purveyors. The Slanted Door has been one of the compound's top attractions since 2004, when it moved from its original, humble venue on Valencia Street.
At the Ferry Building, our lunch of pho was astonishingly good, with a sweet, clear yet full-flavored beef broth delicately accented with star anise. Crunchy bean sprouts, Thai basil, and paper-thin slices of raw Prather Ranch London broil swam amicably in the soup.
During dinner we tried some of Phan's best-known dishes, including garlicky spinach and wild shrimp fried in pork fat and stuffed into hearty dumplings; crunchy imperial rolls wrapped with mint and lettuce and doused in sweet fish sauce; cellophane noodles and Dungeness crab sprinkled with golden sesame oil and scallions; and, of course, shaking beef—caramelized blocks of rare filet mignon with sweet red onion, raw watercress, and lime juice to cut the salty richness.
In truth, many of these dishes struck me as a little heavy and tired, but after serving 900 meals day in and day out—many of them signature plates (Phan told me he goes through at least 20 whole tenderloins each day just for the shaking beef)—it's a challenge to keep dishes​ tasting fresh, even when using the freshest ingredients.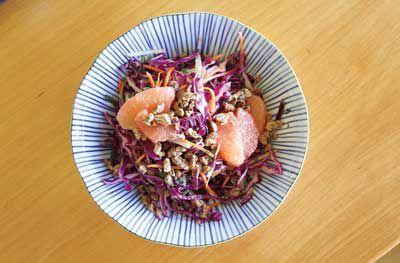 But what continues to remain innovative and compelling, both at lunch in the upscale lounge and at night alongside our views of undulating water and a glowing Bay Bridge, were the energy and community vibe radiating throughout the space. The happy hum of fully absorbed diners provided the uplift of a church choir. And that's what makes the prospect of a second Slanted Door so exciting. (Pssst: A third is on its way in Las Vegas in 2019.)
The San Ramon Valley's rolling hills provide a backdrop nearly as lovely as the Ferry Building's waterfront, while the new City Center itself, complete with a mini clock tower, inspires a lively community spirit. Its grassy, tree-lined plaza is as big as a football field—dotted with modern sculptures—and features a shallow reflecting pool that can easily transform into a concert stage or other entertainment showcase. A plethora of shops helps to round out City Center's 300,000 square feet of glass-enclosed retail, café, and restaurant space.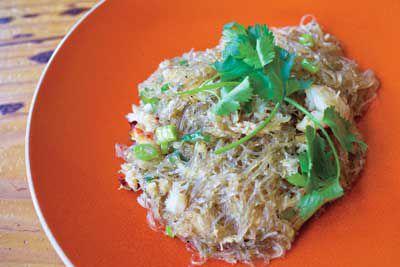 "It's a soulful place," says Jeff Dodd, senior vice president of retail for Sunset, the developer of City Center Bishop Ranch. "The glass allows the inside to become the outside. … It makes you feel good."
As for the shiny new Slanted Door and its menu, chef Phan notes that most of his signature dishes at the original and Ferry Building locations were developed in the restaurants' opening months, when creativity flows like pho. The main attraction at the Tri-Valley spot, however, is the smoker, where whole fish and any number of authentic Vietnamese specialties take on new flavor profiles.
The fully open kitchen is headed up by the contagiously enthusiastic chef de cuisine, Dong Choi, whom Phan came to admire as a chef at Rice and Bones—Phan's UC Berkeley "cafeteria." Choi has worked under star chefs Michael Mina and Daniel Patterson, as well as abroad in Japan and Singapore. He also brings a rich Korean heritage to Phan's established Vietnamese background and expertise.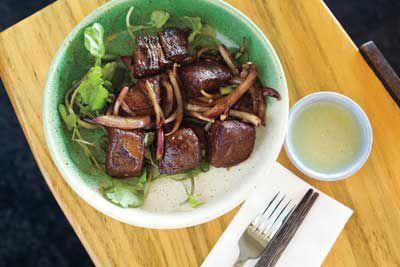 Phan had never considered opening a location in the 'burbs until he learned about City Center's clean, transparent design. "It's not like some maze," he says of Piano's venture. And in the end, the chance to reinvigorate The Slanted Door in a landmark luxury complex was too irresistible to pass up.
"It's old, like a giant machine," Phan says of his Ferry Building spot. "A new restaurant is where the magic really happens."
6000 Bollinger Canyon Rd., Ste. 1300, San Ramon,
slanted​door.com. Lunch and dinner daily.
A Growing Project
There will be plenty of enticing eateries headed to City Center Bishop Ranch, reaching as many as 18 options by summer 2019. Here's a taster of what's coming up.
Now
Boba Guys: Quality loose-leaf teas, Straus Family Creamery milks, and organic ingredients have gained the Boba Guys a bicoastal following and reflect City Center's sleek aesthetic.
Fieldwork Brewing Company: With five taprooms throughout the greater Bay Area (including Napa's bustling Oxbow Public Market) Fieldwork's City Center location boasts a beer garden and rock playground, two communal fire tables, and an open food policy, as well as ready-to-go options by Comal.
The Lot: A 10-screen movie theater featuring 800 reclining leather chairs with a call-button menu (dinner, or just chili popcorn with a refill on your Coke or chardonnay?); plus its own private upscale restaurant, bar, and patio all designed with a see-and-be-seen vibe.
Roam Artisan Burgers: We revisited Lafayette's Roam, home of grass-fed beef (elk and buffalo too), for one of its signature burgers and local draft beers (the cold pint edged out the organic milkshake), and we've gotta say Roam looks like a great fit.
Winter
A Social Affair: A sleek outfit with wines by the glass, craft cocktails, and tapas, this spot embodies City Center's we-are-family zeitgeist.
Earthbar: This healthful, smoothie-focused chain will be aptly located in Equinox, a chic, fitness-clothing store.
Mixt: Another small franchise—there are only a dozen locations in S.F. and L.A.—Mixt dishes up DIY ultra-fresh salads and grain bowls, along with a couple of serious meat sandwiches.
Spring
C Casa: Our favorite at Oxbow Public Market in Napa and Public Market Emeryville, this authentic yet modern taqueria—with fun options such as spiced lamb and rotisserie duck—offers sophisticated fast food ideal for shoppers.
Gio Gelati: This shop serves scoops of super-premium ice cream with a Cal-Ital focus. No doubt licking gelato while kicking back on the plaza will be a favorite pastime.
Joe and the Juice: Innovative smoothies and juices, cutting-edge lattes and bold sandwiches, and shots (ginger and turmeric; not tequila) offer sure-fire pick-you-ups to explore the many shops.
Mendocino Farms: This cutting-edge SoCal chain offers the kind of sandwiches you'd imagine if Thomas Keller got into the BLT business.
May and Beyond:
Curry Up Now: With a handful of restaurants (including Alameda and Oakland) specializing in modern riffs on Indian street food, this burgeoning chain is bound to become the talk of the mall.
Delarosa: This will be just the third Delarosa (the originals are in S.F.), a thin-crust pizza and beer restaurant that believes wholeheartedly in dining as a social endeavor.