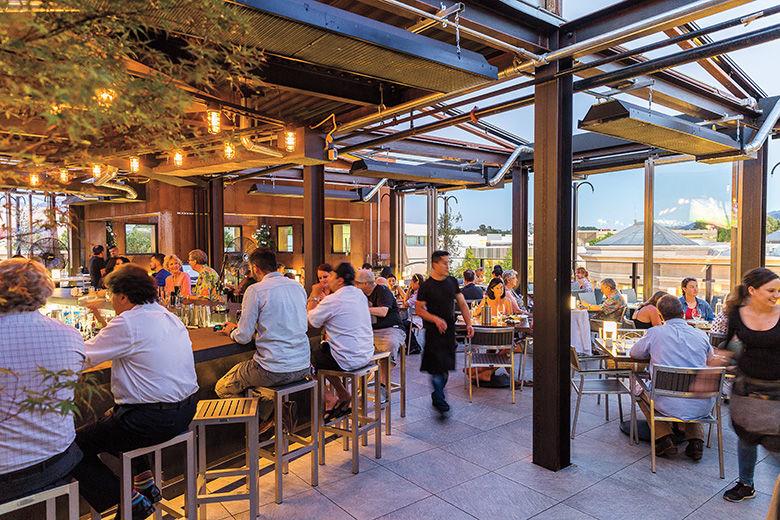 Soon, they'll be arriving like paratroopers. As for now, patrons line up to grab drinks at Rooftop Restaurant and Bar's three-sided bar. The intention—of the city, the architect, and Rooftop's partners—has always been to open a chef-driven restaurant. But when the sun sinks and the roof retracts, a thirsty public has other ideas. A rapprochement is in the offing, but it's clear that fun dining—not fine dining—will be as formal as Rooftop ever gets.
And that's a good thing.
Partner Jim Telford, who also owns the wildly popular Residual Sugar Wine Bar and Merchant in downtown Walnut Creek, says, "Food is still at the forefront" at Rooftop, but he concedes that "expectations here are to have fun, to let loose a little bit." Telford's opening list offers 26 wines by the glass. (He playfully says "only 26" in deference to the lists at Va de Vi and Prima.)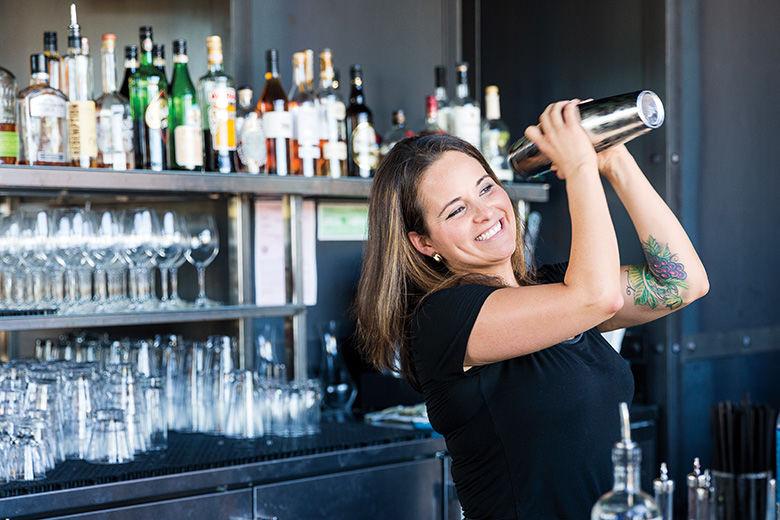 The juicy cocktail menu was created by Tamir Ben-Shalom, bar manager at Bull Valley Roadhouse in Port Costa. His bubbly Up and Up, inspired by the rooftop garden, comes infused with aromatic herbs. His gin-based Wedding Punch is spiked with orange curaçao and green cardamom, and the tiki-style Three Dots and a Dash is bolstered with allspice dram liqueur.
Ben-Shalom worked with Rooftop's chef and partner Justine Kelly at The Slanted Door and shares her enthusiasm for bold spice. "Justine makes some of the best food you can imagine," says Ben-Shalom unreservedly.
But Ben-Shalom also knows what his customers want. "When you are on a rooftop, you want to drink a tiki drink, and you want to drink it on crushed ice," he says.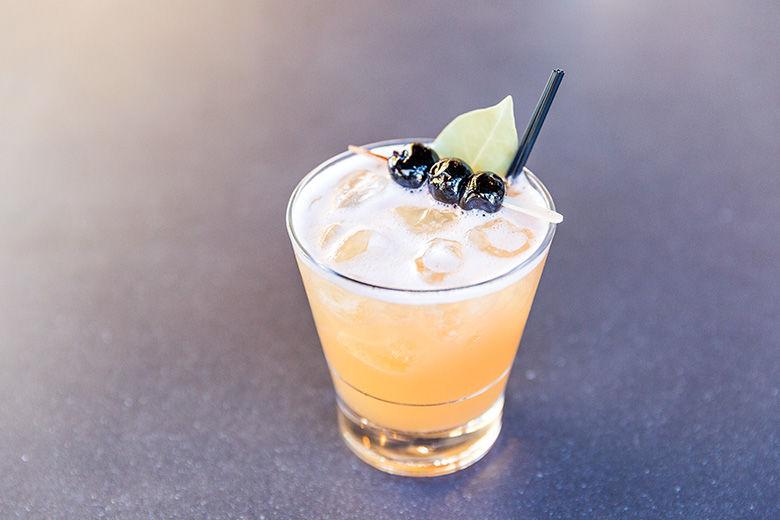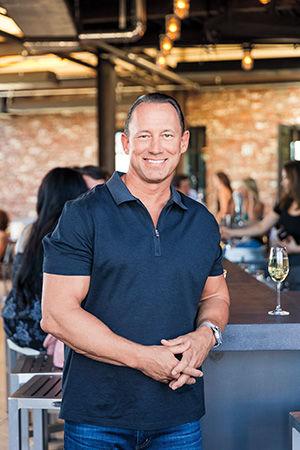 Bold Strokes
On our visit, an aggressive char and pungent whole-grain mustard vinaigrette invigorated Kelly's classic grilled asparagus with panko-coated dredged egg. And her Vietnamese touch is exemplified in nearly all her seafood dishes. Succulent scallops rest atop a silken caramelized pineapple curry; meltingly tender cod—bedded and steamed in banana leaves—is presented with a tangle of chilled pea shoots and sharp condiments of fish sauce and kaffir lime; and Kelly's various offerings from the raw bar are elevated with zesty Asian strokes of yuzu and sambal oelek.
"A lot of my dishes get inspired by the spice first, and then I work backwards," says Kelly. (She claims to have an obsession with Oaktown Spice Shop in Oakland.)
More recently, she's been enchanted by sweet Moroccan accents—think cinnamon and cloves—that show up in her crispy skewered lamb meatballs with tangy sumac-spiked yogurt.
These forward flavors dovetail with Telford's refreshing, honeyed European whites and rosés, but they are also a fine fit with a draft Stella or even the herbal Silver Fizz cocktail.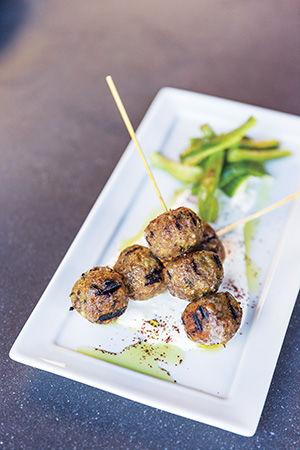 Kelly's comfort food (she likes to call it sophisticated; I might say dynamic) leaves space for Telford's big reds. A pork shank—smothered in caramelized onions—arrives on the bone over plump, peppery cannellini beans. Her Brandt Ranch rib eye with seasonal grilled veggies conveys more smoke than subtlety.
Kelly, who will continue to oversee the menu, is supported by local chef Frank Palmer (Maria Maria, Bing Crosby's, Lafayette Park Hotel and Spa). Rooftop's kitchen is "really small," says Palmer, so efficiency is key to menu design. The minimal refrigeration means prepping almost everything from scratch daily, "unless we want to become a pickle house," says Palmer.
Beautiful Design
Developer Brian Hirahara's building, which contains Slice House by Tony Gemignani, a pizzeria on the first floor; and Telefèric Barcelona, a Spanish restaurant on the second; is anything but a pickle house. It's a marvel of form and function, incorporating reclaimed brick and Corten steel—which rusts tastefully over time—into multiple dining zones.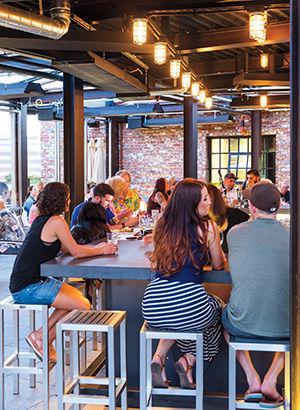 Where you sit at Rooftop goes a long way in informing your experience. The Tower Room is a handsome open space and offers the most intimate indoor dining. The raised tables opposite the bar create a lounge vibe. And if you can score a seat at the bar itself, go for the six stools by the entrance that face Mount Diablo. The tables closest to the door are my least favorite: The space is loud yet seems detached from the action. There are three coveted patio areas as well, including one that is secluded and overlooks the rooftop garden.
I was in awe of the building's custom detail and craftsmanship when Hirahara gave a walk-around in February during construction—particularly when we reached the rooftop.
"This is going to be the interesting space," said Hirahara. "We don't want it to just be a bar. It has to be a chef-driven restaurant."
As it turns out, depending on the time of day—and what game is on the wide screens—it can feel like a nightclub. But if all you need is a roof with a view, it's always worth the drive—for the food or the booze.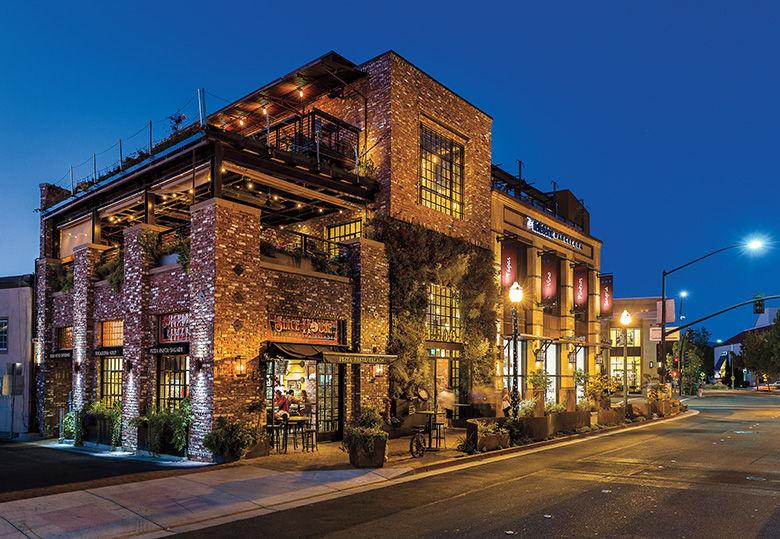 ---
Contact: 1500 Mt. Diablo Blvd., Ste. 300, Walnut Creek, (925) 300-3540, rooftopwc.com. Lunch and dinner daily.