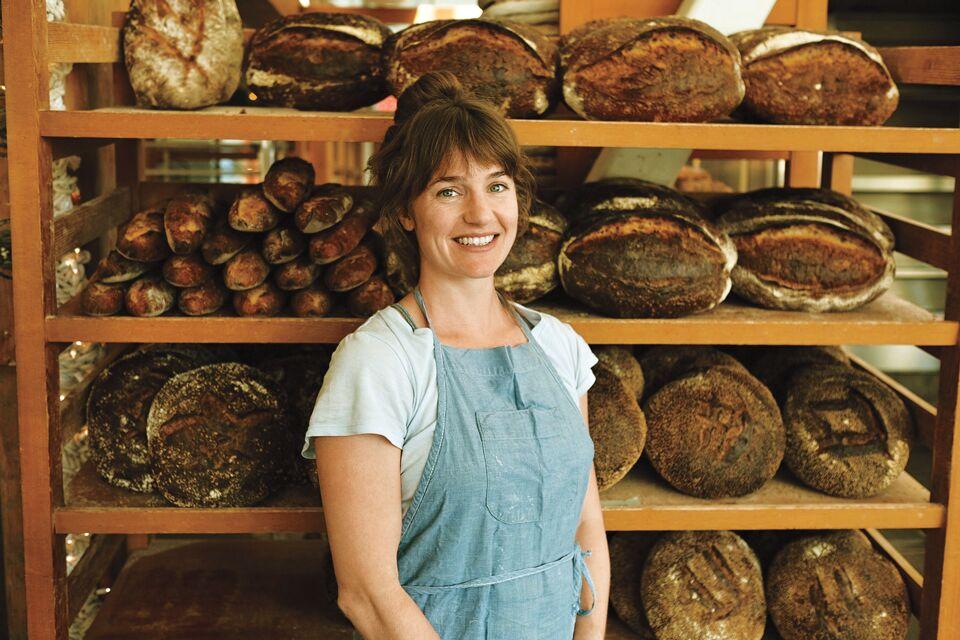 As a child, Jennifer Latham was fascinated by bakers. At a very young age, her family lived in a rural area near Bavaria, Germany, and a woman in a nearby town would create delicious dark rye breads that were always on the table for every meal. A few years later, while living just outside of Santa Cruz, Latham had a best friend whose father owned a bakery in Los Gatos and let the girls knead to their heart's content.
"I've been around bread my whole life," says Latham, an Oakland resident who is the director of bread for the acclaimed Tartine Bakery, which has 
locations in San Francisco and Los Angeles. "There were times when I would be shaping bread on my kitchen table, asking my roommates what 
I should be doing with my life."
Latham found her calling when she began working with Tartine in 2011—she celebrates her 10-year anniversary with the bakery this month. She had moved to San Francisco to pursue journalism and took jobs in the restaurant industry to support her writing career. She was drawn to Tartine, the Mission District bakery opened by Chad Robertson and Elisabeth Prueitt in the early 2000s.
"I've always thought bakers were the coolest of the cool people," says Latham. "I asked them for a job about a dozen times and they finally gave in."
During her decade at Tartine, Latham has helped the business expand in the Bay Area and Southern California. Tartine has also 
developed relationships with farmers and millers in Oregon 
and Washington, who create what Latham describes as "next-level flours."
"I was promoted to manager to help the bakery switch to these flours, which are so fresh that they took a little trial and error to work with," says Latham. "This fine, soft flour is a living product and it performs beautifully. We have to use enough of the flours to support the farmers, which means we have to bake more bread for people. The most rewarding part of my job has been watching these relationships grow between the bakery and the farmers, as well as the customers who love our product so much."
Next month, Latham and Robertson will release Bread Book: Ideas and Innovations from the Future of Grain, Flour, and 
Fermentation. The deeply detailed cookbook is packed with 
recipes that Latham has been tinkering with for years; it also 
discusses the relationships that Tartine has developed with 
purveyors in the Pacific Northwest. Readers will find easy-to-follow 
recipes for innovative dishes such as sourdough tacos and pasta, and tortillas made from Sonora wheat, which Latham says has 
"an amazing, almost popcorn-like flavor."
Latham, who is planning a series of virtual events around the cookbook's release, says she will be thrilled to add "author" to her résumé when Bread Book hits bookstores on December 21.
"It's been a little bit mind-blowing," she says, with a laugh. 
"I thought my dream of being a writer had died years ago."
For more information about Bread Book and Tartine Bakery, go to tartinebakery.com. To see Latham's baked goods, follow her on Instagram @jenniferlatham.