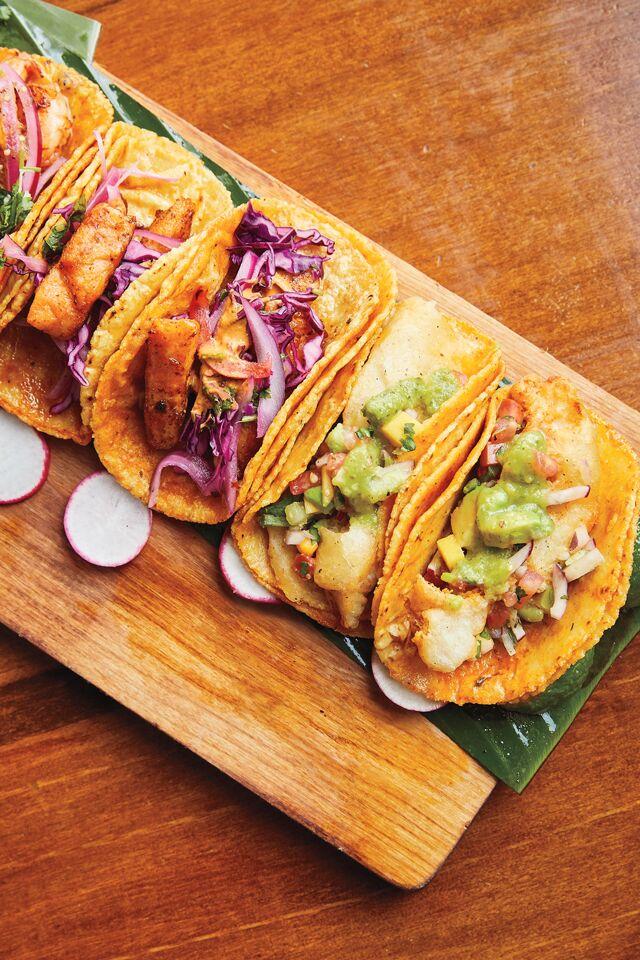 Like Mama Used to Make
By Clay Kallam
At 5 Tacos 
and Beers, Lito Saldaña stays true to his Mexican roots.
It's homestyle," says 
Lito Saldaña about the food at 5 Tacos 
and Beers in Albany, "like my mom used 
to make."
And since home was El Aserradero, a small village in
 southern Jalisco that clung to the 
ancient traditions, Mama Luisa 
did things the old-fashioned way. "We grew everything we ate," says Saldaña, "so when I talk about homestyle, I mean organic. I mean fresh."
At 5 Tacos, it's not about the trendy "street food" movement, it's about making sure every taco is true to Saldaña's roots.
"We chop everything here," he says. "We cook everything in-house. We make it all from scratch." And that, of course, includes the tortillas, sauces, and even the beans. "Nothing comes from a can. The way we cook the beans takes a lot of time."
But Saldaña, who came to the United States at 19 to join his older brother in the restaurant business, isn't interested in cutting corners. He is interested, however, in keeping his menu as fresh as his ingredients.
The taco options change every week, 
depending on available ingredients, and 
every Monday is Meatless Monday. "We don't cook any meat on Mondays at all," he says, so vegans can be completely comfortable with every meal.
Originally, plans called for the Walnut Creek 5 Tacos to open this past summer, but architectural issues delayed its debut—which means, in the short run, a trip to the original 5 Tacos on Solano Avenue in Albany is the only way to sample Saldaña's tacos.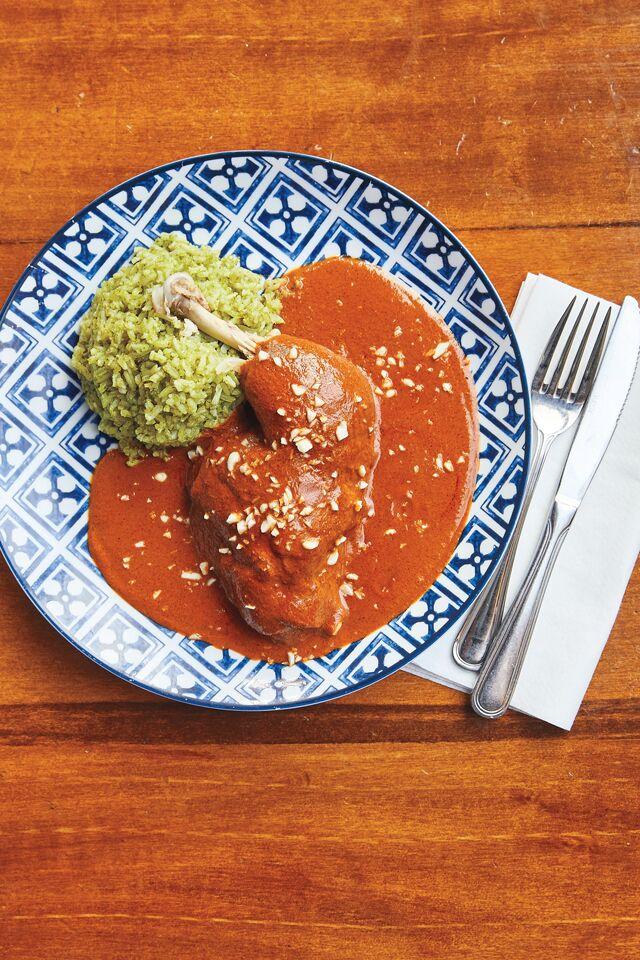 Note that Saldaña also runs the popular Los Moles restaurants (with outlets in El Cerrito and Emeryville), which, not surprisingly, focus on mole sauces. The menus rotate among the 15 
or 20 mole sauces he can prepare, but like 5 Tacos, the concentration on one primary item makes for higher quality and a more efficient operation.
One result of that efficiency
 at 5 Tacos is that Saldaña's beef 
tacos are made with short ribs and rib eye steak, ingredients that are a cut above what's normally found in a carne asada taco.
Still, there's a reason the full name is 5 Tacos and Beers. "People
 come in and think, I'll get a taco, but I'll get a beer too," says 
Saldaña, but even when it comes 
to beer, he's focused on quality.
"We only serve local beer," he says. "We don't serve any corporate beer."
And that should come as no surprise from a chef whose goal is "representing homestyle food."
Recipe: Mole Poblano
By Lito Saldana
Chilies:
6 chilies California
6 chilies chipotle
6 chilies negros
6 chilies pasilla
10 chilies de árbol
10 chilies cascabel
Nuts:
4 ounces raw peanuts
4 ounces raw pumpkin seeds
4 ounces almonds
4 ounces sesame seeds
4 ounces pecans
Fresh Produce:
4 ounces garlic
1 ounce fresh oregano
7 ounces white onion
8 ounces tomatoes
8 ounces tomatillo
2 gallons chicken stock
Spices:
1⁄2 ounce whole cloves
1⁄2 ounce black pepper
1⁄4 ounce cumin
5 sticks cinnamon
4 ounces salt
4 roasted tortillas
1 Abuelita chocolate bar
Fry all chilies in oil and set aside (Saldana recommends corn oil). Fry all nut, garlic, and spices in oil and set aside. Sauté́ onion, tomatoes, and tomatillo and set aside. Blend the chilies with some chicken stock individually and then add and blend in (nut, garlic, and spices) and (sauté́ onions, tomatoes, and tomatillos). Once everything is blended, pour into a pot and boil for 2 hours on low heat.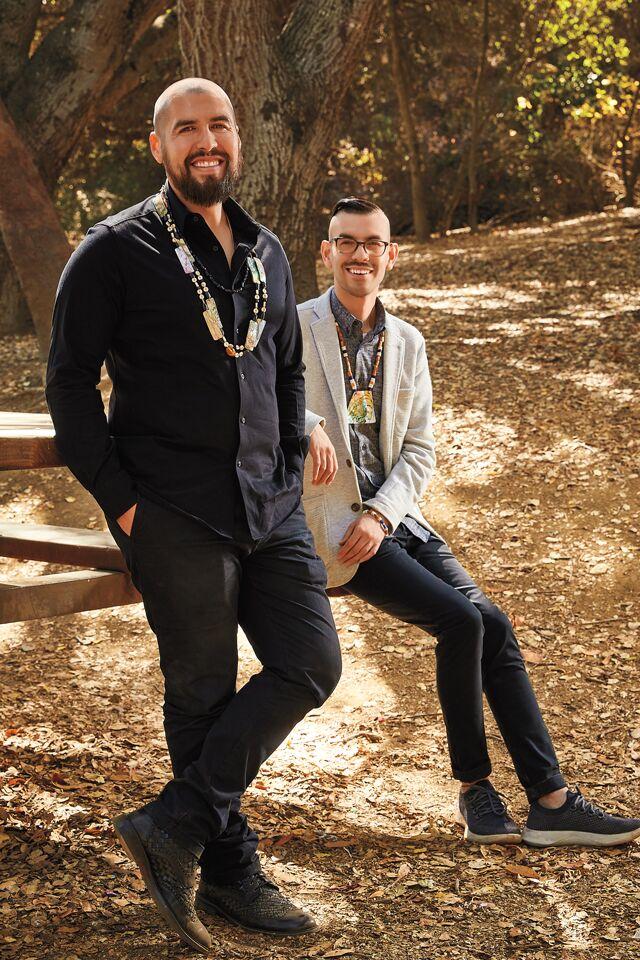 A Living Culture
By Rachel Orvino
Vincent Medina and Louis Trevino of Cafe Ohlone celebrate the traditions of local indigenous tribes.
Mak'amham means "our food" in the
native language of the
 Chochenyo
 Ohlone tribe—a harmonious concept at the heart of Cafe Ohlone. The Berkeley eatery is the world's 
only Ohlone restaurant and is a celebration of the food, culture,
 language, and heritage of the 
indigenous tribes that have 
lived in California for millennia.
 "In creating Cafe Ohlone, we want to provide a space for our community where our culture—our language, food, aesthetics, respect and care for our elders—is front and center," says cofounder Vincent Medina, a member of the Muwekma Ohlone tribe. "We also want to teach the public about our history, our living identity, and our hopes for the future."
Medina and partner Louis Trevino (of the Rumsen Ohlone tribe) opened Cafe Ohlone in 2018 on the back patio at University Press Books. After closing during the early days of the pandemic—the pair continued to share the
 Ohlone experience through virtual language and cooking classes and meal kits—the restaurant is reopening in January in a new location at UC Berkeley's Hearst Museum.
The bigger outdoor space still highlights the Ohlone aesthetic, with planters overflowing with native herbs and berries; 
projected images of tribal elders; and murals by artist Jean LaMarr. The communal table from the old spot, however, has been replaced by smaller seating pods. The expanded menu, made with locally sourced or gathered seasonal
 ingredients, features such dishes as acorn bisque and rose-hip torte. The menu goes beyond traditional fare and includes entrées that have been adapted more recently, such as chili colorado made with venison and chia tortillas.
"These foods reflect periods in our history,"
says Trevino. "Our people adopted flavors that they enjoyed in a specific way; they don't exist anywhere else. These are really exciting dishes."
Cafe Ohlone will keep its schedule of a 
full tea hour on Tuesdays, a tasting lunch on Thursdays, a bimonthly brunch on Sundays, and a 12-course dinner every other Saturday.
Education continues to be a major component of Cafe Ohlone. Prior to the restaurant's creation, Medina was a curator at Mission Dolores for seven years; Trevino studied political science and linguistics at UC Berkeley.
Says Medina, "There is something beneficial when Ohlone people can share our stories in our own voices, on our own terms, over something beautiful like our food. We want the public to understand how alive our [culture is] and respect it in a fuller way."
Recipe: Chia Porridge With California Blackberry Coulis
By Vincent Medina
Porridge:
1 quart house-made California hazelnut or California black walnut milk
1 cup Chia seeds
1/4 cup ground vanilla bean
1/2 cup agave to sweeten
Coulis:
2 pints California blackberries
1/4 cup water
California bay laurel
Agave to sweeten
Porridge:
In a mixing bowl, thoroughly combine chia seeds with ground vanilla. Add prepared hazelnut or black walnut milk to the dry mixture, stirring constantly to avoid clumping of seeds. Continue to whisk porridge every 2 minutes for up to 20 minutes, ensuring that the chia seeds do not clump. Once the mixture is of a porridge consistency, thoroughly mix in agave to sweeten.
Coulis:
Carefully wash California blackberries, and transfer to a pot with 1/4 cup of water over medium heat. Add 2 bay leaves to the pot, mixing thoroughly. Stir occasionally until blackberries are heated to bursting and change color to pink. Remove from heat. Transfer cooked blackberries to large mason jar, removing bay leaves and adding agave to sweeten. Use an immersion blender to combine the cooked berries and agave into a coulis. Allow to cool. Top chia porridge with chilled coulis after complete.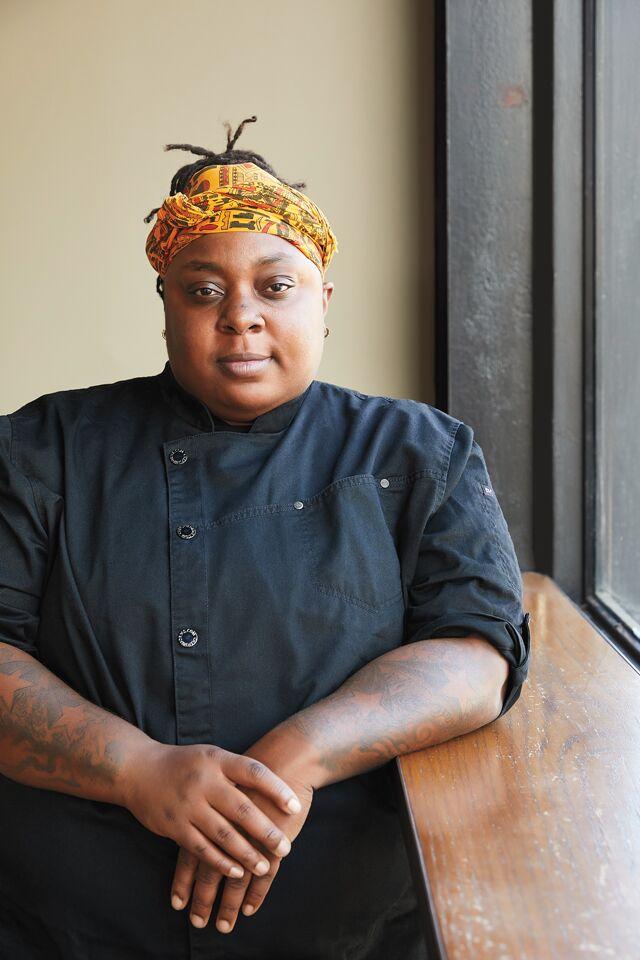 Rising Together
By Emilie White
Christina "Lala" Harrison serves community-focused Black heritage cuisine at Roux40
Among the many 
dishes planned 
for the forthcoming Oakland eatery Roux40 are coffee chicken, Bellevue confit chicken, 
Carolina gold rice and crispy okra
in Bellevue broth, and an entire 
oyster section. But chef-owner 
Christina "Lala" Harrison had 
more on her mind when planning 
her menu than just deliciousness.
"People are always confused as to what Black food is," says 
Harrison. "When you're eating
 at an Italian restaurant, it's clear. When you're eating at a Mexican 
restaurant, it's clear—but Black people helped build America and the farm-to-table style."
Partly inspired by the popular 
Netflix series High on the Hog: 
How African American Cuisine 
Transformed America, Harrison 
defines her fare as "Black American food" that 
can be traced to the country's Black culinary heritage. Harrison also plans to highlight Black-owned farms and local ingredients on 
the seasonally changing menu. The restaurant itself, a casual fine-dining experience with a full bar, will emphasize an Afrocentric
 atmosphere featuring African art and vivid colors. The eatery is the result of a 
leadership and design collaboration among 
women of color, a demographic Harrison
 aims to emphasize in the restaurant's staff.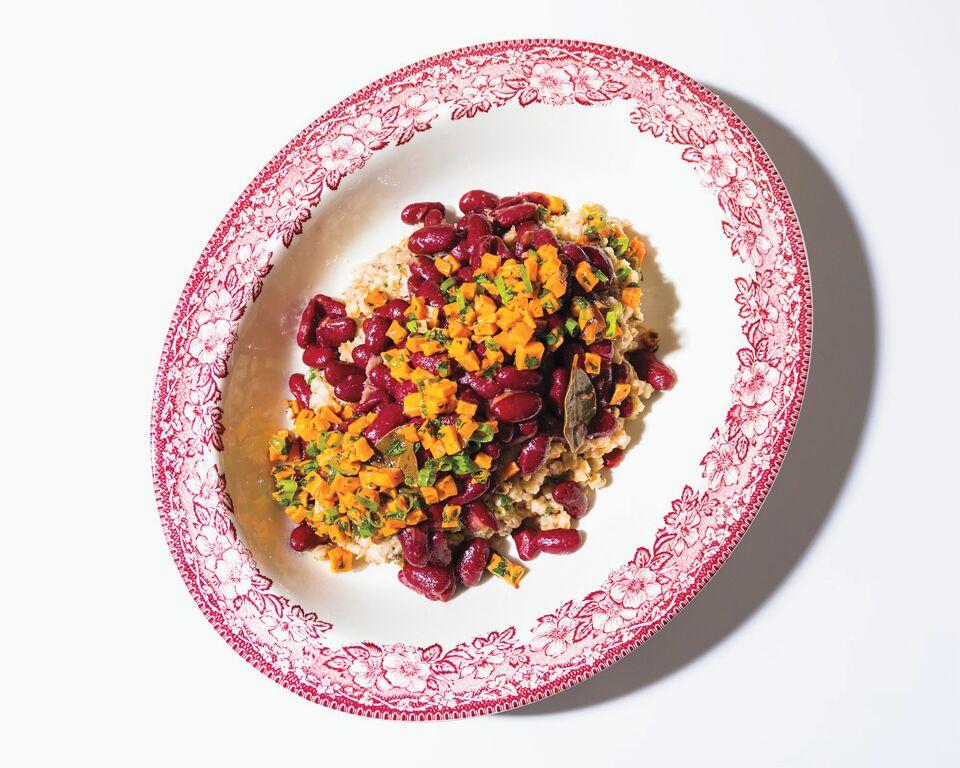 "The culinary industry is very male-
dominant," she says. "This is a project that gives us a seat at the table, saying that we are able to do these things on our own."
Harrison's focus on community has been a central component of her culinary philosophy.
 After attending Laney College and eventually 
joining Oakland dining spot Flora, she was 
inspired to found her JusLa Eats catering
 company after working with Youth UpRising's
 social enterprise program. Harrison's résumé is also peppered with social action, including an alliance with the Dine for Democracy voter rights movement and her own COVID-19 Stay Home, Stay Safe free delivery project.
After working at commercial kitchens and 
a pop-up at Oakland's Palmetto,
 Roux40 is Harrison's first solo brick-and-mortar project. While also a nod to the fact that it's taking over the former Hog's Apothecary building on 40th Street, the restaurant's name has a deeper meaning connected to the roux mixture, or base, of her gumbo.
"It's all about the base—it's the home, it's the start. It makes or breaks the dish," says Harrison. "With the home of the restaurant, this is the start. This is the beginning. We don't plan on stopping here."
Recipe: Stuffed Braised Collard Greens—"A Soul Bite"
By Lala Harrison
1 bunch collard greens
2 cups farro
2 cups red beans, dry or canned
1 diced jumbo Garnet yam or sweet potato
1/2 cup olive oil
1/2 onion
1/2 cup sliced scallion
1 tablespoon fresh chopped garlic
2 bay leaves
1 tablespoon chili powder
1 teaspoon smoked paprika
1/2 teaspoon allspice
Salt to taste
Braising liquid:
1/4 cup brandy
1/4 cup apple cider vinegar
8 cups vegetable broth (or reduce 1 gallon vegetable stock to 2 quarts)
3 garlic cloves
3 sprigs thyme
2 bay leaves
Salt to taste
Cut stems and tough parts of the greens off. Soak dry red beans overnight. Put beans in a medium size pot with enough water to cover the beans with one inch of liquid. Bring to a boil and reduce heat to a simmer, then cook until beans are tender. When the beans are cooked, cover with olive oil. Let stand for 30 minutes. Once cooked, strain.
Cook farro "like pasta," in boiling salted water until tender. Strain and mix with beans.
Preheat oven to 350˚F. Roast yam or sweet potato on sheet pan. Coat with oil. Add salt and allspice. Roast until tender (10 to 15 minutes). Reduce oven temperature to 300 ˚F. Mix with farro mixture. Add scallions and fresh chopped garlic. Add the smoked paprika and chili powder into the mixture. Once everything is mixed, put on sheet tray and let cool.
Boil water and prepare ice bath. Put a pinch of salt in the water and blanch the greens (about 30 seconds), and shock it in the ice bath. Lay out greens, pat dry and cool. While the greens are cooling prepare the braising liquid.
Pour brandy into a saucepan and let the alcohol burn off. Add apple cider vinegar, smash whole garlic clove, and add bay leaves. Add vegetable stock, bring to a boil, and then lower heat and let simmer for 10 to 15 minutes.
Place a collard green leaf with the stem down, toward you. Spoon 1/4 cup of the mixture into the center of the leaf. Fold the sides in and roll up away from you. Place the fold side down and place in a casserole dish/Pyrex. Cover with the braising liquid (should cover up to half full—add vegetable stock if not). Cover with foil and bake in oven for 45 minutes, or until the greens are tender (check with knife). The liquid should always remain about half full and not evaporate too much.
Pull out of the oven and serve on your favorite platter or dish of choice. Garnish with finely sliced scallions.