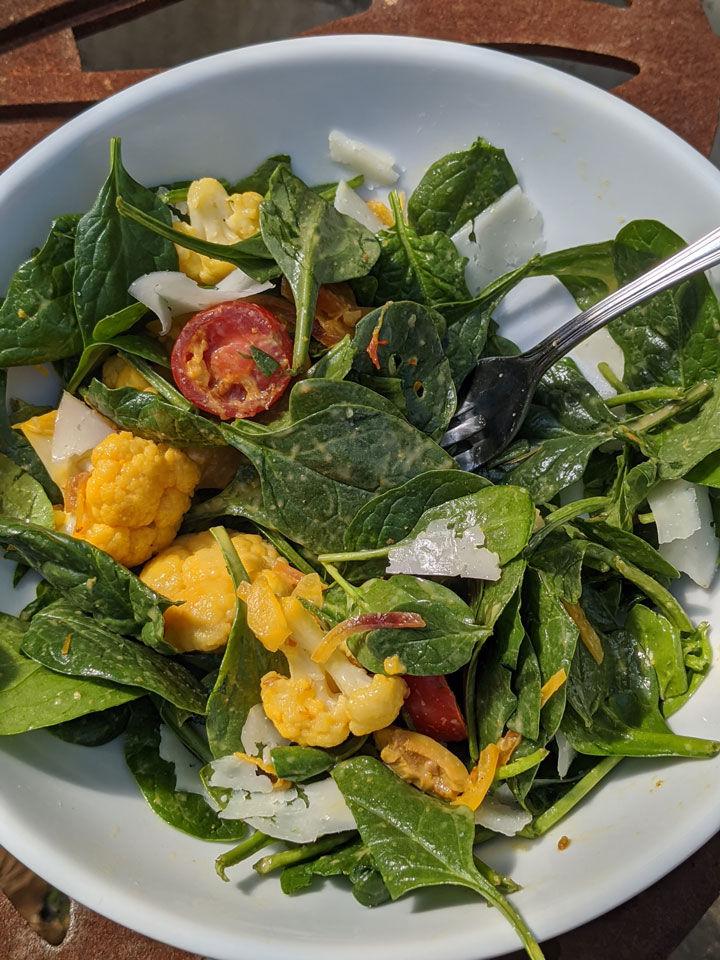 Saffron Roasted Cauliflower Salad
Pomella, Oakland
Chef/owner Mica Talmor: "This is a classic Spanish combination, so I can't say I came up with it. I love saffron and orange in just about anything: ice cream, cake, salad, Catalan stew... I also really like green olives with dry fruit ... It has it all."
Pro Tip: Check out Pomella's Facebook page to watch a video of Talmor preparing the cauliflower salad at home. 
Recipe
2/3 cup saffron water (take 2/3 cup water, add 1/3 teaspoon saffron threads, bring to boil, and steep like tea)
1 head cauliflower (about 2 pounds) cut to florets
6 ounces red onion, cut to half-moons (about 1/2 an onion)
2 ounces green pitted olives cut to quarters (5–6 olives, we use picholine)
2 ounces crimson raisins or other tart raisins (about 2 tablespoons)
1 tablespoon oil (we use a blend of olive and canola)
1 1/2 teaspoons salt
Pinch black pepper
Mix it all up in a bowl, transfer to a parchment-lined baking sheet, and roast in a 375°F oven for 7 minutes or so (depends on your oven).
Vinaigrette:
2 tablespoons smooth Dijon mustard
4 teaspoons honey
1/2 orange zest
1 orange (no pith or seeds) flesh
4 teaspoons champagne vinegar
2 teaspoons salt
Pinch pepper
Put all the above ingredients in a blender, and blend until smooth. Then add 1 cup of canola oil gradually to create an emulsion.
Mix 1/2 basket (or more if you like) of cherry tomatoes cut in half, the roasted cauliflower mix, and 1/2 cup vinaigrette. Let it sit overnight. Add fresh baby spinach, more vinaigrette, and shaved manchego to make the full salad.