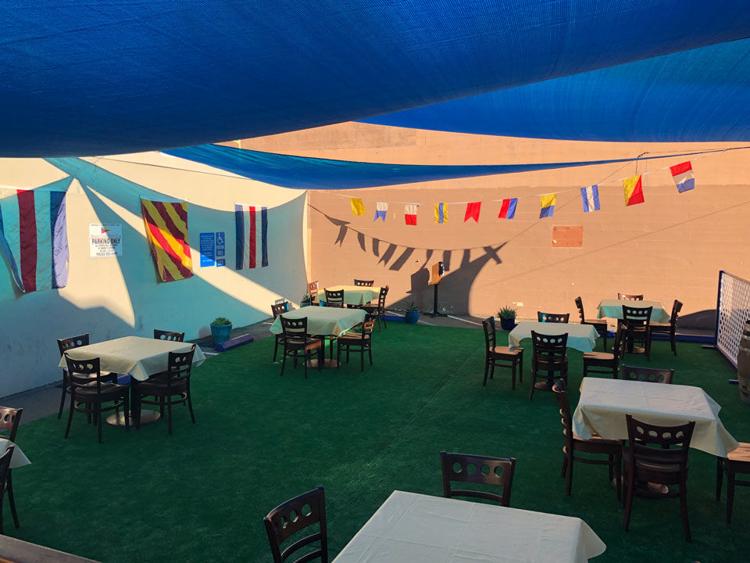 Walnut Creek Yacht Club, this year's winner of Diablo's Best of the East Bay readers' picks for Best Seafood and Best Cocktails, is a perennial favorite in downtown Walnut Creek, a place that would be packed at happy hour and every Friday and Saturday night were it not for the COVID-19 crisis of the past few months.
Chef and co-owner Kevin Weinberg says his experience dealing with the emergency has been like sailing very choppy waters. "We started gearing up for the shutdown in late February because we could tell what was coming," says Weinberg. "It all came down on St. Patrick's Day [March 17]—we had 90 reservations for corned beef and cabbage that night and we had to shut down, so we quickly started bagging those corned beef meals to go."
Weinberg went from running a thriving restaurant to having to let go of 50 employees the day after St. Patrick's Day.
"We made food care packages for our employees to take home when they came into pick up their last check," says Weinberg.
Realizing that he was now running a takeout business, Weinberg and three co-workers started making soup from their inventory, and found that his regular customers were happy to eat it.
"We made 500 liters of clam chowder and pepper pot soup—the two soups we have been selling here since day one—and froze it," says Weinberg. "We had people coming in and buying 8, 9, or 10 liters at a time and heating it up at home."
From March to June, the Yacht Club served a limited takeout menu. On June 5, Weinberg received notice at 1:30 p.m. that his restaurant could start serving customers at outdoor tables, beginning that evening at 5 p.m. Weinberg reconfigured the restaurant's parking lot on Locust Street into a patio area with eight four-top tables, separated by safe distances. Another 30 guests can eat at the restaurant's Aft Deck section on the Bonanza Street side.
Walnut Creek Yacht Club is now open daily from 11:30 a.m.–9 p.m., and serves the same menu all day. Weinberg says his lobster rolls have been selling extraordinarily well, as have a new crab, avocado, and bacon grilled cheese sandwich. Reservations are highly recommended and only available by phone (925-944-3474).
With services gradually opening up in our community, it's important to remember that many health and safety rules are still in place. Here's a look at what you can expect when you book an appointment to eat at Walnut Creek Yacht Club:
MASKS
Servers are required wear masks at all times.
Guests are required to wear masks whenever walking through any indoor areas of the restaurant and when walking to use the restroom. Weinberg requests that guests wear their masks as a courtesy while ordering from servers.
DISTANCE

Outdoor seats and tables are arranged at a safe distance from one another.
TEMPERATURE AND HYGIENE
Employees have their temperature checked when they arrive at work for each shift. Staff members set a timer on their phones to remind them to wash their hands every 30 minutes, and hand sanitizer is available throughout the dining area.
To see the menu, go to wcyc.net.