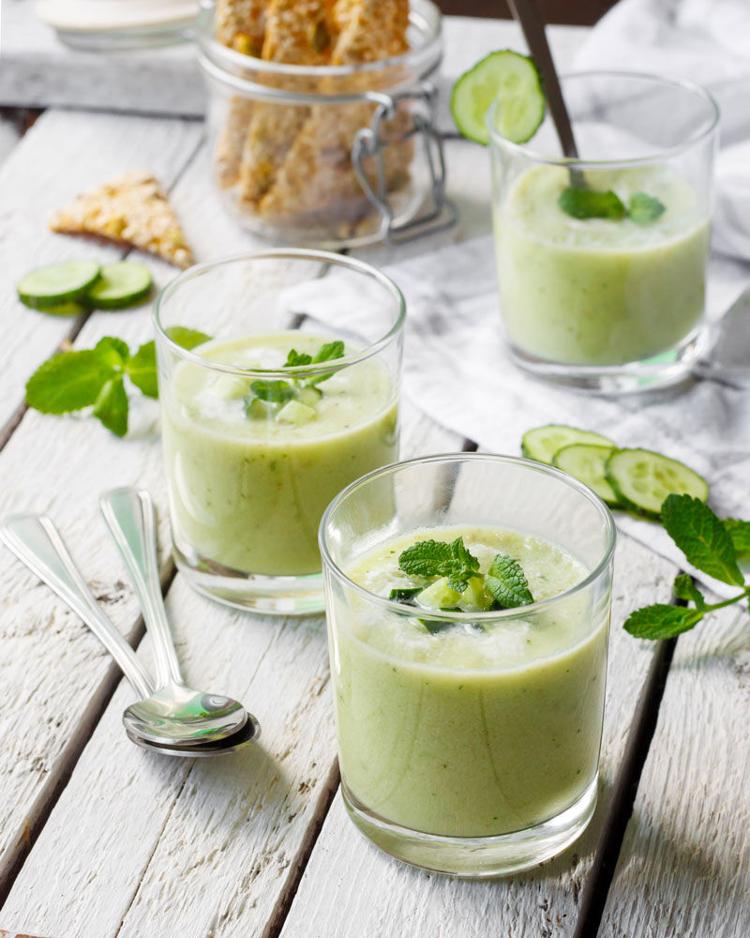 Perfect for a small gathering or a light dinner, these recipes can stand alone as an hors d'oeuvres party or pave the way to a main meal. Easy Spanish wine pairings include cava (Spanish sparkling wine), a dry white such as albarino from Rias Baixas or a lovely Rioja red.
Chilled Cucumber and Avocado Gazpacho
Serves 8
Ingredients
4 English cucumbers, peeled, seeded, and chopped
1 clove garlic, peeled and chopped
½ serrano pepper, seeded and finely chopped
¼ cup white balsamic vinegar
½ cup extra-virgin olive oil, plus oil for garnish
1 teaspoon kosher salt
Pinch of finely ground black pepper
½ cup ice water 
Garnish
2 large avocados
¼ cup water
1 tablespoon lemon juice
¼ cup mint, minced 
Directions
Chill glasses or bowls until ready to use. Stir together cucumbers, garlic, serrano pepper, vinegar, and olive oil in a large bowl. Add the salt and pepper and stir to combine. In multiple batches in a food processor or blender, puree cucumber mixture, adding just enough ice water to puree to a soup consistency. Pour gazpacho into a large bowl and refrigerate covered until well chilled. Just before serving, taste and adjust seasoning as needed.
To serve, cut avocados in half, remove the pit and scoop out each half with a large spoon. Cut the avocados into medium dice and toss with ¼ cup of water and 1 tablespoon of lemon juice. Evenly divide the soup among chilled ramekins or small glasses. Add a spoonful of diced avocado and mint to garnish. Serve immediately.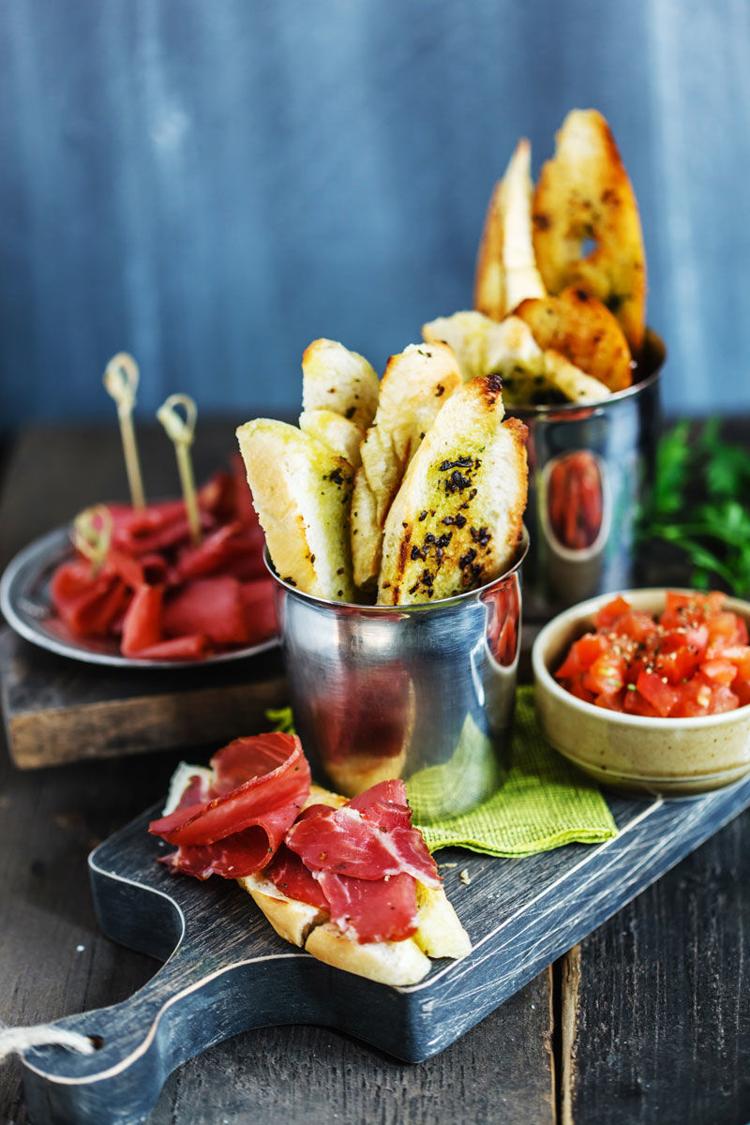 Piquillo Peppers Stuffed with Herbed Goat Cheese
Serves 8
Ingredients
1 7-ounce jar piquillo peppers (about 15 peppers), drained and each sliced into 2 to 3 pieces depending on their size
10 ounces goat cheese, room temperature
2 tablespoons heavy cream
2 tablespoons fresh chives, thinly sliced
2 tablespoons fresh thyme, minced
1/3 cup flat-leaf parsley, minced
2 cloves garlic, grated on fine zester
2 lemons, zest and juice
Sea salt flakes for garnish
Directions
Mix goat cheese with heavy cream to soften cheese. Place softened goat cheese, chives, thyme, parsley, and garlic in a bowl. Add lemon zest and juice lemon, and mix until well combined.
Using a small spoon or piping bag, fill each strip of piquillo pepper with about 1 teaspoon of filling. Roll the pepper up, covering the filling. Skewer with a toothpick and place on a serving platter. 
Once all peppers are filled, garnish with sea salt flakes and serve cold or at room temperature.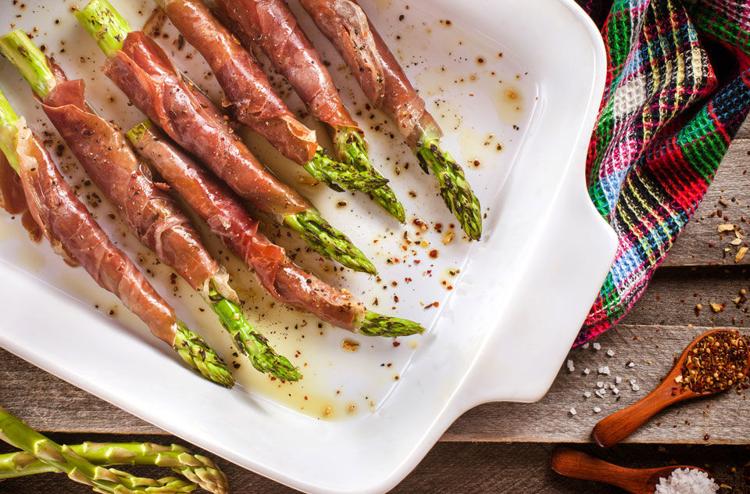 Crispy Asparagus with Serrano Ham 
Serves 8
Ingredients
1 bunch thin asparagus (about 16 spears), ends trimmed
8 slices of serrano ham or prosciutto, thinly sliced and cut in half lengthwise
½ cup unbleached, all-purpose flour
1 medium egg, beaten
½ cup panko breadcrumbs
Salt and pepper to taste
Canola oil for frying 
Directions
Fill a medium pot with water and bring to a boil. Add the asparagus and boil for 1 to 2 minutes. Quickly remove the asparagus with tongs or a strainer and place immediately in a bowl of ice water. Once cooled, remove and drain well.
Tightly wrap a half slice of serrano ham around each asparagus spear. Set up a breading station with three plates: one with flour, one with egg and one with panko. Coat the wrapped asparagus first in flour, then egg, and then panko. Continue until all asparagus spears are coated. 
Heat ½ inch of oil in a frying pan over medium heat. Place the breaded asparagus in a single layer in the hot oil. Do not overcrowd the pan. Fry the asparagus until golden brown on all sides. Drain asparagus on paper towels and continue frying the remaining asparagus. Serve warm.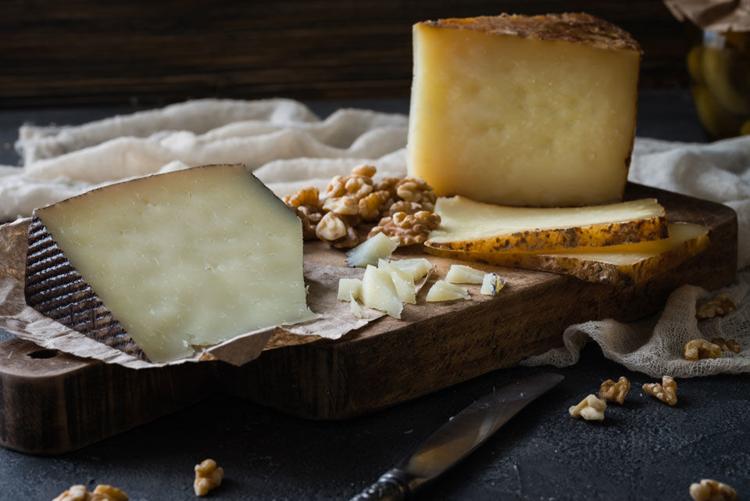 Spanish Cheese Platter
Assemble cheeses and accompaniments on a large platter or board for guests to linger over and find new favorites.
Three to five Spanish cheeses, such as:
Leonora
Mahon
Manchego
Idiazabal
Cabrales
Purchase about 1 ounce of cheese per person. Serve cheeses at close to room temperature for best enjoyment. Cheese selections in store may vary.
Accompaniments
Crispy flatbreads
Sliced sweet baguette
Fresh grapes or figs
Marcona almonds
Sliced Spanish chorizo or Serrano ham
Membrillo (quince) paste
Pickled peppers
---
"Summertime Tapas" was originally published in the Spring 2020 issue of Draeger's Market Cooking magazine. The Draeger family operates four Bay Area marketplaces and is committed to constantly improving the products and services, which they offer to their discriminating clientele. Diablo Custom Publishing (DCP) designs and prints the magazine for Draeger's learn about our custom publishing division here. To learn more about Draeger's Market, visit here.