FITNESS
If you've resolved to get into shape in 2021, consider these socially distant workout options that are challenging, 
effective, and—yes—even fun.
OUTDOOR WORKOUTS
Exercising outside feels good, and research shows that it also lowers your perceived exertion, potentially leading to a more rigorous workout. Sweat in Oakland has outdoor fitness classes on padded AstroTurf, with participants spaced out and trainers standing distant. The fully equipped outdoor facility offers a complete schedule of strength HIIT (high-intensity interval training) workouts using weights, bands, rowers, bikes, and SkiErgs. sweatoften.com.
Meanwhile, Gumsaba, in Danville and Walnut Creek, offers Outdoor 
Boot Camp Fitness, where classes have been redesigned with social distancing in mind. Class sizes are limited, and to avoid sharing equipment, participants must bring their own—dumbbells, a mat, a jump rope, and a band. Each class focuses on the full body, with exercises such as squats and lunges, as well as a socially distanced run. gumsaba.com.
DANCE MOVES
Research shows that dancing helps 
your heart, improves your balance, and brightens your mood. And there are plenty of virtual options as well as 
socially distanced ways to take real-
world classes. If your hips are longing 
to samba, mambo, or cha-cha, try 
Sizzling Latin Dance Studio in 
Lafayette, which has safe in-person 
private lessons, where the instructor works with only one or two people 
in the studio (when allowed by county guidelines); the studio also offers online classes. sizzlinglatin.com.
For more classical dance training, check out Pleasant Hill's Diablo Ballet, 
an award-winning studio that provides ballet classes for everyone from toddlers to adults, including online options. 
diabloballet.org.
LIFE CYCLES
Cycling isn't just good for your physical health; it can also sharpen your mind and lift your mood. So, dust off your bike and explore the East Bay's picturesque trails. For a leisurely ride, head 
to the Lakeside Nature Trail, which encircles the sparkling Lafayette 
Reservoir. If you're hungry for an invigorating challenge, hit the 11-mile Mount Diablo Summit Trail and enjoy jaw-dropping vistas.
If your cycle is the stationary kind, join Ride Oakland, where instructor-led Zoom spinning classes get your heart pumping to killer beats. Post-workout, hop online and order a tasty organic superfood smoothie from the Ride
take-out bar. rideoaklandcycling.com.
AERIAL MANEUVERS
Eager to elevate your workout? Try aerial yoga to experience the freedom of progressing through yoga postures while suspended in the air by a circus hammock.
Former professional dancer Rodney 
James, whose studio is located in 
Lafayette, offers virtual aerial yoga 
classes using the Mojo Technique, an approach he created to boost circulation and relieve discomforts. According to James, the technique not only strengthens muscles, but is also a spiritual, healing practice. If you need help getting set up, James can conduct an assessment of your home and provide guidance to safely install a hammock. He also sells his own portable stands for use inside or outdoors. themojotechnique.com.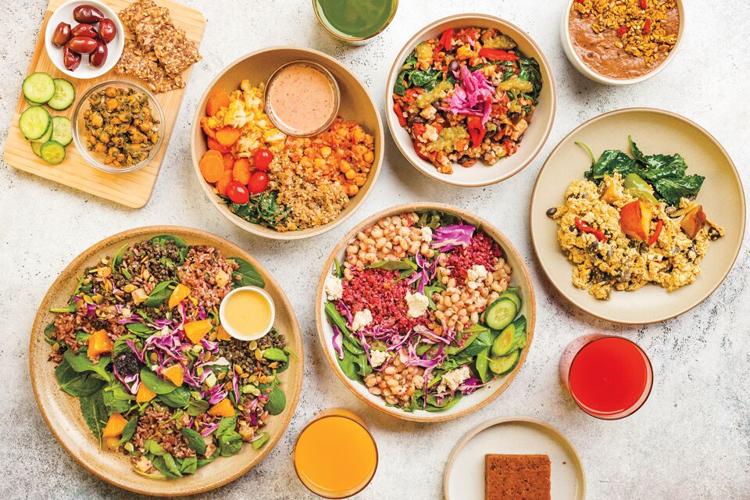 NUTRITION
Take advantage of the East Bay's resources for sourcing, growing, and cooking fresh and healthy foods.
ONLINE COOKING CLASSES
Whether you're a gifted home cook or a rank amateur, it's never been easier to sharpen your culinary skills. There are now countless virtual cooking programs, allowing you to learn from the comfort of 
your kitchen. Local cooking schools, such as Berkeley and Oakland's Kitchen on Fire, teach classes via Zoom; private lessons are also available. Kids can learn to be junior chefs by taking online classes from 
Oakland's Sprouts Cooking Club. And
for a specialized experience, check out the workshops by Preserved, an Oakland-
based enterprise that teaches the finer points of pickling, fermenting, canning,
and more. kitchenonfire.com, sproutscookingclub.org, preservedgoods.com.
FLEXIBLE FARMERS MARKETS
Farmers markets have long been a go-to resource for quality produce, and thankfully there's no shortage of first-class growers in and around the Bay Area. During the pandemic, many local farmers markets implemented a wide range of safety measures (taking preorders, enforcing social distancing, forbidding the touching of products). 
And the variety of products generally available is remarkable, from freshly
baked bread to artisanal cheeses, teas, and honey. In addition, a mobile farmers market, operated by Fresh Approach—which was founded by the Pacific Coast Farmers' Market Association—brings locally grown fruits and vegetables to communities in the Bay Area, including Richmond and East Contra 
Costa County. freshapproach.org.
DELIVER THE GOODS
Home delivery of fresh ingredients and prepared meals was one of the biggest food trends of 2020. Outfits like DoorDash, Instacart, and Good Eggs continued to dominate, but many local growers and entrepreneurs also found ways to deliver nutritious eats to consumers, whether to their front doors or for pickup at convenient locations.
One popular way to get the goods has been to go directly to the farmers themselves. A few local growers who can supply boxes of fresh produce are Walnut Creek's Castle Rock Farm, Sunol's Happy Acre Farm, and Oakland's Acta Non Verba Youth Urban Farm Project. castlerockfarmstand.com, happyacrefarm.com, anvfarm.org.
Another surging trend has been the home delivery of plant-based meals. The creative chefs at Oakland's Planted Table and San Francisco's Thistle, to name two examples, prepare vegan dishes for delivery throughout the Bay Area. And those seeking paleo food need look no further than the aptly named Out of the Cave, 
a Lafayette-based business that delivers throughout the East Bay. plantedtable
.com, thistle.co, outofthecavefood.com.
SMART GARDENING
There may be no better way to ensure 
a healthy, farm-to-table diet than to grow your own fruits and vegetables. Fortunately, the East Bay has an ideal climate for cultivating a wide range of produce, and many well-stocked local nurseries offer educational resources. Check out Lafayette's Orchard Nursery and Sloat Garden Center in Concord, 
Danville, and Pleasant Hill, which host webinars and workshops via Zoom on subjects from composting to harvesting vegetables. orchardnursery.com, 
sloatgardens.com.
In addition, the UC Master Gardener programs of Alameda and Contra Costa counties frequently present webinars and videos on their informative websites, as does the UC Botanical Garden. acmg.ucanr.edu, ccmg.ucanr.edu, botanicalgarden.berkeley.edu.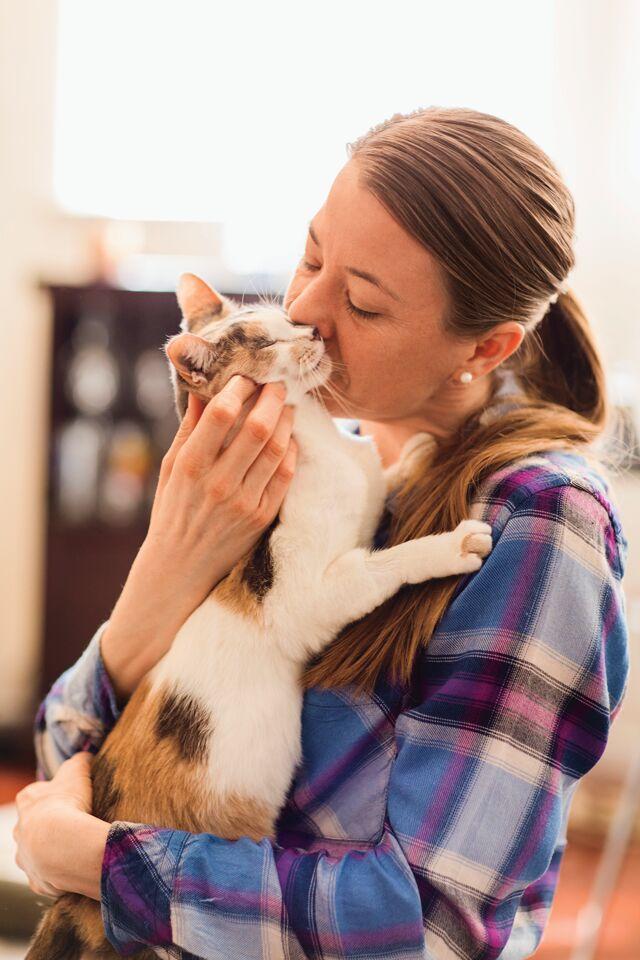 PETS
Animal companions can improve your health in numerous ways, from lowering blood pressure to helping you get exercise. Kick off 2021 in good health with a furry friend at your side.
CARDIO WITH CANINES
The pandemic has changed a lot about our daily lives, but one thing is the same as it always was—your dog wants to go for a walk. So grab that leash and hit the trails for fresh air and socially distanced exercise.
The East Bay Regional Park District is packed with dog-friendly trails and open space areas, most of which have seen increased usage during the past year. 
In the Tri-Valley, Pleasanton Ridge 
Regional Park offers spectacular views 
of the Livermore Valley along its elevated 
trails, while the Lafayette Reservoir Rim Trail has gorgeous peeks at the Lamorinda triangle. If you want to stay closer to city life, the Iron Horse Regional Trail provides 32 miles of paved pathway between Concord and Pleasanton.
On the west side of the Caldecott Tunnel, shoreline parks such as Point Isabel and Point Pinole in Richmond have panoramic views of the Bay, and your dogs can have a good off-leash run while you get your steps in. ebparks
.org, ebmud.com/recreation/east-bay/lafayette-reservoir.
ADOPT A FURRY FRIEND
One silver lining of the coronavirus has been a significant uptick in adoptions from local animal shelters. There are dogs and cats in need of a home for every type of person, and dozens of rescue facilities working tirelessly to hook them up. Are you active and outdoorsy? Team up with a young dog from the East Bay SPCA. Would you rather have some company on the couch as you binge-watch The Queen's Gambit on Netflix? An adult cat from Pleasanton's Valley Humane Society would love to snuggle. Another feline- friendly spot is Oakland's Cat Town, the site of the nation's first cat café. Rawr Coffee Bar at Cat Town invites visitors to sip cappuccinos while socializing with adoptable kitties. eastbayspca.org, 
valleyhumane.org, cattownoakland.org.
FOSTER A PET
If you can't take on permanent family members, there is a constant need for foster homes to give puppies and kittens a safe place to stay until they are placed in a forever home. Many shelters, such as the Contra Costa Humane Society, have extensive foster programs that provide a heartwarming win-win for every pet and caregiver involved. A number of East Bay households were featured in the 2018 documentary Pick of the Litter, streaming on Netflix and Hulu, for their work fostering adorable pups that would eventually be placed into service by Guide Dogs for the Blind. cchumane.org, guidedogs.com.
MENTAL HEALTH DAYS
Any animal lover will tell you that their pet brings attention, companionship, and love into their home—positive attributes to appreciate during shelter-in-place times. Thanks to Walnut Creek's remarkable Animal Rescue Foundation (ARF), even people without pets can benefit from the healing qualities of animals. ARF's Pet Hug Pack team of more than 200 qualified pets and their handlers visit children, seniors, veterans, and others in need. The program, which has become a national model for visiting animal care, schedules regular visits to local hospitals and care facilities, as well as reading programs with students and education initiatives. Pet Hug Pack visits are free of charge, and ARF invites requests for visits on its website. arflife.org.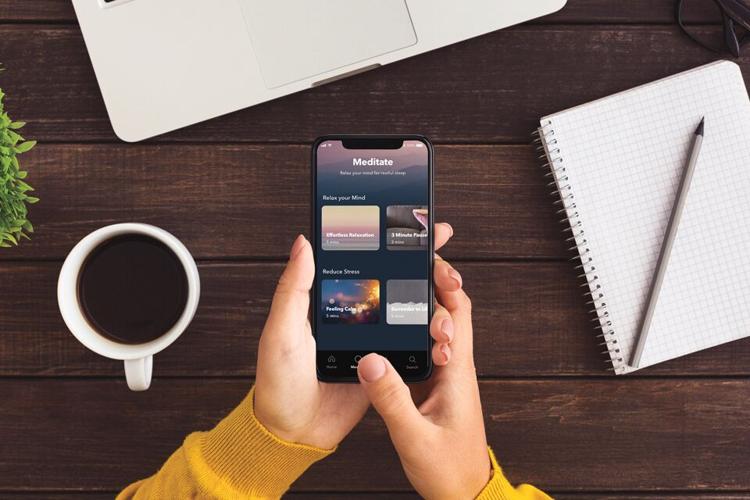 MINDFULNESS
Who can't use a bit more inner peace these days? With the many digital tools at our 
disposal, as well as the natural wonders right 
in our backyard, we 
can learn to be calmer and more present in everyday life.
GUIDED MEDITATIONS
Meditating is a practice that can take years to master, but its benefits can be realized sooner by establishing a daily routine. One way is by trying guided meditations, and there are any number 
of phone apps to help you along this mindfulness journey. Calm, an award-winning service, is for users who wish to reduce anxiety, develop gratitude, improve focus, sleep better, and much more. Simple Habit (for those who only have five or 10 minutes a day) and Headspace (filled with plenty of beginner content) are other great options. calm.com, simplehabit.com, headspace.com.
YOGA ON DEMAND
Contrary to common stereotypes, yoga isn't just for those who are flexible and naturally fit—anyone can be a yogi or 
yogini. Joya, a frequent Diablo Best of the East Bay winner with studios in Castro Valley, Dublin, Livermore, Pleasanton, and San Ramon, is the perfect spot to calm your mind through exercise. Through yoga styles like yin, Vinyasa, Bikram, kundalini, and more, Joya offers socially distanced in-person classes (when allowed by county restrictions) as well as outdoor sessions. Also available is Joya Soul TV, which gives users access to hundreds of on-demand classes and wellness videos. joyayoga.com.
ARTISTIC LICENSE
Science shows that art—visual, dance, music, digital, and other forms—is linked to improved mental health and mindfulness. And you don't have to be Picasso to experience these effects. Rebel Art School in Walnut Creek has virtual classes for adults (and kids), where you can take up drawing, acrylic painting, and more. There's also Walnut Creek's Center for Community Arts, which has a wealth of options such as ceramics, digital media, and photography. rebelartschool.com, communityarts.org.
FOREST BATHING
For a deeply satisfying experience in nature, immerse yourself in one of 
the many gorgeous East Bay landscapes. Forest bathing—which comes from the Japanese practice of shinrin-yoku, meaning "luxuriating in the forest"—has been proven to lower blood pressure and strengthen the immune system. What exactly is a forest bath? Well, 
it isn't an actual bath. Instead, you 
simply relax in nature, disconnecting from the world and technology. Check out Mount Diablo State Park or Del 
Valle Regional Park, which are ideal spots to try this therapy. parks.ca.gov, ebparks.org.
MOON GAZING
Another form of meditation—one that you can do outdoors and don't have to close your eyes for—is moon gazing. This
practice is soothing and meant to evoke feelings of awe and oneness with the
 universe. A few of the best places in 
the East Bay to see the moon are Chabot Space and Science Center, which is located in Oakland's Joaquin Miller Park and offers evening viewings of the night sky on the observatory deck; Sibley Volcanic Regional Preserve in Oakland; and Grizzly Peak in the Berkeley Hills. chabotspace.org, ebparks.org.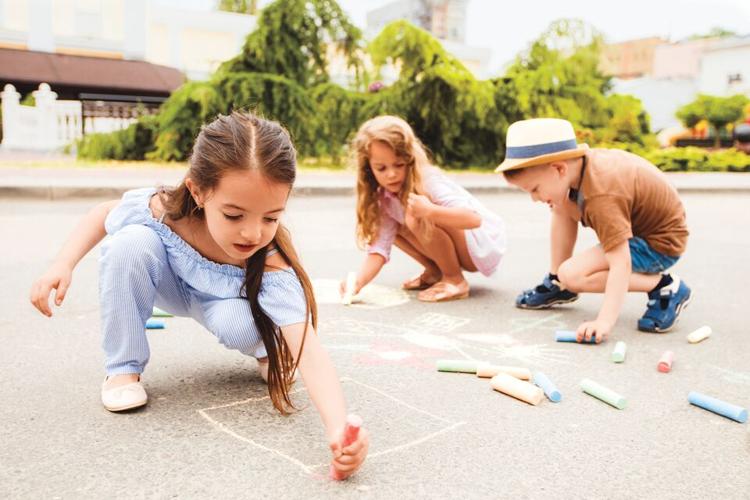 COMMUNITY
As we keep our 
distance, it's more 
important than ever to
maintain strong ties 
to friends and family. And with an extra dash of effort and creativity, we can find gratifying ways to do so.
NEIGHBORLY LOVE
Get active in your neighborhood association or hop onto Nextdoor.com to connect with your neighbors. Use Nextdoor Groups to join kindred spirits—from book clubs to parent associations—or create one of your own. Meanwhile, Nextdoor's Help Map makes it easy to find seniors and other neighbors who might need help. Not on Nextdoor? Simply leave kindness postcards on your neighbors' doors, offering to do grocery runs or take packages to the post office. nextdoor.com.
VIRTUAL MOVIE NIGHTS
Miss gathering with the gang to watch the latest comedy or white-knuckle thriller? Invite friends or family to a virtual movie night using a service like Teleparty, which syncs everyone's screens as you watch Netflix, Disney, Hulu, or HBO. Other group watch options include Hulu Watch Party, Scener, and Kast. Most services have group chat, so you can drop your insights and witty asides. netflixparty.com.
Or invite your pandemic social bubble to join you at the New Parkway Theater in Oakland, which offers Very Private Rentals. You get a private screening room for three hours—your choice of movie—as well as a chef-prepared dinner and drinks. Cinemark, with theaters around the East Bay, also has Private Watch Parties, with your choice of classic movies or new releases and concession stand discounts. thenewparkway.com, cinemark.com.
HELPING HANDS
Volunteering doesn't just benefit the recipient—it's also good for the giver. Researchers say that good deeds help reduce stress and depression, and may even extend your life.
Offer virtual tutoring to an adult 
who struggles with reading and writing through the Contra Costa County Library, help those in need file their taxes through AARP Foundation Tax-Aide, 
or hop onto a site like VolunteerMatch to find scores of volunteer opportunities, including virtual options. ccclib.org, aarp.org, volunteermatch.org.
Or volunteer at one of the East Bay's public gardens. Members of the Ruth Bancroft Garden and Nursery in Walnut Creek can become a Weeding Warrior or snap photos of plants for the garden's PlantSnap App, which allows people to identify plants with their cell phone. Or, if you're feeling groovy, join the Dedicated Deadheaders at the Morcom Rose Garden
in Oakland (trained volunteers who deadhead roses and otherwise tend to the garden while sporting their signature tie-dyed vests). ruthbancroftgarden.org, friendsofoaklandrose.org.
CONNECTED KIDS
With many kids learning remotely 
at home, it's important to help them stay connected with their friends. Think of fun, safe activities such as a scavenger hunt for the kids on your block. Partner with other adults in the neighborhood to hide treasures for the kids to find, such as brightly painted rocks in people's yards or paper hearts in their windows. For safety's sake, have kids hunt for clues in shifts or in groups of siblings.
Or invite the families on your block to decorate their strip of sidewalk with positive chalk messages and colorful art, or have a door-decorating contest. Get creative about keeping your kids engaged—the benefits to them (and you) will be well worth the effort.