In the Open
Expand your horizons with exhilarating  workouts, led by expert guides, under the sky.
By Melanie Anderson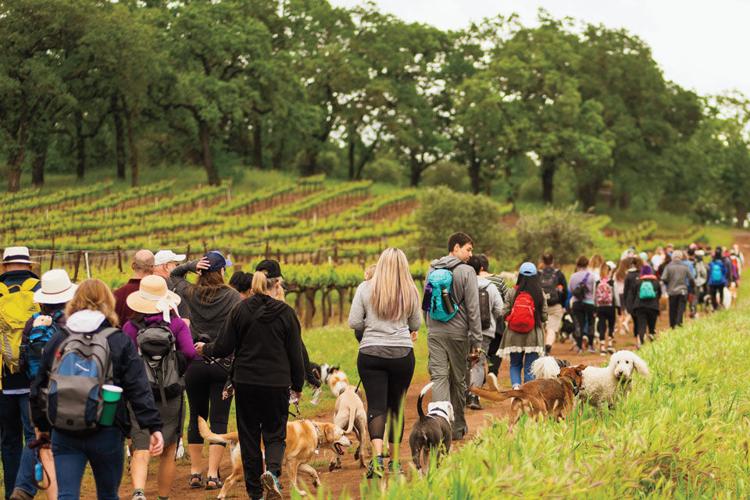 Hounds and Hills
• What's in store: At 1,850 acres, the certified-sustainable Kunde estate in Sonoma County has plenty of hills for a challenging trek—and the winery's Dog Hikes offer thrills for your pup, including opportunities to run off-leash and swim with dozens of four-legged friends (including dogs up for adoption). The four-hour guided walk concludes with lunch and estate-grown wine, plus treats and a water-tasting bar for the canines. "I have people come up to me at the end with tears in their eyes, saying this is probably the greatest day of their dog's life," says fourth-generation winegrower Jeff Kunde, who donates a portion of tour fees to local animal-rescue groups.
• Who it's for: Wine enthusiasts (ages 21 and up) and their dogs.
• The guides: Jeff Kunde; his wife, Roberta; and their Australian shepherd, Cooper, and white Lab, Kalie.
• Come prepared: Dress in active wear. Bring water and a leash.
• When and where: April 25, June 13, and October 10, in Kenwood. kunde.com.
Lakeside Women's Workouts
• What's in store: Oakland Adventure Boot Camp, at Lake Merritt and Lake Temescal,
offers everything from kickboxing to medicine ball sessions to Tabata interval training, all of which can be modified to individual needs. "The way we run the class, you can really have any kind of workout you want," says founder Anna Gunn. "You're moving at your own pace to improve your level of fitness." Along the way, expect plenty of encouragement. "A lot of ladies have been coming since the very beginning [in 2007]," Gunn adds. "It's their outdoor gym—and their community."
• Who it's for: Women of all ages and any  fitness level.
• The guides: Certified personal trainer and group fitness instructor Gunn, of Lafayette, and certified personal trainer Jennie Votel, of Oakland.
• Come prepared: Dress in layers. Bring an exercise mat, hand weights, and water.
• When and where: Weekdays at Lake Merritt (5:30 or 6:30 a.m.) and Lake Temescal (9 a.m.). oaklandbootcamp.com.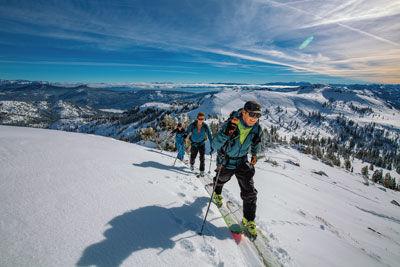 Skiing and Splitboarding in the Sierra Backcountry
• What's in store: Spend an energizing day in Tahoe learning to travel uphill (also known as skinning), transition to downhill mode, and evaluate terrain for avalanche risk—under the supervision of Alpenglow Expeditions's expert guides. By day's end, you'll be ready for Alpenglow's intermediate Lake Tahoe Ski Tour or AIARE 1 Avalanche Course. "It's peaceful in the backcountry," says Sean Kristl, the company's director of marketing and sales. "You earn your turn, but there's value in that—over standing in line at a ski resort."
• Who it's for: Strong intermediate to advanced resort skiers and snowboarders who want to expand their horizons.
• The guides: Alpenglow Expeditions is accredited by the American Mountain Guides Association (AMGA); each course is led by at least one AMGA-certified guide.
• Come prepared: Dress in layers. Bring a helmet and a backpack filled with food and water. Rent technical gear and an avalanche kit.
• When and where: Saturdays during ski season in Olympic Valley backcountry. alpenglowexpeditions.com.
Mindful Wave-Catching
• What's in store: Invite three or more fellow wave riders to spend two days doing the ultimate California beach workout in either Pacifica or Santa Cruz. Adventure Out's Yoga and Surf Workshop begins each day with yoga on the sand, followed by three hours of learning to catch waves. "Surfing and yoga are both extremely core-focused and flexibility- and dexterity-focused activities," notes Adventure Out founder Cliff Hodges. "They really go hand in hand." For first-timers, the main aim is to ride that first wave, but "we try to get people to the point where they could go surfing on their own in appropriate beginner conditions," Hodges says.
• Who it's for: Beginner surfers with any level of yoga experience.
• The guides: Certified surf instructors trained by Adventure Out (the Bay Area's only surf school accredited by the National Surf Schools and Instructors Association) and certified yoga instructors who surf.
• Come prepared: Dress for yoga. Bring a swimsuit, water, and lunch. Boards, wetsuits, and booties are provided.
• When and where: Two consecutive days of your choice in Pacifica or Santa Cruz. adventureout.com.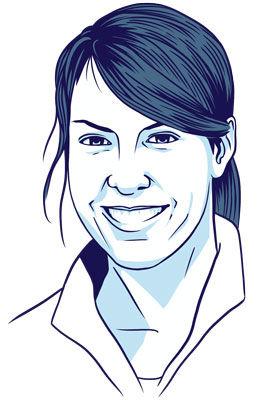 Expert Tips
You don't have to go too far for a revitalizing outdoor workout. As Oakland Adventure Boot Camp founder Anna Gunn puts it: "We live in such a great area to get out and enjoy what's right there in your neighborhood." Here are a few of her tips for stepping out on your own:
• Do a dynamic interval workout—straight out of your front door. Alternate 3 to 5 minutes of cardio (power walking or running) with strength exercises such push-ups, step-ups, squats, and walking lunges. "Go out between 30 and 60 minutes, and you'll have a killer workout right there," Gunn says.
• Take advantage of natural and built features. Use benches and walls for strength exercises. Choose trees and light posts as landmarks to pick up the pace for a short stretch.
• Visit school facilities when they're open to the public. "Do a lap around the track, and then stop and use your equipment," such as weights or a medicine ball, Gunn says. Then repeat. "You can [also] run the stadium stairs."
---
In the Studio
Gyms throughout the East Bay are offering invigorating fitness classes using Pilates techniques, ninja moves, and advanced interval training.
By Kimberly Olson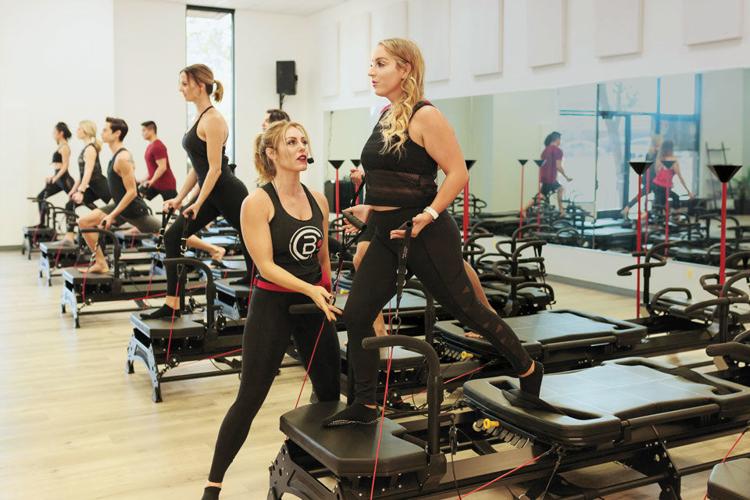 Pilates Plus
• What's in store: The Lagree Fitness Method—the next evolution of Pilates—uses a machine called a Megaformer, with bigger bells and whistles than a Pilates reformer. Offered at CB Fit in Walnut Creek and Dublin, Lagree uses slow movements to create constant tension throughout various muscle groups, leading to a leaner and more toned result. While doing bicep curls, you'll sit on your tailbone, which activates your core, and your legs will be shaking from the leg series you just did. It's strength training without much joint pressure—low impact but high intensity.
• Who it's for: "Almost everybody," says CB Fit co-owner Chelsea Olarte. "We've had a 70-year-old woman come. We get people who've been injured and can't go back to CrossFit or Orangetheory, who get their fill of strength training without the jumping. We don't recommend it for people who have a fresh injury or balance problems."
• The instructor: Olarte, a former aquatic acrobat for the performing arts group Le Rêve in Las Vegas. A certified, Lagree Fitness instructor, she launched CB Fit with her husband, Paul, bringing Lagree to the East Bay.
• Come prepared: Wear comfortable clothes and grippy socks (or none), and bring a bottle of water. In addition, "Get to your first class 10 minutes early to get a rundown of the
machine," Olarte says. "The machine can be intimidating, but once you get on it, you'll be able to navigate through."
• When and where: Classes are offered throughout the week at CB Fit in Walnut Creek and Dublin. cbfit.com.
Ninja Warrior
• What's in store: Defy gravity at Apex Movement NorCal, a parkour and ninja gym where you can tackle obstacles like a rolling log, rings, and a warped wall. If this sounds reminiscent of NBC's American Ninja Warrior, well, that's because it is. Owner Alan Connealy is a former contestant on the show and was inspired to create the gym to aid his own training. Today, the 11,000-square-foot facility draws athletes from all over the world who come to gain greater functional strength in nearly every muscle group.
• Who it's for: "One thing that's made American Ninja Warrior so popular is that it's your average Joe Schmo who gets up off the couch and does the course," Connealy says. "We have a lot of iconic obstacles from the show that people have wondered if they can do. Here, they have the opportunity to try them in a safe environment. And people have transformed themselves in so many ways by training for it. So we attract everybody, from kids to 50- and 60-year-old women and men who haven't done anything in 20 years."
• The instructor: Owner and athlete Connealy, who is also a chiropractor. (He maintains a chiropractic practice in an office next to the gym.)
• Come prepared: Wear clothes that you can move in and closed-toe athletic shoes with rubber (not foam) soles. "It's like an adult playground here," Connealy adds.
• When and where: Classes are offered throughout the week (except on Thursdays) at Apex Movement NorCal in Concord. apexmovementnorcal.com.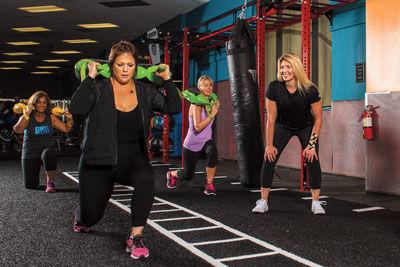 Iron Zuu
• What's in store: Think of Iron Zuu as the new HILIT training: a high-intensity, low-impact weight workout based on primal body movements. It's 30 minutes, broken down into four-minute rounds—from dumbbell squats to moves like the bear crawl—with everyone cruising at their own pace. Classes have a friendly, we're-all-in-this-together vibe.
• Who it's for: "Anybody who wants strength and more mobility," says trainer Jason Smith. "It's great for folks who enjoy the sensation they get from HILIT or exerting their body—getting that sweat, getting the heart rate up. Iron Zuu creates an entry point for people of all skill levels, and it's low-impact, so it's safe. I have clients who have had knee and hip replacements, and they're all moving. Every movement in the Zuu family helps with injury prevention, joint mobility, and strength. Iron Zuu also helps with mental toughness."
• The instructor: Smith, an avid Zuu enthusiast. "Five times in my life, health and wellness legitimately put me back on the right track," he says. "I wanted to take something that's provided me with so much joy and happiness and give back by helping people reacquaint themselves with movement."
• Come prepared: Wear comfortable clothes and athletic shoes, and bring water. And remember to "take a deep breath and enjoy," Smith adds. "We may not be able to get all the way down into our frog squat. We find our own range, and then we work from there. As we become more mobile, we start seeing the benefits of these amazing body-weight movements. There are no egos in Zuu. We bring a community spirit. We run around, we high five, and we tell each other, 'Great job!'"
• When and where: Check weekly class schedules at Crunch Fitness, Walnut Creek. crunch.com/locations/walnut-creek.
Expert Tip
"Don't be intimidated. It's you versus the obstacle—not you versus other people. Just stay consistent with it. It's neat how quickly people can progress. It's fun, and the cherry on top is that you're getting in shape." –Alan Connealy of Apex Movement NorCal
---
In Your Home
Want a challenging workout without leaving the house? From basic to high-tech, the options for at-home fitness are vast—and evolving all the time.
By Kimberly Olson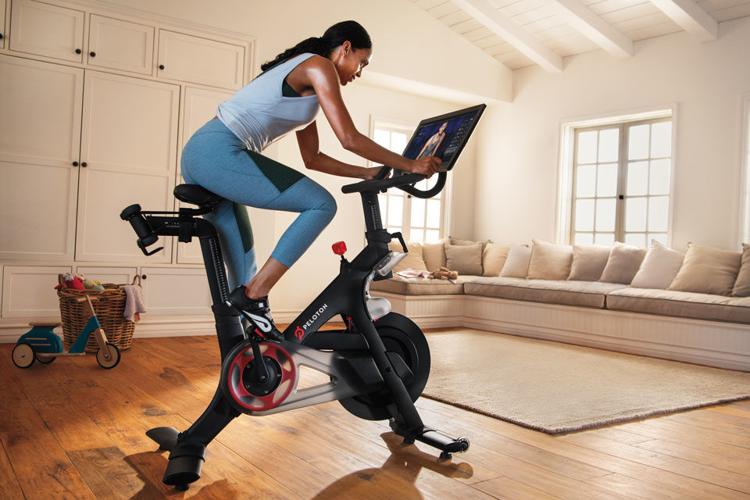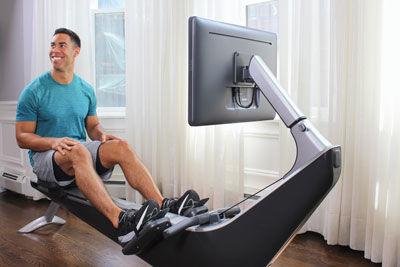 Brainy Gyms
Remember back in the 20th century, when home gyms meant working out alone, with no one there to urge you on? Today's immersive, state-of-the-art exercise systems have display screens that bring the high-energy studio experience right into your home. Live trainers keep you pumped, as artificial intelligence tracks your performance metrics. Here are three to try:
• Get your cardio on with Peloton, a stationary bike with a giant iPad-like display that lets you ride "with" other Peloton members, live and on-demand, as your instructor—often a competitive cyclist or triathlete—keeps you motivated and energized. (If cycling isn't your jam, try the brand's Tread package for runners.) onepeloton.com.
• For strength training, Tonal is a patented digital weight system that uses trickery involving magnets and electricity to give you a rigorous workout—squats, chest presses, and more—using a device that's sleeker than a wall-mounted TV. An onscreen trainer coaches you along, as Tonal's smart system adjusts the weights just for you. tonal.com.
• If your idea of workout bliss is joining a rowing crew, try Hydrow, an ergonomic rowing machine and screen that connects you to live rowing events in picturesque spots like Miami Beach. As you row with world-class athletes, such as Olympian Dani Hansen, reach up to 86 percent muscle engagement and torch 400 calories in 20 minutes. Invite a faraway friend to join you in a boat, and compete against other teams in real time. hydrow.com.
DIY Boot Camps
Like the idea of a boot-camp workout, but have trouble fitting a class into your schedule? Create your own boot camp at home and reap the benefits of a strength-training regimen that's fit for a Marine. Do it right by hitting your upper body, lower body, and core and mixing vigorous activity with short breaks. To build your boot camp, design a circuit by setting up several stations, such as these:
• Incorporate good old-fashioned (no-cost) body-weight exercises like burpees, lunges, and push-ups.
• Add some battling ropes into the mix to get killer cardio and strengthen not just your arms but also your core, back, and legs. Loop the ropes around a post or other anchor, grab an end in each hand, and wave them in various motions—up and down, from side to side—to work different muscle groups.
• Medicine balls, used by Greek gladiators and Persian wrestlers nearly 3,000 years ago, are still popular today—for good reason. They can be used to build strength while running and jumping, or for stability training by, for instance, doing a one-hand push-up on the ball. Some medicine balls come with a handy exercise guide.
Boot camp regimens are best for advanced exercisers. If you're pregnant, have joint troubles, or haven't worked out in a while, chat with your doctor before setting up camp.
Yoga with a Twist
Doing yoga in your own distraction-free space may help you better focus on your asanas and practice mindfulness. Nowadays, your favorite digital device can bring you a wealth of expert-led streaming yoga classes, from hatha and vinyasa to newer styles like Jivamukti. Check out the following options:
• Adriene Mishler of Yoga with Adriene has gained an enthusiastic online following by drawing from ancient wisdom to help people connect with body, mind, and breath as they build a happy, healthy at-home yoga practice. In her free videos, she serves up yoga with a dash of playfulness, sometimes tossing in lessons designed to soothe modern-day woes like wrist pain or lower back pain. yogawithadriene.com. 
• Elevate your practice by joining Aerial Yoga Online, where you'll learn to move through yoga postures while hanging in a special hammock suspended from your ceiling. (You can buy a hammock on the site.) It's a swinging good time, and the hammock supports your body during challenging poses in ways that help you connect to your form—giving valuable insights for when you're back on the mat. aerialyogaonline.com.
• Grab a partner and sign up for an online AcroYoga course, which blends yoga and acrobatic movements. As you lift your partner skyward to "fly," you'll be improving your alignment, strength, and flexibility. AcroYoga also includes solo postures in its tutorials. acroyoga.org.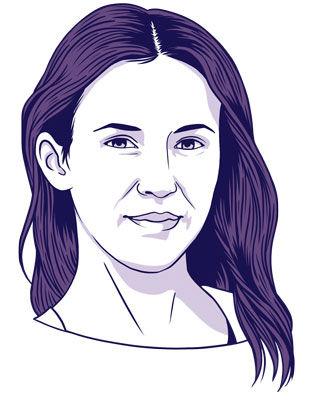 Expert Tip
"You don't have to have the perfect outfit, yoga mat, or practice window for at-home yoga. You don't have to be flexible. You don't have to be good at yoga to feel its magic and receive the benefits. All you need is an open mind and a willingness to show yourself a little love."–Adriene Mishler of Yoga with Adriene