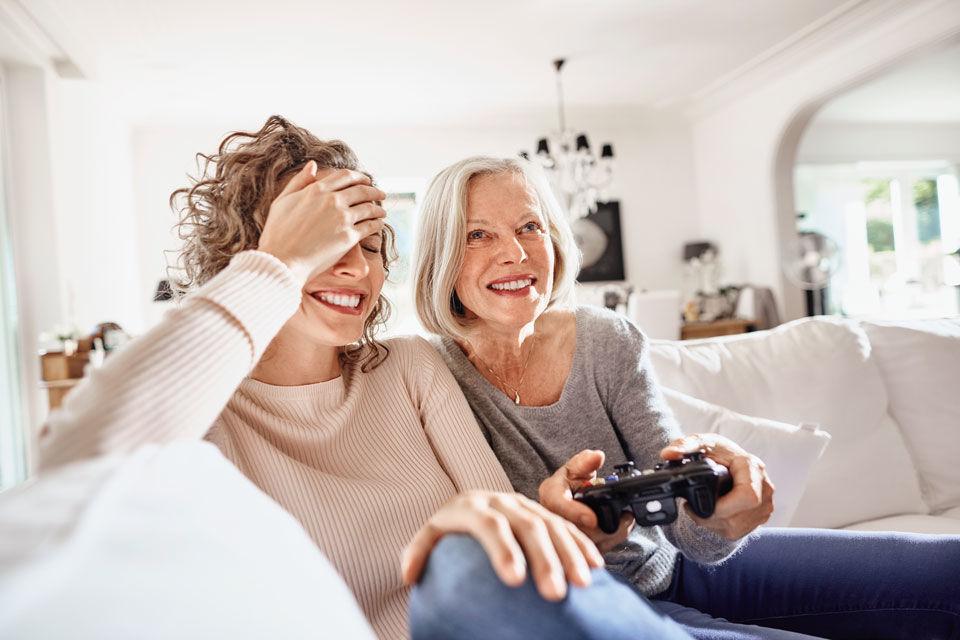 Elmer and Anna Van Zee walk hand in hand down a hallway of their local community center, heading to a room where they join six friends for a weekly round of Wii Sports video golf. The Van Zees—who are 91 and 92, respectively—also have a Wii video game console at home.
"It's fun to play games with others," says Anna. "Besides getting the ball in the hole, the challenge is mastering the controller."
Her friend Lorene Webster, 91, used to be an avid golfer and says the video game has improved her eye-hand coordination. "I love how conditions in the game change constantly," she notes. "That keeps up the learning curve."
The Van Zees and their friends are not alone in their love of gaming.
Out of the 154 million adults in the United States who play video games, 41.4 million are 50 or older. According to a 2019 study by AARP and the Entertainment Software Association, 4 out of 10 of those older adults say they play daily. The game channel on aarp.org boasts 1.1 million unique visitors per month; it's one of the most extensive online gaming platforms in the nation.
Growth of Senior Gamers 
Why are older adults playing video games in such numbers? For the same reasons as everyone else: fun, relaxation, and stress relief.
But there may be other reasons particular to this demographic, including the desire to increase comfort with technology, determination to keep the mind sharp, and finding new ways of social interaction.
Playing with others online can also be a way to overcome mobility or transportation issues—helping combat isolation and maintain connections from generation to generation.
One millennial says she checks in with her grandmother during the day through a shared game. "It's a quick, easy thing I can do to make her happy." One in six older players says their children or grandchildren impact their game choices.
Recognizing the Senior Market
According to Lisa Cini, author of BOOM: The Baby Boomers Guide to Leveraging Technology, older players are often drawn to online multiplayer games because they are age-agnostic. "It's harder to apply stereotypes, such as frailty or lack of mental acuteness, to an avatar," she says.
In general, older players prefer games that are familiar—involving cards, puzzles, words, strategy, and sports. "Solitaire, mahjong and Spider, for example, have relatively simple, clear rules without a long learning curve that exasperates when you just want to play and enjoy," Cini says.
The things that attract the younger user—complexity, layers, intense competition—aren't as much fun for a 75-year-old.
"What developers need to pay attention to," Cini says, "is the gap between what works for teens and what works for the 55-plus user because there are billions of dollars involved. They don't need to capture the senior market; it's already there."
Video Games as Medicine 
Gaming has proved its value in health care as well. For example, Adam Gazzeley, M.D., at the University of California San Francisco's Neuroscape Lab, is "trying to create an entirely new category of medicine" by combining high-tech advances with neuroscience.
He enlisted friends from game publisher LucasArts to help him improve the cognitive abilities of older adults using custom-designed video games. The first game they developed addressed multitasking—a skill that peaks in the early 20s and then declines with age. A group of 60- to 80-year-olds played the game for 12 hours over the course of a month. Researchers found that during that period, participants improved their multitasking ability in the game to that of a 20-year-old.
Gazzeley and his team continue to create specialized games that are evaluated with the same rigor as drugs—realizing the potential of employing video games to improve attention and mental skills. 
There is evidence for using video games therapeutically, but older adults are also utilizing video games to disrupt aging. Whether it's improving balance and coordination or boosting multitasking ability and memory, gamers in AARP surveys have said they feel happier, more robust, and vital. They are relaxing and relieving stress—and, most importantly, they are having a good time.
---
 "For Love of the Games" was originally published in the Winter 2020 issue of eHealth's Flourish magazine. eHealth is a national insurance agency that helps people with Medicare find the right health insurance at the right price. Diablo Custom Publishing (DCP) writes, designs and prints the magazine for eHealth, and it was recently recognized as Best New Publication with a Maggie Award. Learn more about eHealth here.