From shorebirds at Crown Memorial State Beach to spiral labyrinths in Sibley Volcanic Regional Preserve, the natural wonders on display along the 1,250 miles of trails in the East Bay Regional Park District can elevate an ordinary walk into an extraordinary adventure.
In search of such invigorating jaunts, outdoor enthusiasts have turned to the park district's annual Trails Challenge, which is celebrating its 25th anniversary and is held in partnership with the Regional Parks Foundation and Kaiser Permanente. Participants in the free, self-guided program must complete five of the 20 different hikes suggested each year (or trek 26.2 miles total—the distance of a marathon) in parks throughout Contra Costa and Alameda Counties, and log their results with the park district before December 1 to earn a commemorative pin.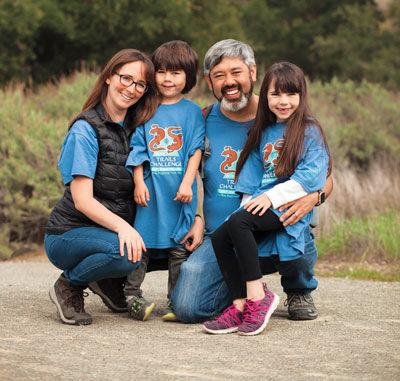 "People love experiencing new things and feeling a part of something that makes them feel good," explains Carol Johnson, assistant general manager of public affairs for the park district. "Park visitors of all ages are engaged and active, hiking their trails and being rewarded for it."
The trail guidebook, available on the AllTrails app or downloadable via the Trails Challenge website, indicates difficulty levels and whether the routes are dog friendly or accessible by horse or bike.
"We know what we are getting into before we go on each trail," says Jonathan Katayanagi of Martinez, who is taking part in the challenge for the second year in a row with his wife and two young children. "The Trails Challenge makes it accessible for someone who wants to start hiking or get introduced to the regional parks. Once you're there, there is so much to explore."
For more information, visit eb​parks.org/trailschallenge.
Up to the Challenge
David Zuckermann, regional interpretive and recreation services manager for the East Bay Regional Park District, offers his top 2018 Trails Challenge hiking routes for a variety of skill levels.
EASY: The Dotson Family Marsh at Point Pinole Regional Shoreline, Richmond
"This is an area that is newly opened to the public. It offers beautiful views of the San Francisco Bay and of the marsh habitat."
MODERATE: Sunol Regional Wilderness, Sunol
"It's got a wild, remote feel to it. The trail goes along a creek, passes giant boulders that people can climb, and ends up on Flag Hill, overlooking the valley nearly 1,000 feet below."
CHALLENGING: Black Diamond Mines Regional Preserve, Antioch
"The seven-mile loop has something for everyone. It offers scenic high country with sandstone outcroppings, rock formations, and historic features such as the Rose Hill Cemetery."