Frosty Facial
Treatment: Cryotherapy Facial at Rejuvenation Spa at Hub925, Pleasanton
Experience: Hidden inside a high-end fitness club, this petite spa specializes in affordable treatments that help ease pain and tension. In the cryotherapy facial, pressurized liquid nitrogen is blown onto the face through a hose while you lie on a massage table. The sensation is chilly, but not freezing. Best of all, the procedure only lasts 12 minutes and won't affect your makeup, making it easy to pop in for a quick facial on your lunch break.
Benefits: "It helps boost collagen production, minimize pores, and helps with fine lines and wrinkles, blemishes, and inflammation," says Jessica Graber, the spa's assistant manager. It also tightens skin and leaves the face with a healthy glow. $25, hub925.org.
Muscle Melt
Treatment: CBD Herbal Massage at Changes Salon and Day Spa, Walnut Creek
Experience: Incorporating CBD-infused oil into massages is a hot bodywork trend, and Changes is one of the only spas in the region to offer this treat. Clients can add CBD, a non-​psychoactive derivative of the cannabis plant, into any massage therapy. Changes also plans to introduce full-fledged CBD facials and pedicures later this year.
Benefits: Because it can take up to two hours to feel CBD's full effects, clients have reported deep levels of relaxation long after leaving the spa; some claim to sleep better that night too. "It does help lessen pain or discomfort and reduce inflammation," says Changes's salon and spa manager, Cristiana Andersson. From $134, changessalon.com.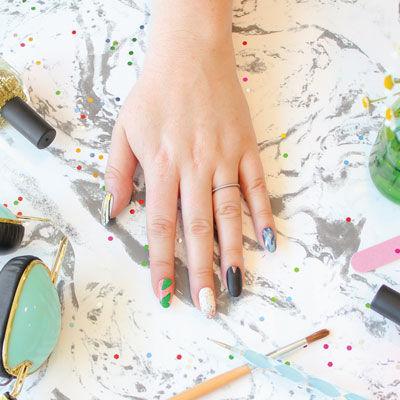 Finger Paint
Treatment: Gel Manicure with Nail Art at Honey and Cotton Nail Art Studio, Oakland
Experience: Owner Emily Arreola emphasizes nail and cuticle health in the high-quality gel manicures she serves up in her cozy Temescal studio. Using advanced techniques and top-grade Japanese products that don't damage your digits, the licensed manicurist provides personalized service and creates one-of-a-kind nail-art designs involving glitter, chrome, ombré, charms, crystals, or even shells and dried flowers.
Benefits: "I want people to put the same love and care into their nails that they put into their hair, makeup, and wardrobe," Arreola says. "Because they deserve it—and fun nails make you feel like a million bucks." From $70, honeyandcottonnails.com.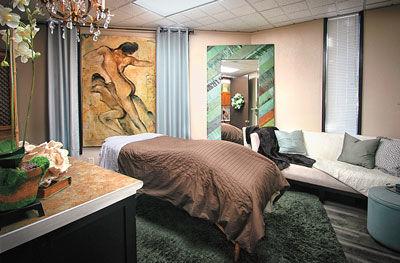 Chocolate Fantasy
Treatment: Kure Chocoholic Truffle Delight at Kure Wellness Retreat, Danville
Experience: Ever dreamed of slathering your body in chocolate? Live that fantasy with this decadent treatment, which begins with a dry brushing and a brown-sugar scrub to exfoliate and enhance circulation. Next, the therapist applies an organic chocolate wrap to your whole body. Let the sweet stuff work its magic while you relax in a warm bed and enjoy a blissful foot and scalp massage. After the wrap is removed with hot towels, the skin is coated with a chocolate soufflé massage cream.
Benefits: "The wrap detoxifies, is super hydrating, and smells amazing," says Kure owner Debbie Lindsay, who notes that chocolate contains more antioxidants than green tea. "It leaves you supremely relaxed, and your skin supple and beautiful." From $109, kurewellnessretreat.com.