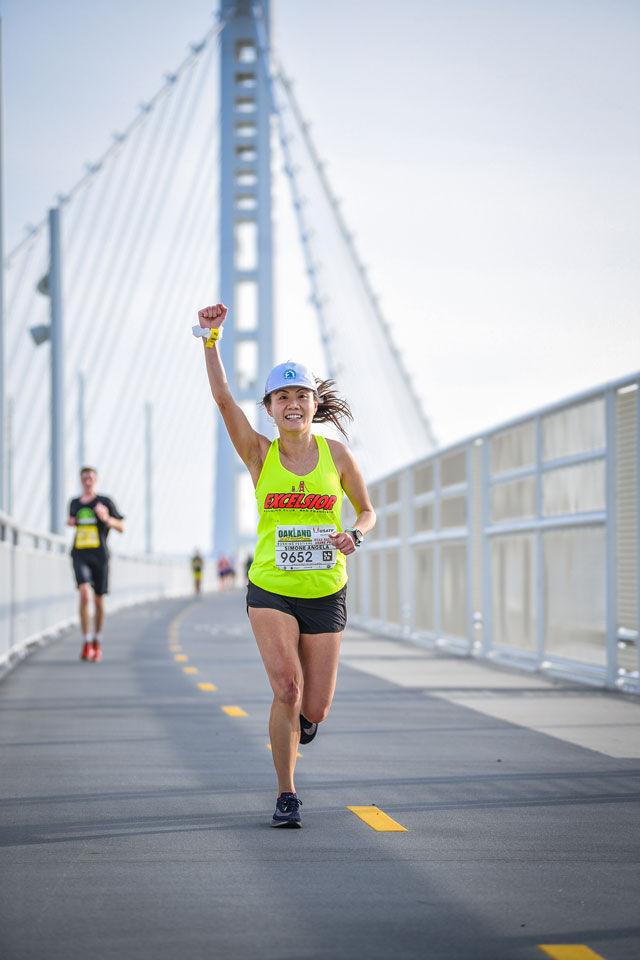 From the Bay Bridge on a clear spring day, you are surrounded by wonders: the San Francisco skyline on one side, the Port of Oakland's cranes on the other, with Alcatraz and the Golden Gate Bridge in the distance. It feels as though the entire Bay Area lies at your feet.
For participants in the Oakland Marathon, it does. Held this year on March 22, the Oakland Running Festival includes not only the marathon, but also a half marathon, relay, and 5K races, as well as the We Run the Town Challenge, in which athletes attempt to complete both the half marathon and the 5K in one day. In 2018—the first year that marathoners trekked across the Bay Bridge—some 10,000 runners from nine countries and 11 states took part in the event.
"We have cornered the market on the time of year," says race director Lena Zentgraf. "It's ideal running weather—50 to 60 degrees, not too hot, not too cold—and there's not a lot of other races in that kind of climate."
Thousands of spectators attend the event too, cheering on the athletes from designated areas along the marathon course. While there are plenty of spots to watch the races throughout the city, Old Kan Beer and Co. in Jack London Square, the lawn at Oakland Technical High School, and the finish line near Lake Chalet restaurant on Lake Merritt's west side offer particularly great vantage points in comfortable settings.
After the events, runners, their loved ones, and others can visit Celebration Village at Snow Park, which features live music throughout much of the day, in addition to an awards ceremony. The festivities in the park often see 20,000 visitors.
"[The festival] has been really embraced by everyone in Oakland and beyond, to Berkeley, the 680 corridor, and San Leandro," Zentgraf says. "The whole East Bay feels like it has its own race now." oaklandmarathon.com.