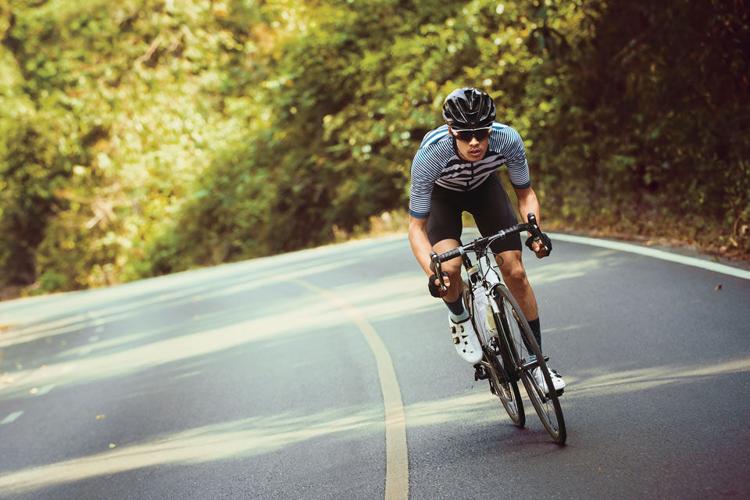 The East Bay is a cycling 
paradise that offers something for riders of every ability and interest—from gentle cruising along flat, paved trails through scenic waterfront parks, to heart-pounding pedaling up mountains with awe-inspiring vistas, or even literally flipping over dirt jumps in custom-built terrain parks.
Soak in the full variety of Northern California, from the often foggy, windswept Bay Trail, to the sun-baked fire roads of Pleasanton, to the cool, quiet paths beneath redwood trees in Joaquin Miller Park. And don't forget the streets of Oakland, with guided bike tours around town, a pumping soundtrack 
accompanying trick riders beside Lake Merritt, impromptu mass "ride outs," and the colorful made-in-Oakland Scraper Bike scene.
Whether your ride is a custom carbon fiber road racer, mega-
suspension mountain model, clunky beach cruiser, funky 
fixie, or BMX beauty, check out this guide for some of the East Bay's best biking options and information resources.
SCENIC ROAD BIKING
On weekends in the 
East Bay, spandex-clad aspiring Tour de France riders take to the roads by the pairs or full pelotons to get in workouts on the area's many winding treks. But there's no need to be intimidated by the hills, the speedy bikers, or the 
high-end gear—plenty 
of beginners, families, 
and casual cyclists take 
to two wheels to enjoy the roads around the area. In that spirit of variety, here are easy, medium, and 
difficult road biking 
options.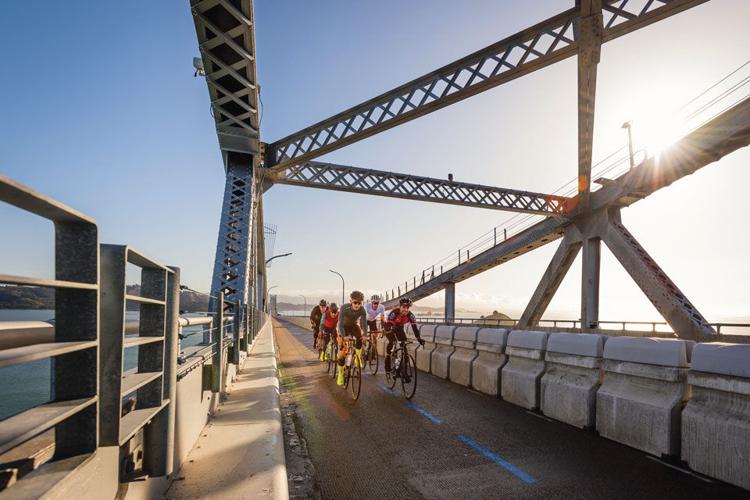 THE BAY TRAIL
Easy
Part of a work-in-progress effort to create a 500-mile path encircling the Bay, the East Bay's portion of the Bay Trail winds 56 miles starting in Alameda, moving across the Bay Bridge to Treasure Island and then through Berkeley to Point Richmond.
The Treasure Island section is a 14-mile loop from the base of the Bay Bridge, an uphill journey on a path with solid guardrails and pullout points for resting or photo ops. Cyclists can pedal over the crest of Treasure Island, which offers views of the western span of the bridge and the San Francisco skyline. Riding around the flats of Treasure Island is easy, though the pavement can be rough in spots. A stop at Mersea (a restaurant and bar housed in old shipping containers) is great for refueling.
From the Bay Bridge north to Richmond, the Bay Trail passes through Aquatic Park in Berkeley (where bike rentals are available); a side trip around the Berkeley Marina and a loop around Cesar Chavez Park are worthwhile 
detours. Sea Breeze Market and Deli along the trail at the north end of Berkeley is a good break before continuing along the Albany shoreline. Onward into Richmond, the path passes by parks, the Richmond Marina, and waterfront homes before concluding at 
the scenic end point of Point 
Richmond, where an outdoor lunch at nearby Little Louie's Café and Deli might be welcome.
THREE BEARS LOOP
Medium
A must-do for cyclists in the East Bay, the famous Three Bears Loop is named for its three main hills along the 19 miles of roads around the San Pablo and Briones reservoirs. Going clockwise, there's the warm-up Mama Bear (approximately 250 feet uphill), the long and steeper Papa Bear (about a 650-feet incline), and the short but sharp Baby Bear (200 feet uphill in half a mile). Cycling routes begin from the Berkeley and Orinda BART stations—the 25-mile route from Orinda is the most popular course. Once it clears city traffic, the loop becomes quieter and the views improve with vistas of the San Pablo Reservoir from San Pablo Dam Road, leading to scenic countryside along Castro Ranch and Alhambra Valley roads. Further along the clockwise loop, Bear Creek Road is paved with ample shoulder space for bikes to manage the hairy uphills. Upon returning to town, you can reward your efforts with a beer and burger at the Fourth Bore Tap Room and Grill in downtown Orinda.
MOUNT DIABLO
Difficult
This ride climbs nearly the full 3,849-foot elevation to the summit of Mount Diablo. It is not for the faint of heart, as the 12-mile-long climb on a trafficked road finishes with an extra-steep segment. Riders can access the summit via either the North Gate or South Gate roads; both are similar in difficulty, but the North Gate route has less vehicle traffic and spends more time traversing parks rather than suburban streets. Either way, when you arrive at the top of Mount Diablo, you'll feel like you have truly earned the views that span 360 degrees over the Bay Area and beyond. The summit also features a visitor center with an observation deck complete with telescopes, a café, a gift shop, and restrooms. Returning downhill can be a challenge, but the car traffic is generally slow and considerate of cyclists. Note that the temperature can drop 20 degrees from the base to the summit, so bikers should bring layers.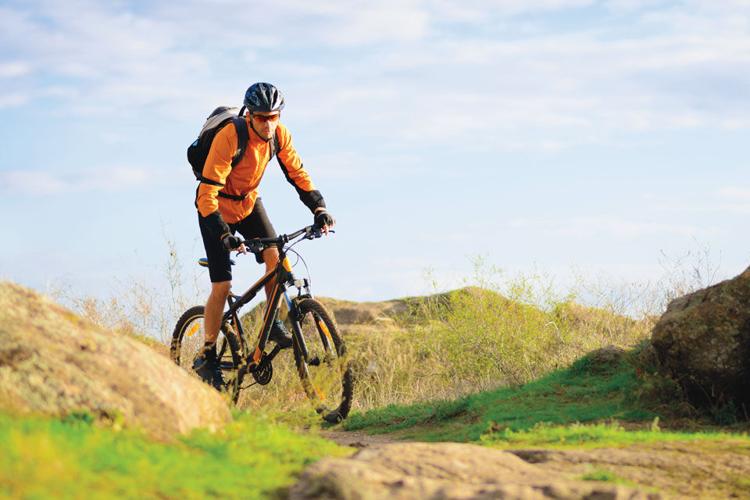 HEART-PUMPING MOUNTAIN BIKING
While the East Bay doesn't have a ton of single-track routes for expert mountain bikers, many trails offer at
least some challenging
off-road MTB terrain, along with plenty of
scenic fire road trails 
and dirt paths to give 
beginner and intermediate mountain bikers room to work on their skills.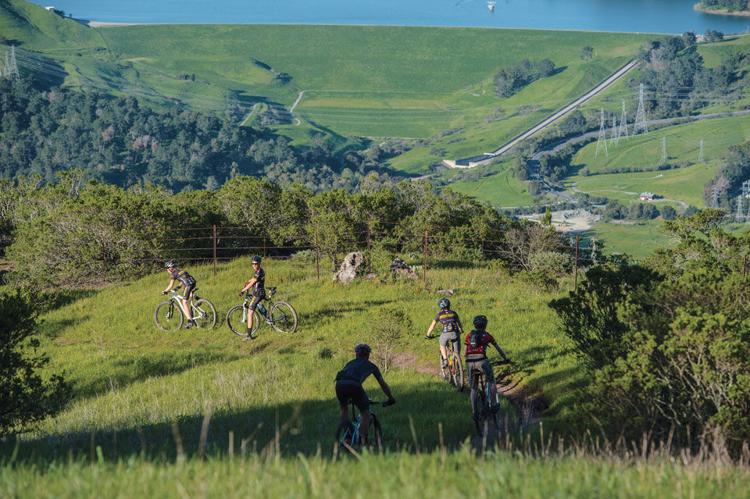 TILDEN PARK
Easy to Difficult
Trails through the large expanse of Berkeley's Tilden Regional Park range from family-friendly thoroughfares, both paved and dirt, to challenging single-track side treks. Atop the hills are 
surprise scenic overlooks, 
including a nice Mount Diablo
vista from the Skyline Trail 
section. The trailhead parking lot at the top of Golf Course 
Road is the launching point for 
a 7.25-mile (medium to hard) loop via the shaded Redwood Trail, Vollmer Peak Trail (with some serious single-track 
uphills and downhills), Bay 
Area Ridge Trail, and Skyline Trail. The park offers many chances to choose your own adventure, with easy or 
super-steep routes, taking 
side trails via Wildcat Gorge Trail to Lake Anza or checking out views of the Bay from Seaview Trail. Finish off a day 
of exploring with a food and drink stop in North Berkeley.
JOAQUIN MILLER PARK
Medium
Located in the hills above 
Oakland, this is one of the more scenic mountain bike areas you'll find, with paths beneath redwoods on dirt trails and on a moss-covered forest floor that seems to absorb all the sound around it. But you won't have much time to reflect on the majesty of nature on the trail, as you'll be navigating challenging descents and turns, huffing and puffing up inclines, and keeping your eyes open for hikers and horseback riders. Some narrow downhill paths require technical prowess, but there are also wider paths for beginners, particularly on the main section of the Sequoia Bayview Trail. The looping sets of trails throughout the park allow you to choose your difficulty
level, while access to Redwood Regional Park makes it easy to expand your ride. There's parking available at various trailheads along Skyline Boulevard and near the Chabot Space and Science Center, making this an accessible destination from greater Oakland.
OYSTER POINT TRAIL
Difficult
While Mount Diablo is best known for its epic road rides 
to the summit, the Diablo foothills provide some of the most challenging single-track riding in the East Bay. Beginning at Finley Road or Curry Point, the out-and-back 3.5-mile Oyster Point Trail is rugged and remote, but has some highly rated technical downhills into Jackass Canyon and—when conditions are right—flowy sections for 
experts to speed up and test their skills, then get a solid workout with hundreds of feet 
of uphills. 
Riders caution about 
sometimes unusable trail 
sections in the rainy season, 
and abundant poison oak and thistles expanding into the 
trail in summer, and recommend fall to early winter as 
the best time to hit the trail. 
If you're up for an adventure, and prepared for challenges, 
this could be a ride for you.
FOR MORE INFORMATION
BAY AREA RIDES: Detailed trail descriptions of mountain and road-biking itineraries from a local enthusiast. bayarearides
.com/eastbay.
BIKE EAST BAY: Advocacy group with area events, classes, and programs. bikeeastbay.org.
EAST BAY REGIONAL PARK DISTRICT: Their biking 
webpage provides a good selection of bike trail maps, links to biking groups, a calendar of events, and biking-related rules and regulations for the area. ebparks.org/activities/biking.
BIKE PARKS & URBAN RIDES
Aside from the roads and mountain trails, the East Bay offers options for street bikers, trick riders, and BMX enthusiasts. While geared toward 
kids and teens, bike 
parks give adults some fun chances to try out their skills, while the city of Oakland has street bike history and cultural tour experiences.
PLEASANTON BMX PARK
This two-section dirt BMX (bicycle motocross) course has banked curves, whoop-de-doos, and small jumps (easy to ride over without needing to go airborne) for the younger set, and a serious array of dirt ramps, tabletops, curves, and other intimidating features for more experienced BMXers in its supersize section. The terrain park can get brutally hot and dusty in the summer months, so bring plenty of water. Fortunately, the BMX park is linked by dirt and paved trails to the adjacent Shadow Cliffs Regional Recreation Area, so you can ride over and take a dip at the swimming beach to cool off on a hot day, with bathrooms and shaded picnic tables near the lake and the parking lots.
DIRT WORLD RICHMOND
Dirt World Richmond is literally a grassroots effort by volunteers who have created a BMX park in a two-acre plot beside a bike path through the Richmond Greenway. It has four separate sections of terrain park, ranging from a king-size track with 10-foot-high ramps and banked turns, to a smaller segment with about four-foot-tall berms—and separated by a gap—a mini course for smaller kids or new riders; there's even a pint-size paved track for toddlers on strider bikes. Aside from some park benches, there aren't any facilities, but it's free, open from dawn to dusk every day of the year, and a great place to get in some BMX practice in a laid-back, friendly environment.
OAKLAND STREET BIKING
City riding in Oakland isn't just for commuters. Families can enjoy rides around Lake Merritt, and the Oakland Museum of California leads monthly bike tours around town at a slow and steady pace. Throughout this year, local groups like Rich 
City Rides, the inimitable 
Marshawn Lynch's Beast Mode posse, and East Bay Bike Party have announced mass "ride outs" encouraging locals to bring their two-wheel rides 
to support social causes. 
East Oakland's Scraper Bike Team has created a custom bike style imitated worldwide and 
provides training and support to local youth, led by their founder, Baybe Champ.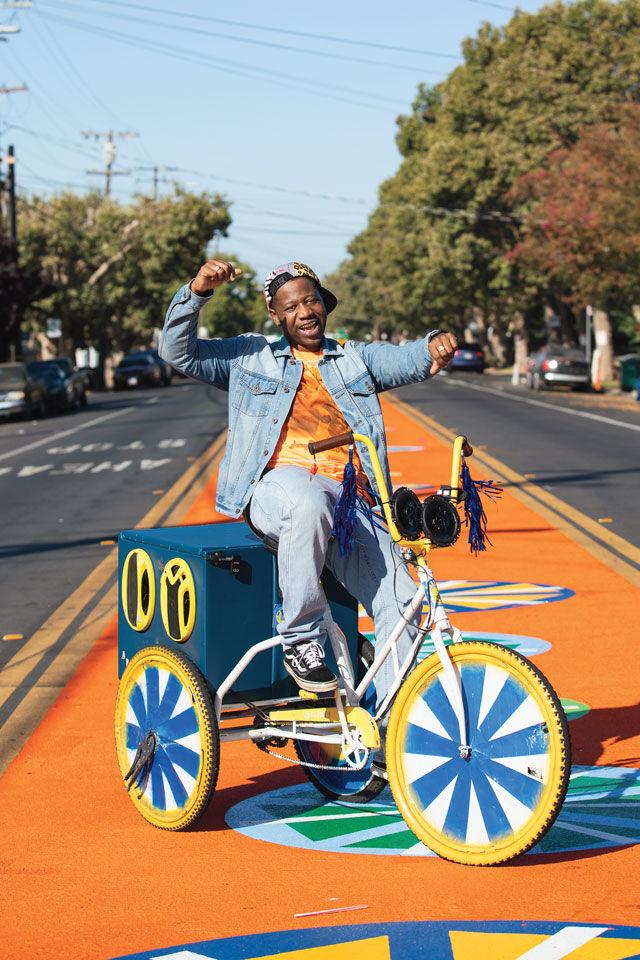 Meet the Scraper King
Tyrone "Baybe Champ" Stevenson Jr. gets the community in gear.
When he was a kid, Baybe Champ watched his father, known as "Big Champ," customize his cars as part of an Oakland car club, competing at events for envy-inducing trophies. These Oakland car clubs helped create "Scraper Car" culture, so named for the massive wheel rims scraping against the cars' wheel wells. As a teen, Baybe Champ was inspired by memories of his then-deceased father to tinker with his own vehicle—and created his first "Scraper Bike," little knowing he would launch a movement. In high school, he began selling his creations and sharing his techniques with friends, and soon the group was riding around town with their colorful convoys, going big time with massive rims, double-stacked frames, and built-in stereo systems.
That creativity spilled over into music when his rap group, Da Trunk Boiz, recorded "Scraper Bikes" in 2007, a song
and video that went viral on YouTube. Eighteen-year-old Champ had hit the big time, fame-wise, but fortune would have to wait as he focused his efforts on community 
organizing. Champ made money selling custom bikes, 
but spent much of his time developing the Scraper Bike Team, a rotating group of teens who could earn custom bike skills by joining the club and maintaining a 3.0 GPA. Soon, Champ and his friends were giving clinics at the Oakland Public Library and hosting seminars at the Oakland Museum of California. Four years ago, they opened the Shed, a pop-up repair and customization workshop housed in a shipping container tricked out in full Scraper style by the MLK Branch Library. "Whatever it takes to get more butts on bikes," Champ says, laughing.
Nowadays, Champ spends most of his time running his 501c Scraper Bike charitable foundation with chief operating officer Reginald "RB" Burnette Jr., developing training programs, and working with a new board of directors and Bike East Bay to raise money for biking programs. The COVID-19 crisis has put a hold on the workshops and group bike rides, but Champ has been using the time to work on funding for Scraper Bikes programs. Scraper's bike repair classes and Shed location will receive funds from Oakland's $28.2 million "Better Neighborhoods, Same Neighbors" grant project, and Scraper Bikes will also be part of Lyft's funding partnership with the city of Oakland.
But Champ hasn't forgotten his flashy Scraper roots—
he still rides around town on his Golden State Warriors 
blue-and-yellow trike, complete with booming sound system. You'll definitely see and hear him coming, and he expects to be riding right along with his Oakland Scraper Bike community into a bright future.