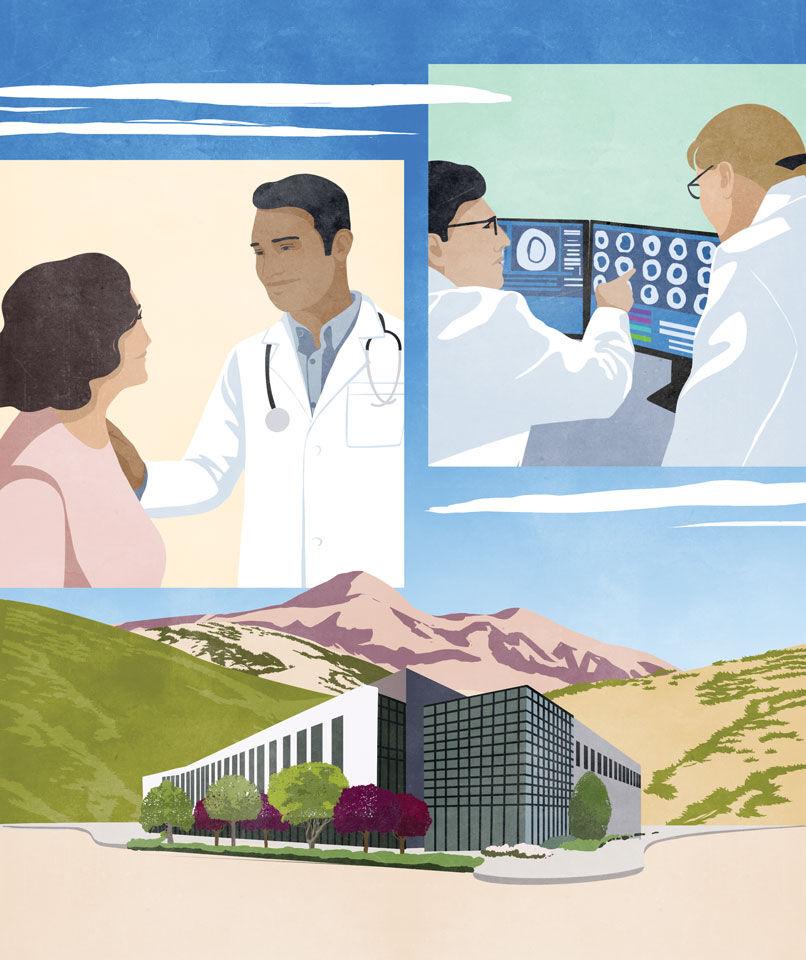 There is no diagnosis more frightening than cancer.
Even though cancer deaths have decreased by 33 percent in the past 30 years, there's a long way to go before that elusive cure is found. Cancer is still the second leading cause of death in the United States, and it's proven to be the most challenging disease of all to prevent and treat.
But every year, every month, progress is made in fighting the rogue cells that try to take over the body. Some steps forward are, of course, more critical than others, and the soon-to-open $300 million cancer center at John Muir Health's Walnut Creek Medical Center is one of the biggest advances ever for the more than 135,000 East Bay residents living with cancer.
---
PARTNERSHIP WITH UCSF
One reason for the anticipation is the collaboration between John Muir Health and UCSF on the cancer center, which will, among other things, make it easier for the advanced research and clinical trials at UCSF to benefit patients on this side of the Bay. In addition, those brutal two-hour commutes to San Francisco for doctor visits and treatments will be a thing of the past, and the Cancer Pavilion, as it's officially called, will gather a wide variety of providers and services in the middle of Walnut Creek.
"The center will allow for multispecialty care in one building," says Laura Crocitto, M.D., the chief medical officer and vice president of cancer services at UCSF. Diagnosis, consultation, treatment, pharmacy services, and even genetic counseling will all be available at the Pavilion, under construction right now behind John Muir Health's Walnut Creek Medical Center. The Ygnacio Valley Road location will allow patients and doctors easy access to whatever a particular case might call for.
"Having all of the services in one place means the whole is greater than the sum of its parts," says Tiffany Svahn, M.D., the medical director of oncology for John Muir Health. "It's going to be comprehensive care," she adds, when the center opens early in 2024.
It will offer state-of-the-art care as well. From CAT scans and MRIs to radiation technology, the Pavilion will be installing the latest equipment and taking advantage of the newest advances in the diagnosis and treatment of cancer. And having the connection to UCSF will keep the Pavilion on the cutting edge of cancer science.
"We have a cadre of very gifted physician-scientists," says Crocitto, "who are committed to pushing the field forward." Those physician-scientists will not only share best practices, but they will also be available for consultation and cooperation with local doctors.
---
"Having all of the services in one place means the whole is greater than the sum of its parts."
—Tiffany Svahn, M.D.
---
"The field of oncology moves so quickly," Svahn says, that having access to the researchers at UCSF is crucial for delivering top-quality treatment. Tumor boards—which are groups of providers from different fields, such as pathology, radiology, surgical, and medical—come together to discuss patients with challenging combinations of symptoms, and having the UCSF talent pool to draw upon will make the tumor boards even more effective. "There will be a direct pipeline for complex cases," says Crocitto. But this unusual collaboration didn't come together easily—or quickly.
Michael Thomas, the chief executive officer at John Muir Health, was working at UCSF when the idea first came up. "At the time, UCSF tried to collaborate with John Muir, but for various reasons, it didn't happen."
Thomas came to John Muir in 2009, and about five years ago, he broached the subject again. "I was the catalyst," he says, but it took a lot of time to get the pieces of the puzzle to fit together. For example, since UCSF attracts a significant number of patients from the East Bay, a new cancer center at John Muir would take some of that business away. "It took about a year," says Thomas, to work out a deal that satisfied both sides, and UCSF wound up owning 40 percent of the UCSF-John Muir Health Cancer Network joint venture, which will include multiple centers throughout the East Bay and Northern California.
There were many other sticking points and negotiating details that had to be worked through, but ground was eventually broken in late 2021 for the three-story, 155,000-square-foot structure.
---
MORE REGIONAL ADVANCES IN CANCER CARE
John Muir Health isn't the only organization offering advanced cancer treatments in central Walnut Creek. Both Contra Costa Oncology and BASS Cancer Center of Walnut Creek are in the Shadelands Business Center, and they bring their own expertise and equipment to the delicate process of dealing with cancer.
BASS, which just opened a new cancer center last year, has one of just a few MRIdian radiation therapy systems in the country, which allows for more precise treatment of pancreatic and prostate cancers. MRIdian combines a traditional MRI with a linear accelerator that attacks cancer cells with radiation so doctors can focus exactly, in real time, on tumors. The system's biggest advantage is in the abdomen, where the many critical organs are in constant motion. This means that taking an MRI even a few minutes before applying radiation may not account for small changes in the stomach or lower intestine.
"There are fewer side effects," says K. Kenneth Chao, M.D., of BASS, "because we have more control." Bowel perforation, which is a severe side effect of some radiation treatments, is much less likely with MRIdian, and in fact, he says, "we have not had any bowel perforations with this treatment."
---
"Treatments have evolved. It used to be one shoe for everybody's foot."
—Michael Sherman, M.D., Ph.D.
---
In addition, the carefully targeted radiation can help keep pancreatic cancers from growing. MRIdian "has a better outcome for pancreatic cancer than most treatments," Chao notes.
Michael Sherman, M.D., Ph.D., the owner and founder of Contra Costa Oncology, is more focused on immunotherapy and chemotherapy, two traditional treatments that are critical in cancer care. "Chemotherapy is the background for curing cancer," he says. "Chemotherapy kills the cells that can't be seen."
Immunotherapy operates on a different level, as the goal is for the body's own immune system to be trained to recognize cancer cells as disease cells and destroy them without outside intervention. Sherman, who began his career studying HIV, points to the success of Herceptin, a monoclonal antibody that targets particular receptors in breast cancer cells and helps the immune system kill cancer cells without the need for chemotherapy or radiation.
"Treatments have evolved," he says. "It used to be one shoe for everybody's foot."
Now, however, private centers like BASS and Contra Costa Oncology work together to give patients the precise treatment they need, just as John Muir Health's nearby Cancer Pavilion will be the setting for advanced treatments.
Of course, all in the profession share the same goal. "Being able to take care of patients is what matters," Svahn says. And with a new Cancer Pavilion to add to the existing resources, patient care can only get better.
---
JOHN MUIR HEALTH'S NEW ACQUISITION
While the new Cancer Pavilion is an exciting addition to the regional health-care landscape, it isn't the only major news story at John Muir Health. The organization also just announced the proposed purchase of the San Ramon Regional Medical Center from Tenet Healthcare Corporation.
The 125-bed hospital in southern Contra Costa County will increase the capacity of the system by about 15 percent and will also expand the reach of John Muir into the Tri-Valley area.
"We had a similar expansion about 25 years ago when we bought Mt. Diablo Hospital," says Michael Thomas, CEO at John Muir Health. "At the time, the two were fierce competitors." The proposed merger generated lots of controversy.
Now, however, the two hospitals work together well, and Thomas feels patients have benefited. "We've really been able to elevate clinical care in Concord," he says.
But that success has increased demand. "Our two medical centers are frequently out of beds," he says, so adding the San Ramon Regional Medical Center will give John Muir Health increased flexibility.
For example, Thomas says, "We have plans to add a cancer center in San Ramon," but it's not set in stone quite yet. "The acquisition is subject to approval by the Federal Trade Commission," he says, and that approval may be several months down the road. But Thomas is confident the deal will get done, and that John Muir Health will soon be delivering health care to even more people in the East Bay.