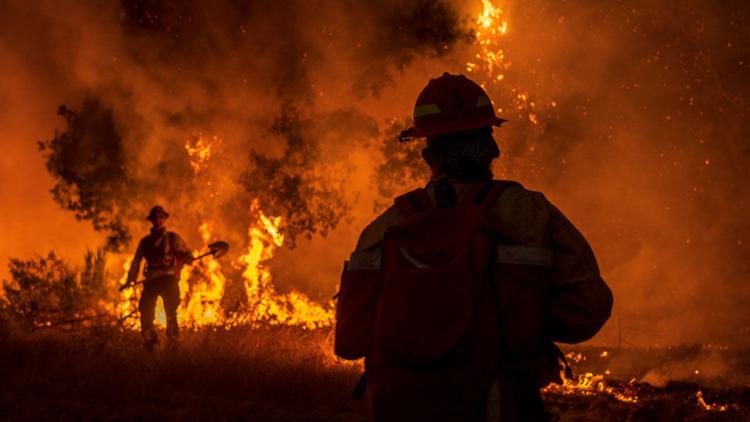 In 2018, Diablo published the following helpful tips for emergency preparedness.
Given the unsettling frequency of natural disasters in our state, it is crucial for people to prepare themselves. Diablo enlisted the help of Jim Bonato—the program manager for Pleasant Hill's Community Emergency Response Team (CERT), which provides disaster-preparedness and emergency-relief training—to explain how East Bay residents can ensure they're ready when catastrophe strikes.
Establish a Communication Plan
"The first thing that's going to enter a [person's] mind following a disaster is: Is everybody safe?" Bonato says. "So, I stress the importance of a family communication plan, so that each member of the family … knows where [the other members are] … and how they are going to contact them."
Bonato suggests selecting an assembly point where loved ones can meet in the event of an emergency. If a home is uninhabitable or road conditions prevent access, the assembly point should be a safe space that's easily reachable.
Additionally, Bonato advises designating one out-of-state relative or close friend to be a family's point of contact. If you don't have a close connection in another state, choose a person who lives as far away as possible. "[Local] telephone lines [might] be down; cell phone towers are going to be congested with calls," he notes. "Long-​distance lines will be less congested than normal lines." Each family member should know the number for that contact person, who can disseminate vital information.
Stockpile Supplies
"We never know when a disaster might strike," Bonato says. "So, having everything assembled ahead of time for a quick exit from your workplace or from home is essential."
Supply stashes can take two forms: the go kit—a small bag filled with items to get you through the immediate aftermath of a disaster—and the emergency kit, a larger reserve stored somewhere in the home. Bonato recommends preparing multiple go kits for the home, car, and workplace to ensure you're ready for a fast evacuation.
An at-home emergency supply could be crucial if road access is blocked; a fuel shortage limits automotive transit; contamination renders the outdoors unsafe; or other factors lead to a shelter-in-place for days on end. According to the national Ready campaign, a basic emergency kit should contain one gallon of water per person per day for at least three days and a three-day supply of non-perishable food—plus batteries, flashlights, and sanitary supplies, among other items.
Scan Your Documents
"Make [digital]copies of all your important papers and store them on a flash drive or in the cloud," Bonato emphasizes. "The deed to the house, insurance papers, social security cards—those are things you're going to need … when you start working with FEMA [the Federal Emergency Management Agency] for reimbursement or for advancements of money."
Scanning dozens of documents and records—including passports, licenses, cherished family photos, and more—can be a daunting task. However, several companies will do this for you. The Cloud Life is a Bay Area business that comes to your home to help organize your important paperwork and offers three storage options for your archived materials. thecloudlife.com.
Stay Informed
Although some disasters, such as earthquakes, strike without notice, officials can often alert residents to wildfires and other emergencies. Residents of Contra Costa County can register for the community warning system—which sends notifications via e-mail, phone, or text—at cwsalerts.com. Those in Alameda County can subscribe at acgov.org/emergencysite; the Alameda County website contains information on shelter locations too.
There's also Nixle, which delivers alerts from local authorities to mobile devices. Sign up for Nixle at nixle.com, or text your ZIP code to 888777.
Most East Bay communities have a CERT chapter that offers training on how to prepare for, and respond during, a disaster or emergency event. To find the CERT program nearest you, contact your local fire or police department.
"The knowledge you gain from [CERT] is fantastic," says Bonato, who notes that some chapters will organize private group training sessions by request. "What this program is … is neighbors helping neighbors."
All Systems Go
Put these essentials in your go kit for a quick evacuation.
• Food and water: You'll need enough for the next eight hours or so, until you can get another meal. Small, nonperishable items such as protein bars are a good choice.
• First aid kit
• Medication
• Change of clothes (including comfortable shoes)
• Cell phone charger
• Cash
• Contact information: Write down phone numbers and e-mail addresses for close friends and family members.
• Flashlight
• Whistle: "In case you're trapped in a building," Bonato says, "it can alert people that you're there."
• Battery-powered radio and extra batteries
• Dust mask
• Local maps (consider highlighting evacuation routes ahead of time)
• Moist towelettes and other personal sanitation items
• Multipurpose utility tool
• Baby supplies (if you have young children)
• Pet supplies (if needed)
For more information, visit ready.gov/build-a-kit.