Outdoor spaces add usefulness and 
enjoyment in most East Bay homes, 
even during the year's coldest winter 
months. When backyard temperatures dip into chillier degrees, it might be time to incorporate an element of fire to instantly create a mood and warm things up.
"[A fire table] adds tremendous 
ambience," says Jim Singer of Terra 
Outdoor Living, which carries a range 
of stylish modern fire tables, with showrooms in Berkeley, San Ramon, and Walnut Creek. "People love to gather around a nice, warm fire to enjoy a meal or a drink."
Fire tables—which don't burn wood, so are clean-burning—have become increasingly popular. You'll find designs in both metal and concrete, but Singer says the industrial concrete look—which melds well with a poured concrete patio—is especially on-trend.
When incorporating a fire table into a patio or other backyard space, the most popular arrangement is a conversation grouping around the table. "It could be Adirondack chairs around the table, if it's a round one," says Donna Maguire, also with Terra Outdoor Living. "A lot of people do curved sectionals, to make it conversational and cozy, or a big, comfy cushioned chair or sofa. With kids, you could do a very casual look, for s'mores with marshmallows and chocolate dripping everywhere."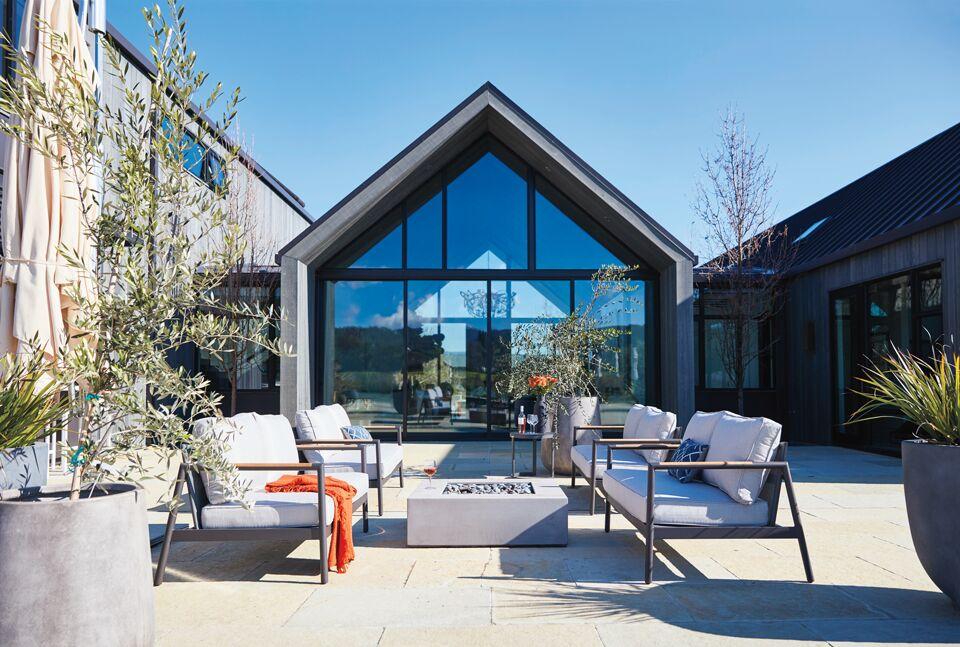 Fire tables offer not just beauty but warmth. "It can get really chilly in the night in Lafayette and Orinda and places like that, where it gets a little bit foggy," Maguire says. "How much warmth do you want to have from the fire table? That will determine what kind of burner you're ultimately going to need." When the burner is off, designs like those from Terra Outdoor Living have lids for conversion into a functional table.
A fire table is certainly a focal point, so designers suggest positioning the table so you can view it from the interior of your home as well. Also, consider complementing the element of fire with a water feature, such as a small fountain, in another part of your yard. To create a feeling of enclosure around a fire table, some homeowners opt to add a semicircular half wall made of stone or perhaps lush hedges.
As friends gather around the fire to sip cocktails and settle into conversation, the cozy atmosphere can't be denied. "That's what people love," Singer says. "It's mostly about having this wonderful fire flickering at night." terraoutdoor.com.