Every couple shares a hobby or a sport, or some kind of mutually appreciated idea or activity. Primo Orpilla and Verda Alexander share a design aesthetic.
Orpilla and Alexander, who met at Concord's Ygnacio Valley High, ended up parlaying their shared interest into a successful business. Their award-winning company, Studio O+A, has designed offices for several Northern California tech giants, including Facebook, AOL, and Yelp.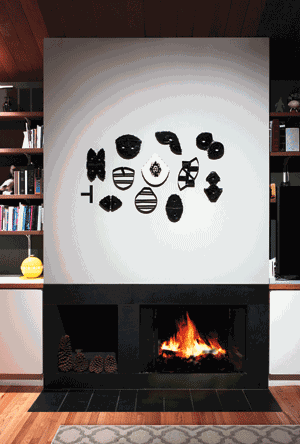 So, it's no surprise that when Orpilla and Alexander decided to move back to the East Bay from San Francisco, they looked for a house with a high-concept design. They found just that in Orinda.
The 2,800-square-foot residence, which architect David Boone built for himself in 1972, is composed of two equal squares, with a second floor walkway connecting the two spaces. Originally, one side was the main living and entertaining space, while the other contained bedrooms and a home office.
"The house is somewhat severe and kind of pure in thought, but it's kind of cool," Orpilla says. "It's kind of Zen. It's done by a modernist architect, and he definitely held to a lot of his ideas in designing it."
The clean, smooth lines (with details such as concealed door hinges) and the eclectic 1970s style appealed to Orpilla and Alexander—as did the built-in home office. In addition to being a designer, Alexander is an artist who works in a variety of media, and the space was ideal for her studio. In fact, the whole design was so well conceived that the couple ended up changing very little.
"We didn't do much at all," Alexander says. "We refinished the floors, and we painted it, but that's pretty much it."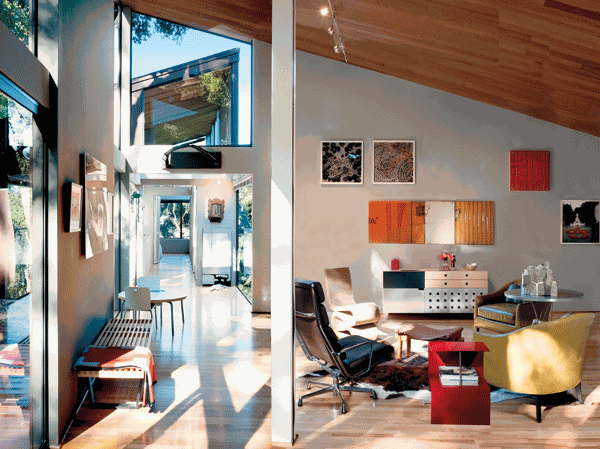 "The home was such a pure kind of thing—why mess with it?" Orpilla says. "It was almost perfectly situated for us."
They are designers, though, so the house can't help but reflect their aesthetic. The couple put the dining table in a small space next to the kitchen, opening up a larger space for socializing—creating, in essence, a great room. This orientation reflects their professional standards: In designing offices for high-profile tech companies, O+A often employs large open spaces and democratic layouts reminiscent of a living room or rec room, where a junior programmer can take a break from writing code to play Guitar Hero with, say, the world's youngest billionaire.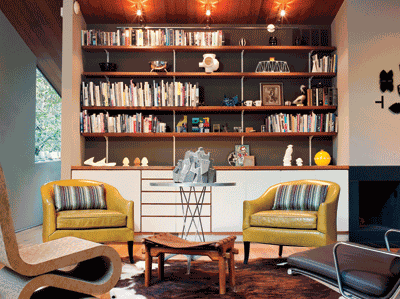 The influence of Bay Area artists and a modernist '70s-style aesthetic is also apparent in the couple's decorating choices. The walls are hung with works by a number of local artists, such as JD Beltran and Julio Morales. Orpilla and Alexander say that at this point in their careers, they draw more inspiration for their work from visiting art galleries than from studying other designers. The furnishings in the living room include Frank Gehry–designed chairs, with their flowing lines.
Nature plays a key role in the home's atmosphere as well. The house has large picture windows, but rather than looking out on sweeping vistas, the windows invite nature in. Orpilla and Alexander also evince a fidelity to sustainability and reuse. In the Facebook project, they incorporated a number of old furnishings, and in their own home, they use living room chairs salvaged from a project by the now-defunct San Francisco architecture firm I.O.A.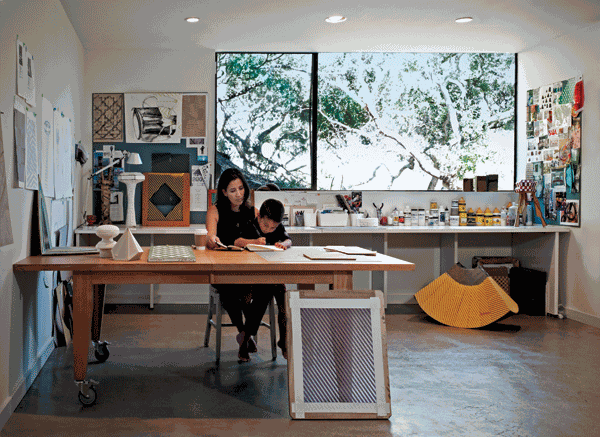 "It's interesting that people try to connect the house to the work," Orpilla says. "To us, this was a great design. And we're attracted to design and art."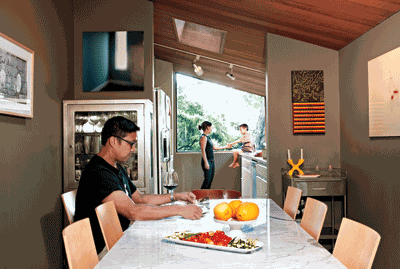 As he says this, the lovely textured harmony of a Crosby, Stills, and Nash song comes from the stereo across the room. The voices slip together seamlessly, swirling around the living room.
"We do kind of live as we design," he admits.
"To us, this was a great design. And we're attracted to design and art."