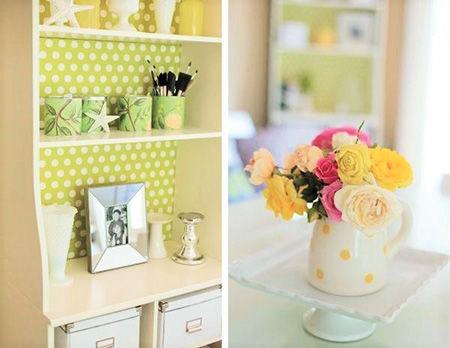 When Janine Waite began posting pretty photos of her home decor online four years ago, she never expected she'd soon be working with top-tier companies like Pottery Barn, The Container Store, HGTV, and Safavieh. After meteoric success with Instagram and her blog, Happy Happy Nester, Waite is now part home-style blogging guru and part social media sensation.
Take a quick glimpse at her Alamo home, and you'll get an immediate clue into Waite's tastes: She has a thing for white. Clean, crisp white slipcovers fit snugly over the family room couch and armchair; shiny white cabinets sparkle in the immaculate open kitchen; even the shag area rug is white, belying the fact that two teenagers and an outdoorsy husband also live in this impeccably organized, artistically appointed home. Around the holidays, even the Christmas tree is all white.
"White provides the perfect blank canvas," says Waite. "It's like a backdrop. Then, I pick an item to pop, to add a color or two. I always start with a pillow," she says, pointing to a gray plaid pillow on the couch.
I see that same shade of gray everywhere—in curious items on top of the coffee table (which is also white), in the striped curtains framing the windows, in knickknacks and the whitewashed ceramic cake pedestals on the table. Above the mantle (you guessed it, white), the same gray jumps out from the oak leaf–shaped paper cutouts that have been crafted from printed pages of The Constant Gardener novel. The whimsical leaves dance on a branch above the mantle as if in a magical snowy forest.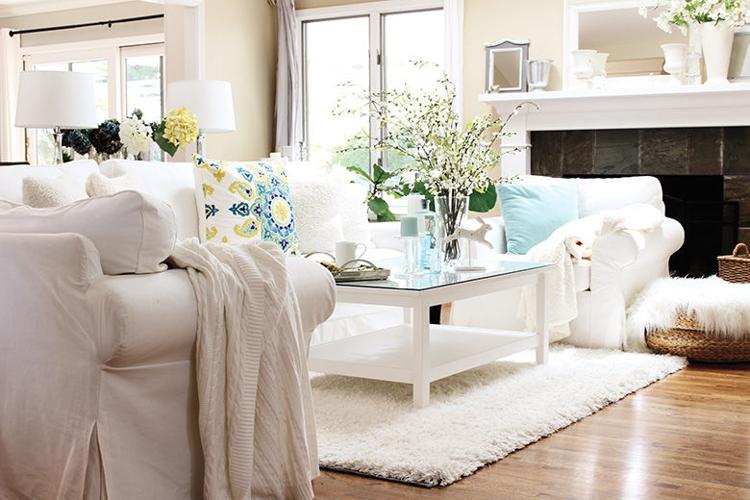 With her straightforward approach to home decor, Waite makes decorating look simple, as if random pieces just throw themselves together organically. Some of her fans have described Waite's style as "California casual," for her elegant-yet-relaxed scenes. It all adds up to an effect that is anything but haphazard.
If you've checked out Happy Happy Nester (where the background of the website and most of the items featured are also predominantly white), or if you've talked to Waite for more than a few minutes as her cellphone beeps and pings, it's clear that neither her home decorating style nor her social media success happened by accident.
"I began by studying other home decor blogs, and I asked myself what it was about those blogs that made me want to go back to them," explains Waite. "One of the things I realized is that you have to make it personal."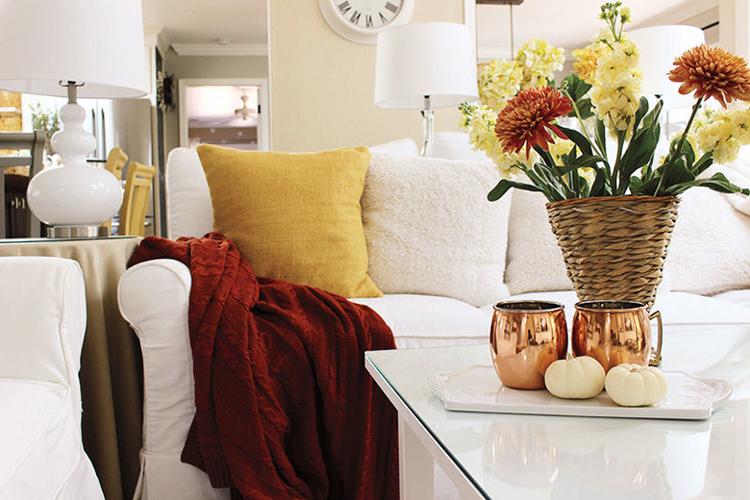 So, she utilized her background in studio art and graphic design to create a personal, inviting, and beautiful blog that showcases her creativity and talent for interior decorating.
When I ask Waite how she grew her Instagram account to more than 45,000 followers so quickly, she lights up and laughs, exclaiming, "Everyone always wants to know that!" Dressed in a flowing black tunic and pants, Waite shrugs, saying most of her growth can be attributed to hard work and networking with others.
But she believes she wouldn't be where she is today without the support of her family. After all, the Happy Happy Nester is all about home and family.
"My son is the engineer and coder of my blog. He set it up the day I first talked to him about it. I didn't even have the name yet," says Waite.
Her husband, a writer and creative director at Zynga, provides real-world Internet savvy, and even Waite's 15-year-old daughter has a hand in Mom's business—acting as a model for photo shoots and hamming it up for the camera.
Waite's brother, Mark Yamamoto, is also involved. He's a professional photographer who has shot for leading magazines like Bon Appétit and taken several photos for Waite's website. "It's really important to have fabulous photography," says Waite.
But according to Waite, it's not enough to create a blog full of beautiful images and clever ideas about "crafts, cooking, and home decor." To be a successful blogger, you need to create a site that people love to visit. She does this by sharing personal elements of her family's life in her posts and offering lighthearted content, such as her Coffee Table Styling tips that appear on the 15th of every month. She also enjoys sending readers on an occasional "blog hop," where she links to other inspiring home decor sites. Community is another key ingredient in her blogging/social media secret sauce.
"I love posting beautiful images of what other home style bloggers are doing, and they post about my work. We have created an incredible community to support each other," explains Waite.
She has several blogging groups that exchange ideas about everything from new products to social media tips, and she is constantly reaching out to other bloggers.
In addition, Waite works on promotional projects with partner companies—including The Container Store, HGTV, and Pottery Barn—shooting photography and writing blog posts about their products. She also acts as a brand ambassador for Safavieh, a high-end home furnishings company.
"[My blog] provides the perfect outlet for me to teach, share, and express my love for interior design and more. I feel so fortunate that I've had opportunities to work with some incredible companies and individuals," says Waite.
After visiting with Waite, it's also clear that she's having a whole lot of fun. happyhappynester.com.
---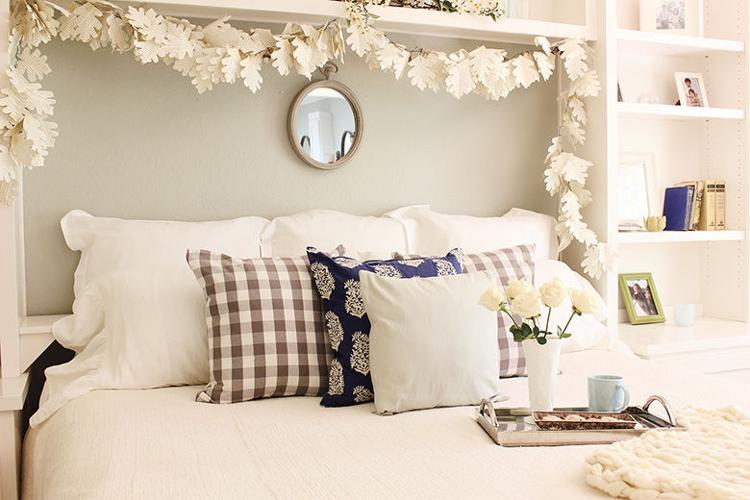 Tricks of the Trade
Here are a few of Waite's top decorating tips for your home.
1. Clear everything out. Get rid of clutter, and start with a clean slate.
2. Choose a theme: modern or traditional, natural or glitzy.
3. Choose a color or two, and blend them.
4. Pick a few pieces, such as pillows or lamps, and make them stand out.
5. Change up your home decor seasonally.
6. Don't break the bank. Target and IKEA are Waite's go-tos for quick home makeovers.
7. Be creative!
---
Follow Happy Happy Nester: Instagram, Pinterest and Facebook: @happyhappynester; Twitter: @janinewaite.