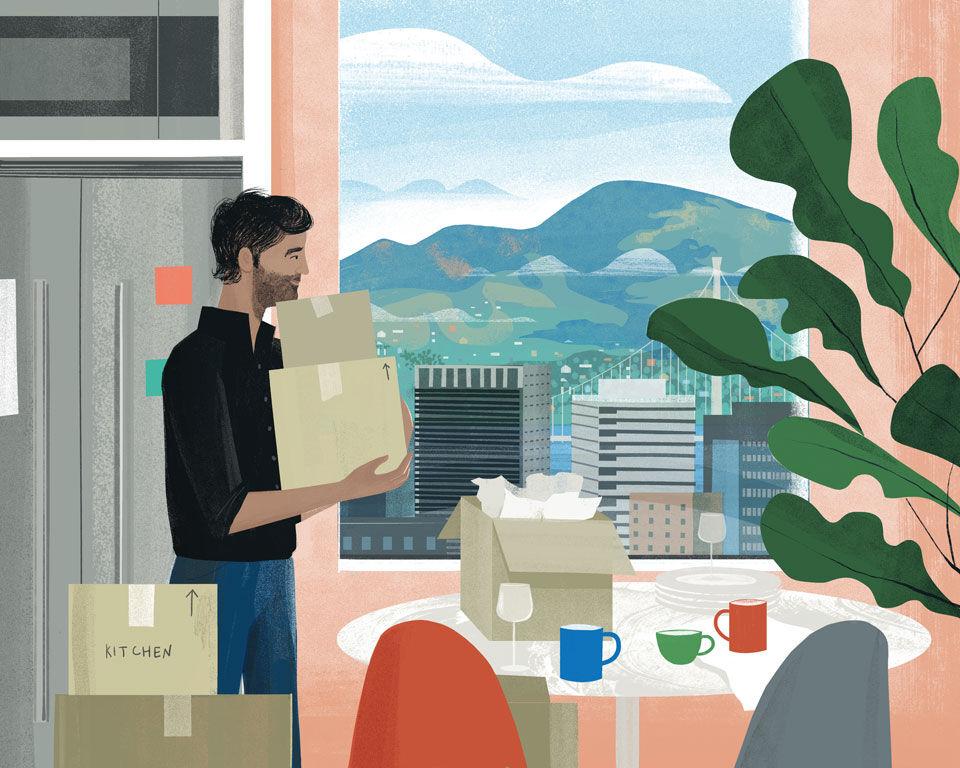 Sometimes, being a homeowner
 seems like more trouble than it's worth.
Now is not one of those times.
Sure, the roof still needs to be 
replaced and there's a plumbing issue, but a quick glance at Zillow will ease the pain of the inevitable costs of home ownership, especially 
in the suburbs. And sure, prices go up and prices go down, and there will be a slump somewhere down the road, but there are fundamental forces at work that are changing the way real estate is valued. Some of
those forces are societal, some are technical, some are work-related, 
and some, of course, are driven by COVID-19.
All of them, however, are 
pushing suburban prices up, up,
and up some more, and in the 
crowded, tech-driven, prosperous 
Bay Area, a change in direction anytime soon seems unlikely.
"Somebody told me five years ago the real estate market was 
going bust, but I'm still waiting,"
says Harry Murray, the vice president of experience in Sereno's office in Danville.
"Our business is crazy," he adds. "It's insane—there are multiple 
offers on everything."
Julie Del Santo of Dudum Real Estate Group notices the same thing. "We saw some strength in the market earlier 
[in 2020 ], but a perfect storm [made] it explode."
Part of that storm is the pandemic, but the coronavirus may not have changed the way Americans live as much 
as it accelerated changes that were already in the works.
For example, the tools for working from home were 
already available in January 2020. Internet connections 
were better than ever, laptops and PCs were cheaper and more reliable, and apps like Zoom were already 
robust and ready to expand.
 So when the pandemic hit, the pieces were in place for 
people to efficiently work 
from home if—and it's a 
big if—they had the space. 


HOME ECONOMICS
Lutjon Celkupa and his wife, Hannah, for example, were 
living in a 700-square-foot apartment in San Francisco. He's in the investment industry, and she works in health law. They enjoyed the city life, but once the pandemic 
arrived, they were suddenly both working from home.
When that happened, it was the tipping point, and not just for them. Many city residents looked for an exit strategy.
In August, they pulled the trigger and moved to Walnut Creek. "It's nice to have more space," says Celkupa. "We got a 
puppy, and I work outside"—two things that weren't going to happen in the city.
The lifestyle is different as well, 
especially the access to the outdoors. 
"Walnut Creek has so many parks and trails," says Celkupa. "You can look over the whole valley. It's so cool."
But more space affects more than a home office. "It's not just a matter of working from home," says Del Santo. "We're spending more time at home." And, as we all know, there are times when togetherness is a tad overrated.
"What once was considered awkward
 space is now desirable," says Del Santo. "It's added value. It's a sales feature."
It's important to note that not all suburbs are created equal. "You get a whole lot more house in Danville than in Los 
Gatos," says Murray about the upscale 
Silicon Valley suburb, and the same is true for the residential areas of 
Oakland and Berkeley. "Here, in a place 
like Danville, you get double or triple 
the square footage for the same price."
"People are less excited about living in densely populated 
areas," says Patrick Carlisle, 
the chief Bay Area market 
analyst for real estate powerhouse Compass. "Schools are a huge issue as well. Young families are looking for good schools."
Lena Hart, who moved to 
Walnut Creek from Berkeley with husband Joe Brunicardi,
agrees. "The schools are way better [in suburbia]," she says, but there are also other advantages. She teaches the 
Alexander Technique, which promotes healing through body work, and in the suburbs she has enough space for a studio at her home. "I don't think that would be possible in Berkeley," she says.
When she and her husband started looking east of the tunnel, there was a bit of sticker shock. "It seemed a little pricey,"
she says, "but the houses were way bigger."
"People need more space," says Murray. "They want the luxury of elbow room. They don't want to be stuck in an apartment building."
"I really love having a yard," says Hart. "I don't see us moving back to a city."
"People want a private area 
to work from home," says Khrista Jarvis-Diebner, who 
runs Khrista Jarvis Team 
for Compass. But she has 
also noticed a demand for more yard space. "Pools are 
becoming more popular," she
says. "Outdoor living has 
become a selling point."
And speaking of selling, there hasn't been a better 
time to sell in quite a while.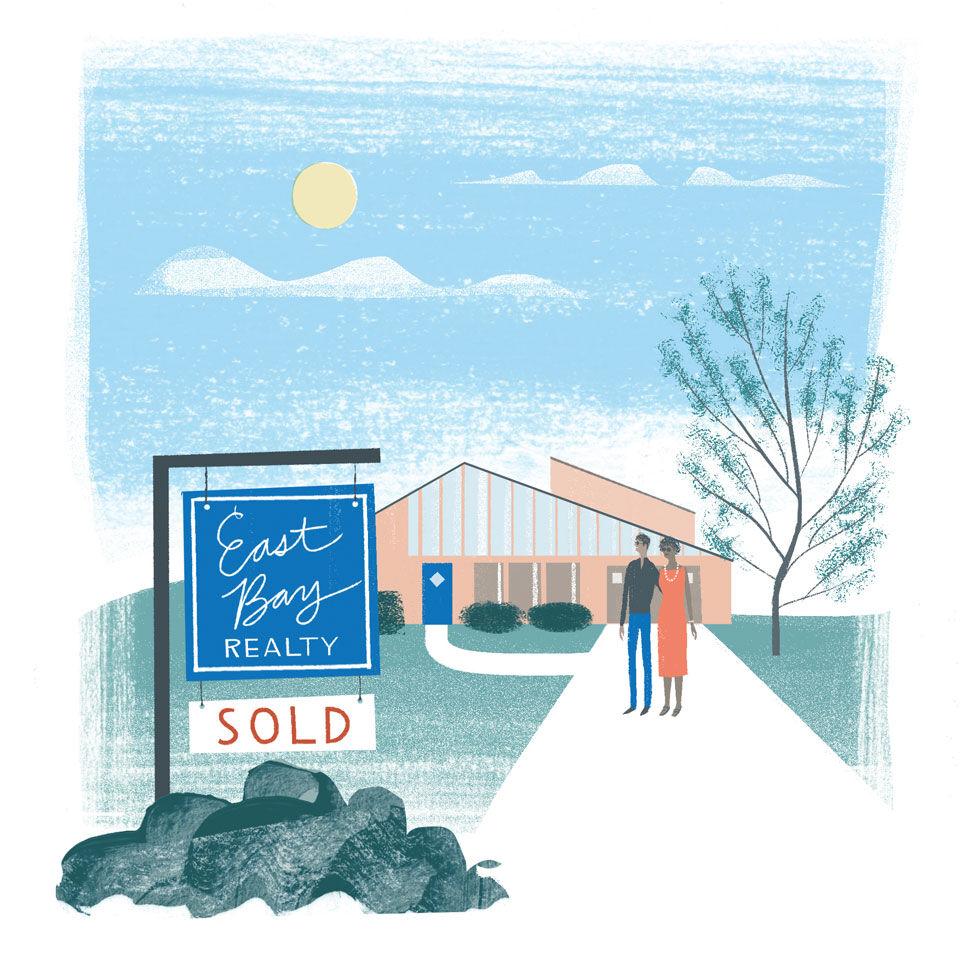 BUYERS ON THE MOVE
Jarvis Team, like many businesses, was shut down in March 
2020, but once the group was 
allowed back to work, "it was on fire," Jarvis-Diebner says. "It went warp speed with no warning. My business has doubled or tripled. We've got lots of San Francisco, Oakland, and South Bay buyers."
"You usually have spring madness," says Del Santo, but by June, "something clicked."
"Everyone was buying," she continues. "It was almost contagious," and the result is not only multiple offers, but offers way over asking.
"We had a $4.2 million house that sold for $5 million," she 
says. "That's a big number. 
People are going over by half 
a million dollars. That's the 
price of a home in another city."
And speaking of other cities, even areas not usually associated 
with housing booms are seeing record prices.
"We have a Brentwood 
office," says Del Santo, "and those agents were having their best year ever by October."
"More affordable markets are extremely hot," says Carlisle.
"People are seizing opportunities due to low interest rates. Loans are free money right now, and the difference in cost for 
a mortgage is enormous."
Vince Wirthman, a loan advisor for RPM Mortgage in Orinda, details the difference. In October 2018, with interest rates at 4.75 percent, an $800,000 30-year mortgage would result in monthly payments of $4,173. Two years later, the rates were at three percent, which means the payments were $800 less each month, or nearly $10,000 a year.
"Your buying power goes up exponentially when rates are low," says Wirthman.
"A lot of people were sitting on the fence, thinking they'd move five years from now, but these rates are so low, it makes financial sense now. And a lot of people just want to get out of the city."
Carlisle sees the same thing. "There's no doubt there's a migration," he says, which is good news for prospective sellers.
At the same time, though, some sectors of the real estate industry are hurting.
"The San Francisco condo market is 
by far the weakest market 
in the Bay Area," says 
Carlisle.
"The condo market is still moving [in the suburbs]," Del Santo says, but the smaller condos—one or two bedrooms—aren't doing 
as well.
Many condos have been 
built in or near transit 
villages, which were supposed to take advantage 
of proximity to BART.
 That would make it easy 
for condo owners to 
get to San Francisco or 
Oakland without the hassle 
of having to drive on crowded 
freeways. However, now it 
looks like businesses may never 
get back to the five-days-a-week-in-the-cubicle mode, even when the pandemic has passed.
Jena Domingue, a lifelong Bay Area resident, took that logic to its extreme last year. She works for WineDirect, based in Napa County's American Canyon, and commuted every day.
"I was ready to spend over a million dollars on a house, but there wasn't anything I fell in 
love with," she says of her East
 Bay search. Then, due to COVID,
 she started working from home.
"I had worked at the office every single day," she says, but she soon realized she was more productive at home. She didn't have to drive to and from work, nor did she need to spend time getting ready for the office. 


The next realization came in the form of a question: "Does it matter how far away I am? I always said I would never leave California," she says, but now she lives near Las Vegas. Her million dollars bought her a lot more house, and she can make occasional trips to the main office. "I don't see us all working in one building at one time anymore," she says.
And she's not alone. Jarvis-Diebner has noticed "a lot of clients leaving California 
because of the craziness. They're out of here."
"I had four sellers move to Idaho in one week," says Del Santo.
But why does this exodus make a difference to the real estate market? Because if 
people weren't moving out of the suburbs, there would be no houses for realtors to sell. Cities that are mostly built out—which 
includes most of the suburban cities in this area—are forced by state law to focus on 
expanding affordable housing, not spacious
 single-family homes, so the inventory of those desirable, spacious single-family homes is not going up. This means that those ready to move not only can find something a lot cheaper the further inland they go, but they're also getting a lot more money for the house they already own.
"Real estate has been a spectacular generator of wealth in the Bay Area," says Carlisle. This is true especially in the suburbs, where that trend seems destined to continue. So the next time the gutters need to be cleaned or the lawn needs to be mowed or the chimney has to be repaired, there's an easy way to ease the pain: Just go online and compare the amount of the mortgage to the price it will bring on the open market.
And start up that mower with a smile.