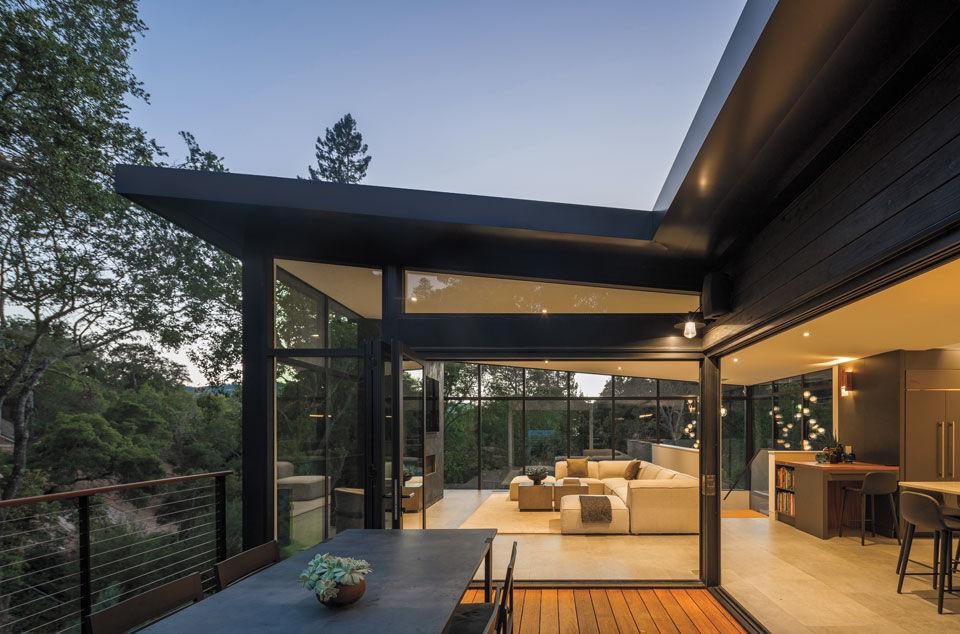 When the team at Oakland's Tierney Conner architecture and landscape firm was asked to remodel a portion of a home in the Orinda hills, the three principals quickly realized how much space they could gain for their clients—and how they could enhance it with gorgeous 180-degree views of the surrounding woods. Working with clients Nathan and Tina Rundel, the architects—Erin Conner, J. Conner, and Anne Tierney—designed a dramatic open living space on the house's upper story, which is now level with the original kitchen. With the expansive use of floor-to-ceiling windows and minimal distractions on the horizontal axis, the renovated space evokes a glass tree house, totally integrated into its natural setting. Once the architects added the living space to the top floor, it left a large usable space below, which they then converted into a second family room. This in turn provided access to a new lawn-level terrace and swimming pool.
With backgrounds not only in architecture but also in landscape and interior design, the architects at Tierney Conner succeeded in giving the home an organic flow between the indoor and outdoor spaces. They also created a comfortable space for the Rundels, an active family with two teenage sons and two dogs.
"We always try to find the right strategy for each of our clients," says Erin Conner, "and create spaces that reflect their sensibilities as well as the site itself." And, in this very special home, mission accomplished.