When designers and close friends Nancy Taylor and Hannah Franco decided to launch Époque Évolution, their versatile and on-trend clothing line, they had a nonnegotiable wish list. The clothes must perform like workout gear but look polished. The fabrics must be wrinkle-​proof, machine-washable, sustainably made, and feel good to wear. The pieces must be appropriate for all ages and seasons, and work together as a mix-and-match collection.
If that sounds like every active woman's ideal wardrobe, well, it is.
"We're like if Theory and Nike had a baby," says the Oakland-based Franco, 36, a longtime yoga teacher. "Nancy and I are both really engaged in physical activity—it's a huge part of our lives and design philosophy—but it's not always cool to walk down the street in your yoga pants. I wanted stylish clothes that have the freedom of movement of my fitness wear."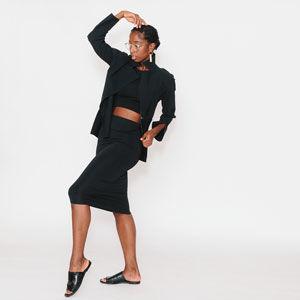 Taylor, 57, a passionate athlete who cycles an average of 30 miles a day, had similar thoughts. "Nobody had looked at the need for life-work-travel clothes," she says. "That's what I wanted for myself, so I figured other women did, too."
Taylor and Franco met a decade ago, when both were designers at the women's activewear brand Athleta. They remember having their aha moment during a trip to Morocco. "I was traveling with this big wheeler bag," Taylor recalls, "and Hannah showed up with this little backpack. I was so impressed." That got the pair thinking: Could they design a multi­purpose wardrobe that could fit into a backpack? After brainstorming ideas, research­ing materials, and locating eco-friendly factories, they realized that, yes, they could.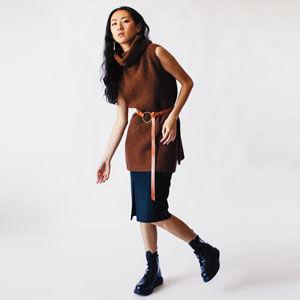 In 2018, they launched Époque Évolution with a small, well-cut collection, mostly made of Italian fabrics and all in a neutral color palette. The flattering and forgiving pieces—slim trousers, work-to-play dresses, cozy knitwear, and more—have been a hit with consumers.
This spring, Franco and Taylor are intro­ducing a mini collection called the One Series. "It's five basic pieces made out of Econyl, which is a fantastic regenerated nylon fiber," Taylor explains. "We've got leggings, a skirt, a crop top, a swim bottom, and a reversible dress. It's like the perfect traveling kit, with everything you'd need for a fun, active weekend."
And, of course, it all fits into a backpack—with room to spare. epoqueevolution.com.