Every year, for our December issue, Diablo asks readers to tell us about the East Bay's unsung heroes—individuals who are changing our community for the better by volunteering. This year's Threads of Hope honorees include a tenacious tutor who won't stop teaching, a nurse who provides free diapers for low-income moms, a mindfulness instructor assisting seriously ill patients, a businessman devoted to keeping at-risk families safe, and a former engineer dedicated to giving immigrants a shot at the American Dream.
The Judges
Diablo readers nominated dozens of outstanding local volunteers. Our panel of community leaders selected this year's Threads of Hope honorees.
Jeri Boomgaarden
Managing director of donor services and senior development officer, East Bay Community Foundation
Mark Flower
Senior vice president and regional managing director, Wells Fargo Private Bank
Gaby Ghorbani
Founder and CEO, Pledge to Humanity
Christine Wente
President, The Wente Foundation Board
Carole Wynstra
Board member, Walnut Creek Library Foundation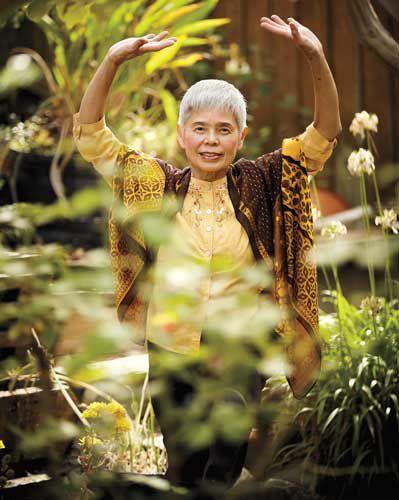 Cancer Support Community San Francisco Bay Area
Walnut Creek
By Megan Walsh
Chau Yoder sums up her life's work in six words: "I just share what I learn."
The 72-year-old has learned many trades over the decades. She spent 25 years as an engineer and a manager at Chevron before retiring in 1999 to pursue a spiritual education. Since then, the Walnut Creek mother of two has filled her time practicing and teaching meditation, yoga, tai chi, and other mindfulness techniques to everyone from schoolkids to corporate board members. For the past 29 years, she has volunteered countless hours to teach these wellness exercises to patients at the Walnut Creek–based Cancer Support Community San Francisco Bay Area.
"I feel my mission is to help me and others to live life with more joy and less suffering—to embrace life," Yoder says.
Yoder came to California from Vietnam to study at Fresno State, where she was the only woman in the engineering department when she first enrolled. Her childhood was ravaged by war, and not long after immigrating to the United States, two of her brothers were killed by a drunk driver.
Having endured so many life challenges, Yoder signed up for a personal-growth seminar in the mid-1980s. "I was so left-brain I could hardly take it in," she says.
But Yoder brought what she learned back to her colleagues at Chevron. The informal lessons evolved into a standing one-hour mindfulness session every week. Not long afterward, Yoder startedvolunteering at the Cancer Support Community.
"Chau led the first mindfulness class when we opened our doors as the Wellness Community in 1990, and she has led weekly classes since then—incorporating yoga, tai chi, and chi kung, along with mindfulness and meditation," says Jim Bouquin, executive director of the Cancer Support Community. "Chau's healing practice has made a profound difference in the lives of our most vulnerable community members. We estimate that she has served more than 2,000 people facing cancer since 1990."
Chris Holm began taking Yoder's integrated tai chi class after being diagnosed with ovar­ian cancer in 2011.
"When you have cancer, you're worried it was your fault, and worry about what's to come," Holm says. "That class was a real refuge from that worry. … It was such a physically, emotionally, and spiritually nurturing space." Yoder teaches her students to be aware of the body and listen to what it's saying. She uses the acronym P.B.S.: pause, breathe, smile.
Even as a septuagenarian, Yoder hasn't slowed down a bit; she boasts that she can still heave her 18-pound grandson up the stairs. As Holm puts it: "She's a living example of how mindfulness and movement can benefit a person."
How to help: "There are so many ways to help people with their well-being," Yoder says. "The Cancer Support Community has an extensive calendar of activities. Offer what you have to give, and it will make a difference."
For more information, visit cancersupport​community.net.
---
Safe Refuge for Children and Families
Concord
By Morgan Mitchell
While Gary Guarisco was growing up, his father worked three jobs: one during the day, one at night, and one on the weekends.
"What I say about that is: Don't feel sorry for me," Guarisco says. "We were OK. We didn't have a lot of money, but my dad worked hard and took care of us. We were not in the greatest part of town … but I didn't know anybody who lived in a car."
This is why the stories he heard at a recent event for Safe Refuge for Children and Families hit him so hard. "The way [the speakers] started their stories was all the same," he says. "They met mothers that were in crisis, and each of the mothers was living in her car with her kids."
Luckily for these mothers, Safe Refuge for Children and Families was able to help. The nonprofit seeks to support families in crisis by sheltering the children with host families while the parents (oftentimes a single mother) take the necessary steps to get back on their feet. The ultimate goal is to keep kids out of the foster care system and give parents the breathing room to come up with and execute a strategy to improve their situation.
Safe Refuge for Children and Families was launched in 2011. Originally, the organization only operated in Contra Costa and Alameda counties. But in the seven years since, it has expanded to cover 15 California counties, with more than 300 host families as part of its network.
A large reason for its success has been Guarisco, who joined the board in 2015 and became the board chair shortly afterward. Initially, he had been interested in getting involved with Safe Refuge for Children and Families as a host. But after a discussion with his wife, he realized their age and full-time jobs made that an implausible goal. So, he was immensely pleased when he was offered an opportunity to join the board.
The businessman—who owns and runs PTLA Real Estate Group, a Walnut Creek–based real estate investment firm—has guided Safe Refuge for Children and Families through tremendous growth during his tenure, including a 46 percent increase in the number of children hosted.
"Without [Gary], we couldn't do what we do," says Andraé Robinson, Safe Refuge for Children and Families' executive director. "He really uses his network to make sure that we are moving forward and helps me to carry out the business and vision. … He literally impacts hundreds of kids and families a year."
Still, Guarisco feels the drive to contribute more. "I sometimes feel like I'm not doing enough," he says. "It is big. The demands that are there, the needs that are there … it's overwhelming."
How to help: "We are always looking for families who can provide auxiliary services, such as carpooling and babysitting," Guarisco says. "There is always a need for people who have a heart to help families on a temporary basis."
Learn what you can do at safefamiliesnorcal.org.
---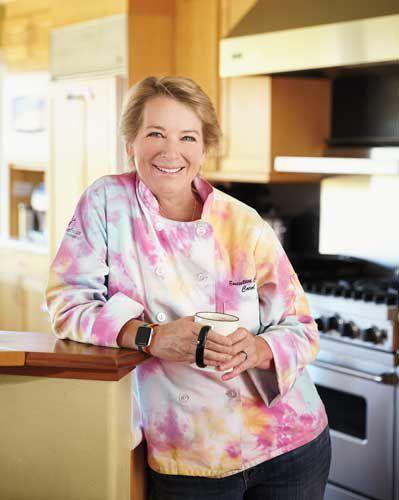 Contra Costa Interfaith Housing
Pleasant Hill
By Peter Crooks
When Carol Gilliland first heard about Contra Costa Interfaith Housing's need for afterschool tutors, she thought she could offer some help to the young students living in the nonprofit's housing complex.
"I thought, I have a degree in math. I can show up whenever I want and help—and feel good about myself," says the Alamo resident, laughing. "The first day I went, there was a young girl who took one look at me and said, 'No, I don't think so.' I had not earned her trust. I realized, This isn't about showing up so I can feel good."
Gilliland experienced another epiphany after meeting and tutoring a seventh grader who was performing at a second-grade math level. The encounter instilled in her even more compassion and made her want to come back week after week. It took a full year, but Gilliland eventually built a relationship with the student, helping her catch up in her math class.
Over the past decade, Gilliland has tutored countless young people at the community center in Pleasant Hill's Garden Park Apartments, a 27-unit complex that Contra Costa Interfaith Housing uses to support struggling, low-income families. (The organization also provides housing for families in about 100 apartments around Antioch, Concord, Richmond, and other East Bay cities.)
"[Carol] worked with me one-on-one," says another student, a junior in high school. "She has helped me so much with math and has given me so much confidence in school. When I am in the classroom, I hear her voice encouraging me in my head, and I am not afraid anymore."
In addition to her tutoring, Gilliland joined Contra Costa Interfaith Housing's board of directors and became chair of the board in July 2017.
"The need for housing is so great," she says of the East Bay's homeless crisis. "Housing comes first—if you're an adult and you're unemployed, how do you fill out a job application and enroll kids in school when you don't have an address?"
Gilliland also donates a portion of the top-line revenue from her catering company, A Loveable Feast, to benefit Contra Costa Interfaith Housing, Concord's STAND! For Families Free of Violence, and Futures Explored of Lafayette, an organization dedicated to helping adults with physical and mental disabilities. Gilliland aims to donate one event for charity for every paid gig she caters.
"There's an old saying: Give until it hurts," Gilliland says. "The thing is, it never hurts. It feels so good to give. I believe that we are called on to take care of each other."
How to help: "Homeless people often feel invisible," Gilliland says. "Look at them and smile and say hello. Let them know that they exist. They are people who have stories."
For more information, go to ccinterfaithhousing.org and loveablefeast.com.
---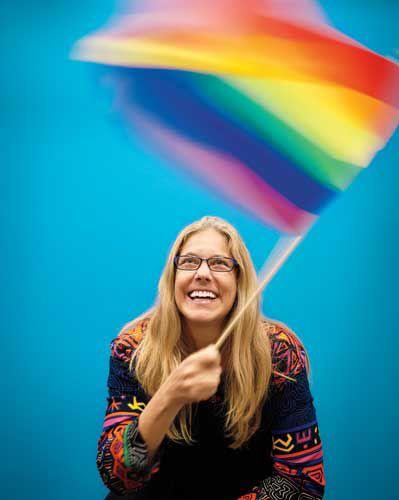 Oasis Legal Services
Oakland
By Meghan Walsh
On a recent Sunday afternoon, Anna Lijphart invited friends and community members to her home in Orinda to talk about Oasis Legal Services, which she cofounded to represent LGBTQ+ immigrants applying for asylum. As Lijphart spoke to the group about the nonprofit's mission, two of her clients had to fight back tears.
"It's hard to be gay in my country," says Jessica (last name withheld for privacy). In 2007, Jessica fled Guatemala, where she was fired from her job as a teacher due to her sexual orientation. After many years of living closeted in her home country and a decade as an undocumented immigrant in the United States, Jessica was recently granted asylum. "When I got my social security number, all the doors and opportunities opened up to me," she says. Jessica has since earned a high school diploma and gotten married.
"It's a binary change in someone's life that impacts everything," Lijphart says of the ability to obtain asylum in the U.S. But the 53-year-old mother of two admits that this work has changed everything for her too.
Lijphart began her career as a software engineer. After taking time off to raise her kids, she enrolled in Spanish classes and began volunteering as a translator at East Bay Sanctuary Covenant, a refugee-rights nonprofit in Berkeley.
"I just wanted to practice my Spanish," says Lijphart, who speaks six languages. "I wasn't thinking about wanting to make an impact."
Lijphart spent 10 years as a full-time volunteer and, in the process, became certified as a Department of Justice–accredited representative, which allows her to represent clients in asylum hearings. Over the years, Lijphart and her colleagues saw a dramatic uptick in the number of LGBTQ+ asylum seekers, which led to the creation of Oasis.
Since opening in May 2017, Oasis has helped hundreds of clients secure asylum. However, policy changes implemented by the current administration have made the process more complex, time-intensive, and tenuous. There are an estimated 10,000 undocumented LGBTQ+ immigrants in the Bay Area alone, the vast majority of whom are from Latin America.
Already, Oasis is outgrowing its downtown Oakland office and expanding its staff. Clients are charged on a sliding scale, but no one is turned away for lack of funds.
"Today, I no longer live with fear," a Brazilian client says through a translator. "I can work; I can support myself. I've practically been born again. I am eternally grateful to Oasis and Anna."
How to help: "We work a lot with pro bono attorneys who prepare and represent our clients at asylum interviews," says Lijphart. "Any attorney or previous attorney can do it. We provide the training, and the work offers very flexible hours and limited time commitment."
To learn more, go to oasislegal​services.org.
---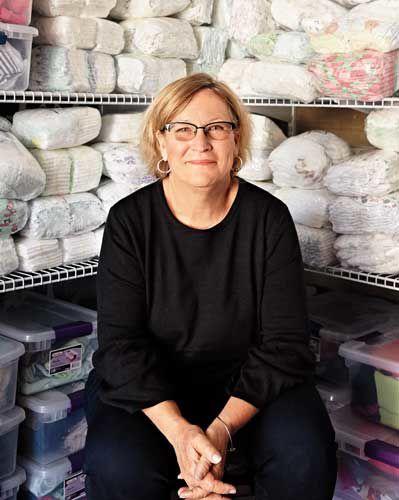 Sweet Beginnings Family Resource Center
Martinez
By Peter Crooks
Lisa Sweet's office in Martinez is tiny, and it's packed to the rafters with baby bottles, high chairs, and maternity clothes.
And diapers. Stacks and stacks of clean diapers, ready to be given to young, impoverished, or struggling mothers throughout the East Bay.
"Being able to provide diapers for a baby is a huge worry of mothers in low-income households," Sweet says. "It's also a cause of postpartum depression for single moms."
The "diaper bank" at Sweet Beginnings Family Resource Center is the first of its kind in the East Bay. Sweet created the nonprofit organization after spending more than 30 years as a registered nurse in local hospitals and a decade-plus as a liaison for adoptive and foster families. Since the inception of the program in 2013, Sweet has delivered scores of donated diapers and other baby resources to various health clinics and community centers.
In 2018, she distributed more than 5,000 diapers per month, on average. There is a waiting list for organizations hoping to receive Sweet Beginnings' donations, and Sweet hopes to increase the number of diapers given to families in the coming years, as she knows the demand will always be there.
"The cost of diapers is significant, especially for a single mom who is struggling to pay the rent, commute to work, and feed her family," Sweet says. "Diapers play a big role in a child's health and happiness during early development, which has a lasting impact on their entire life."
Sweet's efforts are a godsend to families who are struggling to get by in the Bay Area, with its notoriously high cost of living.
"My mother's doctors told her about Lisa when [my mom] was pregnant with my youngest sister," says a 13-year-old girl named Amy, translating for her Spanish-speaking parent. "Lisa helped her so much, giving her Pampers, clothes, and milk. My mother was so happy, because she did not have enough money to buy everything her baby needed. She was very touched by Lisa's generous heart."
Amy's mother, who cleans houses in the suburban East Bay, has made sure to donate items that her daughters no longer need back to Sweet Beginnings Family Resource Center to help other babies, moms, and families in the area.
"Whenever we have something—toys or clothes—that we don't need, we always make sure to give it to Lisa," Amy says. "We know she will give it to others who are struggling. Lisa is like a part of our family. We love her."
How to help: Sweet Beginnings Family Resource Center is always recruiting volunteers to help with collections, deliveries, and diaper drives. The organization often hosts fundraising events too. Sweet is also looking for a larger space to stock inventory. "I accept donations by appointment on Monday, Tuesday, and Wednesday mornings," she says.
For additional information, visit sbfrc.org.