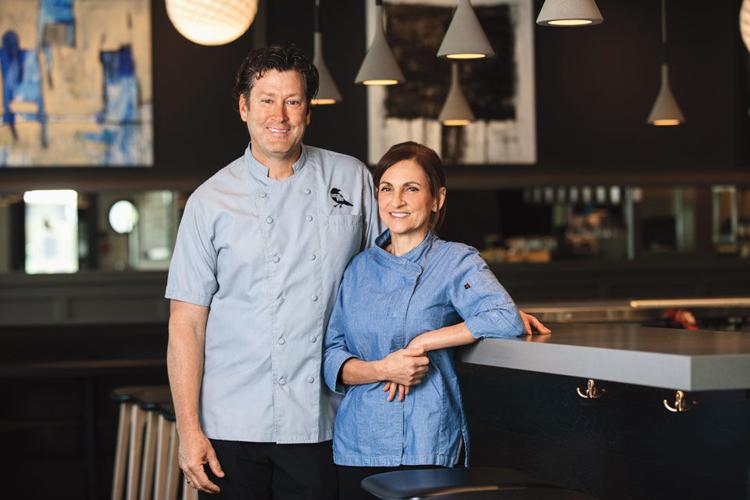 The restaurant industry is always famously 
unpredictable, and veteran husband-and-wife
restaurateurs Curtis and Esin deCarion have seen a lot in their more than two decades atop the East Bay dining scene. One thing they 
never anticipated was packing up to-go orders
in their flagship Danville restaurant's empty
dining room on the 22nd anniversary of what began as the cozy breakfast and lunch spot Café Esin (now Esin Restaurant and Bar), thanks to a global pandemic.
"We were just like, 'Wow, this was not what we saw coming,'" Curtis says with a laugh.
The couple had been riding high earlier this year after the launch of their third restaurant, located in Lafayette. Social Bird—a casual, bar-centric concept in the mold of their second restaurant, Revel—had been packing them in 
beyond the owners' wildest expectations when the shelter-in-place order slammed the doors shut. (The irony of Social Bird's name given the new social-distancing reality was not lost on 
the deCarions, who added a mask to the restaurant's crow logo online.)
Luckily, the couple is nothing if not nimble, taking pride in building up their mini restaurant empire on their own terms without any outside investors—a move that gave them the flexibility to act quickly in just this sort of situation. They immediately laid off 250 of their employees and shut down all three locations while coming
up with a plan. After a week, they reopened with menus modified for takeout and a skeleton crew of 19 remaining workers. Despite the shutdown, the two found themselves working
harder than ever, particularly Esin, whose 
renowned desserts were in high demand even as her baking staff was slashed to one. As business built back up, boosted by the loyal clientele the deCarions had cultivated over the years, they applied for and were granted a federal Paycheck Protection Program loan that enabled them 
to hire back 70 percent of their employees.
With takeout likely to remain a significant
part of their business for the foreseeable future, the couple is prepared to roll with the punches.
"You have to be flexible in this business, or you'll quickly go by the wayside," says Curtis. 
"Besides, I don't know what else we'd do. This is our life—these are our skills. We started out as a breakfast and lunch café, and we kept growing and adapting into what we've become. I hope we can eventually get back to normal, but who knows when that will be. So, we'll adapt."