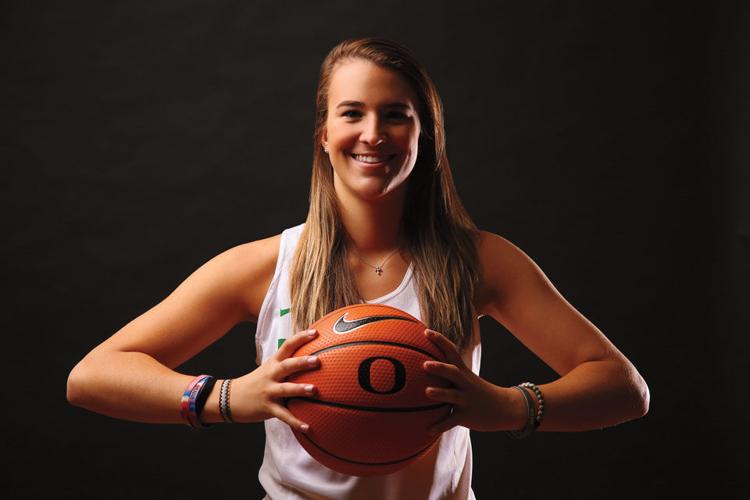 In the sports world, spring belonged to Sabrina.
Miramonte grad Sabrina Ionescu was
splashed on the front of sports pages all over the country, her highlights were a constant on ESPN, and she was the first overall pick in the WNBA draft by the New York Liberty—which means that soon she'll be showcasing her 
record-breaking brand of basketball under the
bright lights of the Big Apple.
But it wasn't long ago that Ionescu was a fourth grader trying out for the Cal Stars' club basketball team at Wagner Ranch Gym in 
Orinda. "I glanced over and saw this kid dribbling with her left hand," recalls her coach, 
Kelly Sopak, "and it caught my eye. She looked 
really smooth with the ball in her hands."
Ionescu made the team, and Sopak soon 
realized she was something special—so when she was in sixth grade, he moved her up 
to play with eighth graders.
"He created an opportunity for me," Ionescu says. "It was scary, though. I was super small and undeveloped."
But that was the turning point. Not only did Ionescu survive playing against the bigger girls, she also started a relationship with Sopak that has deepened over the years. The two worked one-on-one to develop her game, and as she grew, she began to fulfill the potential Sopak saw in her early on.
"The things people don't pay attention to are what we worked on," says Ionescu.
"We really focused on fundamentals," says Sopak. "It was like a 1970s workout video."
Those fundamentals were the basis of 
Ionescu's outstanding high school career at Miramonte, culminating in Player of the Year honors in 2016, and her continued stardom at the University of Oregon, where she was Player 
of the Year and set numerous NCAA records.
Though the statistics are dazzling, what sets Ionescu apart is her feel for the game and her competitive fire. As a point guard, she sees things before others do—as Sopak says, "She's playing chess, and everyone else is playing checkers." And as a competitor, she never, ever wants to lose. Even in practice, 
she is driven to dominate every drill, win 
every scrimmage, and always be the best.
All the pieces came together in April when the Liberty picked her first, and though Ionescu 
did the work, she gives credit where credit is due.
"Kelly's helped me more than anyone," she says. "He brought out the best of me."