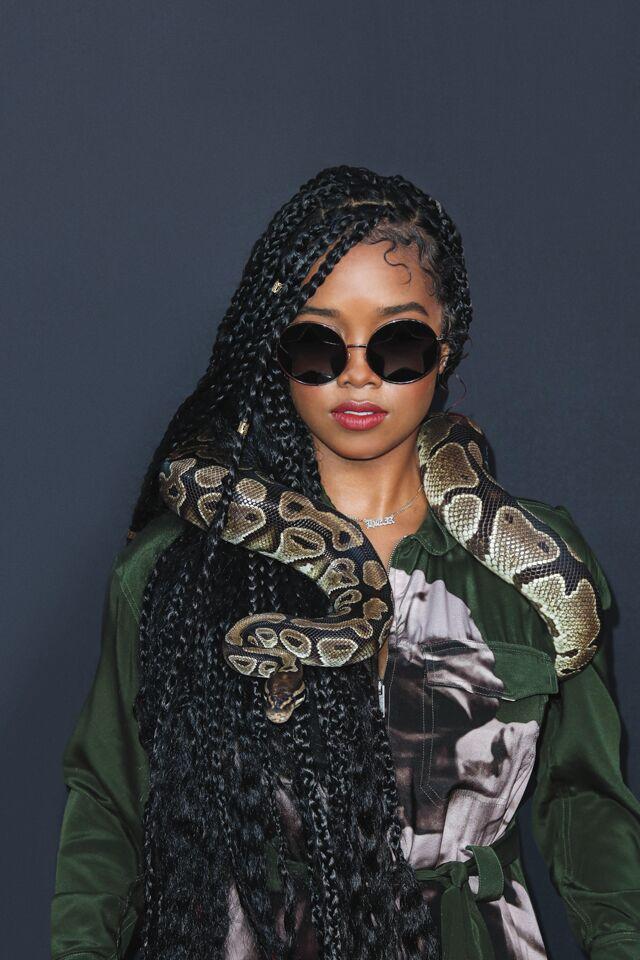 When she was 9 years old, Vallejo's
 Gabi Wilson performed on one of 
the world's most famous stages: the 
Apollo Theater in New York City.
The budding superstar, better 
known today as H.E.R. (an acronym for 
Having Everything Revealed) sang Aretha
 Franklin's "Freeway of Love" during a kiddie version of Showtime at the Apollo.
Now, some 14 years later, she's earned more pop culture honors, taking home multiple Grammys and an Oscar for Best Original Song for "Fight for You," from the film Judas and the Black Messiah. Additionally, she sang "America the Beautiful" at the Super Bowl in February
 and had a small role in Yes Day, a Netflix 
movie starring Jennifer Garner. (After winning the Oscar while wearing a glamorous, Prince-inspired hooded cape and halter jumpsuit, H.E.R. told reporters, "There's absolutely going to be an EGOT [Emmy, Grammy, Oscar, and Tony awards] in my future.")
H.E.R. was raised by her Filipino mother and Black father in Vallejo, with an upbringing
 she describes as distinctly Filipino, though she 
identifies strongly as a Black woman: "I represent young Black women, and I'm proud of that."
Music was ever-present in the home—her 
father rehearsed with his cover band in the 
living room; her mom introduced her to 
karaoke—and she wrote poetry and songs at an early age. Later, she honed her singing skills at various music festivals in Northern California, signed a major record label deal at 14, and made a splash on the national scene in 2016 with the R&B-flavored EP H.E.R., Vol. 1.
She's stayed true to her East Bay roots throughout her successes, even curating her own music event, the Lights On Festival, in 
Concord in 2019. "Concord Pavilion is the 
ultimate venue. It is the perfect place to bring people from all over the Bay. I have many memories of watching shows and dreaming 
I'd be able to perform there. The Bay Area is my
 home. ... It's a dream come true to host 
my festival there," she said at the time. That same year, she hosted music students at 
the Oaktown Jazz Workshops, an Oakland nonprofit cultural organization.
More recently, H.E.R. featured locations in
 Vallejo and Oakland, including 
the Grand Lake Theatre, in the 2019 music video for her hit
 song "Slide."
She is also hoping to inspire and help other young musicians
 with instruments and instruction through her Bring the Noise Foundation. As H.E.R. told
 WWD, "I just want to give back 
to the community that raised me now that I've gotten to a point 
where I can do that."
The Lights on Festival returns to Concord on September 18 and 19, with headlining acts including Erykah Badu and H.E.R. and Friends. For more information about the line-up, visit lightsonfest.com.