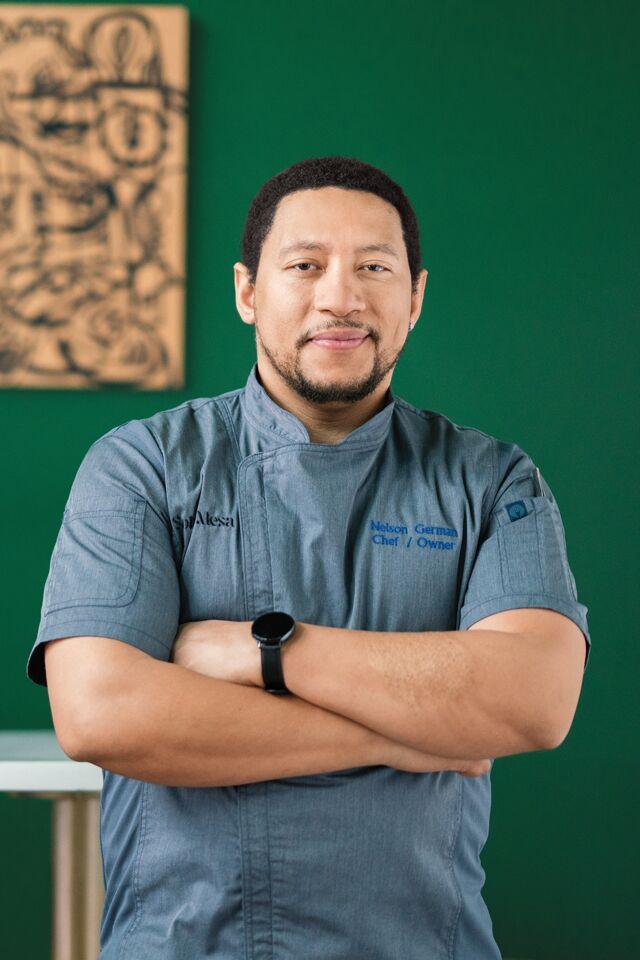 The origin story of how Nelson German became a chef is remarkably simple. Born and raised in New York City's Washington Heights, he made a late-night, post-party pact with friends to open a restaurant/nightclub together.
"I was the best cook out of the group," the 40-year-old remembers, "so I was like, 'OK, I'll go to culinary school, learn some things, and we can make this happen.' Turned out I was the only one who continued on with the goal."
German quickly became immersed in the Big Apple's restaurant scene, working 90-hour weeks as he made his way up the industry ladder. Unfortunately, his timing was off. After finally landing a dream gig at a high-profile kitchen in Soho, the Great Recession hit.
"I was moving up the ranks, but it wasn't a good time for chefs," he recalls. "It felt like I was failing, and I couldn't do anything about it."
As fate would have it, German's wife, May, an Oakland native, got a job offer to transfer back to the Bay Area. They made the leap, and German 
immersed himself in the local culinary scene 
before launching his first solo project, Alamar Kitchen and Bar, in Uptown Oakland seven years ago. Combining New York–style flair with a California-infused focus on flavors from his Dominican heritage, he was successful enough to launch a second, more personal project, the Afro-Caribbean-themed lounge Sobre Mesa last March. The opening was an unqualified success and the place was packed—for nine days until COVID-19 suddenly shut things down.
German could have been excused for feeling 
sorry for himself. Instead, it became a story of perseverance that led to a career renaissance, catapulting him onto the national stage. 
Tapping into their New York- and Oakland-bred "hustle and grind," German and his wife tried a little of everything to weather the pandemic—
meal and cocktail kits, to-go fare, and 
family meals. Alamar was thrown a lifeline when it was chosen as a partner in two nonprofit 
COVID relief efforts, the Lee Initiative and World 
Central Kitchen. Thanks in part to the Black 
Lives Matter movement, German also received 
additional support as a Black business owner.
Alamar's business eventually picked up to pre-pandemic levels; Sobre Mesa reopened earlier this year; and to top things off, German was picked to participate in the 18th season of Bravo TV's popular Top Chef cooking show.
After nearly two decades in the industry, German's moment, it seems, has finally arrived.
"All these things I've been doing, the people we've been able to help, everything that's happened—it's been amazing," he says. "It's the most special moment in my career, to be honest."