Jerome Villanueva, 32
Owner and Barber, IV
Lives: Vallejo
Works: Hercules, Vallejo
As a child growing up in San Francisco, Jerome Villanueva was fascinated by street art. "Something about the lines, symmetry, and shading has always grabbed my interest," he reminisces. But pursuing his passion for graffiti led to some run-ins with the law—which convinced Villanueva to shift his direction.
"I watched a lot of '90s gangster movies like Boyz n the Hood, Menace II Society, or Paid in Full," he says. "The moment I saw the fades and designs on their heads, I knew this would be my new outlet for art."
Villanueva has since opened two barber shops: IV Lounge in Vallejo and IV Salon and Barber in Hercules. The salons are known not only for their expert haircuts but also for their community engagement. He partners with nonprofits and donates his businesses' services to the homeless, underserved families, survivors of abuse, and more.
"[I am] thankful to [connect] my profession as a barber with my true passion," Villanueva says. "[You] find yourself in the act of serving others." —Morgan Mitchell
---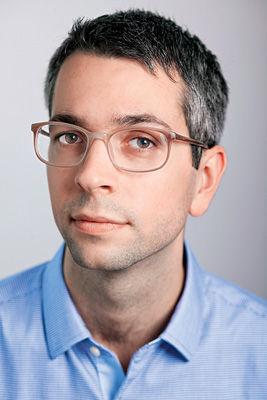 Anthony Marra, 33
Author, The Tsar of Love and Techno and A Constellation of Vital Phenomena
Lives/Works: Oakland
When you imagine the life of a writer, you most likely don't think of Tom Hanks' character in the 2000 movie Cast Away. But Anthony Marra—author of the New York Times best-selling novel A Constellation of Vital Phenomena and the collection of short stories The Tsar of Love and Techno—says the comparison is pretty apt.
"Writing is by definition a solitary pursuit; most of my time is spent alone in front of the keyboard," he says. "Sometimes, this makes me feel a little like Tom Hanks, talking to volleyballs and coconuts. Every book is a boat you build to take you far away … but for most of the writing process, you're marooned."
Marra's books are certainly reaching people. Most recently, he received the 2018 Simpson Family Literary Prize. Tsar was also a​ finalist for the National Book Critics Circle Award, and Constellation was long listed for the National Book Award and won the National Book Critics Circle's John Leonard Prize. —M.M.
---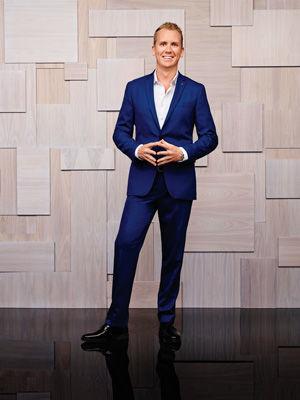 Andrew Greenwell, 35
Founder and CEO, Venture Sotheby's International Realty
Lives: Danville
Works: Pleasanton
"I was the kid at recess who wanted to be in real estate," says Andrew Greenwell, founder and CEO of Venture Sotheby's International Realty. He isn't kidding: "I used to skip school as a sophomore and go on broker tours while my friends went to the beach," he says.
By 19, Greenwell had founded his first brokerage. At 23, he was named one of Realtor Magazine's "Top 30 Realtors in America Under 30"—and was the youngest Realtor ever to be recognized (a record that has yet to be matched). Greenwell was also a cast member on Bravo's Million Dollar Listing: San Francisco.
In 2014, he founded his Pleasanton-based real estate firm. Business boomed, and the company recorded more than a half-billion dollars in sales in 2017. —M.M.
---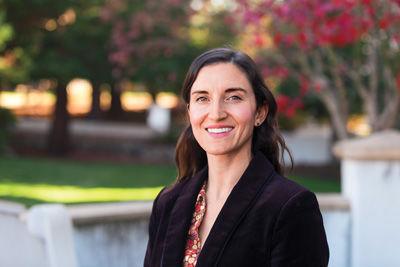 Stephanie Miller, 35
Associate Director, LEAP Program, Saint Mary's College of California
Lives: Lafayette 
Works: Moraga
Stephanie Miller started dancing at age three and is still going strong—though these days, she is more focused on the academic and administrative side of her craft. After dancing professionally, she returned to her alma mater, Saint Mary's College, in 2017 to help lead the nationally recognized Liberal Education for Arts Professionals (LEAP) B.A. program designed for current and former professional dancers. —Rachel Orvino
---
Aaron Wadler, 34
CEO, ShopPad
Lives/Works: Oakland
A self-described serial entrepreneur, Aaron Wadler created video sharing site Viddyou and Facebook app SuperPoke! before cofounding ShopPad in 2013. "ShopPad makes software products used by high-growth and enterprise merchants on the Shopify e-Commerce platform," says Wadler, who spent a year pitching the ShopPad concept to investors—getting rejected​ more than 50 times in the process. Now, the company's clients include General Electric and Tesla Automotive, among others. —R.O.
---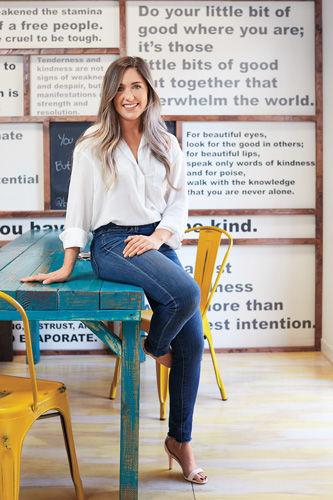 Ali O'Grady, 29
CEO, Thoughtful Human
Lives/Works: Oakland
When a friend or family member faces a life-changing moment, many people rush to buy them a card, only to find corny options. But what do you say to a coworker who recently lost a parent? Or a sister undergoing chemotherapy? Or a friend in rehab? That's where Thoughtful Human comes in.
"Thoughtful Human takes a radically different approach to the $8 billion card industry, challenging people to stop buying cheesy cards and to start using them to communicate in ways that are more meaningful," says CEO Ali O'Grady.
The UC Santa Cruz alum started her series-based card company last year after noticing people struggling to talk about difficult topics, such as grief, illness, depression, and addiction. So, she developed a product that provides consumers with creative, sincere ways to express themselves and start a dialogue about sensitive issues. O'Grady knows all too well how hard those conversations can be: She lost her father to cancer in 2011 and has several friends and relatives who've struggled with substance abuse.
"All Thoughtful Human content was inspired by my personal experiences and shaped by people from [different regions]," she says. "The stories they've shared have blown me away and continue to motivate me."
The e-commerce site also partners with nonprofits and prioritizes environmental responsibility. In fact, all Thoughtful Human cards are biodegradable and made from plantable paper embedded with wildflower seeds.
This combination of sustainability, transparency, and empathy seems to resonate with consumers. In the past 11 months, O'Grady has grown her customer base and started selling her cards at local retailers (such as Berkeley's Whole Foods and Walnut Creek's Bondadoso Coffee and Tea Collective) and on Target​.com. —Alejandra Saragoza
---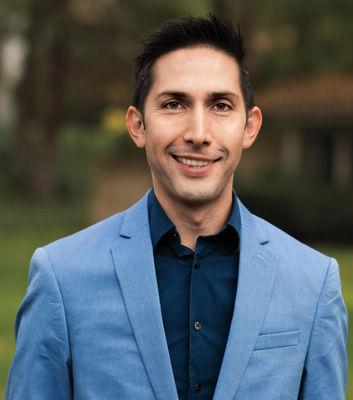 Cesar Zepeda, 37
Health and Benefit Analyst, Aon; Politician
Lives: Richmond
Works: San Francisco
He's a benefits broker by trade, but Cesar Zepeda's true passion is helping his community. Over the past few years, the Richmond resident—and current city council candidate—has cofounded a local LGBTQ organization, a Latino political group, a neighborhood council, and a homeowners' association, as well as initiated a successful campaign to bring music programs to underserved schools.
The community is impressed with his efforts. "[Zepeda is] the kind [of politician] you wish everyone was," says Richmond resident Ellen Seskin. "He sees a problem, works on finding a solution, gets people to compromise … and it happens." Despite all his achievements, Zepeda remains humble: "Giving back and helping others is what allows me to wake up and face the challenges of the world," he says. —Virginia Shannon
---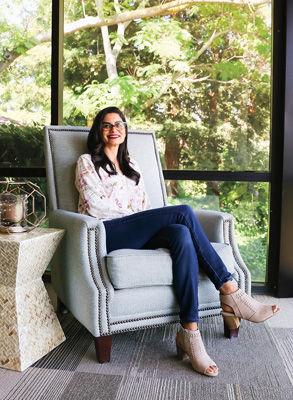 Surina Kamdar Mazzola, 36
President and CEO, Blackhawk Family Development Center
Lives: San Ramon
Works: Danville
Clinical psychologist Surina Kamdar Mazzola knows firsthand how young people can struggle in their adolescence. Growing up, she found it difficult to engage her immigrant parents in conversations about bullying or her attention issues.
"Though their love for and commitment to me were unwavering, they came from villages without electricity or running water and had a very different perception of what a problem is," she says of her parents, who immigrated from India in 1974.
Mazzola went on to found the Blackhawk Family Development Center, which provides counseling services, group classes, and equine therapy for children, teens, adults, and families. Along with her continued dedication to her clients, Mazzola hopes to help create proactive education and support programs that address teen suicide. She also aims to bring elements of her private practice to foster care–assistance efforts in Contra Costa County. —R.O.
---
Irene J. Lo, M.D., 37
Chief, Section of General Surgery, Contra Costa Regional Medical Center
Lives: Orinda
Works: Martinez
When Irene J. Lo was in middle school, her grandmother was diagnosed with Alzheimer's disease. "Watching how Alzheimer's impacted not only my grandmother but also my grandfather and the rest of my family was very difficult," she says. "I decided to pursue a car-eer in medicine because I wanted to help care for patients and their families—and improve their care."
The path to becoming a surgeon is not easy—not even for someone with Lo's dedication and drive. But she excelled in her studies, earning her B.S. at MIT and attending medical school at Columbia University. She completed her residency in New York and a fellowship at Alta Bates Summit Medical Center in Oakland and Berkeley, and now leads the general surgery division at Contra Costa Regional Medical Center, where she's one of the youngest surgeons—and the only female ever—to hold the position.
But Lo's first commitment is to her patients. "I am always striving to learn and improve," she says. "My patients deserve a surgeon who is willing to challenge herself." —M.M.
---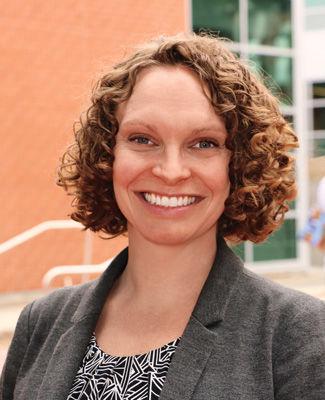 Kelly Schelin, 34
Dean of Workforce and Economic Development, Contra Costa College
Lives: Hercules
Works: San Pablo
Kelly Schelin began her career managing a prisoner-reentry nonprofit in rural North Carolina, where she saw how important a community college education was for those former inmates. "I am inspired by the open-access mission of community colleges and their potential as vehicles of change," she explains. In her current position at Contra Costa College, Schelin creates career education programs and procures grant funding for the school.
—Laurel Hennen Vigil
---
Shauna Rosenblum, 35
Winemaker, Rock Wall Wine Company
Lives: San Leandro
Works: Alameda
Shauna Rosenblum grew up on her family's vineyard in Healdsburg, but she was never keen on winemaking, opting to pursue an art degree instead. While blending glaze in class one day, however, Rosenblum had an epiphany: Winemaking is art. She became obsessed and now works with her father and Rock Wall Wine Company CEO, Kent, at the award-winning urban winery—crafting every bottle of wine with love and care. —Marissa Wu
---
Bringing Their A's Game
It's been a half-century since the Oakland A's arrived in the East Bay from Kansas City, and after a few challenging years, the franchise has been revitalized—both on the field and in the front office. Check out how three behind-the-scenes team members are playing pivotal roles in the company's latest achievements. —L.H.V.
---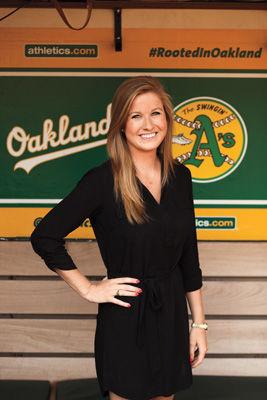 Haley Alvarez, 25
Scouting Coordinator
Lives: San Francisco
Works: Oakland
As a kid, Haley Alvarez's father took her to baseball games and taught her to keep score, sparking her passion for the sport. After a few college internships with various baseball clubs, four years as the student manager of the University of Virginia's team, and a brief stint as an operations assistant with the Cincinnati Reds, Alvarez returned to the Bay Area in 2017 to become the Athletics' scouting coordinator—and one of the only female scouts in professional baseball. Alvarez has faced bias, but she says it just pushes her to work harder. "I battle the stereotypes and traditional thoughts of baseball as a man's game on a daily basis," she explains. "I hope to continue sharing my story with other young women and to welcome more women into the baseball industry."
---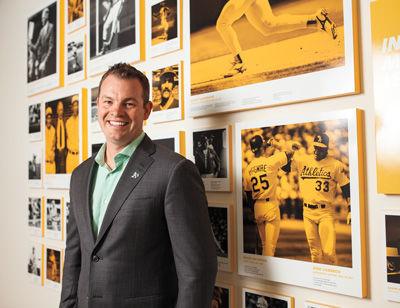 Chris Giles, 35
COO
Lives: Pleasanton
Works: Oakland
Oakland A's Chief Operating Officer Chris Giles has worked in sports for most of his still-burgeoning career. Following two-plus years with the Pac-12 Conference, he served as director of business operations and vice president of sales and strategy for the San Francisco 49ers, and was instrumental in opening Levi's Stadium in Santa Clara. In March 2017, he joined the A's as an advisor, but his talent for seamlessly managing many moving parts and overseeing multimillion-dollar deals soon launched him to the role of COO. Giles admits there's still a lot of work to do with the A's, but he's starting to make headway. His ultimate goals, he says, are to  "revitalize and grow our fan base, contribute to the communities in Oakland and the East Bay, grow our corporate support, and build a new ballpark in Oakland."
---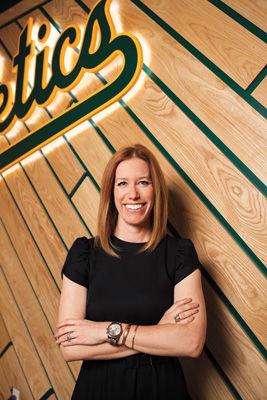 Catherine Aker, 39
VP of Communications and Community
Lives: Orinda
Works: Oakland
"I can't remember a time I didn't want to work in sports," Catherine Aker reflects. "I remember the boys in my eighth-grade class telling me girls can't work in sports, [which] motivated me to prove them wrong." She spent many years directing communications for the Arizona Diamondbacks and running her own public relations firm before joining the A's in 2016 to oversee communications, community engagement, and charitable outreach. A major part of her job involves working on the team's Rooted in Oakland campaign, which highlights local pride in the East Bay's professional baseball club. "My job is to help our fans connect to this team, this community, and baseball," Aker says. "Sports help unify [a] community, and I feel honored to play a small part in that."
---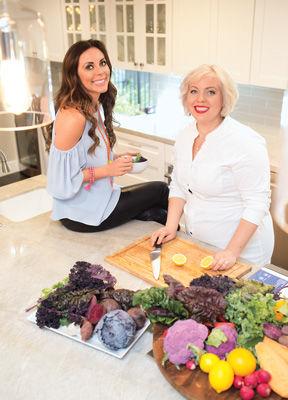 Lauren Mahlke and Megan Scott, 30 & 38
Founders, Planted Table
Lives: Concord, Danville
Works: Oakland
For most of her life, Megan Scott has worked at least three jobs at a time. Her equally hardworking sister, Lauren Mahlke, has known she wanted to be a chef since before kindergarten. It's no surprise, then, that when the two women put their minds together, they came up with a brilliant business idea that is already taking off: Planted Table, the Bay Area's first zero-waste meal-delivery service.
"Throughout my years of catering and cooking classes, my followers would always ask, 'Can you cook for me like this every night?' So, I decided I could," Mahlke says. "Now, we get weekly e-mails from customers saying how our food has made [such an impact] in their lives."
Mahlke crafts Planted Table's seasonally focused, ready-to-eat meals, while Scott handles the day-to-day business operations.
"My sister and I joined forces with the common goal of making a heart-healthy, organic, plant-based diet more accessible to everyone—all while creating less waste," Scott says. "For us, it's not just that people are buying food; they're investing in their health and in our environment." —M.M.
---
Gurmeet Sran, M.D., 39
Associate Enterprise Chief Medical Information Officer, Dignity Health
Lives: El Sobrante
Works: San Francisco
As the medical field goes paperless, valuable records can be gleaned electronically and used to help improve patient experiences. "Over the past eight to nine years, as information has become more digitized and readily accessible, I have been able to pursue my passion of melding technology with medicine," Gurmeet Sran says. The practicing physician and medical e-guru leads a team of statisticians, data scientists, and programmers to develop an enterprise-wide data platform that equips patients with the tools and information they need to make informed decisions about their health care. —M.W.
---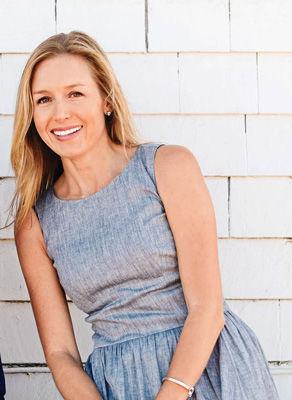 Megan Thomas, 38
Clinical Registered Dietitian, Kaiser Permanente
Lives: Danville
Works: Walnut Creek
Dietitian Megan Thomas understands the benefits of balanced nutrition and fitness. "So many diseases can be prevented or improved by a healthy diet and lifestyle choices," Thomas says. "I like being able to use my educational background to help people make healthy changes that can have a lasting impact on their lives and, in turn, on the lives of their families." When she's not working with patients at Kaiser, she coauthors the blog Mimosa Moms Nutrition, which provides experience-based advice and information centered on wholesome meal planning for picky kids. —M.W.​
---
Sarah Seiter, 34
Associate Curator of Natural Sciences, Oakland Museum of California (OMCA)
Lives/Works: Oakland
Visitors who love the science exhibitions at OMCA have Sarah Seiter to thank. The curator is responsible for selecting the activities, specimens, photos, and videos for each natural science experience at the museum. The 2016 exhibition Altered State: Marijuana in California was a particular point of pride for Seiter. "The award [the museum received] from the Association of Science Technology Centers was especially meaningful because we aren't a science center," she says. "It felt good to hear from our science colleagues that we're doing work that matters."
—M.W.
---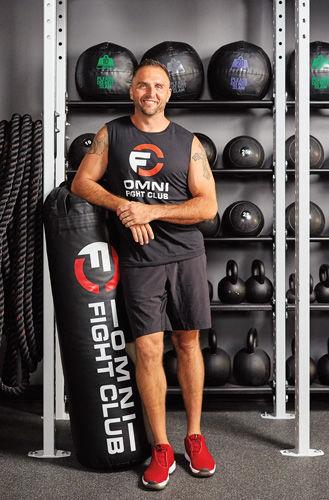 Dennis Dumas Jr., 38
Managing Partner, Omni Fight Club; CEO, DFIT Enterprises
Lives: Livermore
Works: Dublin, Livermore, Pleasanton, and Walnut Creek
For many people, a stint in prison is a negative transformative experience. For Dennis Dumas Jr., his three-year sentence for burglary and armed robbery catapulted him on an unlikely journey that included founding a growing fitness-club franchise.
After establishing his own electrical contracting business in Southern California, he began using cocaine and meth, eventually financing his drug habit through robberies and other crimes—which landed him behind bars.
When Dumas started his sentence in 2005, he was an out-of-shape addict trying to quit cold turkey. Exercising helped him adapt to prison life and develop theories that inform his fitness philosophy today. He created a blind cueing technique, for example, while leading group workouts in near isolation in Chino's California Institution for Men's administrative segregation unit—where prisoners were allowed out of their cells for only one hour a month.
"Movement of our bodies [reflects the] universal empathy we have for one another," Dumas says. "It eliminates a lot of barriers; socioeconomic status, age, race—all of it goes away when everyone starts to move and challenge their bodies."
After serving his time, Dumas started working in the fitness industry, eventually opening his own studio, Omni Fight Club, in Livermore in 2016. He has since expanded to Pleasanton and Walnut Creek, and also founded a management and consulting firm called DFIT Enterprises.
Community is at the heart of Omni Fight Club, which supports local schools and youth programs. "I've done a lot of bad stuff, and I owe it to my community to give back," Dumas says. "The social impact we have on our community is so important … That is our biggest win." —R.O.
---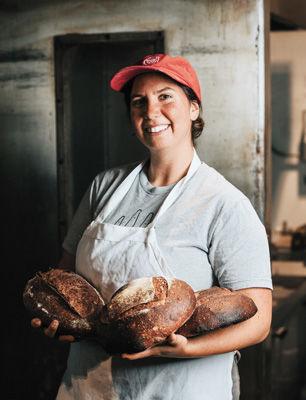 Iliana Imberman Berkowitz, 28
Owner and Head Baker, As Kneaded Bakery
Lives/Works: San Leandro
Running your own business requires the perfect mixture of crucial elements. Luckily for Iliana Imberman Berkowitz—founder, owner, and head baker at As Kneaded Bakery—she has plenty of experience mastering recipes. Her secret ingredients? "Dedication and perseverance are the only way to succeed," she says.
Baking has long been at the center of Berkowitz's life. Her childhood cooking experiments, college food blog, and post-grad restaurant work all led her to start As Kneaded in 2016. Today, her artisanal breads can be found throughout the community at local farmers markets, independent grocers, restaurants, and soon, a brick-and-mortar location in San Leandro.
"It warms my heart to think that my breads are an integral part of a family's weekly routine," says Berkowitz. "I'd like to become the household name for well-crafted, wholesome bread in the Bay Area." —M.M.
---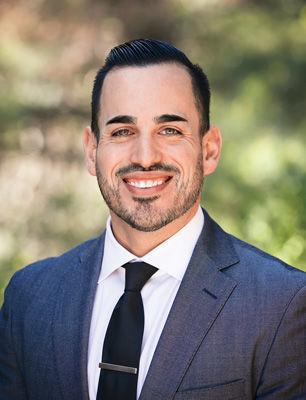 Pedro M. Garcia Jr., 35
Economic Development Specialist, City of Concord
Lives: Pittsburg
Works: Concord
Pedro M. Garcia Jr.'s job title is a bit of a head-scratcher for most people, so he has his explanation down pat: "I am a business liaison for the city, managing relationships with companies and working toward a more prosperous economy in Concord," he says.
Garcia's responsibilities include some obvious ones—such as supporting local businesses—as well as some more surprising ones. For instance, he recently coled the city's interdepartmental cannabis team, which develops Concord's cannabis-regulation policy.
Garcia has always wanted to work in local government, but achieving that dream wasn't easy, and he says his struggles fuel his drive today.
"I graduated college in 2010, during the toughest economic time of my life," he says. "City agencies were eliminating positions, not adding. For five years I went on interviews and applied across the state. When I was finally given the opportunity to show my worth, I was beyond motivated."
—M.M.
---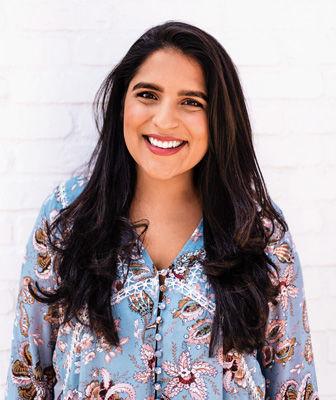 Bianca Vasvani, 28
Marketing consultant, BeeHyve Marketing; Founder, Make a Statement
Lives: Concord
Works: Bay Area
"I believe every woman has an 'I am' statement," says Bianca Vasvani. "And I am dedicated to helping women find their reasons for their passions and fuel them with the energy and education to impact their communities." Last year, the marketing professional founded Make a Statement—a free annual event designed to honor businesswomen in the Bay Area—with the goal of helping females celebrate their successes and empowering them to advocate for equal pay. —M.W.
---
Aaron Kyro, 34
CEO, Braille Skateboarding
Lives: Oakland
Works: San Leandro
Professional skater–turned–entrepreneur Aaron Kyro has made an unlikely career out of skateboarding. He founded his skate-instruction business, Braille Skateboarding, in 2007 and an associated YouTube channel that gives skaters a platform to distribute their videos; the channel now has 3 million–plus subscribers. Offering e-classes, private lessons, and camps in the Bay Area, Kyro wants to get skateboarding programs into local schools. —R.O.
---
Down to a Science
While the Lawrence Livermore National Laboratory (LLNL) is known for its nuclear programs, its various branches of research also encompass biosecurity, defense, energy, intelligence, and counterterrorism, among other fields. Here are five brilliant minds working on projects including nuclear weapons, communications technologies, lasers, and climate-change solutions. —M.W.
---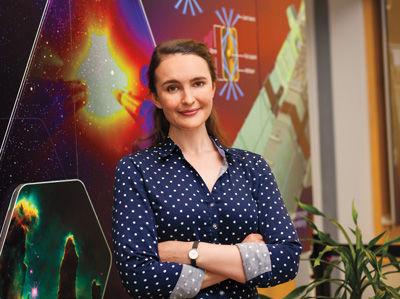 Louisa Pickworth, 33
Group Leader
Lives: Pleasanton
Works: Livermore
"I think doing science requires being comfortable with being uncomfortable," says Louisa Pickworth. "Allowing yourself to be frustrated—but channeling it into the problem in a positive way." Pickworth—an experimental physicist and X-ray imaging specialist—works on the world's largest and most energetic laser in the National Ignition Facility (NIF). In her pursuit of clean and limitless energy, Pickworth collaborates with scientists trying to bring star power to the laboratory, with the ultimate goal of achieving thermonuclear fusion.
---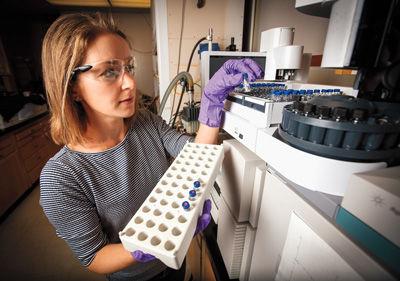 Sarah Baker, 39
Staff Scientist and Deputy Group Leader
Lives: Dublin
Works: Livermore
A scientist in the Advanced Materials Synthesis and Integration department, Sarah Baker develops new materials and technologies to fight climate change. One potential solution Baker is working on involves 3-D printing microcapsules (about the size of fish eggs) to capture greenhouse gases. She also led a project that showed it was possible to 3-D print enzymes that could convert methane to methanol. Ultimately, her goal is to make these 3-D processes efficient and economical enough to be implemented worldwide.
---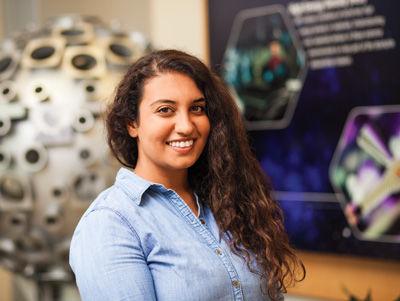 Leily Kiani, 31
Postdoctoral Researcher
Lives: Oakland
Works: Livermore
As a member of the Fiber Technologies Group at the lab's NIF and Photo Sciences directorate, Leily Kiani helps design and build optical fibers that carry information via electromagnetic waves. Specifically, Kiani and her team are creating a new type of optical-fiber amplifier that would increase the electromagnetic signals often used in long-distance forms of communications such as telephone, Internet, and cable. With this new technology, an existing network's capacity could double—while costing 90 percent less to operate.
---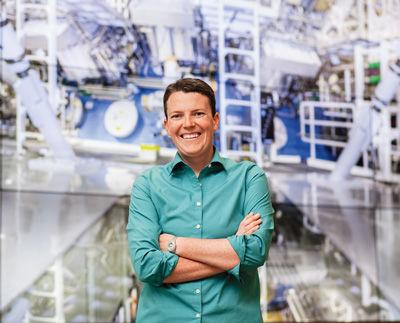 Alicia Williams, 35
Lead Design Engineer
Lives/Works: Livermore
Alicia Williams and her team are involved in the W80-4 weapons modernization program, which aids in nuclear deterrence. Williams guides design and certification efforts, ensuring weapons systems are reliable without requiring nuclear testing. She's won awards from the LLNL weapons program for both her technical work and for helping onboard new engineers—part of her commitment to raise up the next generation of technical staff. But Williams doesn't rest on her laurels, insisting, "I always look for areas in my work that I can improve and try to set the bar a little higher."
---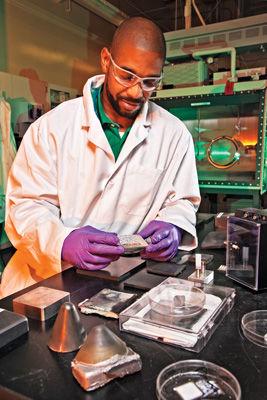 Marcus A. Worsley, 39
Research Scientist
Lives: Hayward
Works: Livermore
Since the sixth grade, Marcus A. Worsley knew he wanted to be a chemical engineer. Now, after earning three degrees in chemical engineering, he explores the ways in which any material can be manipulated—such as extending a battery's life or making armor stronger. That job involves either synthesizing a completely new material or manipulating an existing material to give it new or different properties.
"People are constantly improving [materials] and pushing research forward, and staying on top of that is a challenge," Worsley says excitedly. "I am always curious to see what I will discover today or what new thing I am going to learn."
---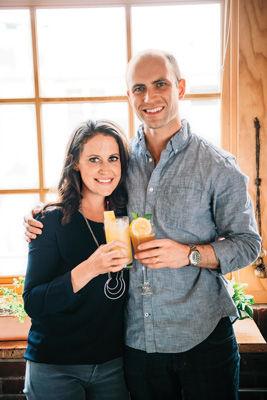 Samantha and Joe Spector, 37 & 38
Founders, SaloonBox; Senior VP of Partnerships and Operations, hims
Lives: Orinda
Works: San Francisco
Craft cocktails and men's health might seem like an unlikely combo, but one Orinda couple found entrepreneurial inspiration in both arenas. Joe and Samantha Spector founded SaloonBox in 2015, offering monthly curated cocktail kits shipped directly to subscribers. The kits contain original seasonal recipes, spirits, and nonperishable ingredients—often sourced from Bay Area purveyors—that help users mix delectable libations for two.
"Our goal is to give people the experience of creating high-quality cocktails without the inconvenience of searching for recipes and ingredients," Samantha says. Revenue has doubled each year since the business' inception, and the pair hopes to expand its distribution and partnerships moving forward.
Now, Samantha runs SaloonBox solo. In 2017, Joe became a founding member of the team behind hims—a men's health and wellness product subscription service that aims "to get men to take a more active role in their health and wellness," Joe says, "and to take the stigma out of common issues [think hair loss and ED] that affect huge percentages of men." —R.O.
---
Robert Dekkers, 34
Artistic Director and Choreographer, Post:Ballet and Berkeley Ballet Theater
Lives: San Francisco
Works: Berkeley, San Francisco, Walnut Creek
While it often takes people years or even decades to find their passions, Robert Dekkers knew from the age of five that he was going to be a dancer. He began choreographing when he was 17 and dancing professionally soon after. At 25, Dekkers founded Post:Ballet so he could experiment outside the parameters imposed by many dance companies. "This has become my standard for taking on a new project," he explains. "If it gives me the chance to work with artists that inspire me; pushes me to take risks; and resonates with me, my collaborators, and my community, then the project will be a success." Dekkers is also the resident choreographer for Diablo Ballet in Walnut Creek. —L.H.V.
---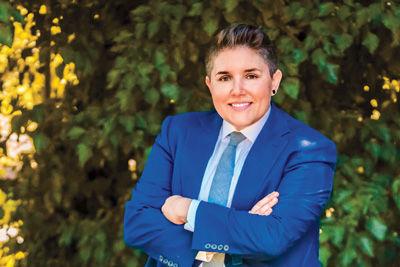 Summer C. Selleck, 34
Principal, S.C. Selleck Law
Lives: Concord
Works: Walnut Creek
Named a "Rising Star" in 2017 and 2018 by the lawyer-rating service Super Lawyers, attorney Summer C. Selleck specializes in estate planning and probate law, specifically for the LGBTQ community and other marginalized groups in the Bay Area. "I'm driven by the hope that equality is obtainable for all," she says. "When I see something that isn't right or fair, I want to right the wrong and help make the world a place where inequality is the exception and not the norm." —L.H.V.
---
Victor Lai, 37
Managing Partner, Bellwether Capital Management (BCM)
Lives: Danville
Works: San Ramon
Victor Lai's inspiration to start his own business began with his dad. His immigrant father aspired to be an entrepreneur when he first arrived in the United States but ended up working odd jobs to provide for his family. "Though I believe his choice was noble, I also know sacrificing his own ambitions was a big regret," Lai says. "That lit my entrepreneurial spirit early on in life." Lai—whose childhood aspirations included becoming a vampire or a ninja—now runs BCM, a small business that helps clients achieve their financial goals. —L.H.V.
---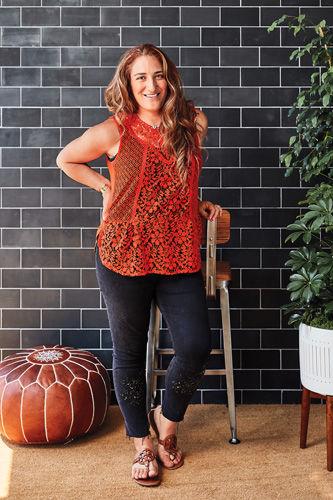 Irina Kofman, 32
COO, Google AI
Lives: Danville
Works: Mountain View
In 2013, Google's Machine Intelligence group (now known as Google AI, or artificial intelligence) was hardly a guaranteed success. Irina Kofman—who then worked as part of Google's core Search team—was completing her master's degree and had a three-year-old at home. She knew joining this fledgling department would be a risk.
"At that point, very few companies had an effort in AI; it was kind of an unknown," Kofman says. "It was even hard to convince people internally at the company [to support the AI project]. I went back and forth on taking the risk or not."
She still recalls the wise words of a coworker who ultimately helped her make the decision: "When your job gets easy, do something hard."
In that moment, Kofman remembers saying to herself: "OK, I'm not sure this will work, but I know it will be hard. And I don't want to miss out on the chance to work on a technology that could change the future lives of my kids and family."
Taking that leap of faith to improve the lives of her loved ones felt particularly significant to Kofman. She and her family escaped religious persecution in Ukraine and fled to America as refugees when she was five years old—an experience that continues to drive her. "There's this immigrant mentality that, to succeed, you have to work very, very hard," she says. "I saw the work ethic my parents had to bring to enable my sister and me to have these opportunities. Every single choice I make, that's in the back of my head."
Five years after signing on to the venture, Kofman's decision has paid off. Today, she oversees day-to-day operations for all things AI at Google and has built an industry-leading training program for developing talent in the field. "[We are] working to … bring the benefits of AI to everyone," she says. —M.M.
---
Marc Pulupa, 37
Assistant Research Physicist, UC Berkeley Space Sciences Laboratory
Lives: Richmond
Works: Berkeley
A scientist studying the physics of space, Marc Pulupa is a rising star thanks to an ultrasensitive instrument he helped design and build for NASA's groundbreaking Parker Solar Probe (PSP) mission.
In 2012, Pulupa took on a lead role in the development of the Radio Frequency Spectrometer (RFS), a receiver capable of extracting radio-emission data from the sun. In August, the RFS (as part of the FIELDS instrument suite) launched into space aboard the PSP, which will fly closer to the sun than any spacecraft has before, eventually entering the star's atmosphere. There, Pulupa's receiver will measure solar plasmas (or gases).
According to NASA, the seven-year PSP mission will "make critical contributions to our ability to forecast changes in Earth's space environment that affect life and technology on Earth."
"It's hard to predict what [data] we'll see … in a region of space that has never been explored," says Pulupa. "[But,] I am committed to making this mission a success and helping to make fascinating new [solar] discoveries." —V.S.
---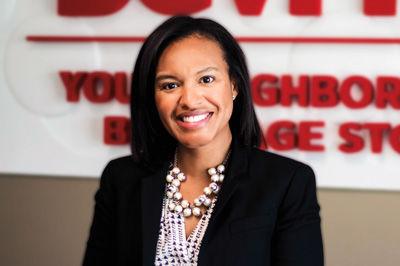 Mandy Fields, 36
CFO, BevMo!
Lives: Alamo
Works: Concord
When asked what she hopes to accomplish before age 40, Mandy Fields, chief financial officer of the specialty-beverage corporation BevMo!, has to think. "I wanted to be a CFO by the time I turned 40, and I was able to make that happen at 35 years old," she says. "I actually had people tell me it wouldn't happen before 60. Can you imagine? You can't let your reality be limited by someone else's limited view of the world."
Fields definitely keeps her eyes wide open. At BevMo!, she oversees all finance-related decisions, including accounting, pricing, and inventory management. Her professional success has led the San Francisco Business Times to name Fields on its 2017 list of the Most Influential Women in Bay Area Business and Progressive Grocer to hail her among the Top Women in Grocery in 2016.
"There is always room for improvement," Fields says of her accolades and success. "The drive to always be better is what keeps me going." —M.M.
---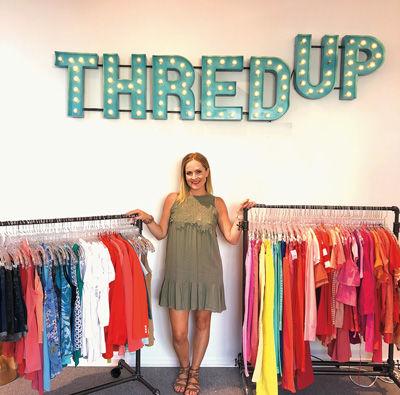 Heather Craig, 38
Head of Retail, ThredUp
Lives: Danville
Works: San Francisco
As head of retail for ThredUp—one of the fastest-growing online fashion-resale companies today—Heather Craig is responsible for translating the successful e-business into brick-and-mortar stores like the one in downtown Walnut Creek.
"I love fashion, creativity, and business, and retail is the one place where that can all come together," Craig says. "I'm constantly looking for solutions and ideas around innovating retail. The constantly changing industry and customer [expectations mean I] always need to be a step ahead."
Craig has received much local and national acclaim for her work with ThredUp—and for her volunteer efforts: She's active in the Junior League of Oakland East Bay and participates in other nonprofits, such as Wardrobe for Opportunity, through ThredUp's fundraising efforts. —M.M.
---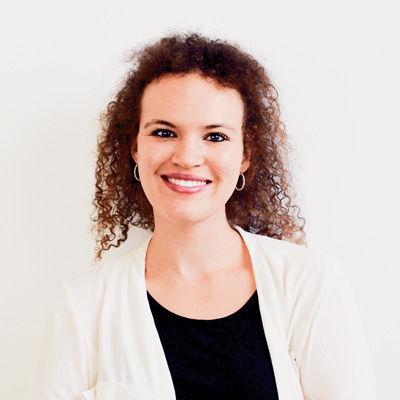 Nora Toure, 30
Founder and President, Women in 3D Printing; VP of Strategy, Ivaldi Group
Lives: Berkeley
Works: Berkeley and San Leandro
After joining the French 3-D printing company Sculpteo, Nora Toure immigrated to the U.S. in 2013 to open Sculpteo's first international office in San Francisco. The next year, she founded Women in 3D Printing, an organization dedicated to supporting and empowering women working in additive manufacturing. Toure also serves as vice president at the parts-on-demand company Ivaldi Group and as an advisor for 3DHeals and 3D Africa. —L.H.V.
---
Samantha Caygill, 38
Regional Public Affairs Manager, League of California Cities, East Bay Division
Lives: Walnut Creek
Works: Bay Area
Representing the East Bay Division of the League of California Cities, Samantha Caygill works with the governments of 33 municipalities in Alameda and Contra Costa counties. She brings together mayors, city managers, and councilmembers to solve issues affecting their communities through legislation, and creates educational and networking opportunities for them. —L.H.V.