Built around a picturesque plaza, Healdsburg isn't very large. But it's bursting with acclaimed restaurants, boutiques, galleries, charming hotels, and a tea spa, making it one of the hottest destinations in Sonoma County.
Healdsburg was also, thankfully, spared by the North Bay fires that devastated parts of Wine Country. As flames raged to the south and north, Healdsburg became a haven for nearby residents fleeing their homes, and for first responders in need of food and sleep. The town stepped up to offer meals, beds, and comfort. Now that Wine Country is on the mend, the wineries, restaurants, and hotels of the region are eager to welcome back visitors.
Here's how to make the most of a weekend on the historic square.
[ Friday ]
Check In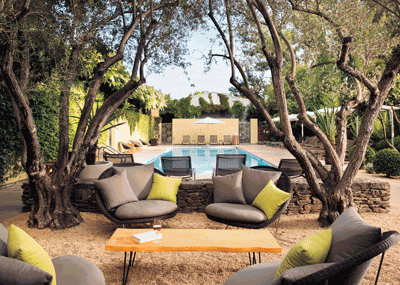 Renovated last year, the ultramodern Hotel Healdsburg gives guests a peaceful base from which to explore the town and plan excursions to some of the world's finest vineyards. The hotel mixes various metals, reclaimed wood, and sleek furniture to create a chic vibe. Get a drink at the bar, relax by the garden pool and hot tub, or grab a bite next door at Charlie Palmer's renowned restaurant Dry Creek Kitchen. Its LEED Gold–certified sister property, H2hotel, was built with environmental sustainability in mind; nice touches include a living roof, bamboo floors, and Heath Ceramics bath tiles. The "receptobar" in the lobby makes quick work of checking in and ordering a coffee. Or you could opt to sit down for a plate of house-made pasta and a smoked old-fashioned at Spoonbar. hotelhealdsburg.com, drycreekkitchen.com, h2hotel.com, spoonbar.com.
Chill Out
Relax at The Spa Hotel Healdsburg, a retreat specializing in farm-to-spa treatments that feature products crafted by Sonoma County farms. The Meyer lemon–sage massage is heavenly, incorporating fragrant essential oils in a whipped soufflé cream to relieve tension and rejuvenate the senses. hotelhealdsburg.com/spa.
Inspired Dining
Brothers Dustin Valette and Aaron Garzini had a lifelong dream of opening their own restaurant in Healdsburg, and after 20 years of planning, they realized their vision when Valette debuted in March 2015. Befitting their passion for local history, the building was once owned by their great-grandfather. Chef Valette is nothing short of an artist: The plate is the canvas, and local produce and proteins are the paint. He crafts seasonally inspired items like day boat scallops en croûte and Hawaiian ahi poke served with a Strong Arm Farm kombu and wakame salad. Valette also smokes and cures all his own meats, so the charcuterie is a must.
Pair your entrée with a glass of local wine or a signature cocktail, such as the Doc Holiday, which includes Rittenhouse rye, house-made amaro, epazote, and valerian bitters. Save room for dessert—the toasted brioche with jam and salted brown butter ice cream is a delicious riff on French toast. valettehealdsburg.com.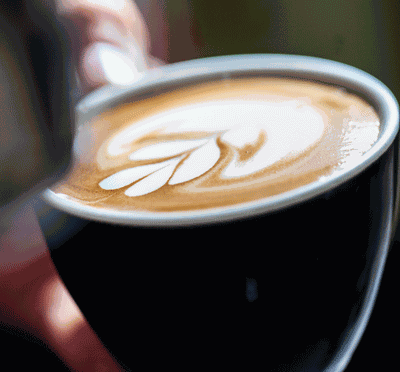 [ Saturday ]
Rise and Shine
Start the day off with a cup of java from Flying Goat Coffee. Housed in the historic Masonic Building just off the plaza, Flying Goat has been serving gourmet coffee for more than 20 years. The homey-yet-modern café sources beans from Costa Rica, Ethiopia, and Kenya for its espressos and lattes. flyinggoatcoffee.com.
With coffee in hand, stroll over to Costeaux French Bakery, known for its artisanal breads and desserts. For a decadent dish, order the pain perdu (French toast) made with cinnamon-walnut bread and doused in Vermont maple syrup. For something savory, get the deep-dish Costeaux quiche, featuring Black Forest ham, bacon, spinach, mushrooms, and Jarlsberg and cheddar cheeses. costeaux.com.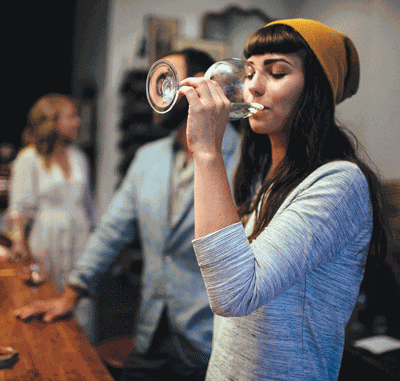 Something to Sip
With 40 tasting rooms around the plaza, there's no shortage of local sips. Banshee Wines features leather furniture, vinyl on the record player, and a communal table that welcomes first-time tasters and wine aficionados alike. Started by three San Francisco friends, Banshee is known for its Pinot Noir, so settle in and savor a flight of wines in a laid-back atmosphere. bansheewines.com.
Afterward, go to Stonestreet Estate Vineyards' tasting room for wines from the family-owned winery. Stonestreet's industrial vibe and zinc-topped bar beckon, while a natural wall display by artist Paulo Ferreira adds charm. Chat with a wine specialist as you enjoy estate and single-vineyard wines. stonestreetwines.com.
While Sonoma and Napa County wines are the draw for most out-of-towners, locals sometimes seek the variety of other terroirs. Enter Bergamot Alley, the one tasting room where you'll only find labels from outside the Golden State. Enjoy curated European pours with game nights, live music, and a half-dozen types of grilled cheese sandwiches—and lots of locals. bergamotalley.com.
If you need a break from wine, check out Sonoma Cider, a locally owned and operated cider company run by a father-son team. Founder David Cordtz was an early pioneer of the craft cider movement, and he and his son, Robert, have made a collection of creative ciders such as The Jax—an apple-cinnamon cider inspired by a breakfast cereal—and The Anvil, a bourbon-infused cider. Taste these concoctions and other seasonal offerings, and play a round of Ping-Pong or shuffleboard in the new tasting room. sonomacider.com.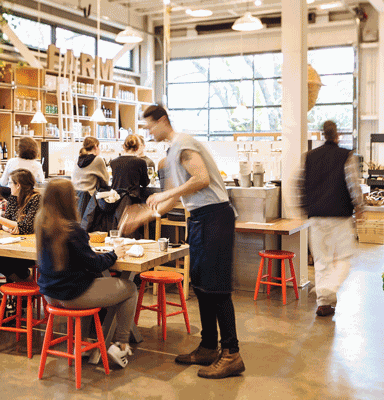 Shop and Snack
Shed offers everything from handcrafted housewares like $12 honey sticks to responsibly farmed produce. One highlight is Shed Café, which draws crowds for cuisine by award-winning chef Perry Hoffman. Try seasonal light bites like the pickled quince with chestnuts, rosemary, and chicory; and the lamb shoulder with pipicha, mole, charred radishes, and sunflower sprouts. Savor your snack on the street-facing patio, and then meander through the shop, browsing for stoneware, steel crepe pans, and gardening trowels. healdsburgshed.com.
Get Artsy
Healdsburg has the most art galleries per capita of any city in Northern California. The Paul Mahder Gallery displays works by international and regional artists, including Cynthia Jarvis and Chris Beards. Don't miss San Francisco artist Migdalia Valdes' innovative black-and-white photographs of everyday life. paulmahdergallery.com.
Chow Down
Slow-cooked Southern barbecue meets West Coast grilling at Kinsmoke, a down-home eatery created by Brad Barmore and J.C. Adams, who also own
Kin in Windsor. Try the St. Louis–style pork ribs, or go for The Chopper—a hefty sandwich stuffed with pork shoulder and brisket, dressed with Kin BBQ sauce, and served on a roll from Costeaux French Bakery.
kinsmoke.com
.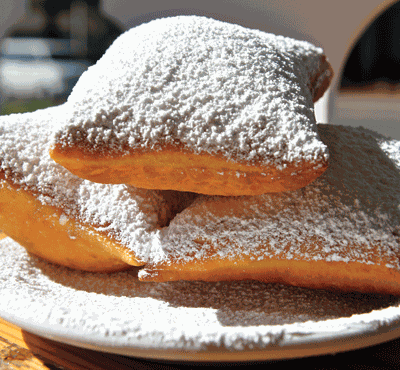 [ Sunday ]
Beignets and Po'Boys
Chef Rob Lippincott serves up New Orleans/Creole–inspired fare at The Parish Cafe, where the menu is as homey as the Victorian house-turned-restaurant. Treat yourself to beignets dusted in powdered sugar and served piping hot. Or be adventurous, and opt for the breakfast po'boy, featuring Black Forest ham, eggs, cheese, spinach, and tomatoes. theparishcafe.com.
Hit the Trail
If you're staying at Hotel Healdsburg or H2hotel, borrow a complimentary bike from the front desk, and head out for a spin on Foss Creek Pathway. This one-mile trail parallels the former Northwestern Pacific Railroad tracks and is lined with public art. To rent bikes or take a bike tour, visit Spoke Folk Cyclery located a couple blocks from the square. ci.healdsburg.ca.us, spokefolk.com.
For Meat Lovers
If you are in search of picnic fare, stop by Journeyman Meat Co. for thin slices of salumi (taste the Sicilian-style Fattoria) and bites of flavorful sausage (try the spicy Terrona). The Seghesio family, Sonoma County residents since 1886, transitioned from winemaking to butchering with this family business that sources nearly all of its meat from small, family-run farms. Owner Pete Seghesio studied under Italian masters, bringing the craft home to his countertop, where you can buy bacon, pork chops, and steaks, as well as family wines. journeymanmeat.com.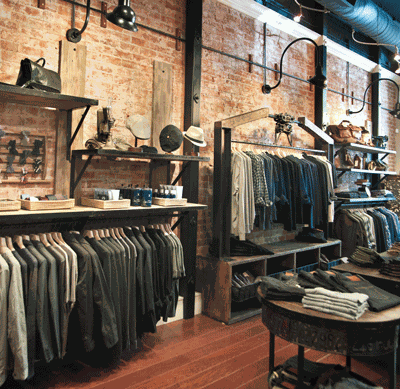 His-and-Hers Shopping
Ereloom features a well-curated selection of styles for him tucked into a comfortable setting with brick walls and wood floors. From John Varvatos knits to leather bags by Aunts and Uncles, Ereloom's handcrafted accessories and stylish threads will keep his closet up to date. ereloom.com.
For the trendsetting woman, Punch offers strappy Dolce Vita heels, playful maxis and rompers, and handmade silver-and-
turquoise necklaces and rings. shoppunchclothing.com.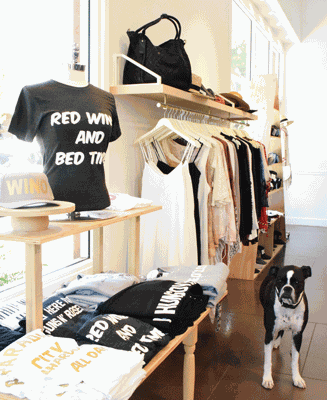 Teatime
Refresh at The Taste of Tea, a tea bar, restaurant, and spa. The bar doesn't serve alcohol, but rather tea infusions and specialty drinks, such as the Moonstone Marteani—a concoction crafted with Moonlight white tea, fresh mint, and Sonoma lavender syrup served in a vanilla sugar–rimmed martini glass. If you'd like to experience the healing properties of tea, book a tea facial or a foot soak in the tea spa. thetasteoftea.com.
A Sweet Treat 
Before you head home, indulge yourself at Noble Folk Ice Cream and Pie Bar, a tasty haven offering inventive ice-cream flavors—like cornflake crown maple and Japanese purple yam—and to-die-for pies. Browse the whimsical handmade wares on the shelves, and take home a tub of your favorite flavor. thenoblefolk.com
Sumptuous SingleThread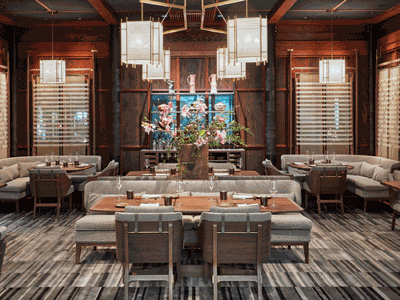 Kyle and Katina Connaughton made international waves when they debuted their destination restaurant in downtown Healdsburg—partly for its ambitious elements, including a small luxury inn upstairs and a five-acre farm. But to simply call SingleThread an upscale Japanese–inspired eatery doesn't do it justice. Dining here is an immersion into poetry, art, Asian culture, and gracious living. That's what happens when a highly creative chef is given carte blanche to explore his most elaborate dreams.
The 11-course feast begins as architecture, with tables offering small pottery bowls, plates on pedestals, and even sea snail shells—all tucked with delicacies like savory egg custard, rare seaweeds, and pickled plum sliced into flower petals.
Over the next four hours, the magic blossoms into near-fantasy, as diners explore chef Kyle's meticulous kaiseki—multicourse meals that are tweaked daily to reflect the 72, five-day microseason agricultural cycles guided by the ancient Japanese farmer's almanac. Kyle draws produce from the Healdsburg farm and the restaurant's 3,000-square-foot rooftop garden.
Highly polished servers lean in with gleaming cedar plates, presenting unique dishes like guinea hen Fukkura-san with leeks, a broth of young lettuces, and Gyokuro tea. The wine, beer, and sake pairings are equally dazzling.
There's no menu presented until the end of the meal, so you'll have to decipher the flavors on your tongue. But here's the best way to take it all in: Relax, and let the Zen experience carry you into the clouds.
131 North St., Healdsburg, (707) 723-4646, singlethreadfarms.com.
—Carey Sweet